Utah Hikes and Climbs
WillhiteWeb.com: Hiking, Climbing and Travel
Welcome to my Utah page where you can find everything you want to know about hiking & peakbagging in Utah. I've got hundreds of my trip reports here. This page has many groupings so you can search for trip reports matching you're intended interest for the day.
Utah has 29 counties but three of the highpoints double up as two county highpoints. That leaves 26 highpoints for the state of Utah. Join the growing number of climbers and non-climbers looking to reach the highest point in every Utah county.
There are 84 peaks in Utah with 2,000+ feet of prominence. This is the list with trip reports and maps for each one as I climb them.
These are the Uinta Mountains on the west side of the Mirror Lake Highway 150. Because almost all these peaks have great easy access they make for perfect day trips.
These are the peaks in the Wasatch north of I-80 and south of I-84.
The Oquirrh Mountains are full of climbing opportunities but you need to know where to start and which routes to avoid private property. This list covers all the Oquirrh Mountain peaks with trip reports as I get to them. Antalope Island is also included here.
This area west of Utah Lake is the perfect location for winter and spring climbs when you want to get out but not for too long. With all the distant peaks under snow, the clear winter sky and the lack of snakes, try one of these hikes....you'll enjoy it.
These mountains south of the Uintas are lower but no less beautiful in their own way. Roads will give you excellent access so the peaks area easy. Try them in fall when the colors changing on the aspens are amazing. A visit to this area will keep you coming back for more.
Check out these peaks for climbing in the winter or early spring months. The terrain is usually easy, the views are vast and you won't see another person on the summit. The weather is often sunny even when the Wasatch is socked in with clouds.
Located just west of Tooele, these mountains are a popular hiking destination. With lots of trails and public land, most of the peaks are easily accessible.
The Wasatch Plateau has big views and lots of easy hiking above 10,000 feet. Come here to cool off, camp and enjoy some easy peaks.
#23 Western Desert South Peaks
#20 Silver Island Mountains
#21 Northwest Utah
#27 Pahvant Mountains
#13 East Tintic (South) Mountains
#12 Canyon Mountains
Other groups that will soon have their own webpage:
The east Uinta Mountains are where most of the Utah big ones are at. If only they were closer, I'd bag'em all sooner.
1
2
3
4
5
6
7
8
9
10
11
26
12
13
14
15
16
17
18
19
20
21
22
23
24
25
27
28
29
30
31
32
33
34
35
Utah Hikes Outside the Wasatch Mountains
(Numbers reflect location on map below)
#29 Fish Lake Group
#35 La Sal Group
#33 Escalante Group
#30 San Rafael Swell
#11 San Pitch Group
#31 Roan Cliffs
#28 Richfield Group
#32 Northeast Group
#1 Wellsville Wedge Group
#25 Zion Group
#24 St. George Group
#26 Tushar Mountains
#34 Canyonlands Group
The Wasatch Mountains
How would you like to climb every mountain in the Wasatch Front! Find information, pictures and a map to climb every Wasatch Mountain. These lists include every highpoint with 300+ feet of prominence. If it is highlighted, click the link for all the information.
These are the peaks in the Wasatch Mountains south of I-80 and north of Provo Canyon. This area includes Big/Little Cottonwood Canyons, Mill Creek Canyon and American Fork Canyon.
This area is south of Provo Canyon down to Mount Nebo.
This is a large area of Utah consisting of portions of the Wasatch Range, Monte Cristo Range and the Bear River Range.
Highlights include the Lakeside Mountains, Grassy Mountains and Antelope Island.
Going west from the Salt Lake Valley you have the Oquirrh Range, then Stansbury Range, then the Cedar Range.
These are mountains between I-40 and Highway 6. Roads will give you excellent access so the peaks area easy.
Other Utah pages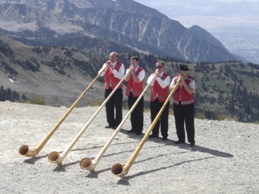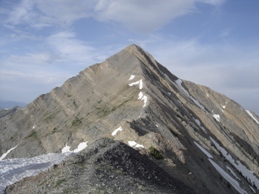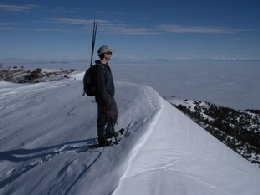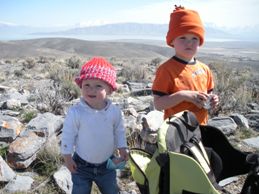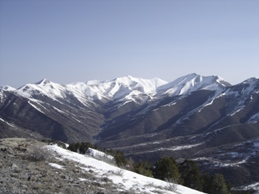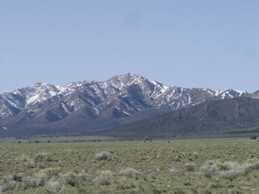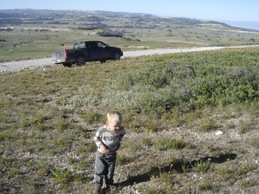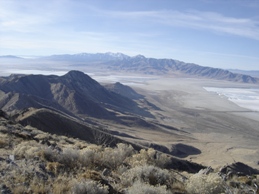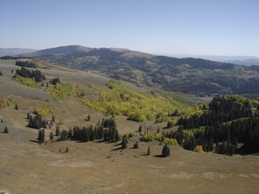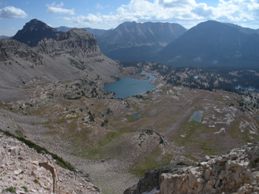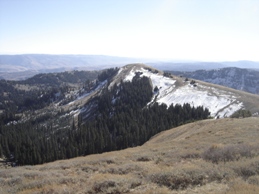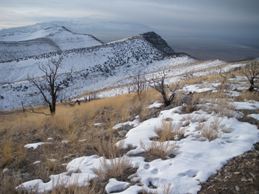 View South from Mt. Ogden
40 Peaks
77 Peaks
79 Peaks