Honeymoon Destinations Around Washington
Washington Honeymoons
The possibilities for where to go on a honeymoon are endless. But I am asked by many who need to keep the cost low and stay close to home. In an attempt to help them out and have a good reference to send them to, these are my top 20 suggestions, in no particular order. All are within a days drive from Seattle. Some are luxury hotels while others offer a variety of accommodation choices. Most important is that all are in locations where activities abound and you experience a real destination.
It's like traveling to England without the expense. Since Victoria is in another country and requires a long ferry ride to get to the island, it's about as exotic location of a honeymoon you can have from Seattle. The ultimate place to stay would be in the historic Empress Hotel. You can explore the downtown sights, visit Butchart Gardens or spend a week driving up Vancouver Island touring.
With sandy beaches, promenades, waterfront resorts and the Miami River, you might think you are in Florida. But Harrison Hot Springs is far from flat as the Fraser Valley mountains rise high above the town out of Harrison Lake. Harrison Hot Springs is a resort destination just 3 hours from Seattle, but for best results, only come in summer. With all the abundant water and mountains, there are all kinds of activities.
Leave the modern world without taking your bride tent camping! Lake Quinault Lodge is a grand and rustic lodge built in 1926 with a classic majestic fireplace, a dining room presidents have eaten in, and rooms with amazing lakeside views. Located in Olympic National Park, you can paddle the lake, hike in the rainforest or drive out to the nearby Pacific Ocean.
LaConner is known as the most romantic getaway in Washington State. Although that may be debatable, LaConner is certainly is an enchanting little 1800s waterfront community. LaConner is also known as an artist enclave with many galleries to browse. The hotels along the water have kept the coastal-community feel by not building too large and looking more like mountain chateaus. At just an hour from Seattle, LaConner definitely competes as one of the closest places to feel like you have gotten away from everything. Planning a honeymoon during the annual Tulip Festival with its fields of daffodils, tulips and iris would be a bonus.
Vancouver is the most scenic big city in North America. With large bodies of water surrounded by snow covered mountains and lush green forests, nothing comes close. With all this natural beauty, there are all kinds of outdoor activities to do. But, with such a large population living together, you can count on all the other sights like museums, arts centers, theaters, etc. Accommodations are abundant so take your pick.
Located just an hour on I-90 from Seattle in Roslyn, the Lodge at Suncadia looks like a National Park Lodge. The 254 room lodge is full-service with a variety of rooms including suites and penthouses. Located on a 6,000 acre forested property, the Suncadia hiking and biking trail system is unmatched in Washington. Other activities include thirty-six holes of mountain golf, outdoor concerts, nature programs, fine dining, cafes, swimming, spa treatments and shopping. Within minutes are dozens of National Forest trailheads, many are some of Washington's top picks for hiking destinations.
Getting on a ferry to the San Juan Islands can be a romantic island getaway itself, but having a comfortable base camp resort is probably in order. On San Juan Island, the Roche Harbor Resort has visitors from around the world. Of course, the islands are full of bed & breakfasts and quant Inns but Roche Harbor will offer the most amenities and activities right out of the resort. You could also impress by taking a sea plane directly from Seattle to the resort. San Juan Island has other options in Friday Harbor like the Friday Harbor House, the Highland Inn or Harrison House Suites. Other island retreats would be on Orcas Island with the Deer Harbor Inn or the historic Rosario Resort.
The Columbia River Gorge is a spectacular river canyon cutting the only sea-level route through the Cascade Mountain Range. The Columbia River Gorge National Scenic Area offers recreational activities including camping, hiking, biking, golf, whitewater rafting and kayaking, windsurfing and kiteboarding, boating, bird watching, photography, cross country skiing, snowshoeing, etc. Indoor options are museums, wine tasting, dining shopping and spa services. Look into staying at the Columbia Gorge Hotel for high-end accommodations, while Hood River, Stevenson and Cascade Locks have many standard hotels.
Long Beach is the only Washington beach community that really has a downtown core that is likely bustling with people, shops, restaurants and tours. Westport and Ocean Shores don't come close. The accommodations range from basic oceanfront inns to small bungalows. Beach activities abound and exploring the six-mile peninsula is fun. Kayak in Willapa Bay, ride horses, buy a kite, go hiking in Cape Disappointment State Park, bike the Discovery Trail or take an easy drive to Astoria Oregon.
Oregon blows Washington beaches and communities out of the park. Oregon has miles of rugged coast with amazing beaches, usually with warmer weather and better accommodations. Astoria, Cannon Beach, Seaside and Florence are all great, but I would base out of Seaside for the best walkable beach community with the most activities. The coastal road runs most of the entire state, so you can tour north or south with the time you have available.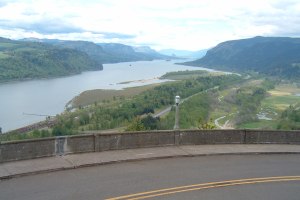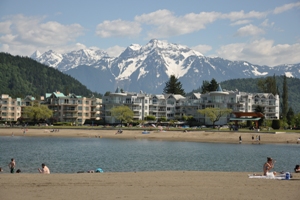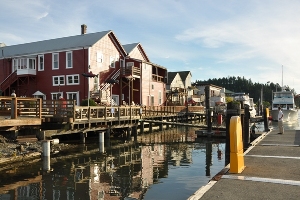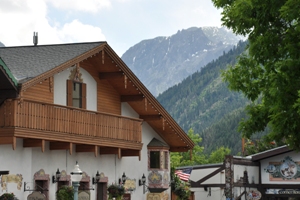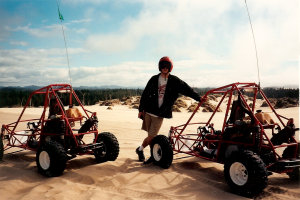 The Semiahmoo Resort is a 212-room hidden lodge north of Bellingham on a natural spit separating Semiahmoo Bay and Drayton Harbor. It offers a pool, full-service spa, fitness center, multiple and diverse restaurants and two challenging public golf courses. Adjacent to the resort Semiahmoo County Park with 300 acres of tideland and 1.5 miles of level pathways for walking, biking and rollerblading. Water and beach activities like kayaking, clamming, sand sculpting, kite flying and picnicking are popular, as well as this destination being one of Washington's top wildlife viewing areas. The local marina offers guests to rent kayaks, mopeds, and paddle boats.
Seabrook is a new coastal neighborhood on the Washington coast located high on a bluff with a New England look and urban feel, yet situated in a mystic forested landscape. Even when the weather is awful, there is something special about Seabrook as the fog pierces through the windswept trees. Seabrook offers vacation rental homes that are completely furnished. You will find many vacationers here from across the US. Walking trails drop from the community buildings down to the scenic beach. Visitors can also drive down to Ocean Shores for other activities, or out to Olympic National Park, just 30 minutes away.
Timberline Lodge sits on the south slope of Mt Hood at an elevation of 6,000 feet. The National Historic Landmark was built by hand, constructed in 1937 and serves as a ski lodge and mountain resort in the heart of a hikers and climbers paradise. In fact, the skiing lasts all summer on the upper snowfields! Be sure to reserve a premier fireplace guest room uniquely decorated with original handcrafted furniture, fabrics and rugs.
The dry side of the North Cascades is where Sun Mountain Lodge was built to merge all the attractions of a 5 star lodge with the world class outdoors of the North Cascades. You can hike, bike, horseback ride, canoe, carriage ride or cross-county ski right from the lodge, located on top of Sun Mountain above the old-west town of Winthrop. Take a look at the awards Sun Mountain Lodge receives each year and you know you will be in for a great honeymoon experience.
For the couple who enjoy the outdoors, Whistler is the destination that will offer the most activities during the day, yet have nightlife activities in the Whistler Village. Whether you are doing adventures yourself or paying a guide service, you can hike, mountain climb, mountain bike, river raft, rock climb, golf, zip line, ATV, boat, canoe & kayak, fish, horseback ride, glacier tour, hummer tour, jet boat, via ferrata, heli ski, downhill ski, cross country ski, dog sled, ice skate, sleigh ride, cat ski, snowmobile, snowshoe, aerial sightsee, heli hike, bungee jump, paintball, etc. Of course, there are endless accommodations to pick from.
The furthest destination I recommend on this list is a honeymoon in Banff. Yes, you can get here in a long days drive from Seattle. Banff has an amazing backdrop of mountain peaks from the downtown and a stay in the Fairmont Banff Springs Resort would be unforgettable. Take the nearby Banff Gondola Ride up Sulphur Mountain and you are having way too much fun! Then, travel up the park highway to Lake Louise and the Chateau Lake Louise built on the water around 1900. A stay here would be amazing as well! The activates in Banff National Park and Jasper National Park are more than any honeymoon can handle.
If you have a week and really want to cover a large area of sights, Bend Oregon is a half day drive to an area that likely has way better weather than anywhere else on this list. Bend is known as one of the best places for outdoor activities in the Northwest. The city caters to those on a budget or to no budget at all. Since it's your honeymoon, find accommodations at one of the expensive ski resort communities at the edge of town. Take day trips to amazing places like Crater Lake National Park or Newberry Crater National Monument. Ride gondolas up Mt. Bachelor and hike the trail up South Sister.
Now Leavenworth barely made this list of honeymoon locations but for many, they will really enjoy this Bavarian-themed mountain village about two hours from Seattle. Long time residents of Washington will probably cringe at the thought but mainly because they have visited time and time again. Leavenworth offers more to honeymooners than just cuckoo clocks, yodeling, sauerkraut and bratwurst, the secluded rental cabins along the riverbanks may just be what you are looking for. Come out of the cabin when you want to stroll the town, hike the trails or raft the Wenatchee River.
Lake Chelan is known for summer fun and sunshine in spring when the west side is wet. During winter, there is snowmobiling and cross-county skiing. A boat trip on the Lady of the Lake opens up about a half dozen exciting excursions. You can stay at a luxury suite at one of the lakefront resorts, which gives access to the sandy beach on one side and within walking distance to the downtown amenities on the backside. Alternatives for this area include bed and breakfasts, or private homes with fully furnished kitchens and docks for lake access.
As the closest honeymoon location from Seattle on this list, historic Salish Lodge is more of a weekend retreat for pampered Seattleites. But if you need a quick honeymoon, this lodge is good for an overnight. With 84 guestrooms with oversized jetted tubs and fireplaces, 2 restaurants, and views overlooking the falls, it's not a bad spot for the rushed honeymooner. The danger is that with such a close proximity to home, you'll be tempted to just drive home instead of exploring the area with any extra time you have. If you do get enough of the falls, lodge & spa amenities, the nearby town of Snoqualmie is interesting as well as the endless trails in the North Bend area.