Willhite Family History
On this page you will find a picture painted by Gordon Willhite of the family property that was built by Lewis Franklin Willhite, land deeded to him by his father Smith Willhite. Also, there are old plat maps and photos of the property. This page is an overview of family ownership in this area over three generations between 1858 to 1959.
Other lines I will be working on some day: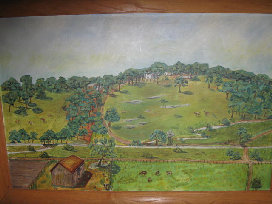 Eric Wilhite (Me)

Living Willhite
Living Wilson

Gorden Willhite Born: 1926 Toronto, Woodson Co., Kansas Died: 1969 Huntsville, Alabama
Gertrude Margarete Stocklein (Living)

James Leo Willhite Born: 1893 Toronto, Woodson Co., Kansas Died: 1963 Wichita, Kansas
Lillian Beatrice Russell 1900-1988

Lewis Franklin Willhite Born: 1872 Toronto, Woodson Co., Kansas Died: 1952 Toronto, Woodson, Kansas
Rosa Belle Jones 1874-1954

Smith Willhite Born: 1838 Douglas Co. Missouri Died: 1907 Toronto, Woodson, Kansas
Mary Jane Hancock 1842-1923

Julius Wilhite Jr. Born: 1797 Campbell Co, Tennessee Died: 1860 Toronto, Woodson, Kansas
Elizabeth (Unknown) 1818-

Julius Wilhite Born: 1764 Culpepper, Orange, Virginia Died: 1842 Campbell Co, Tennessee
Margaret Hise 1766-1860

Conrad Reuben Wilhoit Born: 1737 Culpepper, Orange, Virginia Died: 1808 Campbell Co, Tennessee
Elizabeth Broyles 1741-1783

Tobias Wilhoit Born: 1708 Schwaigern, Heilbronn, Baden-Wuerttemberg, Germany Died: 1762 Brumfield, Culpepper, Virginia
Caherine Walke 1716-1759

Johann Michael Wilheit Born: 1670 Schwaigern, Heilbronn, Baden-Wuerttemberg, Germany Died: 1746 St Marks, Orange, Virginia
Anna Maria Hengsteler 1685-1746


Hans Michael Wilheit Born: 1645 Schwaigern, Heilbronn, Baden-Wuerttemberg, Germany Died: 1711 Schwaigern, Germany
Anna Maria Rufflin 1648-1689

Johann Georg Wilheit Born: 1610 Schwaigern, Heilbronn, Baden-Wuerttemberg, Germany Died: 1685 Schwaigern, Germany
Barbara Lutz 1615-1674

Georg Wilheit Born: 1580 Schwaigern, Heilbronn, Baden-Wuerttemberg, Germany Died: 1623 Schwaigern, Germany
Anna Bickel 1587-1635

Georg Willert Born: 1550 Schwaigern, Württemberg, Germany Died: Schwaigern, Württemberg, Germany
Margaret Stewart Errol 1569-1586 (Her line goes back to 970 a.d.)
Thanks for visiting this page. I find family research fun and fascinating. Technology today allows us to do in hours what use to take years. I've put hundreds of hours into research and really enjoyed making the connections that have gone unrecorded in my line. If you can help with any info or have questions, please contact me.
Family Line with major dates and locations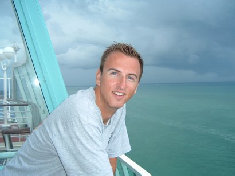 www.WillhiteWeb.com
This page follows the line of my grandmothers father. I'm looking for history in the small towns of Wustenstein and Nankendorf in Bavarian Germany.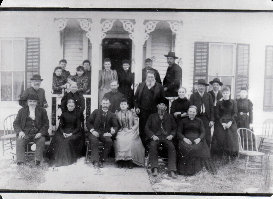 On this page you will find access to 26 pages full of pictures and documents from the Willhite family line. Most of the pictures I got from a trip to Toronto in the summer of 2011. I hope to get more from those decedents who I have not contacted yet.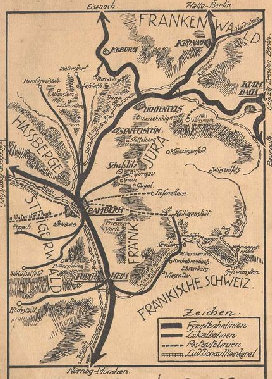 This page follows the line of my grandmothers mom. I'm looking for history in the small town of Eltmann, Germany.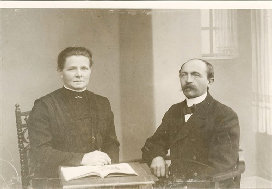 Julius Wilhite and Elizabeth settled along Bryant Creek in south central Missouri sometime around 1834. They were one of the first families to settle there. There are all kinds of historical stories about these first families but none mention Julius Willhite. But, we find him in the 1840 and 1850 census amongst the earliest of settlers. All five children were born there during the 25 years along Bryant Creek, Douglas County, Missouri.
On this page you will find what little information I have of Julius Wilhite in Martin County, Indiana. Sometime in the 1820's, Julius Wilhite moved there from Tennessee. The 1830 censes reveals him there with a young family. Did he divorce, walk away or find his second wife Elizabeth there, then run away with her to Missouri? Yellow fever was a bad problem there at the time, maybe his wife and youngest children died? I'll lay out what I have.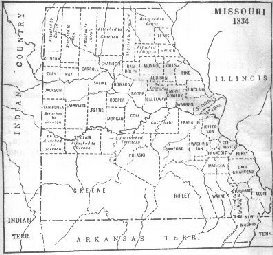 On this page you will find information about the children of Smith and Mary Jane Hancock. There will also be pictures and more history on the Hancock family.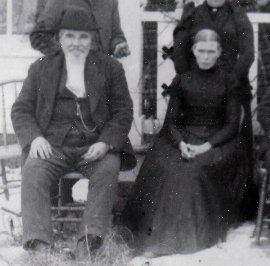 This is all the posterity I have from Julius Wilhite and Elizabeth to today.
In preparation for the visit in 2011 to Toronto, I created this listing of people related to the Willhite Line that are buried in the Toronto Cemetery.
All the information I have gathered on the life of Joseph Wilhite and Elizabeth Tyler. Joseph was born in 1835, the first son of Julius Wilhite and older brother of Smith Wilhite
2011 Toronto Reunion
After jumping into this family history stuff, I quickly realized I wanted to go visit some of the locations. Originally, the plan was for just me & the kids, just to go see the area, cemeteries and look for some old homesites. In just a few months planning, it turned into more of a reunion with family and a research gathering trip. My dad jumped onto the trip, offering to drive. Then his two brothers jumped onto the trip. Then I was lucky enough to make a new Willhite contact who put me in touch with Linda, a Willhite who lives in the area. She had a wealth of information and even lodged us all in her home for 2 nights. We are very grateful for her, her husband Jerry and son Lacy. All 3 helped with different adventures. Another plus was her sister Carol who helped as well. The 4 reports below are from our visit.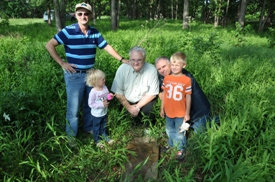 We assumed that Smith traveled with his parents to Kansas around 1858, but this wasn't the case. He left Missouri as early as 1855, the same year as his brother. A 1857 Anderson County Kansas Census has the brothers Joseph and Smith living next to each other in Anderson County, along with Josephs in-laws, the Tyler's. Smith was only 17 years old during the move. During this time, Smith is documented as fighting pro-slavery settlers in Kansas. He fought with the famous anti-slavery abolitionist John Brown who was only in Kansas from Oct. 1855 to Sept. 1856.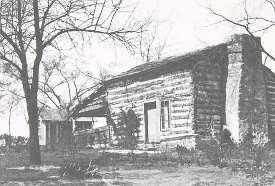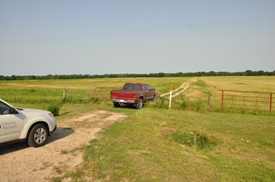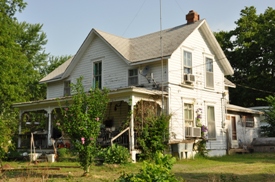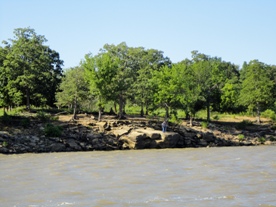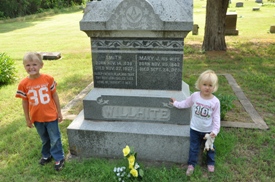 One of the best ways to find out information about somebody is to research all their children. There is a good chance there will be something written about his or her father somewhere in their lifetime. This could easily be the case for Smith Willhite as most of his children stuck around the Toronto area. Smith had 5 girls and 2 sons. We found them all!
We learn from an article published by Woodson Co. Historical Society, January 1978 where the first log cabin was located when Julius Willhite moved from Missouri to Kansas. It is located in volume II, no. 41 of "In The Beginning". A few paragraphs say:
"What is now known as Duck Island was a high timbered bluff with the Verdigris River running along the north side of the bluff and going on across the valley where the bluff ended. On top of this bluff was a log cabin, home of the Willhite family."
The gate off highway 105 is private and accesses private lands. The cemetery itself is on private land as well. Linda had permission to take us in. Lucky for us she knew two Wilhite tombstones were in this cemetery. I wasn't planning on searching in this cemetery beforehand. I knew it existed from maps only. Also, government records don't say were Julius or John W. Wilhite were buried. The only thing I assumed beforehand was if we found Julius or John, the other would be close by as they died only a few years apart from one another.
One of our goals during our visit to Toronto was to find the foundation of the Lewis Franklin Willhite home and homestead area. He was my great, great grandfather. He built the home and consequently, my great grandfather and grandfather were both born there. These three generations of Willhites lived in this home but the story was that it was now "underwater" because of the building of the Toronto Reservoir in the late 50's.
OTHER PAGES