Cox, Agness
Holbeck, Joel
Blair, William
Blair, Josiah
Sullivan, Benjamin
Terrel, William
Conly, John
Blair, Robert
Herd, George
Medleck, Thomas
Banks, Thomas
Tange, Lemuel
Bowdon, John
Fields, Robert
King, Alex
Barnes, James
Bridges, William
Benefield, Robert
James, Thomas
Eackison, E B
Bousman, Christopher
Nutherfield, Lott
Miller, Thomas
Barman, Terry
Mitchellea, Sarah
Denton, Thomas
Gater, Bazel
Eaton, Thomas
Boston, William
Henry, William
Davis, Susan
Crandes, Wiley
Paine, Thomas
Eaton, William
Lastty, Jacob
Huzic, Thomas
Taylor, Nathaniel
Mosier, George
Ragans, William
Bledsoe, John
Grinder, George
Rollins, George
Rollins, John
Bennett, Robert
Cooper, Benjamin
Cooper, Mordica
Crum, John
Willhite, Julius
Franklin, Pleasant
Bledso, Pleasant
Hall, John G
Hall, Michael
Burge, Robert
Huzie, Arthur
Mills, John
Huzie, Benjamin
Goff, Elijah
Rollins, Elias
Cooper, S C
Harriman, William
Cox, Jacob
Bledsoe, John
Henson, James
Steel, Bazel
Blacker, Ezekiel
Weigh, William
Hought, Henry
Franklin, Walter
Denney, Joseph
Newman, Margaret
Nash, William
Gee, Thomas
Hedrick, Isaac
Strange, Philip
Nobertt, John
Shields, John
Blackgraves, Arther
Noblet, William
Holtzlow, Joseph
Colwell, Hugh
Cox, William
Watson, David
Paine, Reily
Litteral, Joseph
Julius Wilhite in Indiana 1820-1835
www.WillhiteWeb.com
In the home of Julius Willhite in 1830, we find 4 children according to the census taker, a family of 6. One male and one female under 5. One male bet 5-10, one male bet 10-15. One Male bet 30-40 and one female bet 20-30. About four years later in 1834, Julius would leave Indiana without his wife or children. Maybe it was a divorce or he could have just walked away, we still don't know. The area was known for a bad outbreak of yellow feavor. Yet, the outbreak was 2 years before in 1828 (see picture below).

Elizabeth, was his second wife.
From what we know, it's most likely Elizabeth was born in Kentucky. The most reliable census shows this, yet later census takers recorded an additional 6 other states for her birth. A majority of neighboring families living in Indiana and later Missouri had migrated from Kentucky as well. Julius likely met his second wife Elizabeth in Indiana and ran off with her to Missouri. It's also possible he followed her and her parents family to Missouri. Elizabeth was only 15-20 years of age when she had her first child with Julius. He was twice her age at 39 years old. Julius's childhood friend from Tennessee Joseph Hatfield also left Indiana for Missouri with his wife Milly and their children, likely at the same time.
1830 Census of people in Martin, Indiana near Julius Wilhite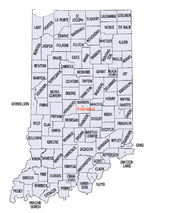 Martin County
Old Martin County Courthouse
Indiana mysteries I'm working on:
What family did Elizabeth come from?

What happened to Julius's first family, where are they now/then?

Where exactly were they living in Martin County?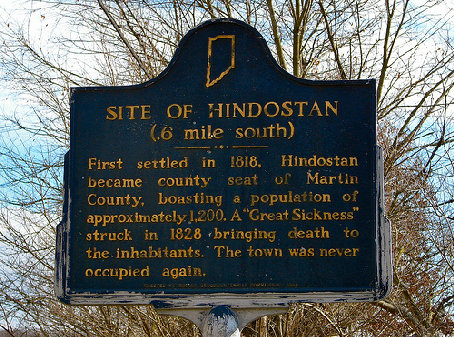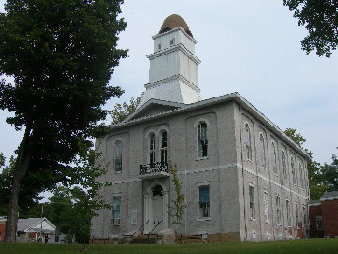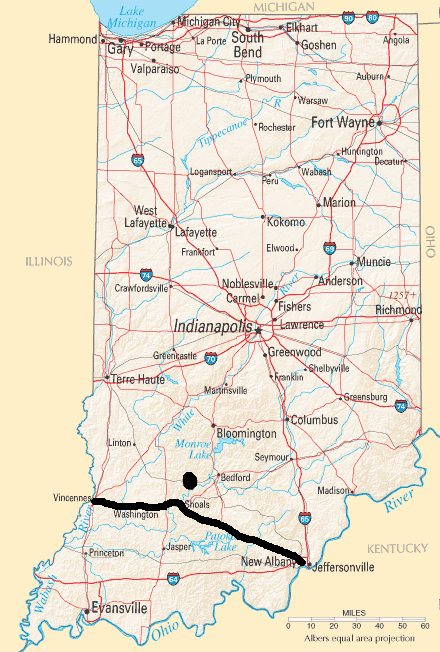 This map shows the first state road built in Indiana during 1820. That's right around the time I believe Julius left Tennessee or Kentucky to Indiana.
I have narrowed it down to Baker Township in Martin County. Today this area is part of the Crane Navel Surface Warfare Center. Access is somewhat restricted. The specific area where I am finding land records of the neighbors of Julius Wilhite put it at the east end of the Naval Base where no development has taken place. The military actually maintains all the graveyards on the base. I have noticed a few neighbors of Julius who stuck around and were buried there. Although there are 28 cemeteries on the base, the ones on the east side are relatively small. The link below has all the names and graves. Unfortunately, there are no Wilhite names. I have no evidence to believe any died while in this area but was hoping that if Julius family died or if he just left, that a child might be buried there.
Baker Township, Martin County, Indiana
Below: Topographical Map of the area of Baker Township, Martin County, Indiana
Across the top and down the right side you can see the county line with Greene & Lawrence Counties. It is also the Navel Reserve Boundary. The letters below correspond with the letters on the map.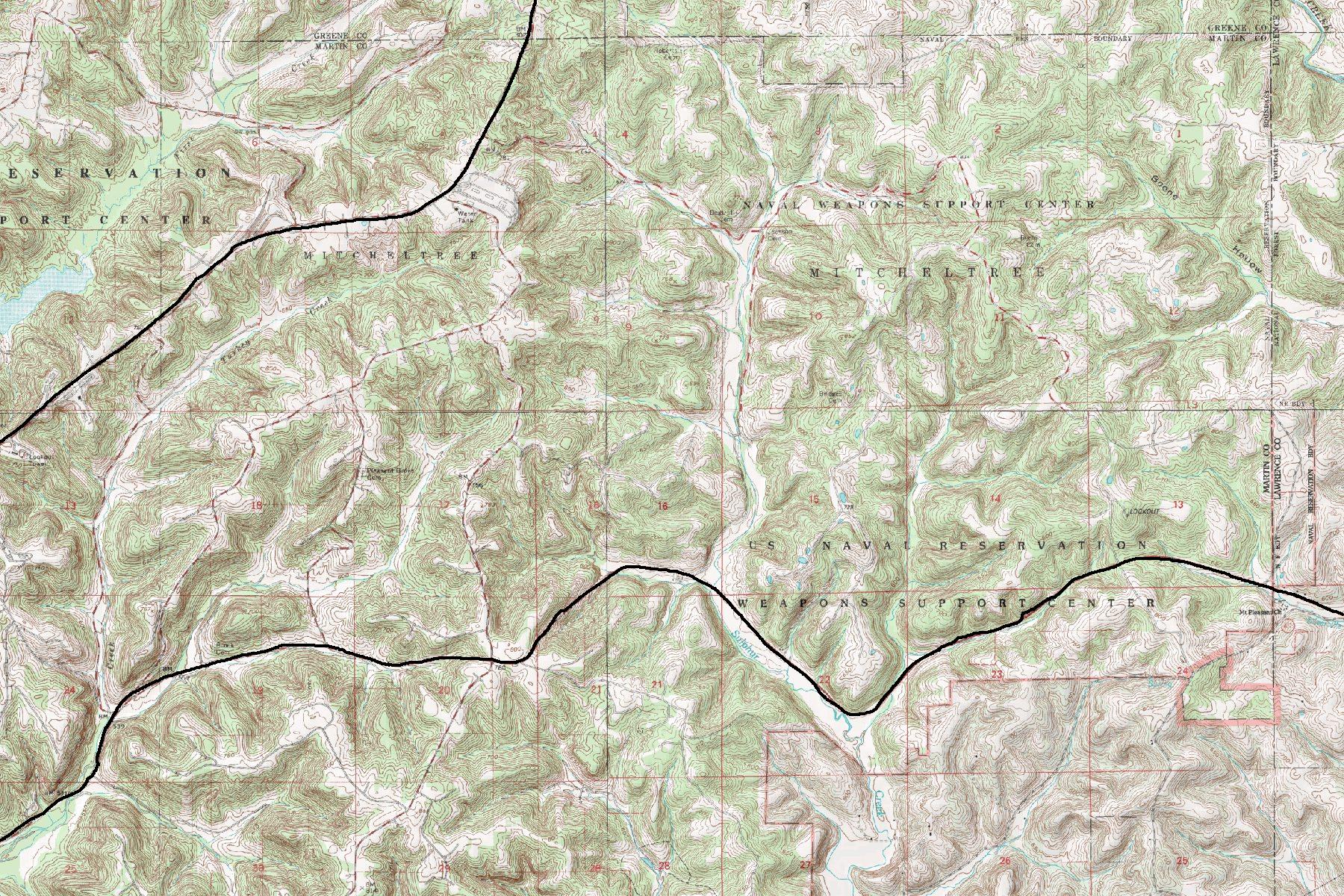 A
B
C
D
E
F
G
H
J
A) Dogtrot Cemetery
B) Jackson Cemetery
C) Bridges Cemetery
D) Pleasant Grove Cemetery
E) Area I'm finding neighbors of Julius Wilhite living
F) Mt. Pleasant Church & Cemetery
G) Rector Cemetery
H) Roberts Cemetery
J) Brock Cemetery
Highway 158
Highway 158 to access Gate & Burns City
Highway 158 to Bedford
Highway 5 along Lake Greenwood
Highway 5 to Owensburg