Mt. Rainier is by far the greatest mountain in the lower 48 states. Its enormous size, the challenging routes and unpredictable weather make any climb a real adventure to remember. I've attempted to climb Mt. Rainier many times, sometimes successfully, other times things just didn't go our way. Winter trips can be brutal on the mountain. You may have clear blue sky but the winds are so strong you're happy just to make it to Camp Muir. In the mid 90's, I had a tradition every New Years Eve of gathering as many who would join me and celebrate the New Year at Camp Muir. I've placed some pictures on this page of some of those trips. Below are links to my trip reports of summer climbs up different routes on the mountain. I've also included on this page a journal of an April climb up the Gibraltar Ledges Route.



Climbing Mount Rainier
www.WillhiteWeb.com: Hiking, climbing and travel
Pick A Route to view Trip Report and Pictures
Gibralter Ledges Route during a March Winter Ascent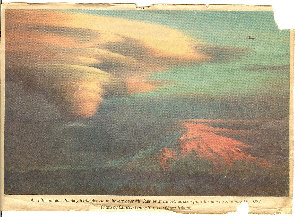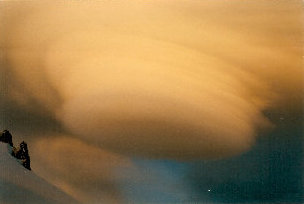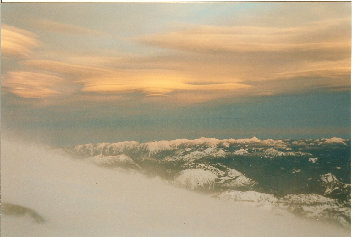 New Years at Camp Muir
Climbing up to Camp Muir late in day, looking East
Winter at Camp Muir
Picture the following day in newspaper, photo from Tacoma Washington
An amazing cloud to our east as we climbed toward Camp Muir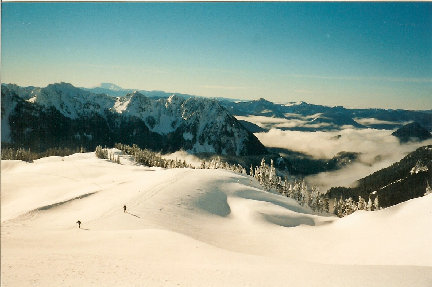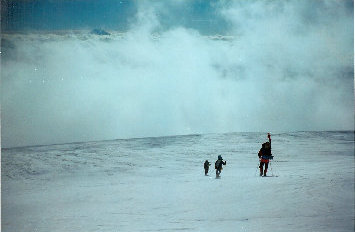 Approaching Camp Muir, Mt. Adams in distance
Approaching Panorama Point in winter around 6,200 feet
Climbers: Steve, Jeremiah, Henry, and Me
Date: April 1997

We left early on a Friday morning reaching Longmire to find the gate closed until 10 a.m. While there we register and talk to another group from back east wishing to climb. After asking them a few questions on experience, I predict a massive failure in their efforts. Several other groups show up to climb as the gate opens and everyone drives up. As we are climbing up to Muir, it's not long and Henry is way in front. He said he was going to take it slow but his slow is my super fast. He races mountain bikes so he's got the best cardiovascular system of anyone I know. I've never seen him tired.

Slowly we get to Muir in beautiful weather. It was early evening; we ate dinner, melted snow and went to bed around 7:30 p.m. We awoke an hour late at 2:30 but I was glad being very tired from missed sleep the day before. We started climbing at 4 a.m. Only one other group had made it to Muir with us and happened to be getting up when we passed their tents. I took our group slowly up the glacier. We took the same route as I took 2 weeks before. Around 12,000 feet, Henry started saying he wasn't feeling well, but we all agreed to get to the top of Gibraltar Rock and see how he feels. We got to the icy chute that leads to the top of the rock. Because of the lack of experience of some in the group I would hammer in snow pickets and the last person would pull them out. This way if someone fell and pulled us all off our feet, we would stop at the anchors.

At 12,500 feet on top of Gibraltar Rock, Henry said he was feeling better. As we got up to continue on the other group caught up with us. We climbed, following the wands I placed 2 weeks previous during the whiteout. The difference this time was that it was perfect weather with little wind at all. Higher and higher but slower and slower. All 3 of my guys had never been this high and were suckin Os. The other group of 3 talked with us as they passed. We were the only groups on the Mountain. It was Saturday and far below a steady line of people was heading up to Muir. I knew how we looked from down there, tiny dots in the sky. Finally we were at the last 150 feet at the base of the crater rocks. My team yanked on the rope saying we have to break! Henry was in bad shape, on his knees pukin. With all their strength, my team gets up and we slowly continue. About 20 feet from the summit I realized that the incoming clouds were approaching fast, very fast! We had less then 10 minutes before we were going to be in a white out. When I was 3 feet from the crater rim, the rope gave no slack. "Come on, its right here, move you idiots!" Finally they moved and I kneeled and drank some water. Jeremiah then Steve came up. "Where's Henry?" I asked. "He's about 30 feet down, he unhooked, said he couldn't make it." said Jeremiah. I pulled out the video camera and shot about 30 seconds. After a total of 3 minutes on top I said, "Now let's get the hell out of here!" We started down and now it's starting to snow. The cloud level was about 30 feet above us. The other group came over the rim next to us and asked if they could follow us down. We picked up Henry, and descended. The clouds were lowering but not as fast as us so the danger of a white out was gone.

Getting down was slow because the inexperience of the team. We came down the Ingraham again, but this time it had a lot more crevasses. We got to jump several big ones. By the time we got to Camp Muir it was 5:30 p.m. The whole mountain from 11,500 feet was completely clouded in. We packed up and headed down. At muir was the group from back east. They whimped out of the route they had planned and came up to Camp Muir. (The next day I found out from a friend who was up on Rainier at the same time that this other group struggled just to get to Camp Muir).

I talked to this group at Muir and told them the weather didn't look good for a few days. He said they would wait it out. A few days later, Jeremiah was talking to a guy at work who ran into this group at Muir a day or two after we left. This guy went up to Muir for the day, met this group and said, "You better come down with me as a storm is coming in". They stayed but an hour later decided to come down. As they came down they got lost. They ended up going back up to Muir and calling the Rangers on the Emergency Phone. "Help, we can't get down!" The rangers told them since they have enough food and fuel they have to wait the storm out. I called it; I knew they would get themselves into trouble.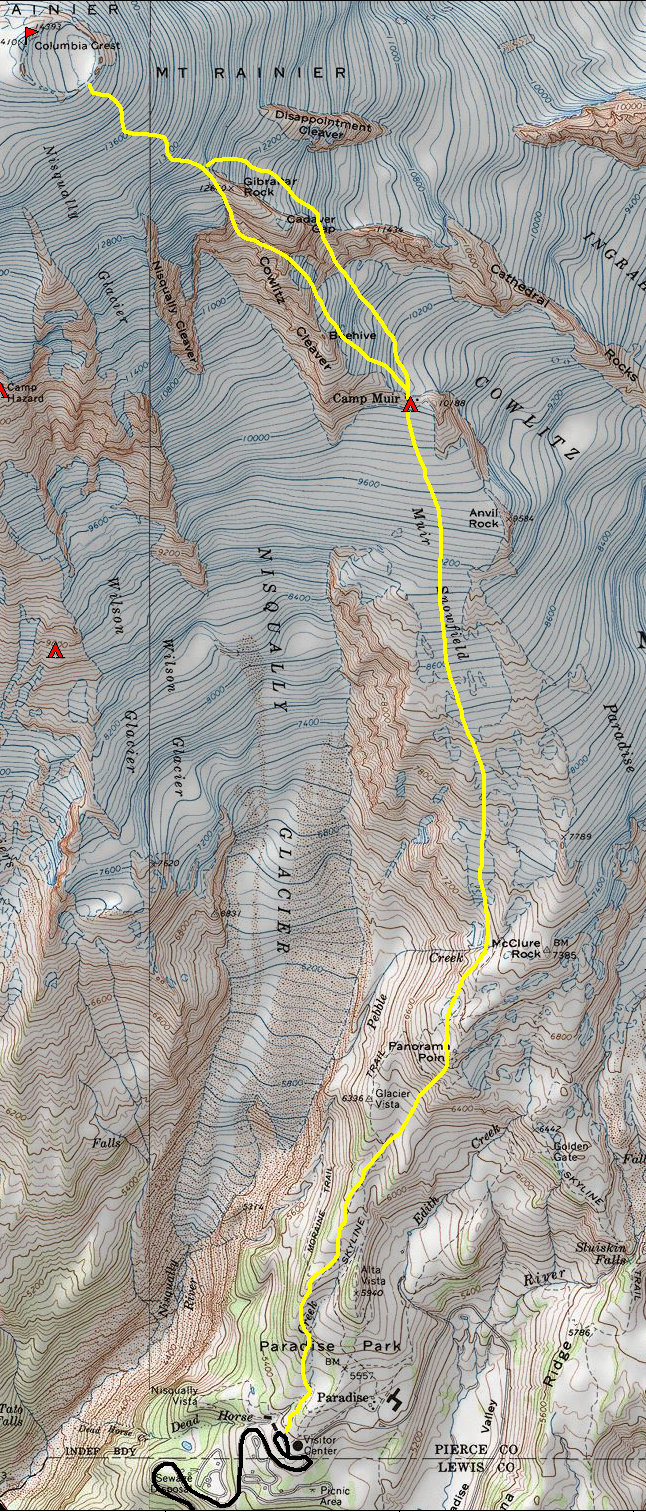 I did this route in March and April of 1997 in preparation for Mt. McKinley
UP
DOWN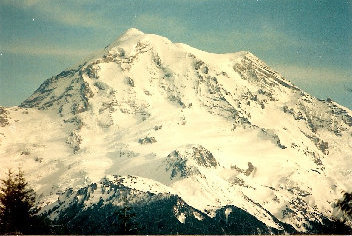 Mount Rainier from Mowich Lake entrance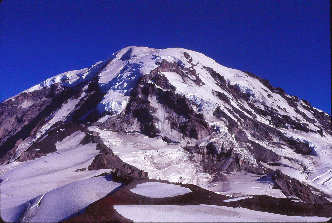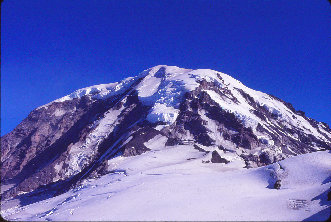 Mount Rainier views from Echo and Observation Rocks
Also:

Crossing the Cowlitz Glacier in late summer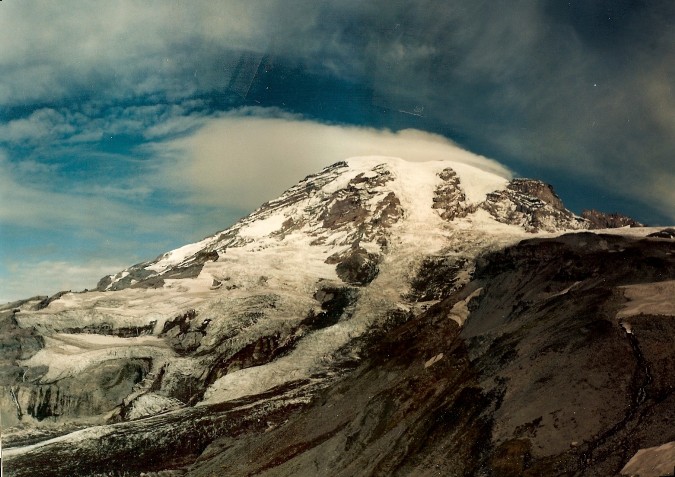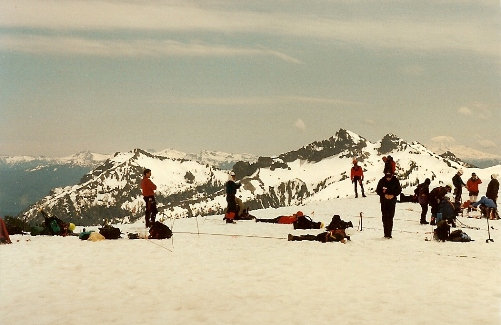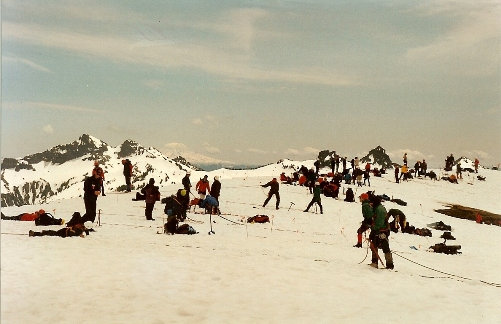 A Mountaineers group doing some training near Panorama Point
Nisqually Ice Fall from Gib Ledges
Looking down at Cadaver Gap & Cathedral Rocks
Late season with just the glacier ice
In spring
Camp Muir in winter
Sunset from the Muir Snowfield