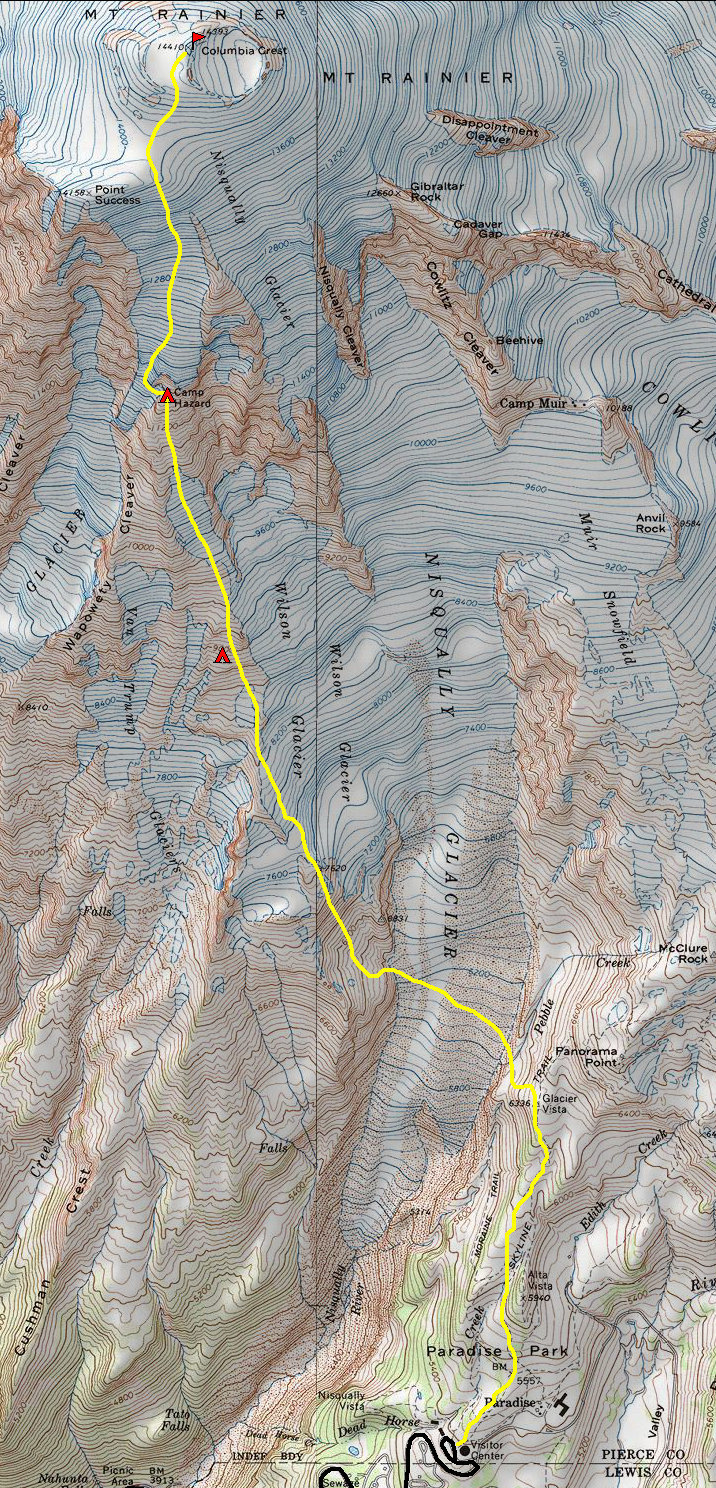 Mt. Rainier - Kautz Glacier - Camp Hazard Route
I took this route the first time I climbed Mt. Rainier. I was 18, attending Green River Community College. The college hiking club was gathering a group of people together to climb; I quickly jumped on the trip. Two guys were leading the group and in retrospect, they were probably paid "under the table" for leading our group of 15 people.

We left Paradise in clouds and misty skis. After a thousand feet of climbing we arrived at Glacier Vista where we dropped 300 feet onto the Nisqually Glacier. The route traverses across the glacier, climbing up steep slopes on the other side to reach Van Trump ridge. Somewhere around 9,000 feet, we pitched camp. We had also broken above the cloud level just before camp. We were floating above the clouds in pure sunshine for the next 2 days. We were really taking it slow due to the inexperience of the large group.

The next morning, we climbed up the ridge and "The Turtle" a large snowfield, arriving early to Camp Hazard at 11,000 feet. The camp is named for Joseph Hazard although the camp does look hazardous as the Kautz Ice Cliff towers above the camp. The rest of this day was spent eating, drinking, talking and acclimatizing. Everyone was in great shape for our summit climb the next morning. We got going early; our large group took some time to rope everyone up to their teams. The route traverses west, working its way over to a chute west of the ice fall. It didn't seem too steep until you looked down at all the headlamp lights below…way below. Above the ice fall, it was standard glacier climbing until we hit the summit. The beauty of this route is that you summit at Columbia Crest, not the disappointing crater rim. On top, we all took pictures and signed the register. As a native Washingtonian and aspiring climber, I was thrilled at our success. It was also my first of many state highpoints.
Setting up camp around 9,000 feet
Our team from Green River Community College (1993) (I'm front row on left)
Hiking across the Nisqually Glacier
Liberty Cap from Columbia Crest
Looking south to Mt. Adams
Signing the summit register
Our 9,000 foot camp
Our team below the summit, getting ready to go down
Looking down at the crater from Columbia Crest
Around 8,000 feet, working our way to camp 1
Camp Hazard with the Kautz Ice Fall behind
Around 8,000 feet looking back
www.WillhiteWeb.com: Hiking, Climbing and Travel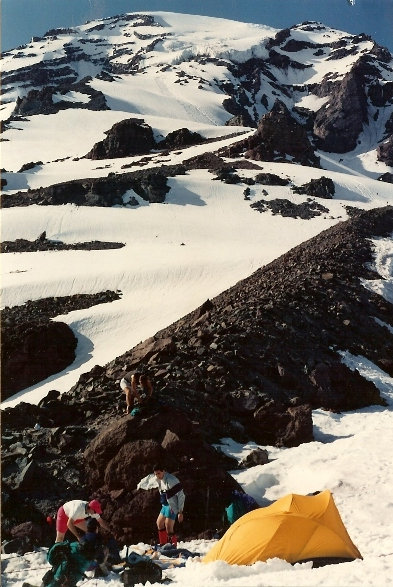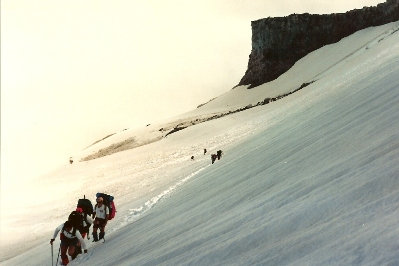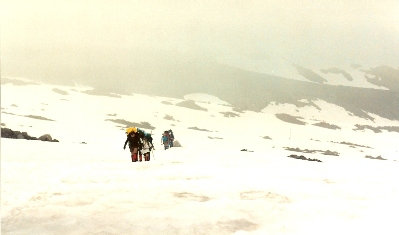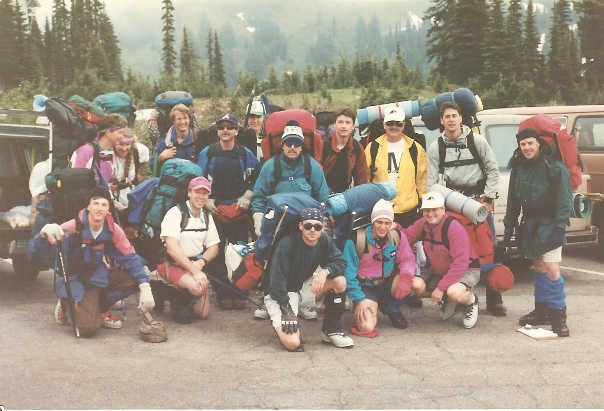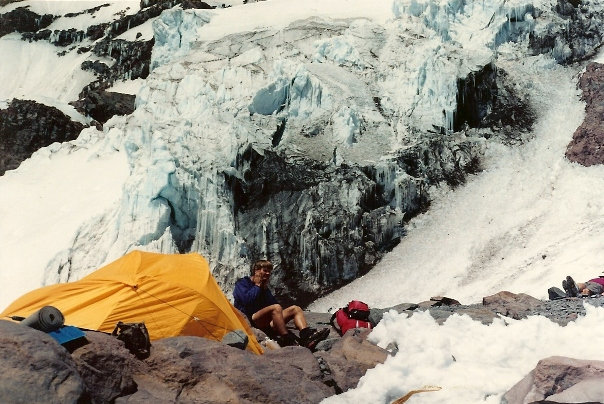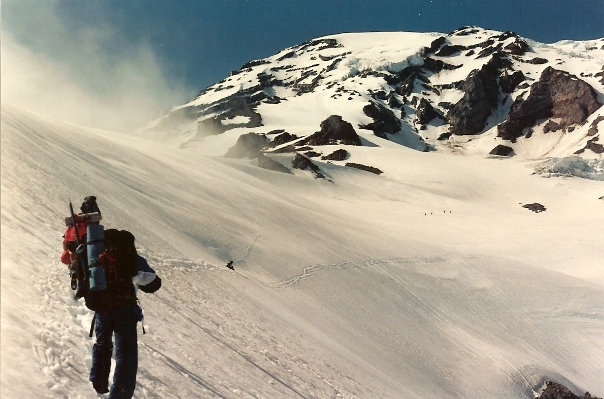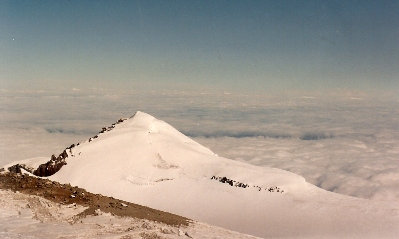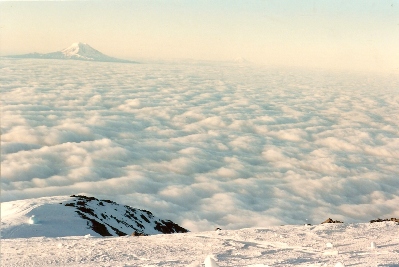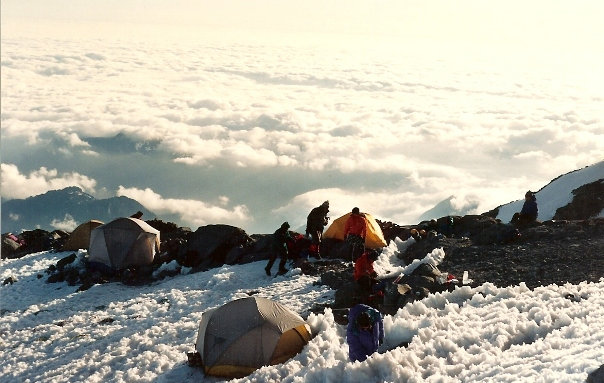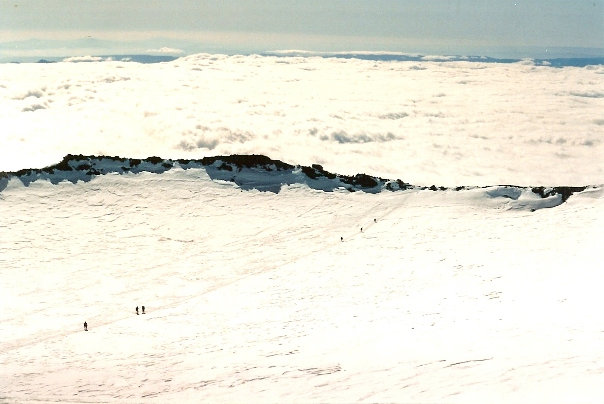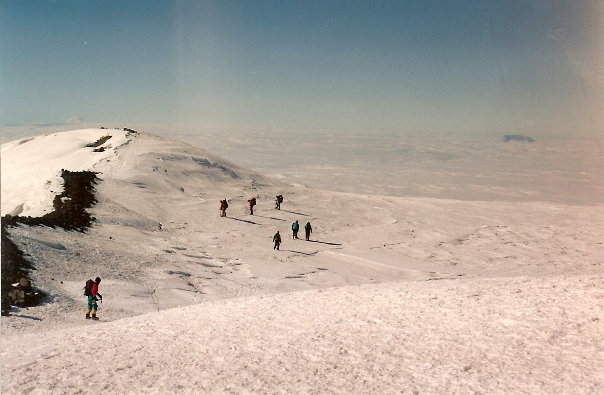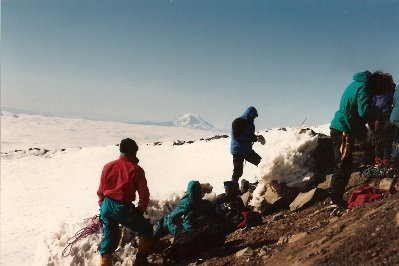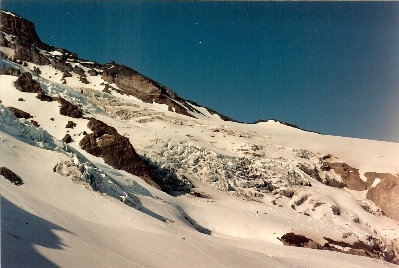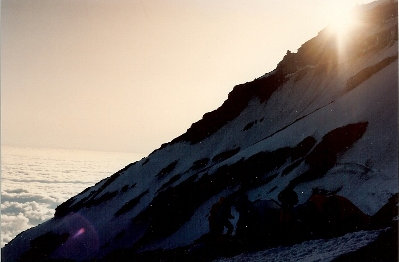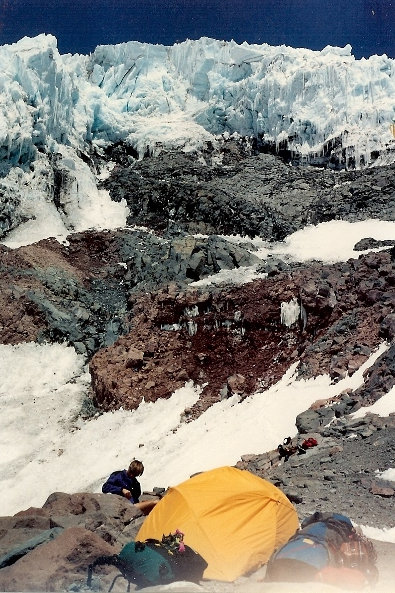 Nisqually Glacier and Muir Snowfield
Sunset over the mountain from Camp Hazard
Camp Hazard and the Kautz Ice Fall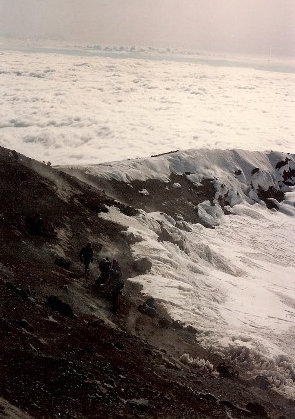 Crater Rim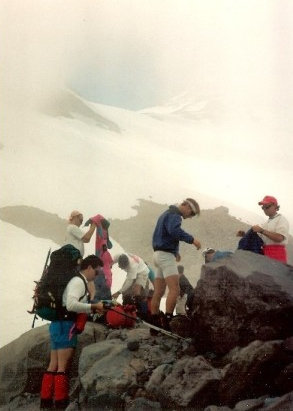 Just about to break out of the cloud layer