Every year, hundreds of people climb Mt. Rainier. On the standard routes, the parties usually consist of one or two experienced climbers with the rest being inexperienced people wanting to climb the mountain. If three inexperienced hikers wanted to summit, the rangers would have reservations about them but they would be allowed permits and sent on there way. But, if those inexperienced hikers were to ask a friend to take them up, even offering a bit of compensation for their time….the park service would call that illegal and claim you are "guiding". This is what happened to me.

My friend was taking 4 of his friends up the mountain. To feel more comfortable, he asked if I would also go to help guide. His friends were willing to pay us for are time, knowing we would have to take work off to do the trip. I was paid roughly the salary I would have made at work (not all that much). We had and excellent climb, everything went really smooth until 13,000 feet when 2 in our group felt sick. I volunteered to take them back down to Camp Sherman while my friend continued to the summit with the remaining 2. Part of the deal for me if I went back to Camp Sherman was my trip would be done. I could pack up and hike out, getting back to town for an important engagement. I did so and that was that. About a month later, I got a call while at work from a National Park Ranger. She was all upset at me for guiding. The phone call was long and heated resulting in empty threats from the park service. Somehow they were able to fine my friend several hundred dollars since he was the trip leader. I couldn't believe it. The park service was protecting their sacred deal with RMI (the only guide service monopoly on the mountain at the time). We didn't steal any of their clients…they weren't considering paying $700 bucks to be herded like sheep up the mountain, just compensating friends who would rather be climbing something else.

It's a tough gig being an experienced climber in the Seattle area. Every year, some friend, family member or co-worker will start nagging you to take them up. It never fails. Soon old friends from Idaho (you know who you are) are asking to go up. Mt. Rainier is awesome, but it's like taking new people skiing every time you go….sometimes you want to ski the hard runs!

I don't know who told the Park Service, we weren't that concerned doing what we did so it wasn't really a big secret. I do know I was banned from climbing Mt. Rainier again. Of course, I did several times after under a different name and never as the trip leader. Heck, it gives me a good excuse to say no to those who want me to take them….or should I use "guide them" up the mountain. "Sorry, I'm banned from climbing Mt. Rainier".
Mt. Rainier - Emmons Glacier - Camp Sherman Route - Guiding
www.WillhiteWeb.com: Hiking, Climbing and Travel
On the moraine near the base of the Inner Glacier
Just below Camp Sherman on the Emmons Glacier
Taking a break on the Inner Glacier
The begining of the Inner Glacier
Dropping off the Inner onto the Emmons
View of Little Tahoma out my tent
Arriving at Camp Sherman and Steamboat Prow
Camp Sherman, view from upper campsite
Our upper camp at Sherman with Little Tahoma behind
Sunrise on the Emmons Glacier
Looking down on our party around 11,000 feet
Ok, so our tents look like a guided group. Here we camped with this amazing view of the summit.
I believe this was early June after a heavy snow year
Sunrise on Mt. Rainier
Somewhere around 12,000 feet
Lots of room here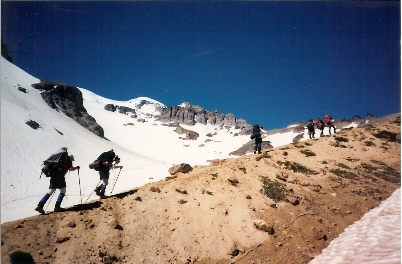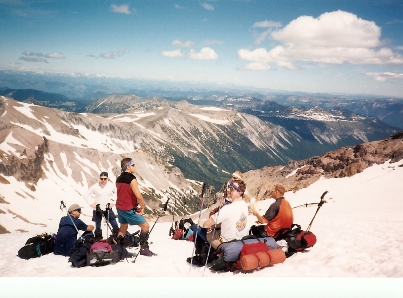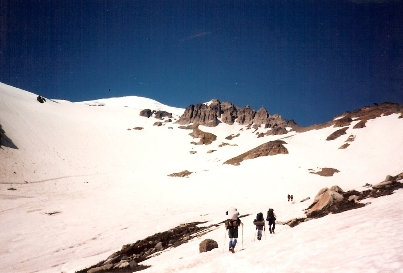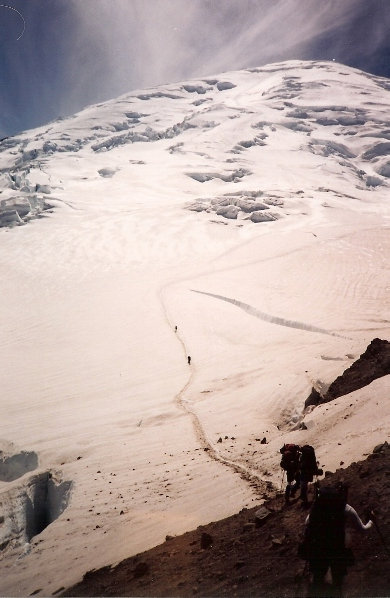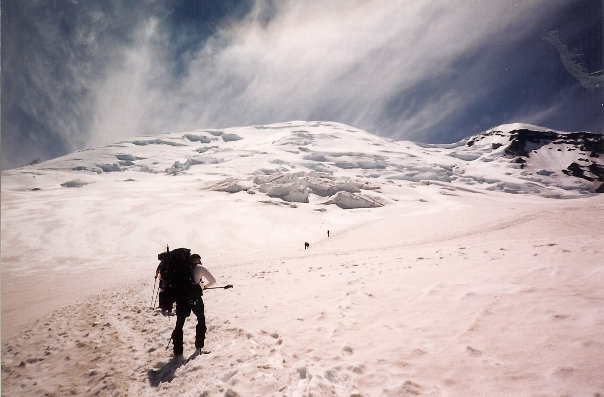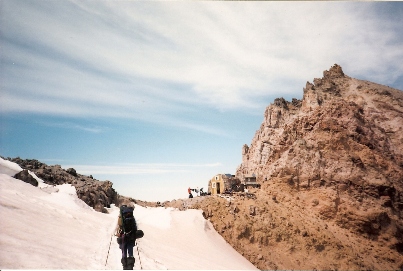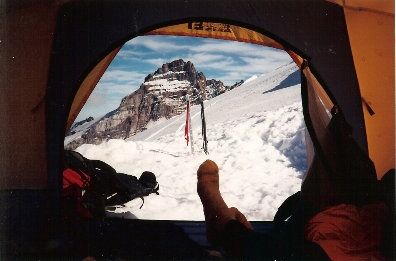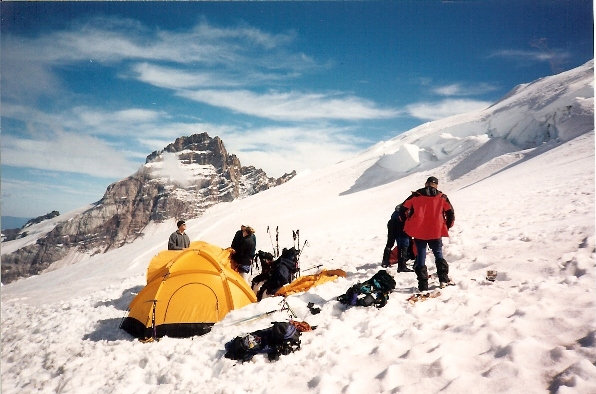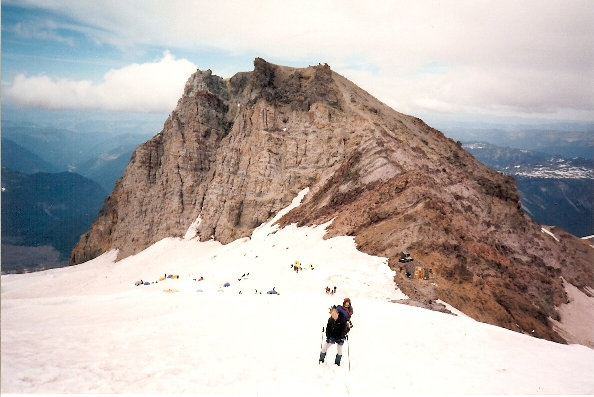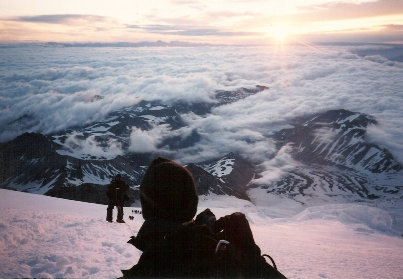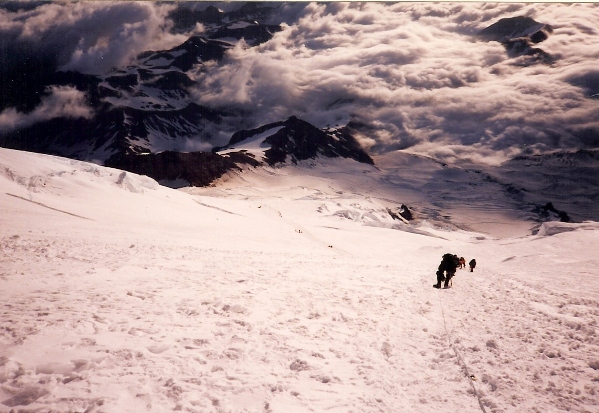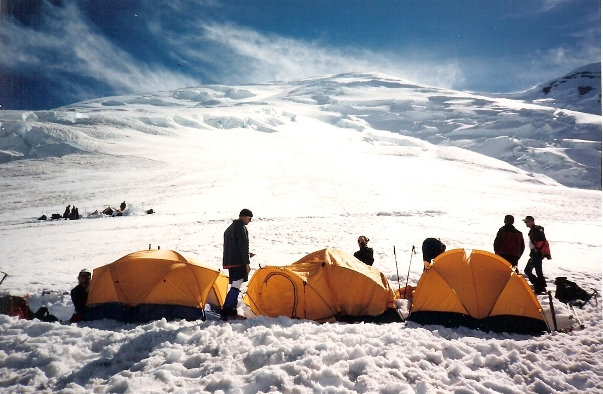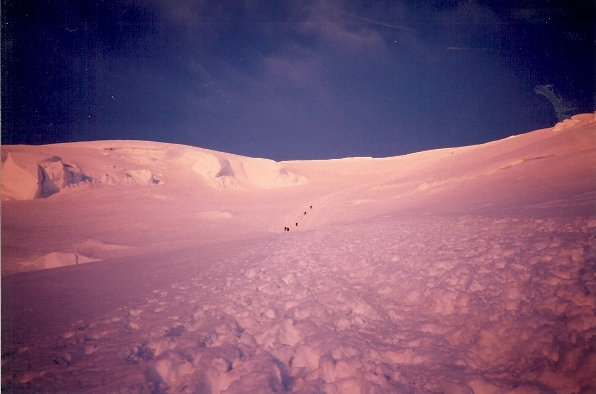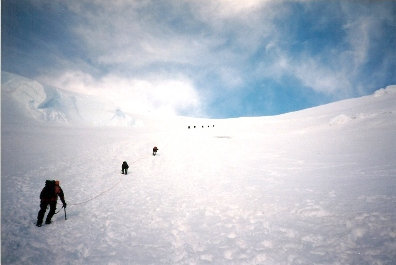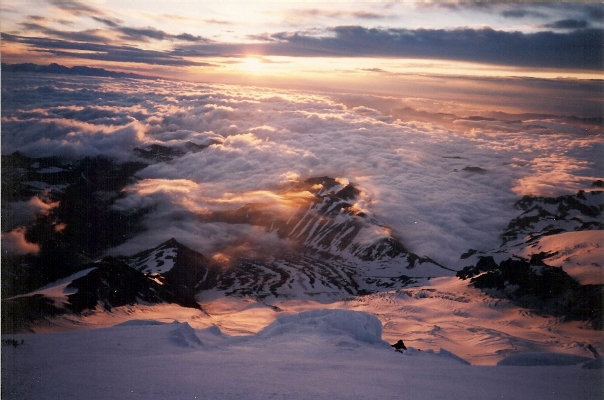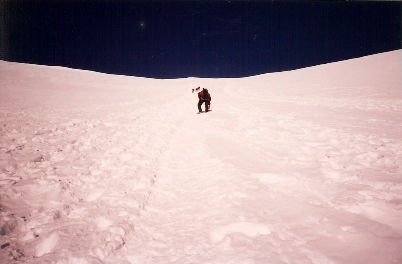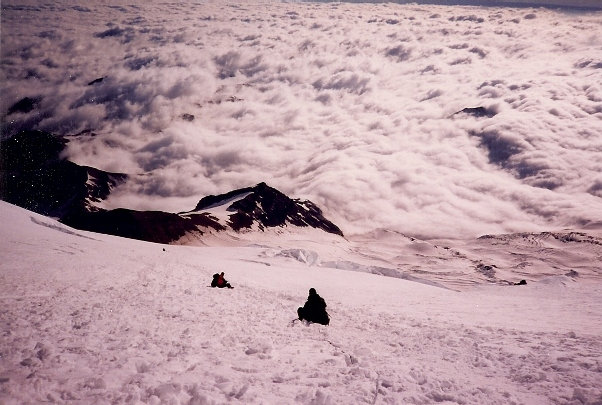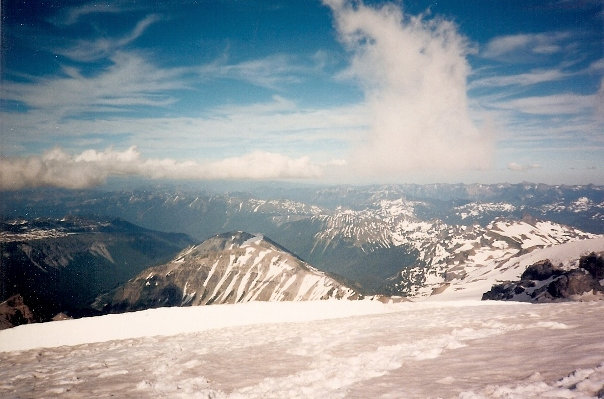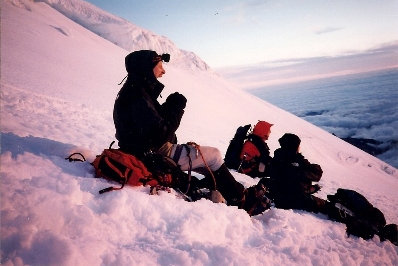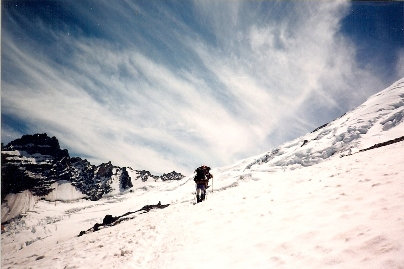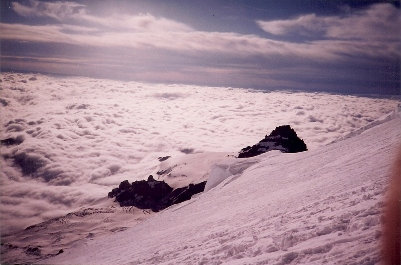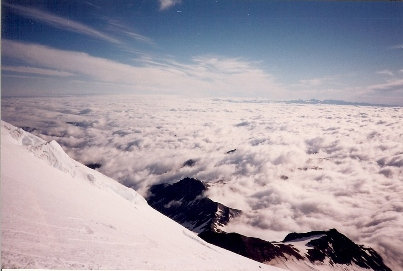 View northeast once the clouds went away
Back below Camp Sherman
Taking a break
Above the clouds
Above the clouds
Looking north