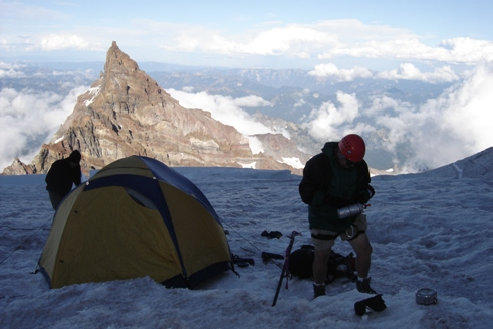 What can I say about the DC route? Itís been the most popular route for years now, most who climb Mt. Rainier do this route. My first attempt at this route, I turned back around 12,500 feet. Although I was leading the group, I was extremely tired from lack of sleep. I sent the rest on while I descended solo. I even tried taking a nap at 12,000 feet on top of the Cleaver. That didnít work; I kept waking up from not breathing. Itís an awful feeling to awake with no air in your lungs. I dropped down to Ingraham Flats (11,000 feet), trying to go to sleep again. This still didnít work so I managed to slog my way back to Camp Muir.

My last climb of Rainier in 2006 I finally completed this route. I really didnít want to go but an old friend talked me into taking him and his dad up. We had a good time, plus we camped at Ingraham Flats instead of Camp Muir, that was nice.

From the Flats, itís a simple traverse over to the Cleaver. Disappointment Cleaver is a mess. Itís a pile of loose broken rock. In places a trail has formed making easier walking although wearing crampons on it sucks. Thereís also serious rock fall potential from nature or other climbing parties. If youíre fortunate, much of the cleaver will be covered in snow. If this is the case, although quite steep a snow trench or trail will form making the way a bit safer. The route above the cleaver is basic glacier climbing, winding your way around crevasses. Once at the crater rim, youíll need to cross the half mile and additional 300 feet to claim the highest point. Novice climbers can claim the rim as a summit but true peak baggers will need to make the trek across the crater.
Mt. Rainier - Disappointment Clever - Camp Muir Route
www.WillhiteWeb.com: Hiking, Climbing and Travel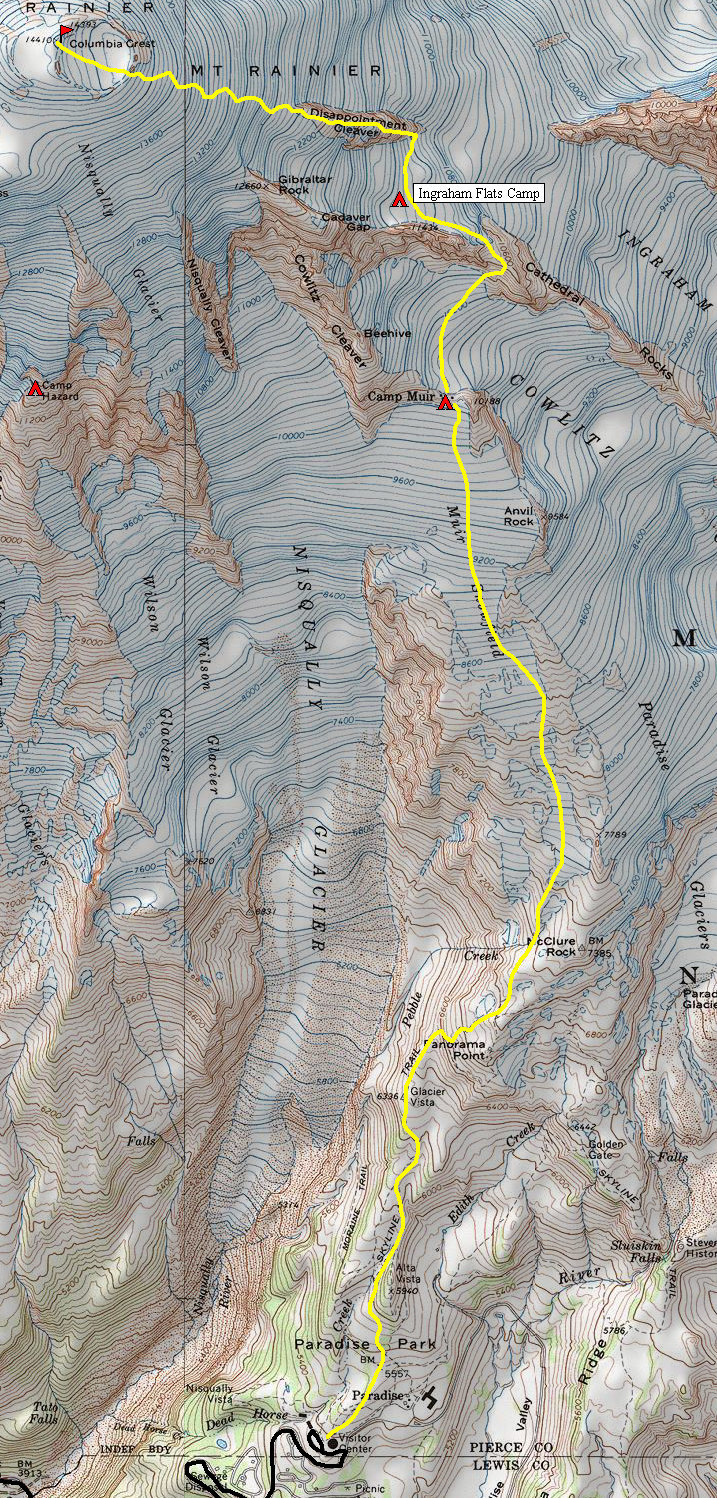 Camp at Ingraham Flats
Cathedral Rocks
Crossing the Cowlitz Glacier
Looking East from the Cleaver, down Little Tahoma
Ingraham Ice Fall from below
Crossing the Cowlitz Glacier, Camp Muir in gap
The meadows near Paradise