Mount Rainier draws thousands of non-climbers to it's summit every year. Especially for people living in the Seattle region who gaze up at it's awesomeness every time the clouds part away from it's slopes. Although they don't climb they are drawn to the beauty, the challenge, the glory among their peers or some mix of the three. Any climber who lives in the Seattle area is bombarded yearly with requests from friends, friends of friends, family and work acquaintances to "take me up Rainier". Given the right conditioning and route, the average person definitely has the ability to reach it's summit. That said, it is still a dangerous mountain and there are risks. You can significantly cut down on those risks with the proper gear, training and physical fitness. This tutorial is an outline of information I've presented in clinics on preparing for climbing Mount Rainier.
Preparing to Climb Mount Rainier
I have seen out of shape people summit. They do it because they mentally want the summit really bad and are able to suffer their way up. I have seen super fit people loose it mentally and turn back. Even more common are people getting exhausted from lack of sleep or drink and turning back. Most people attempting Rainier live near sea level so the altitude is unforgiving to anyone who isn't eating, drinking or sleeping properly.
Those who did some training beforehand, are comfortable carrying a backpack, are eating/drinking their favorite foods and comfortable with their gear are the most likely to succeed.
www.willhiteweb.com - Hiking, Climbing and Travel
Who has the most success on Mt. Rainier?
Guided vs. No Guide
Conditioning for Mt. Rainier
How Long To Train
When to go:
Which Route to Take:
What You Need To Know:
Regulations
If you want to put the least effort in preparing for Rainier, go with a guide. They not only guide you...releasing you of all thinking while climbing, they will also cook for you. They will carry most of your gear. They will have shelter for you and have it ready for you. They will tell you when to eat, sleep, walk, sit and go to the bathroom. All you have to do is get in shape because they will push you up.
Train outdoors in the elements...not in a gym. Train with a backpack so you become comfortable with some weight on your shoulders. Even a daypack at 14,000 feet feels pretty heavy. Learning to be comfortable exercising in cold temperatures is key. Summit day on Rainier, even in summer, you'll be climbing in below freezing temperatures in the dark of the night. Depending on your team, if you stop a lot you'll be dealing with getting cold. Your ability and experience to change out your clothing layers will make a big difference. So, the best thing you can do to train is hiking up mountains....any mountains. Try to find ones with over 3,000 vertical gain.
My thought on this would be, the year of the climb. Say you make a New Years resolution to climb Mt. Rainier. The first few months start reading and acquiring the proper gear. As spring comes along, start climbing mountains. The spring snowpack will be good training for your use of an ice axe and practicing crevasse rescue. By mid-summer you should be ready to go...assuming you have someone leading who knows the route and has experience on Rainier.
If you're reading this clinic, you'll be wanting to go during the best conditions. This is usually July. May and June can be good but the weather is riskier. August is nice as well but there is more chances for rock fall or even blue ice. More crevasses are open then causing more round about climbing as well. By July, the standard Disappointment Cleaver Route usually has a deep trench from all the people descending on the soft snow. This is nice if there is a white-out since the route is still easy to follow and a more level walking path is on the steep glacier.
There are three main routes that are the most popular. I have a page on each of them.
Popular training hikes near Seattle along I-90:
Mailbox Peak, Mount Si, Mt. Washington, Granite Mountain, Snoqualmie Mountain
Using an Ice Axe
Rope management and Glacier Travel
Crevasses and Whiteouts
Crevasse Rescue
Book Learning
A climbing pass is required for all who plan to climb above 10,000 feet or onto any glaciers. To obtain a climbing permit each climbing party must complete and submit (in person) a climbing registration card. The price was $30 in 2011 with plans to increase it within the year. There are other rules and regulations like party size and minimum impact issues. See this page for more:
Being comfortable with the use of an Ice Axe is very important. Many trips start a day before where people get trained on self arrest and standard uses of the ice axe. It would be best if all the members of the team were proficient at using one well before the climb.
Unfortunately, this just takes practice. High on a steep glacier is no time to be fiddling with a rope all tangled at your feet. Any practice beforehand, even if on a mountain not needing to be roped up is better than nothing.
If you are going anytime other then July or August, I would bring a good number of wands. For marking the route, crevasses, directional changes, etc.
If I had to guess a number, I would say 80% of those climbing Rainier are not ready to set up a Z-Pulley setup to extract their partners. Usually the trip leader has these skills. Fortunately, the standard routes see few people fall completely into a crevasse. Usually if they do, there is enough people around to pull them out with brute force. Still, it's best if everyone has the equipment to get themselves or their partners out of a crevasse fall.
I have required people to read the snow section of Freedom of the Hills by the Mountaineers before. It's a good introduction if they are about to learn the skills described above.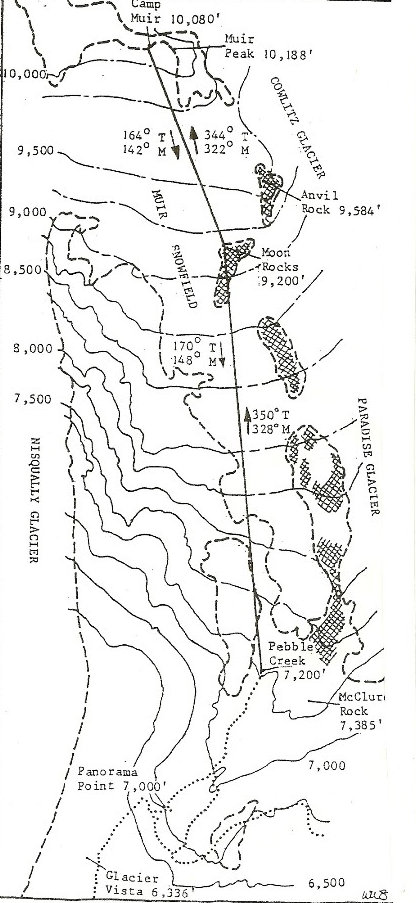 From Spiral Top
Compass bearings to get to Camp Muir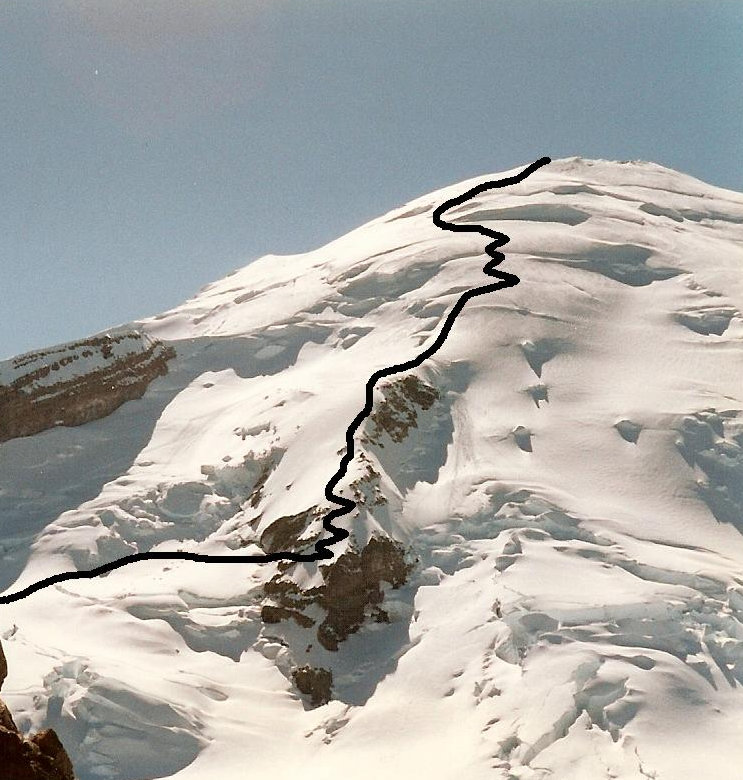 Disappointment Cleaver from the summit of Little Tahoma