Moran State Park
The gem of Orcas Island is Moran State Park, one of the largest state parks in Washington. The Park was donated to the state in 1921 by former Seattle mayor and shipbuilder Robert Moran. When he retired, he moved here acquiring land until he owned all of Mount Constitution and surrounding area. His generous gift to the State of Washington is now Moran State Park. You can learn all about Robert Moran at his famous resort and mansion called Rosario, located adjacent to the park. Moran spent his own money to build roads, trails, bridges, and concrete entrance arches in the new park. Then CCC crews worked in Moran State Park for eight years between 1933 and 1941 building miles of trails, buildings, and numerous other improvements. Today, Moran State Park has more than 38 miles of foot trails. The park is busy on weekends but seldom crowded except on holidays. Most campers stay several days because of the ferry costs. The park has an abundance of wildlife, mountain and water views and activities, including camping, picnicking, bicycling, hiking, fishing and boating. Within the park are two mountains you can hike up, Mount Constitution, with a 2,409-foot summit, the highest point in the San Juans, and Mount Pickett with more remoteness but less views. Those not so outdoorsy are happy with a simple drive up to the summit of Mt. Constitution but outdoorsy folks could spend a whole day hiking and exploring the unique forests and lakes. Some of the trails allow bicycling and horseback riding and most lakes are fishable. There are 4 different campgrounds with over 150 tent spaces. The park also has day facilities like kitchen shelters, sheltered picnic tables, unsheltered tables, paddleboat rentals and a dock at Cascade Lake.
San Juan Islands
Mountain Lake
Lots of picnic areas and some boat rentals located here. A pleasant trail goes all the way around Mountain Lake, about 3.9 miles around. A side trip can be taken up to Twin Lakes.
Cascade Lake & Campgrounds
This is where people go if swimming in Moran State Park. There is a beach, dock, snack bar, paddleboat rentals, rowboat rentals and restrooms.
Have your picnic here, just shy of the summit of Mount Constitution, this is the site of a former lookout tower. It's much more peaceful then the crowd at the stone lookout tower just up the road.
This is the highpoint and highlight of Moran State Park. Pick the most clear day and drive up for a picnic lunch. The stone lookout tower is a one of a kind in Washington.
Cascades Falls Trail
A 75 foot falls in a cool green canyon easily reached in 1/4 mile from the trailhead. You'll also pass Rustic Falls along the way. The trail actually drops 130 feet to reach the falls. The parking area is located just 1/4 mile up the Mount Constitution Road. Best in spring or early summer.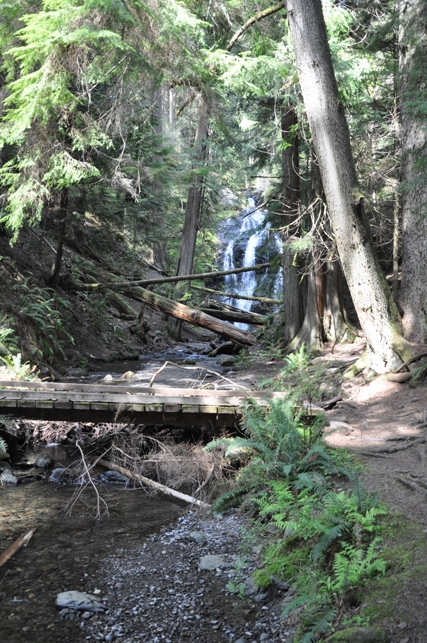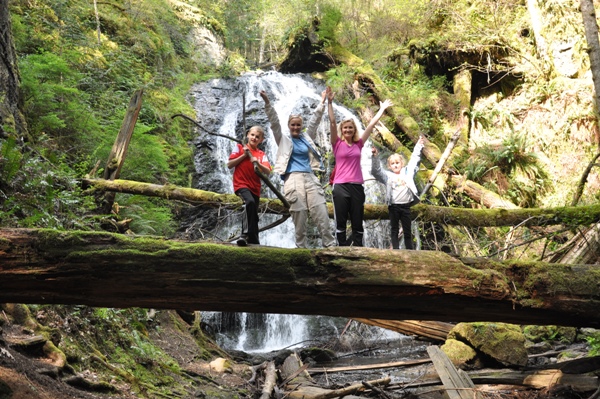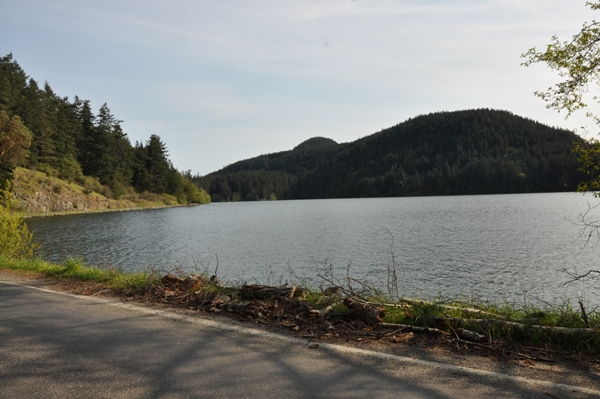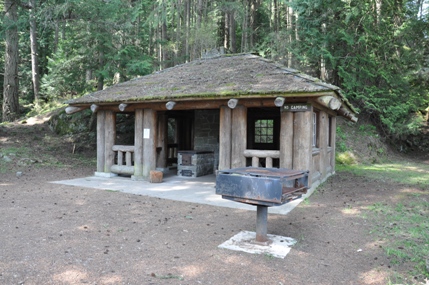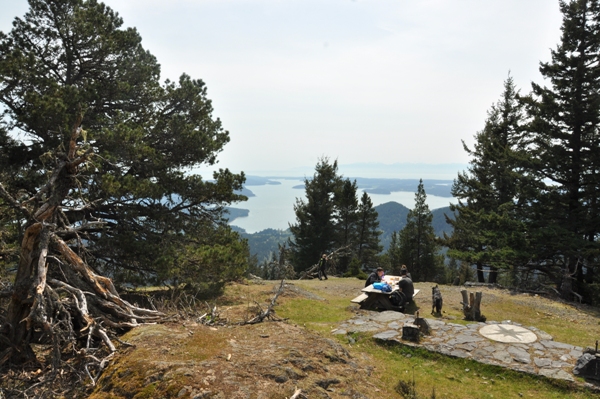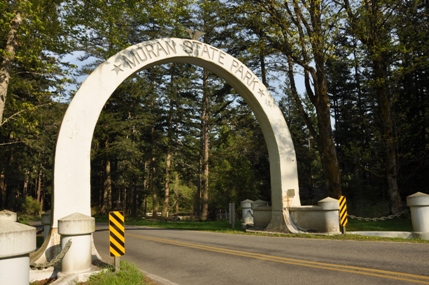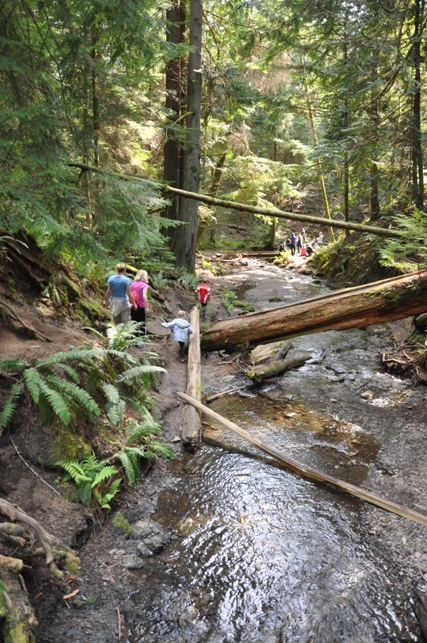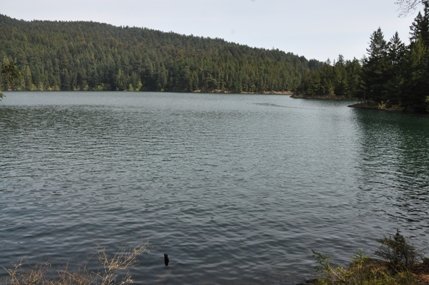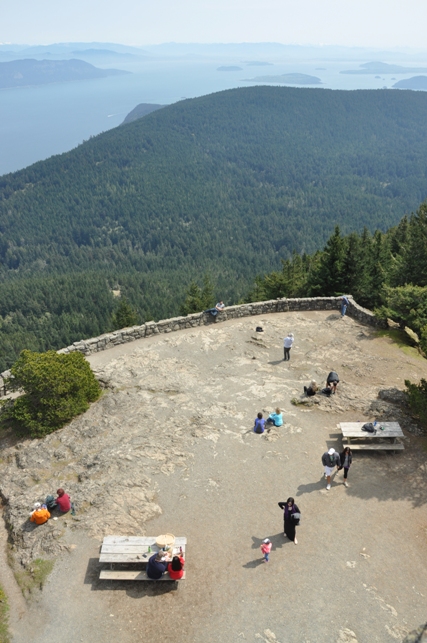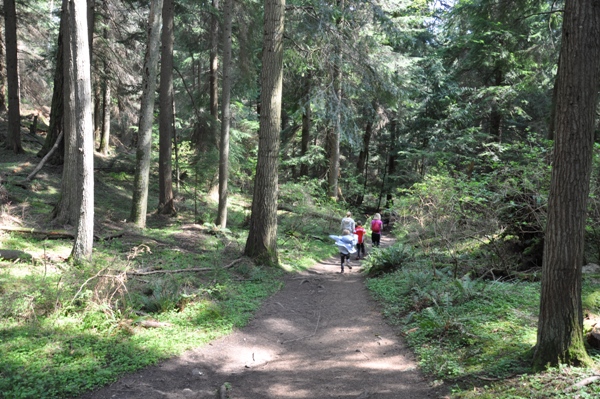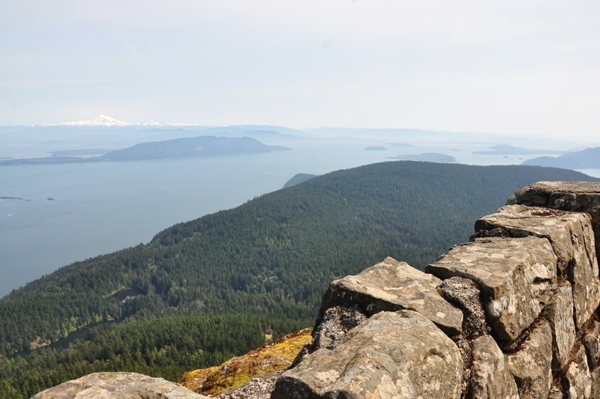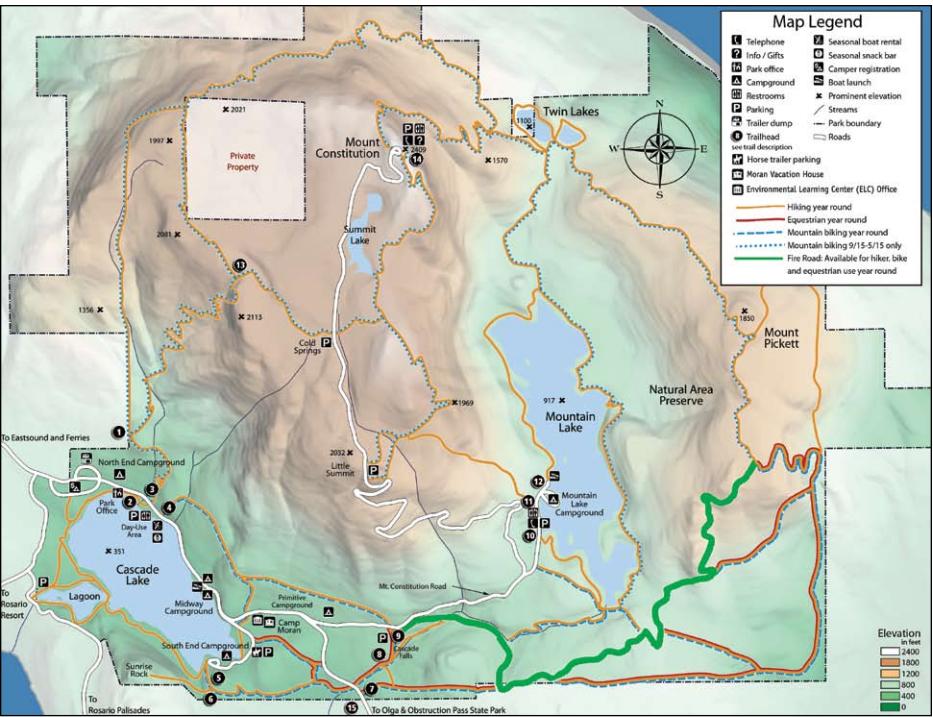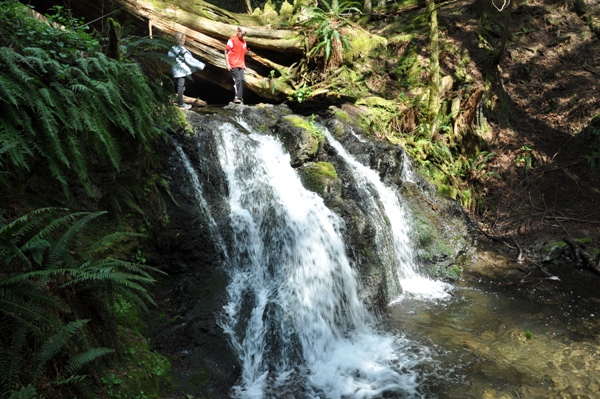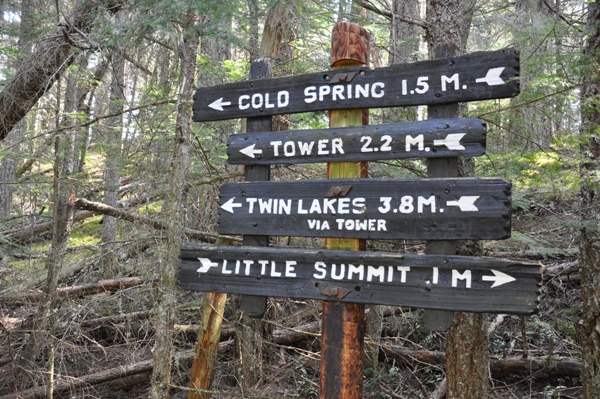 Park Signs
Cascade Lake
Cascade Falls
Little Summit picnic area
Hiking trails
Rustic Falls
Mount Constitution summit view
Entrance Arch
Kitchen shelter at Mountain Lake
Cascade Falls Trail
Mountain Lake
Road passing Cascade Lake
Mount Constitution lookout tower view
Big trees