San Diego Sights
WillhiteWeb.com: California Travel

San Diego is nothing like Los Angeles. San Diego is easy to get around, there are hills covered in lush vegetation, there is water and the people seem much nicer. I was really surprised at the amount of activities available there...a much better destination than L.A. for a family vacation.
Downtown: Gaslamp Quarter and the Waterfront
Old Town State Historic Park
Balboa Park
San Diego Zoo and Sea World
San Diego-Coronado Bay Bridge, Hotel del Coronado
Point Loma and Cabrillo National Monument
Mission Beach and Walkway
La Jolla
Torrey Pines State Reserve
Downtown San Diego is an easy city to walk around. Gaslamp Quarter is 16 blocks of Victorian commercial buildings full of shops and restaurants. The waterfront has several attractions including the USS Midway-an aircraft carrier that is now a huge museum, the Star of India is the worlds oldest ship (1863) that still goes out to see, the Maritime Museum, the U.S. Air Carrier Memorial, ferry service to Coranado, harbor cruises, cruise ship terminal, a fish market and shopping centers all line the waterfront. Also nearby is the Santa Fe Depot is a rail station built in 1915 and still in use.
This free state park site allows you to see where California was born. This 6 block area is restored to look as it did in the early 1800's. Many of the buildings are exhibits full of information and artifacts, others are venders and restaurants all supporting the theme of early life on the frontier.
Balboa Park is second to Central Park in New York for oldest park in the U.S. The park is the largest urban cultural park in the U.S. It includes many sites including the Zoo, Cabrillo Bridge, sculpture and other gardens, many museums, pavilions, fountains, etc.
Considered one of the best zoos and marine parks in the country, any visit to these attractions will be worth the expense and time. The zoo has over 4,000 creatures, an aerial tram and bus tours (although they don't really get close enough).
This bridge claims to be over 2 1/4 mile long and 246 feet high (enough for an aircraft carrier to go beneath). It connects to Coronado, a scenic "almost" island between the downtown area and the Pacific Ocean. In Coranado is the Hotel del Coranado, a Victorian resort built in 1888. It's pretty impressive inside and out for the era and many famous people have stayed there.
For a great panoramic vista of the San Diego region, visit the point Loma lighthouse. There is also a visitors center, trails, beaches and historic points of interest.
There are many beaches in San Diego. This wide open beach stretches for a few miles with a wide bike path/boardwalk between the beach and shops, hotels and restaurants. You can even visit Belmont Park and the historic Giant Dipper rollercoaster . The best experience would be to rent bikes and ride the whole distance.
La Jolla is a small suburb just north of the city. This coastal town has some really nice coastal walks and views of cliffs. Sea Lions can be viewed here on the rocky shores as well. The small beaches tucked away under rocky cliffs are popular.
Most guide books suggest this as a top sight but I wasn't too impressed. Although a nice place to get away and take a short hike among the rare Torrey Pine tree, other parks in northern California outshine it by far. This is one of only 2 places on earth the tree grows!
Old Town San Diego
Old Town San Diego
Mission Beach San Diego
Gaslamp Quarter
Star of India
USS Midway
San Diego Coronado Bay Bridge
Santa Fe Station
Hotel del Coronado
La Jolla
Torrey Pines State Reserve
Balboa Park
San Diego Zoo
San Diego Zoo
Hikes
Interesting Drive
Mission Beach Sunset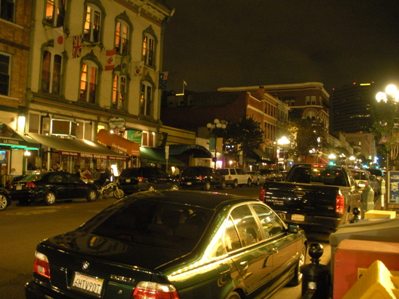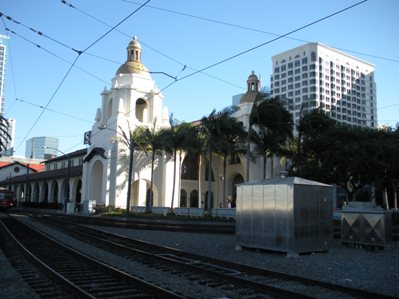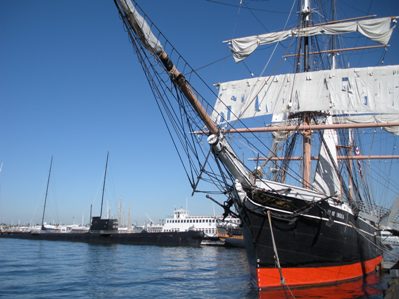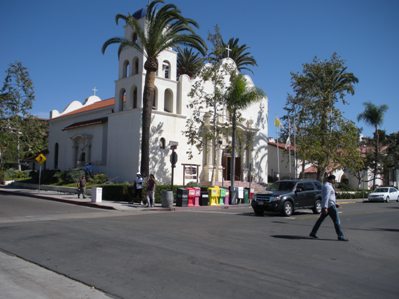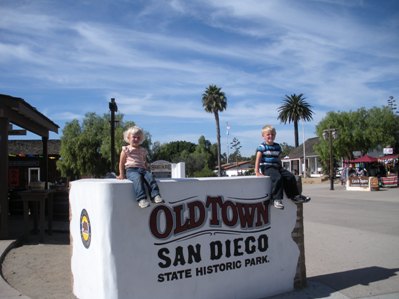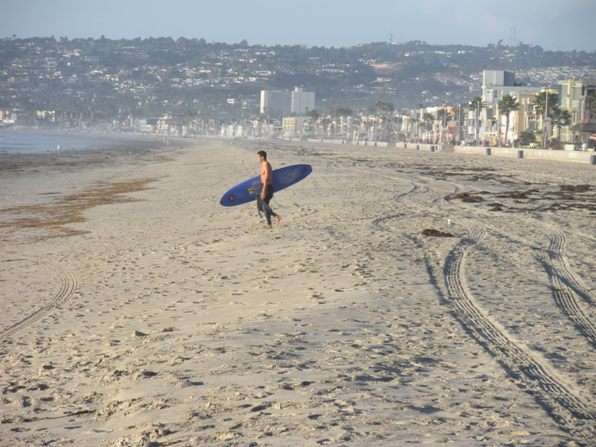 Mission Beach San Diego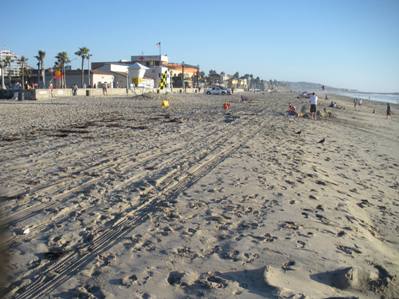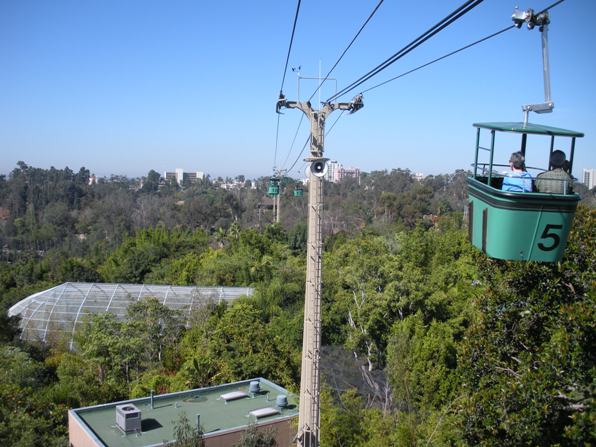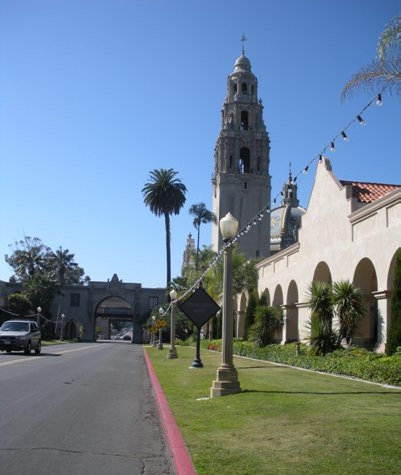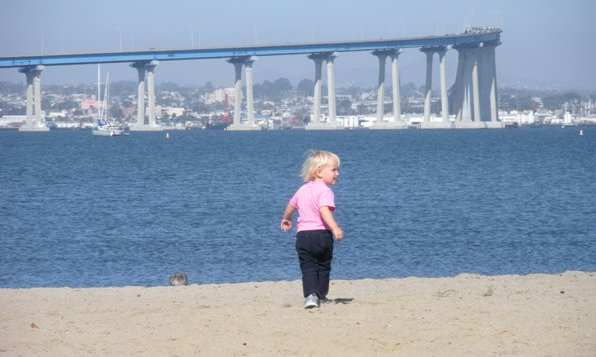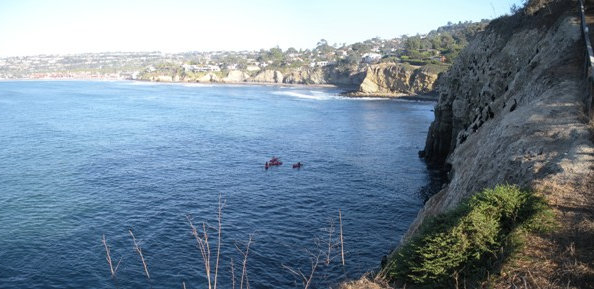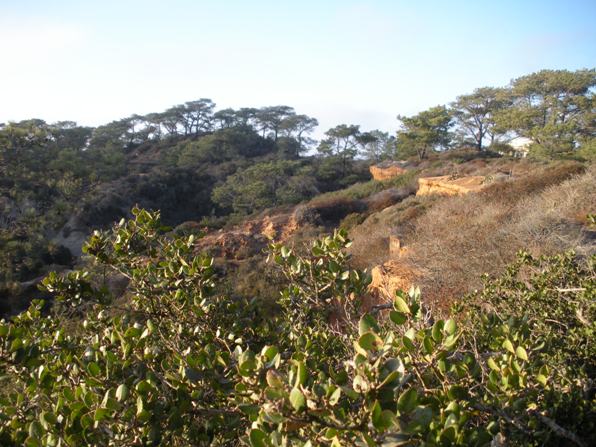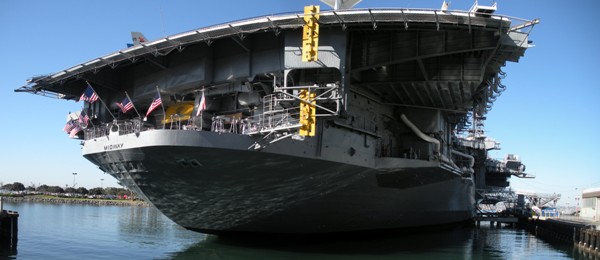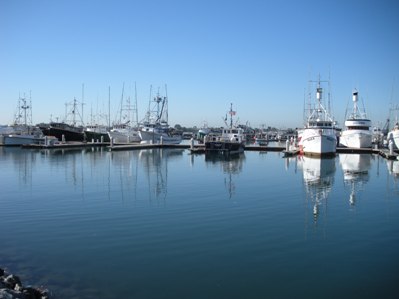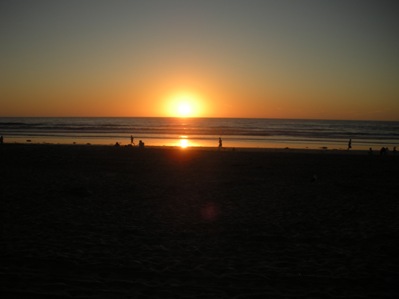 Waterfront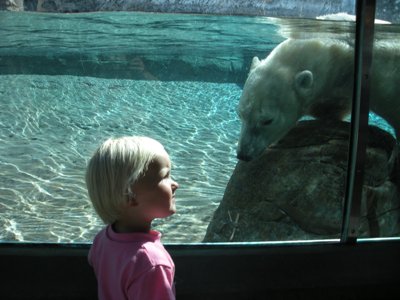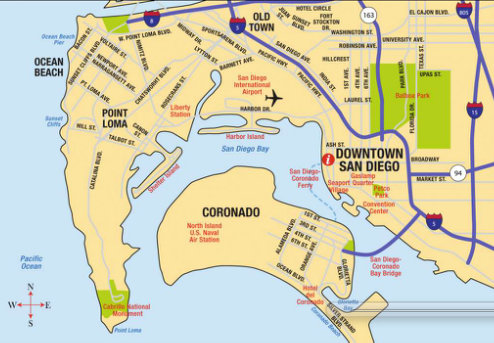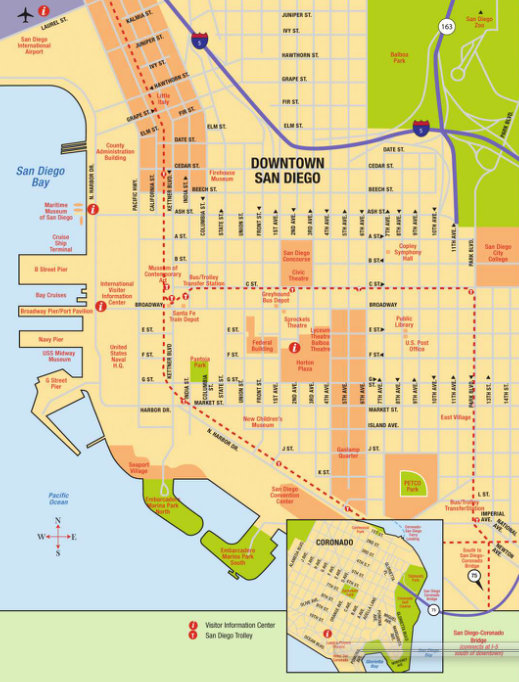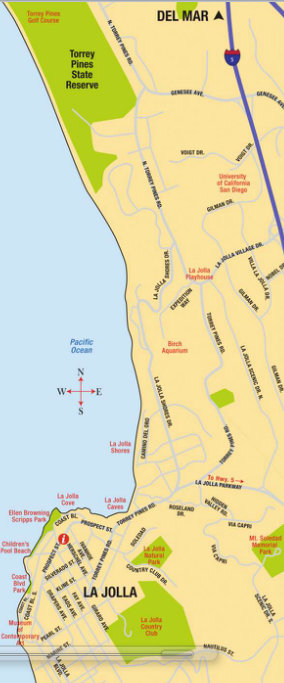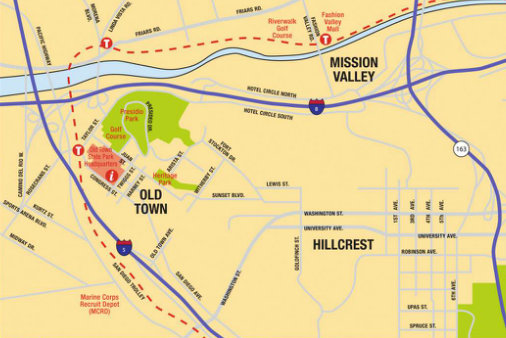 Kids love this place for a full day of rides and exploring.