Cuyamaca Peak
Distance: 2.5 miles
Elevation Gain: 1,500 feet
Summit Elevation: 6,512 feet
Access: Paved
WillhiteWeb.com: California Hiking Trips

Access:
Route:
The highest point in the Cuyamaca Mountains east of San Diego is Cuyamaca Peak, inside Cuyamaca Rancho State Park. This highpoint boasts views out over San Diego County to the Pacific Ocean as well as all the other peaks in the region. Surprisingly, this is a large hiking complex as Cuyamaca Rancho State Park is one of California's largest. Cuyamaca is also one of California's 2,000+ Prominence Peaks, one of only a few this far south in the state.
Take the 8 freeway east of San Diego until you hit highway 79 and signs for Cuyamaca Rancho State Park. Go under the freeway and follow 79 until you reach Paso Picacho Campground inside the state park. Pay the fee and park in the day use area.
Walk up into the campground taking the main center road (avoid first few loops). At a Y, go left looking for the trailhead sign near some campground cabins. Just up the trailhead, outside the camp is a paved fire road that goes all the way to the summit in 2.5 miles. Because it is paved, I brought a stroller to push my 4 year old up once he got tired. (Still, with a 2 year old on my back..ugg!). A mountain bike would work well here as well, although the road is steep at times. A fire burned this area so the trees are dead until you get near the summit. Several trails cross the road but all you need to do is stick to the pavement. The summit has several communication towers but views can be found by walking around each one.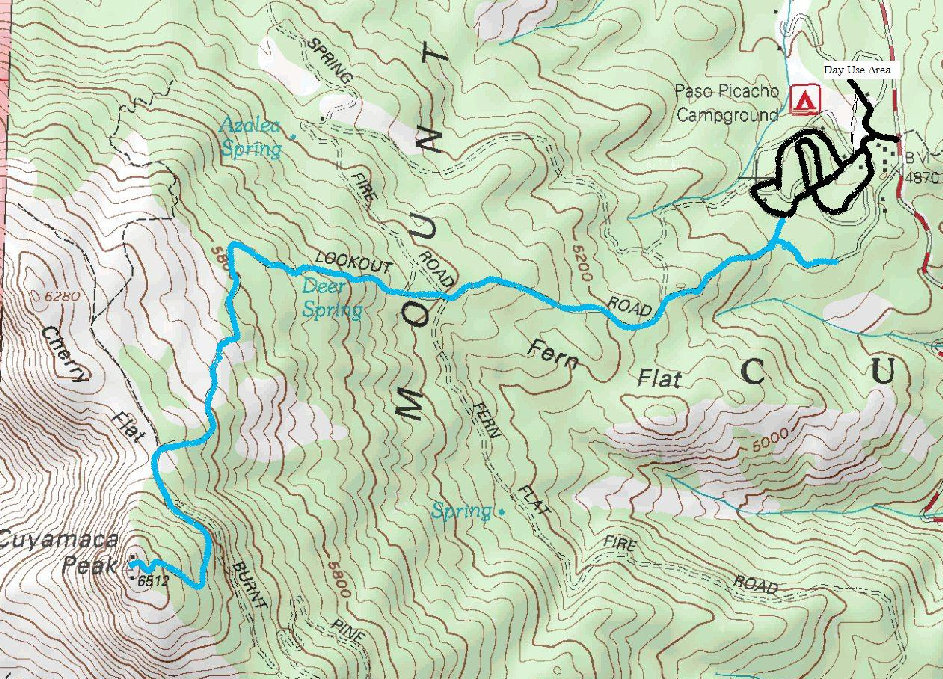 Cuyamaca Peak Trailhead
Cuyamaca Peak Fire Road
Stonewall Peak from Cuyamaca Fire Road
Clouds coming in off the Pacific Ocean
Sun dropping down over the Pacific Ocean
Views to the west