Antelope Island in the Great Salt Lake has one main mountain, Frary Peak. It is visible from long distances away as it is so isolated out in the middle of the flats of Salt Lake and Davis Counties. I consider this a tourist peak and highly recommend it to anyone you might have visiting from out of state. They wonít find anything like it back home. Frary is one of the few peaks that will cost you money to climb, just getting onto the island ďAntelope Island State ParkĒ is around $9. The hike can be done in early spring and late fall because of its low elevation. This is probably the best time as well as it would be hot in the summer, especially since there isnít any shade most of the route. Iíve also been told the trail closes for a short time in spring but I havenít confirmed this.
From the parking lot, the trail climbs to gain the main ridge reaching the Dooly Knob Junction. A spur trail goes north for a half mile to point 5278 Dooly Knob. For a real summit, continue on the main trail as it climbs up the west side getting higher up on the main ridge. Now back on the main ridge it snakes its way up to the false summit. From here where there is a small communication site, a half mile from the true summit, you have two options. One is to traverse the ridgeline on rocks which is said to be a relatively easy scramble. The other is to take the trail which is in poor shape and drops you down 200 feet to bypass the cliffs. Whichever way, the summit is amazing, a truly unique experience.
Distance: 3.5 miles
Elevation Gain: 2,000 feet
Summit Elevation: 6,596
Kid Difficulty Rating: Hard
Access Rating: Level 1
Frary Peak (Antelope Island Highpoint)
www.WillhiteWeb.com: Your online resource for hiking, climbing and travel
Access:
Route:
Take exit 332 of I-15, drive west on Antelope Drive to the park entrance. Pay a ridiculous price of $9 and continue on. Once in the park and across the causeway, take a left go a half mile to another left. Follow this road on the east side of the island 5 miles or so to a right turn marked Frary Peak Trail. This nice gravel road goes to the trailhead parking lot in a half mile.
Frary from Buffalo Point in winter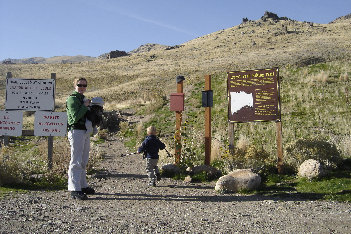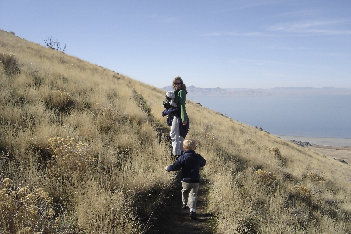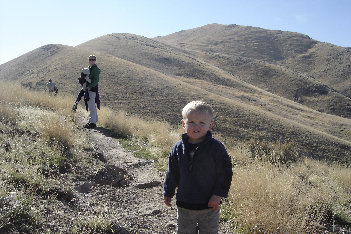 Trailhead on a nice November morning
The Trail
On the ridge with the false summit in view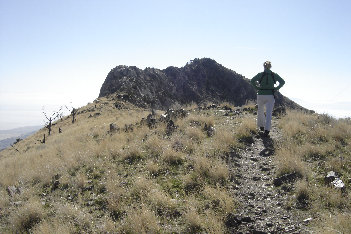 Getting near the summit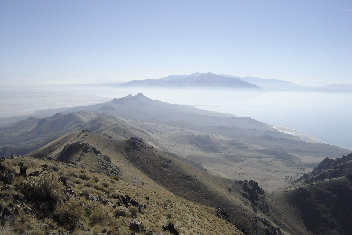 Southern part of Antelope Island and Oquirrh Mtns in distance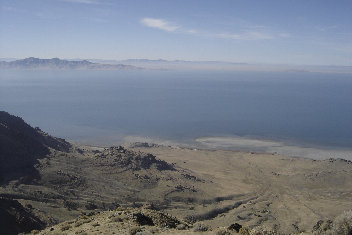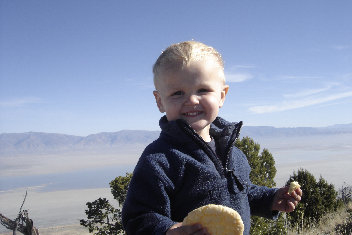 Looking West
Mmmm summit cookie!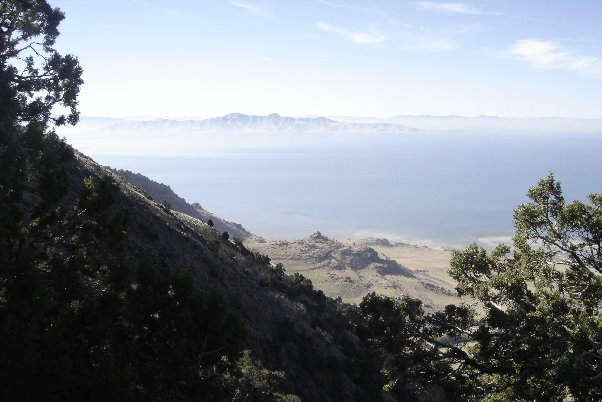 View over Salt Lake to Stansbury Island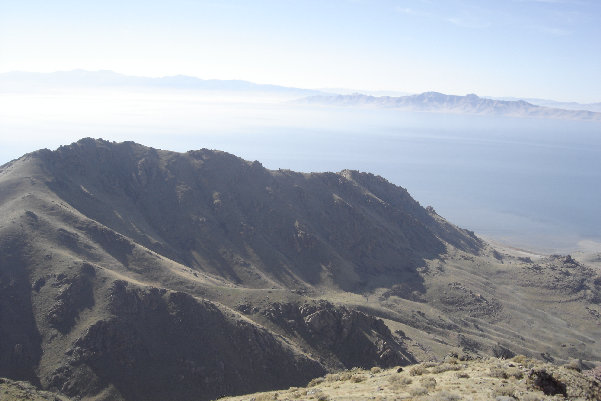 Red Rocks on this island, views to Stansbury Island and Mountains in distance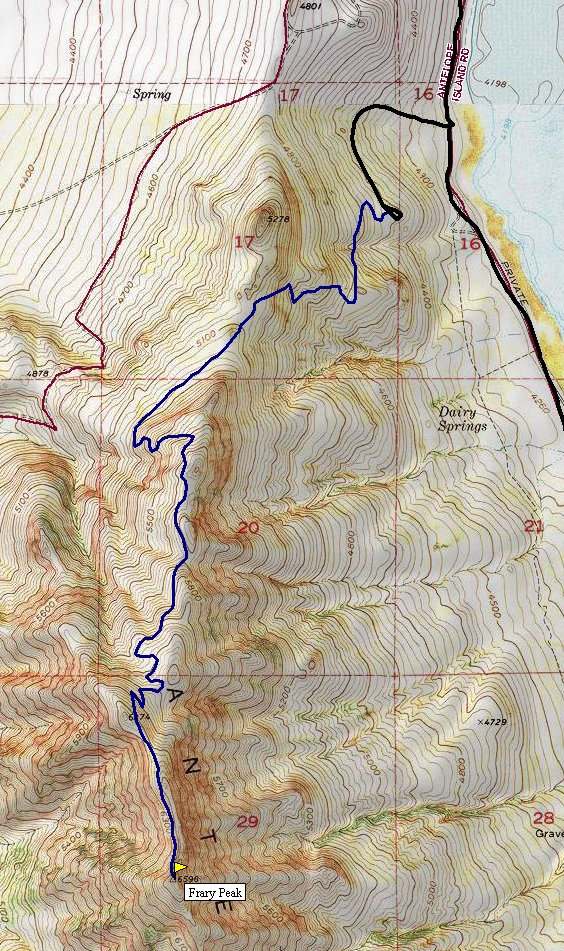 This route is approximate as the trail is not shown on USGS maps