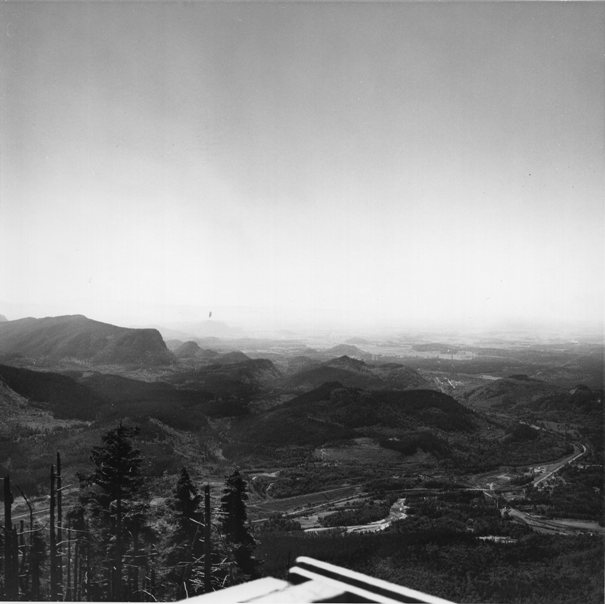 McDonald Point Lookout
Elevation: 3,284 feet
Elevation gain: 2,100+ feet
Distance: 3 miles
Access: Paved
This page has information about the McDonald Point Lookout Site. For access and hiking information, click on the link below.
McDonald Point Fire Tower Timeline
At time of construction, the Enumclaw DNR had 3 other lookout stations, Pinnacle Peak, Grass Mountain, Carbon Ridge. But, with the construction of McDonald, the plan was to staff Pinnacle Peak for one more year, then abandon it.
Improvements
Attended the ceremony were:
Mrs. Loren Tucker (Edith) - Olympia, WA
Mrs. Robert McDonald (Elsie) - Seattle WA
Addie & Charles Cowan - Kirkland WA
Mike and Betty Webster
Mr. & Mrs. Nick Kirkmire and family (son and daughter) - Bellevue WA
William(Bill) H. Larson - Seattle WA
Del Taylor - Seattle WA
Bill Gross - Olympia WA
? Nucka (sp) - Olympia
George Beckim - Sedro Woolley WA
Tom Anderson - Enumclaw WA
Dreue and Sherrie Gramau (sp) - Enumclaw
Nora K. Anderson
Carol Sorensen - Current McDonald Lookout
Mrs. Harold Sorensen - Enumclaw WA

Others invited but not on attendance sheet
Art Linder (district old-timer)
Don Fraser
Don Hopkins
Harry & Mae Osborne
The Dedication Ceremony
Washington Lookout Sites
Construction started in August of 1963 and completed in the fall. It was a 40 foot tower.
1964: First Lookout Carol Sorenson 6-15-64 to 9-14-64
1965: Lois Wall 5-12-65 to 7-15-65
1965: Janie Dunckley 7-15-65 to 9-15-65
1966: Joyce Bayson 5-9-66 to 6-16-66
1966: Janie Dunckley 6-16-66 to 9-16-66
1967: Joyce Bayson 7-22-67 to 6-14-67 (trans to Grass Mtn. L.O.)
1969: Torn down June 4, 1969 "I was present with Emmitt Gleason and the crew and gave the order to "dump it"! Tom M. Anderson - District Administrator
1970: By March, all structures had been removed from site and site was returned to Burlington Northern, Inc.
Fall 1963: The door panel was repaired after being kicked out.
June 1964: Replaced 2 boards on trap door and hasp/lock after fall damage to L.O.
July 1964: Installed signs, weather station re-installed in new location, 2 loads of gravel around L.O.
Sept. 1965: Painted outside of L.O. (1.5 gallons of paint, 4 man days)
Unknown: Constructed shower floor for auteloon(?) shower.
Before the lookout tower of 1963 was a crows nest in a tree. The panoramic images shown on this page were likely taken in 1962 from the top of the 50 foot spar tree platform. The top cut of the tree is very noticeable in one image.
McDonald Point Spar-tree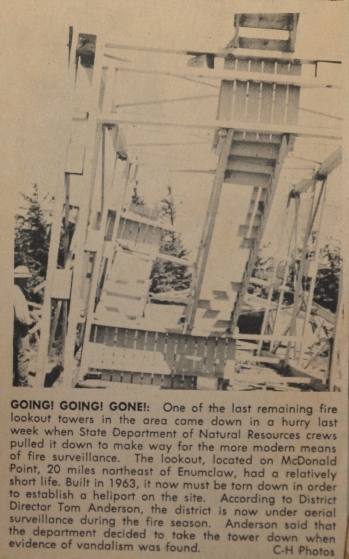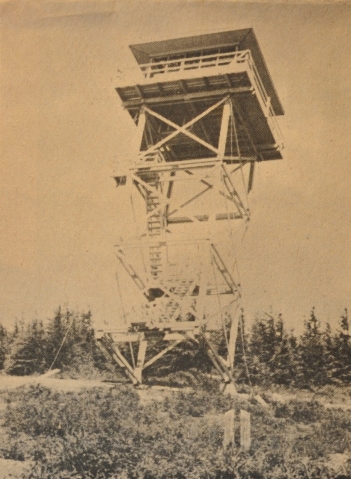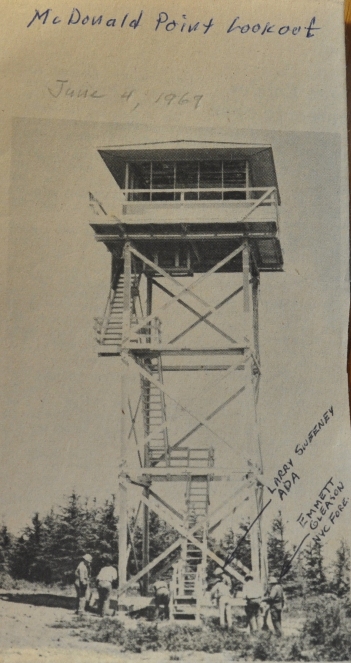 JUNE 4th 1969
Going! Going! Gone!
One of the last remaining fire lookout towers in the area came down in a hurry last week when State Department of Natural Resources crews pulled it down to make way for the more modern means of fire surveillance. The lookout, located on McDonald Point, 20 miles northeast of Enumclaw, had a relatively short life. Built in 1963, it now must be torn down in order to establish a heliport on the site. According to District Director Tom Anderson, the district is now under aerial surveillance during the fire season. Anderson said that the department decided to take the down down when evidence of vandalism was found.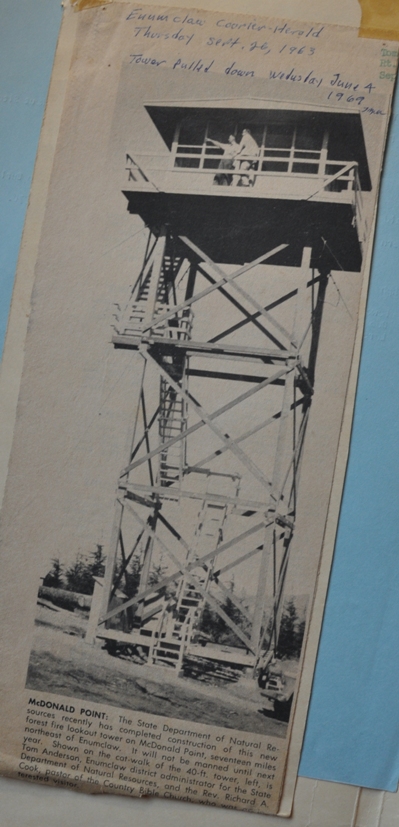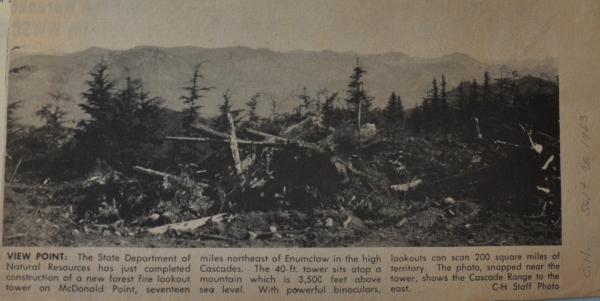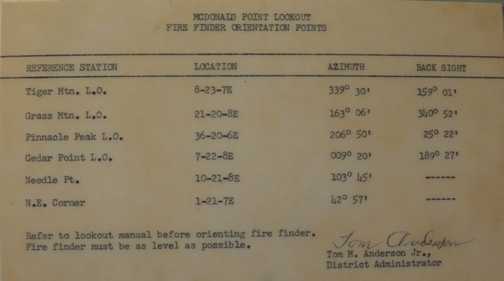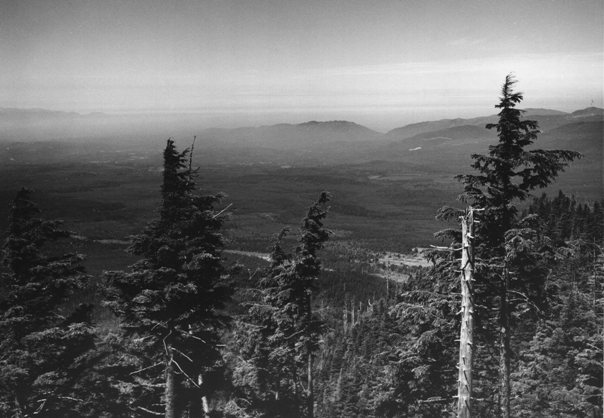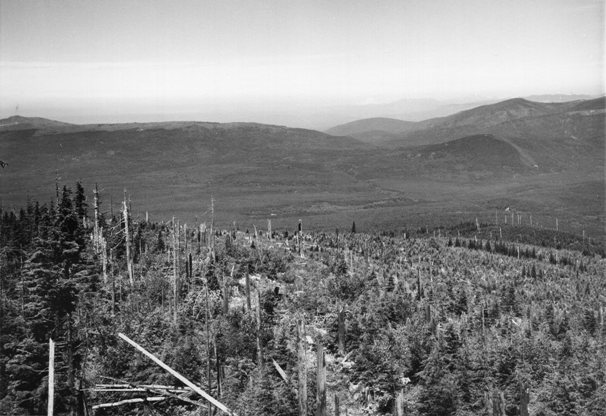 Tiger Mountain Lookout Site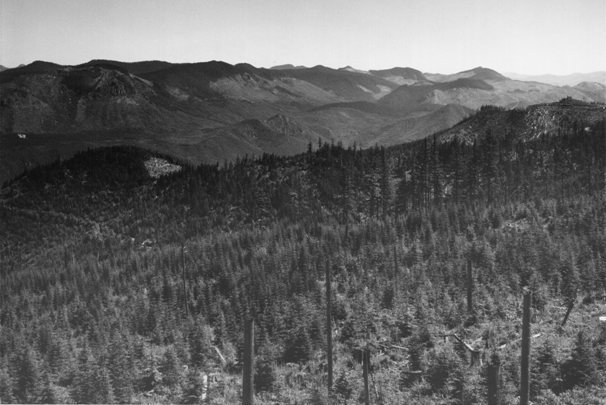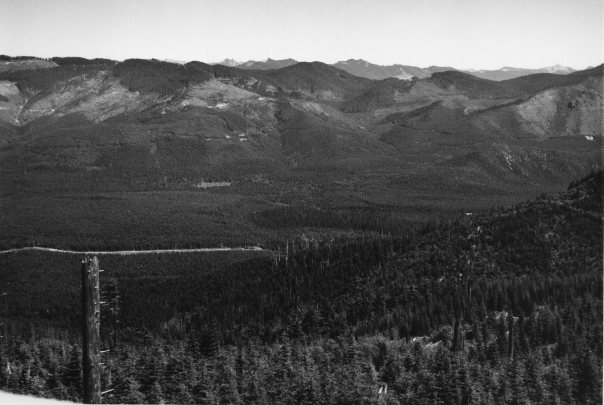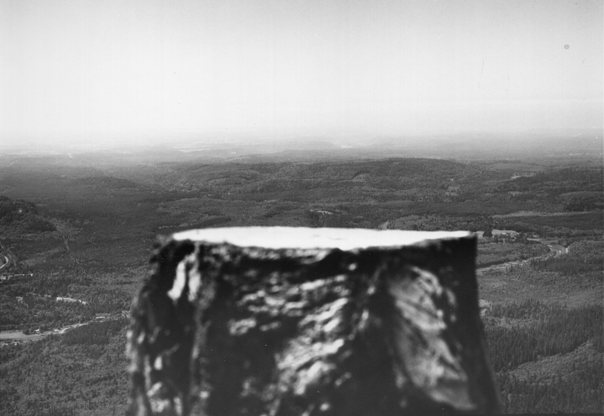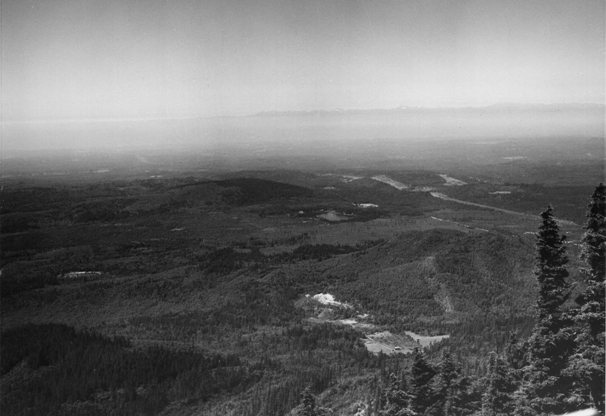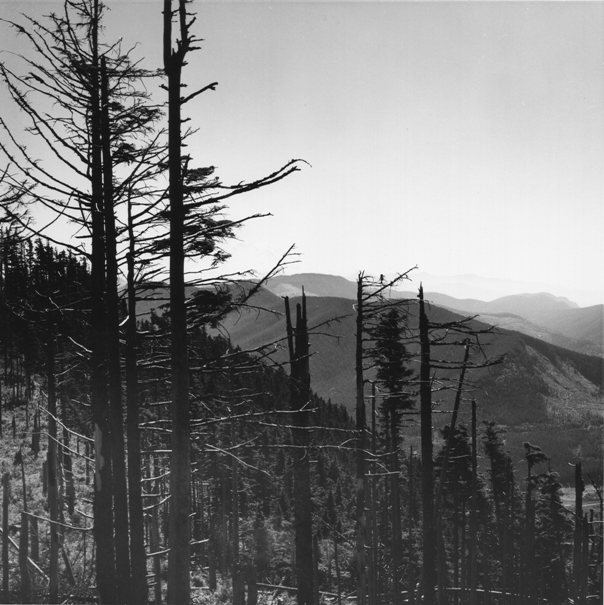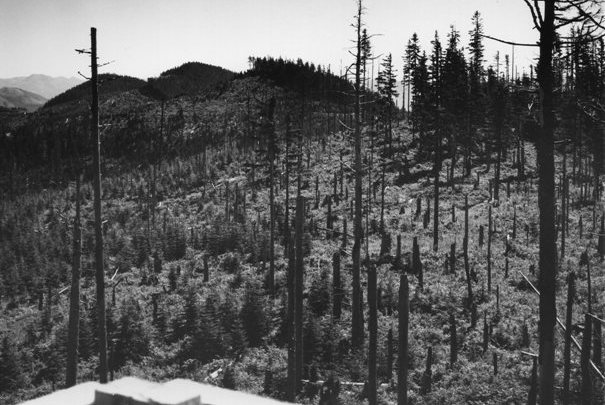 Rattlesnake Mountain
Mt. Si
McDonald Mountain True Summit
Enumclaw
Pinnacle Peak Lookout
Looking across Puget Sound area to the Olympic Mountains

In the news
In the news 1963
Cutting the base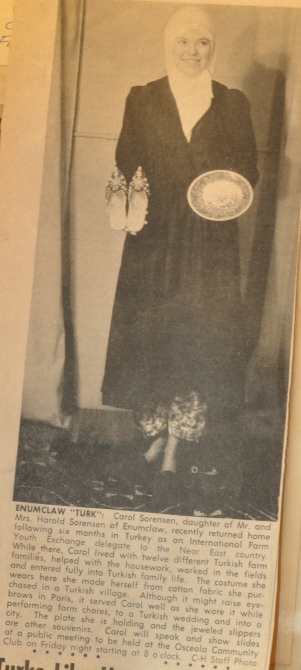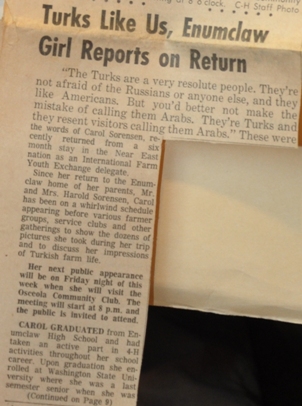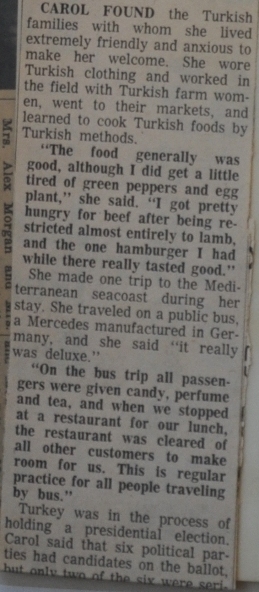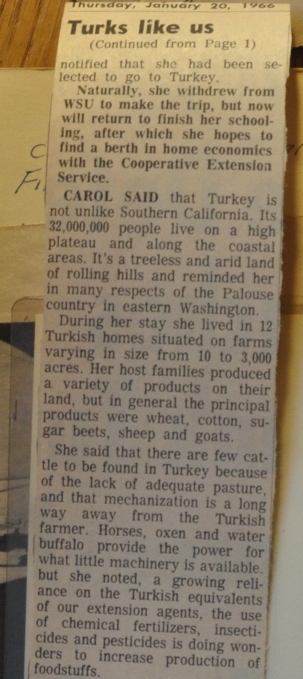 Story about what Carol Sorensen (the first lookout at McDonald Point) did after her time in the lookout
Top of the 50 foot spar tree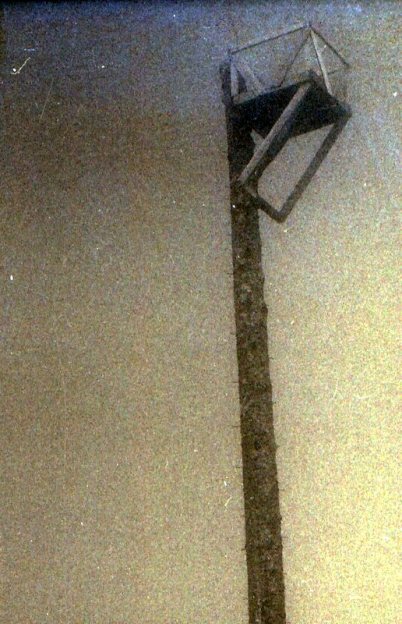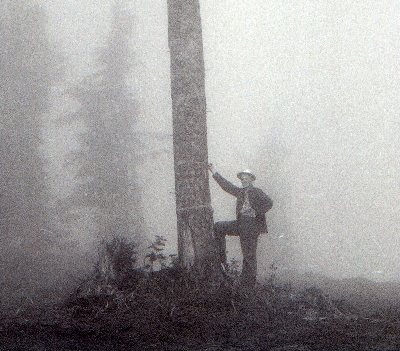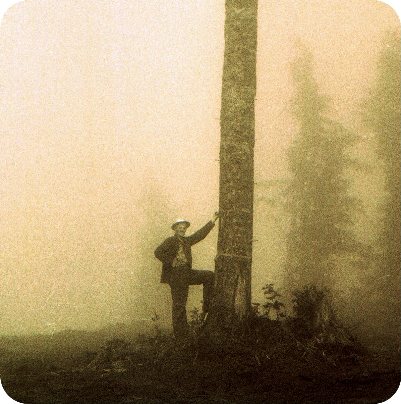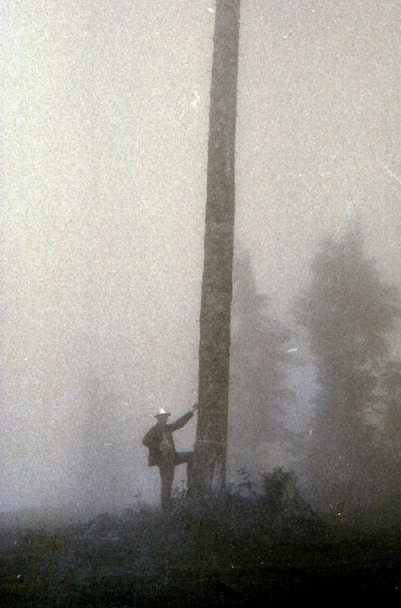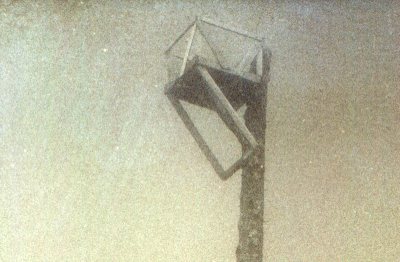 Lookout Mountain Lookout Site
(Cedar Point L.O.)
Fire Finder Orientation Points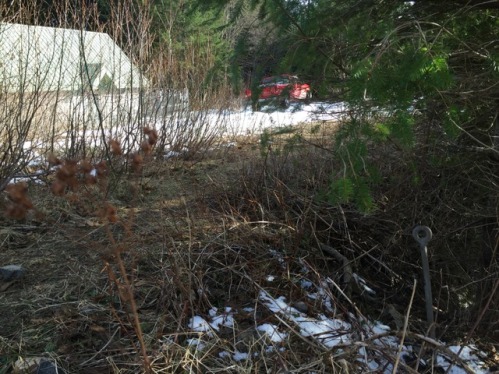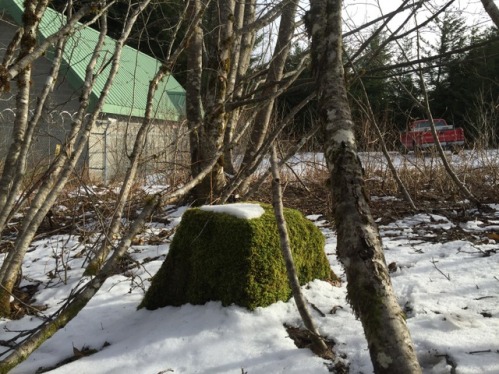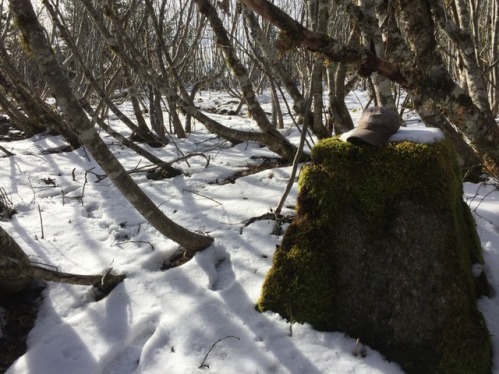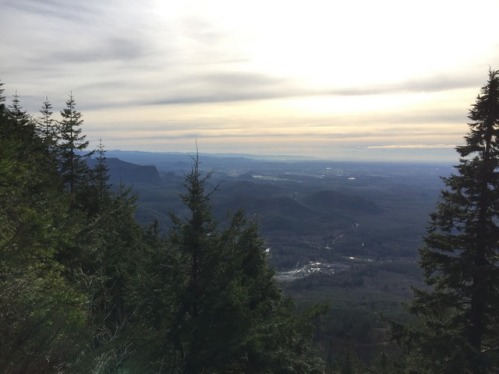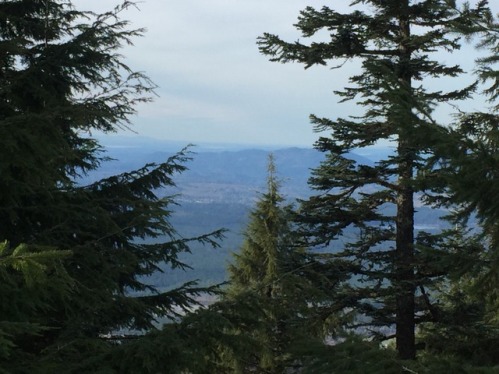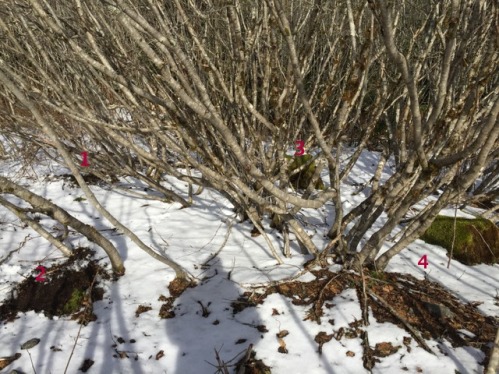 2016 Images of Footings
Eyebolt
Footing and current communication site
Looking south
Looking west
Toms Spar Pole
Circa Late 50's early 60's
(Page made possible with the help of Alan Mainwaring, DNR)