Hike the old Pacific Crest Trail to a former lookout, or hike the new Pacific Crest Trail to the former lookout, you choose. Big Huckleberry Mountain is on the divide between Panther Creek and the Little White Salmon River, just south of the Indian Heaven Wilderness and just north of the Columbia Gorge Scenic Area. Its eastern side is bound by the Big Lava Bed, a relatively young eruption area. This area is far removed from people and has a good wilderness feel to it. I had a bear encounter and I've read many other accounts of the same along the meadows on this trail. Not much is known about the old fire lookout that was on the summit. It was used in the 1920s, in 1931 a L-4 cab was placed on top, not much remains but some guy line anchors, glass and cable. A Geodetic Survey team mentioned the lookout in 1946, but its unclear when it was destroyed. Unfortunately, the views are going away fast so there isn't a lot to see. There are many fire rings on the summit and I seem to recall the summit was once a big gathering place for through-hikers on the PCT. With the views gone, I doubt this is the case anymore. There is a small camp called Cold Springs Camp along the Grassy Knoll Trail if you wanted to overnight this hike.
Big Huckleberry Mountain
Elevation: 4,204 feet
Distance: 5.5 miles
Elevation Gain: 2,200 feet in, about half that on way out
Access: Good dirt with potholes
Access:
Route
One could take the Pacific Crest Trail from the north or south to the side trail that branches off 1/4 mile to the summit. I would suggest saving those routes for when you hike this section of the PCT. Instead, approach via the shortest route via the old PCT from the south. It's about 5 miles and passes Grassy Knoll, another former lookout and the best place to pick up some views. For this access, check out this trip report...
Washington Fire Lookouts
Southeast 2015
Southwest 2015
North 2015
Follow the information given in the Grassy Knoll Trail, then just continue on the trail as it follows the ridge. About mid-way to Big Huckleberry, the trail passes Cold Spring Campsite which has room for a few tents, a fire pit and a spring for water. The trail does several ups and downs and the last mile it drops below the ridge to avoid some cliffs. When you reach the Pacific Crest Trail, take about 5 steps to the right on the trail, then leave it and head up the Big Huckleberry Summit Trail. Minutes later you will be on the summit.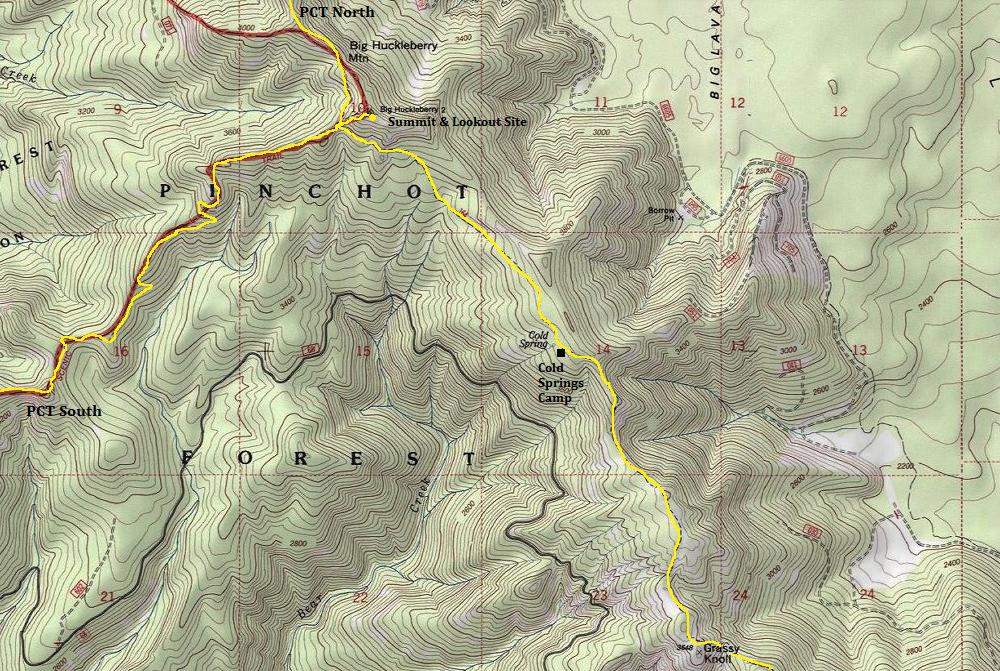 Looking Southwest 1941
Looking North 1941
Looking Southeast 1941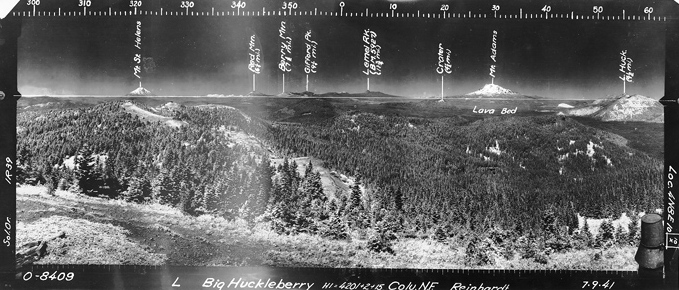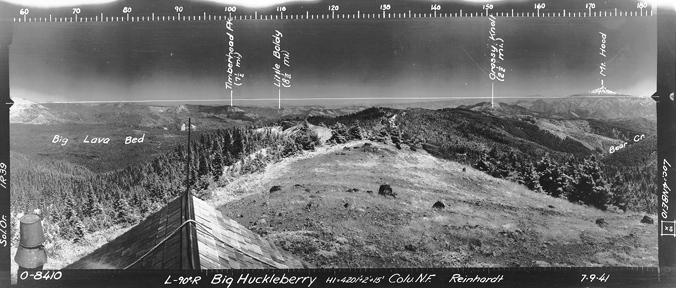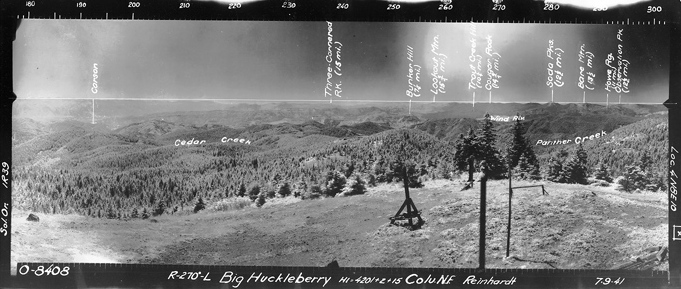 (From down the ridge a bit)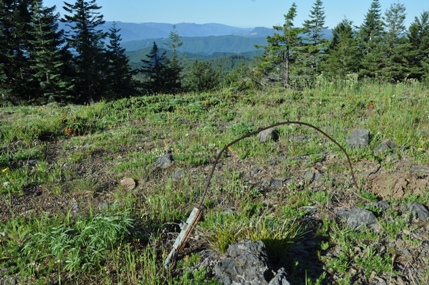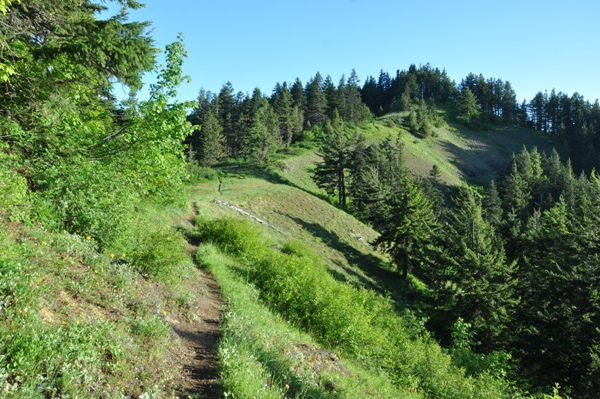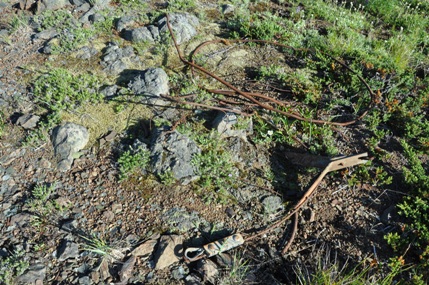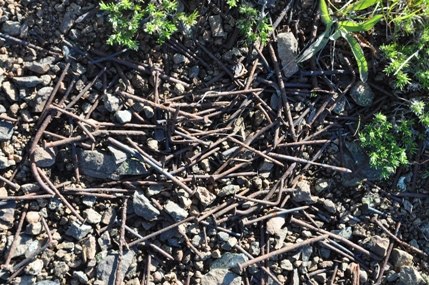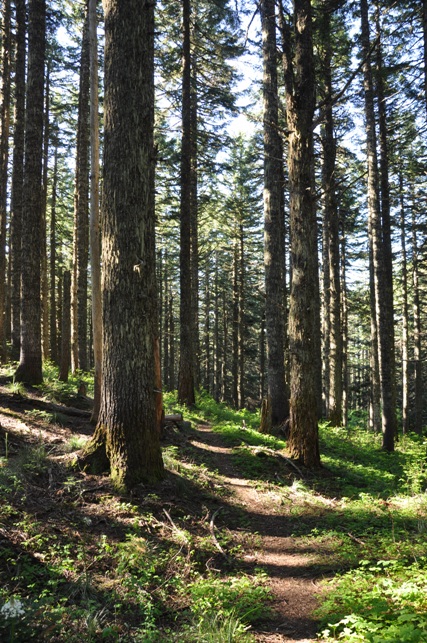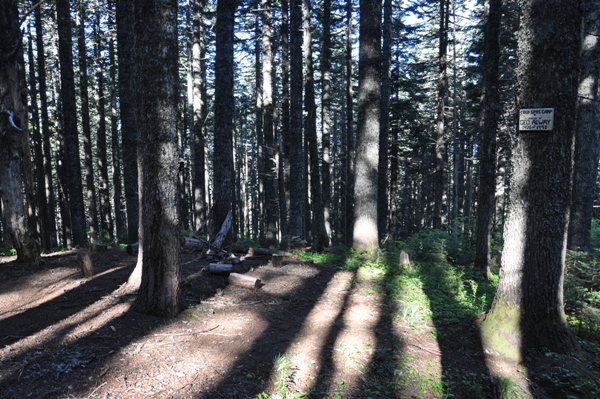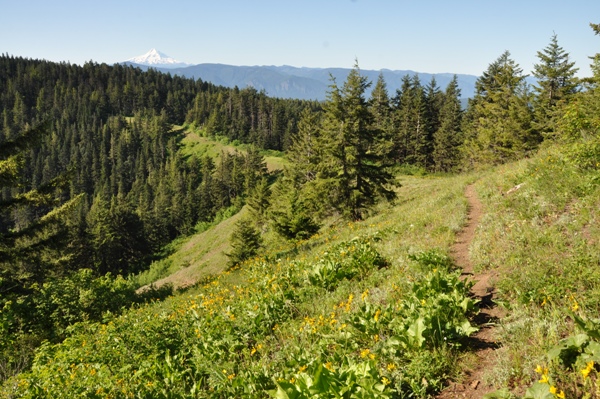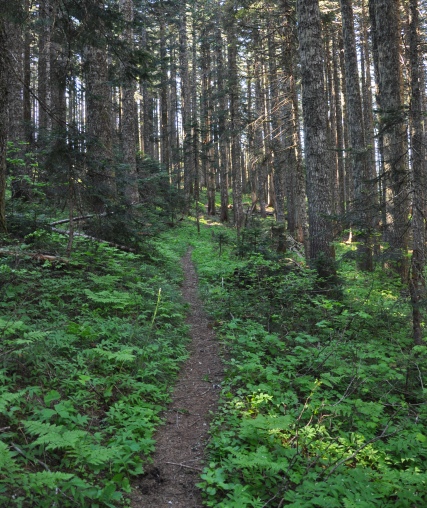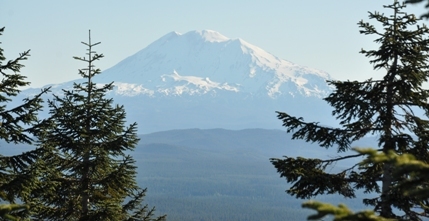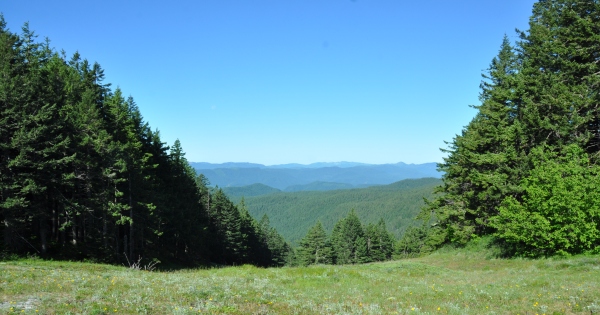 Mount Adams
Ridge meadows
Cold Springs Camp
Guy line
Guy line and wire
Looks like a ski run off the trail
Nails, nails, nails
Meadows and Mount Hood