Constance Pass - AWS Observation Post
AWS in Washington
The Aircraft Warning Service maintained a lookout near Constance Pass. Documents show the lookout being in the S/E corner of section 4, over a mile west of Constance Pass but on the historic Constance Pass Trail. One document goes further to say the location was at a small lake. Indeed, in this quarter section, right along the trail is a small lake. The area is near Sunnybrook Meadows and has open views down into the Dosewallips Valley. This location is logical given the access to a water source (the lake and spring above the lake). Some have suggested the location was a crude rock shelter on the ridge. The ridge site would be unfavorable conditions for a lookout person, 24 hours a day. Located in the SE1/4 of section 4 happens to be the Sunnybrook Shelter as shown on the 1933 Olympic National Forest map. The AWS lookout person likely utilized this structure for a living quarters. This was only a summer lookout, most of the year, the lookout person was at the other site located at the bottom of the Dosewallips Valley. They just called the winter site Dosewallips, in the west half of Section 24. The concern was airplanes coming through the Dosewallips Valley.
Location: SE1/4 S4 T26N R4W
Structure: Shelter Likely
Owner of Land at Time: Olympic National Park
1930 Olympic Trail Guide Map shows a telephone at Constance Pass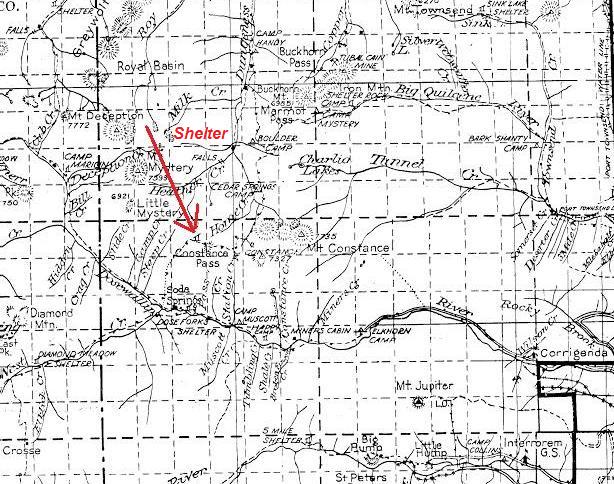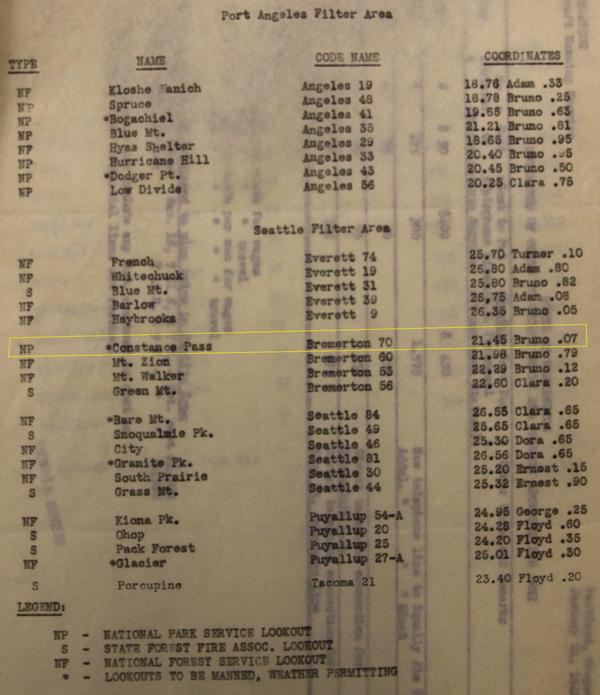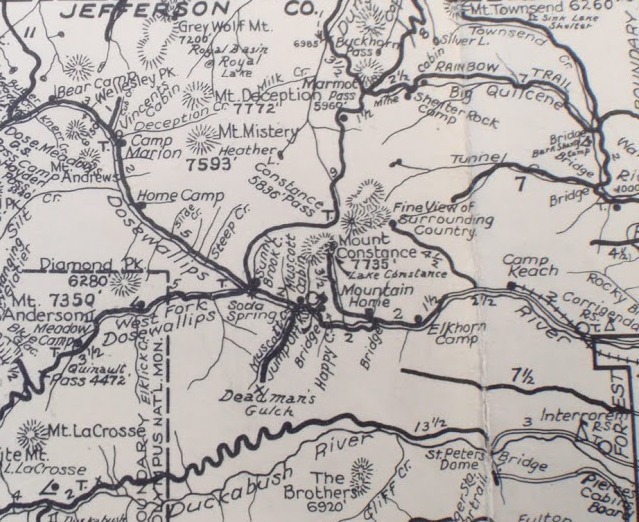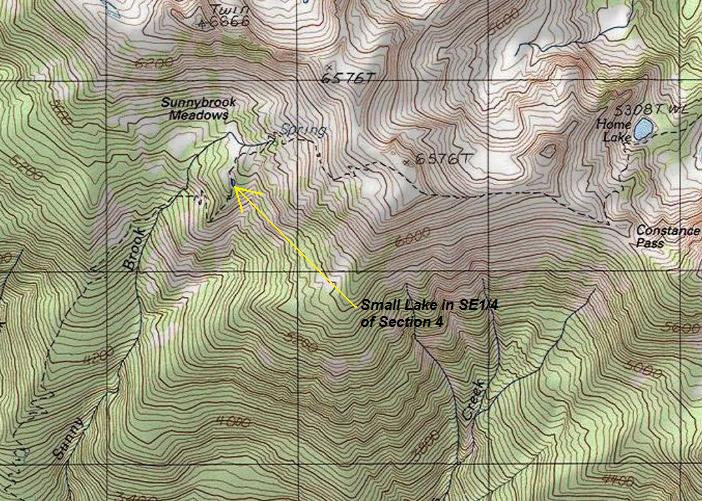 1933 Olympic National Forest map shows a shelter in section 4 west of the pass
It is possible rock shelter at the pass was used as a fire lookout by the National Park Service before moving up to a high peak east of the pass. See more at:
Section lines in yellow are estimated based on adjacent STR
6
7
Rock Shelter west of Constance Pass
Photos provided by the internet
This document to the left, prepared for the Aircraft Warning Service, shows established lookout structures. Constance Pass is listed. Of the 28 listed, 26 had the traditional fire lookout buildings. Only Low Divide and Constance Pass were likely shelters, not the traditional lookout structure. Constance Pass is also listed as manned if weather permitting.
Legend:
NP - National Park Service Lookout
S - State Forest Fire Association Lookout
NF - National Forest Service Lookout
* - Lookouts to be manned, weather permitting
Showing the small lake
Summer stations, usually used from July to September before going to a lower location
Doc showing Constance Pass at a small lake in SE1/4 of Sec. 4
1
12
4