O'Farrell (South Prairie) Lookout Site
Elevation: 3,236 feet
Distance: 4.5 miles
Elevation Gain: 1,300 feet from the gate
Access: gravel roads with many potholes
This lookout was called O'farrell but another name was South Prairie. It was a 20 foot pole L-4 tower built in 1934. It was replaced in 1961 by the Carbon Ridge Lookout further up the ridge.
Washington Lookout Sites
What Is Left
In 2015 I found 3 of the 4 foundation footings. Two of them were solid in the ground while a third was found 200 feet down the ridge, on its side. What's bizarre is that the footing didn't roll there but had to be taken there, the hillside is nearly level. Why the footing was moved that far, I don't know.
O'Farrell - Looking North - 1934
O'Farrell - Looking Southeast - 1934
O'Farrell - Looking Southwest - 1934
Route
The road up is a nice grade. Even I was able to bike most of the way...which is rare. After a few long switchbacks the road wraps around point 3236. A spur takes off west of the point, this is option one. If so, at the highest point in the road, leave it and go off trail up to the lookout area. Option two is to continue on the road to the ridge saddle. From there a road cuts back on the east side of the ridge (few ups and downs) to a landing close to the lookout area. However you go, there is a bit of off trail, searching around the young stand of trees for the foundations.
Access
To reach O'farrell, find your way to Wilkeson. In town, turn left on Railroad Avenue passing the school and coke ovens. When you hit the Sunset Lake Camp sign, turn right on a gravel road. This is FS 7710. Follow this 4.3 miles to a Y, go right and in 0.2 miles is a gate. Park in areas below the gate.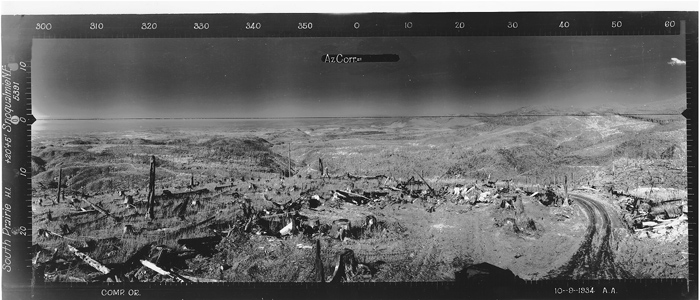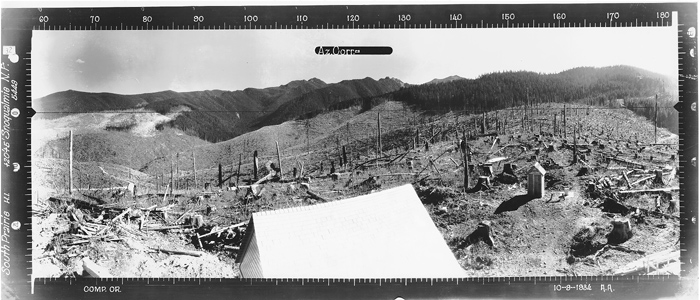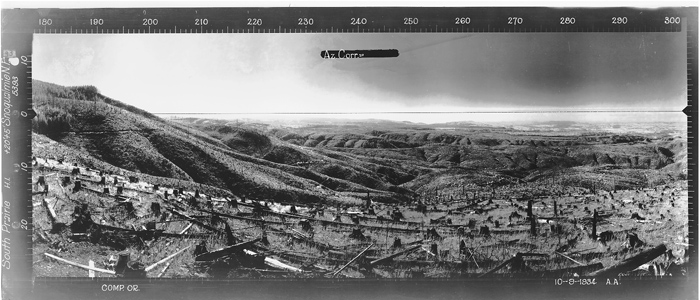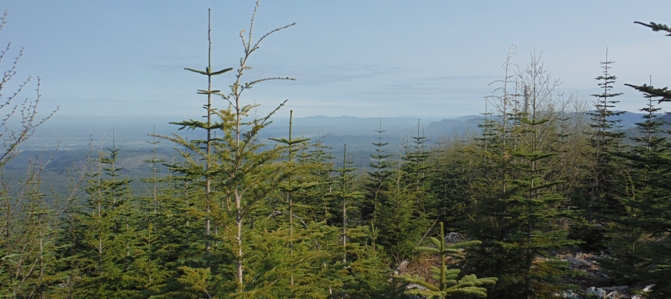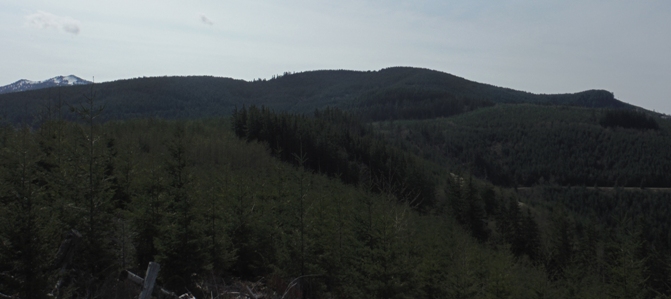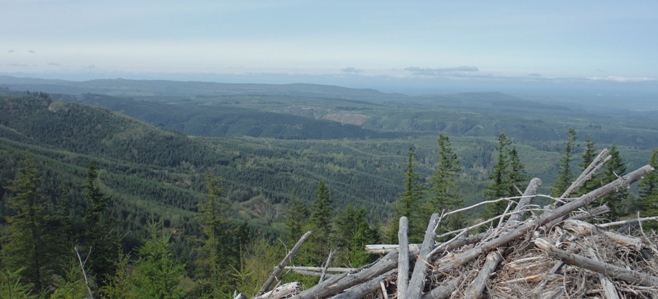 O'Farrell - Looking Southeast - 2015
O'Farrell - Looking Southwest - 2015
O'Farrell - Looking North - 2015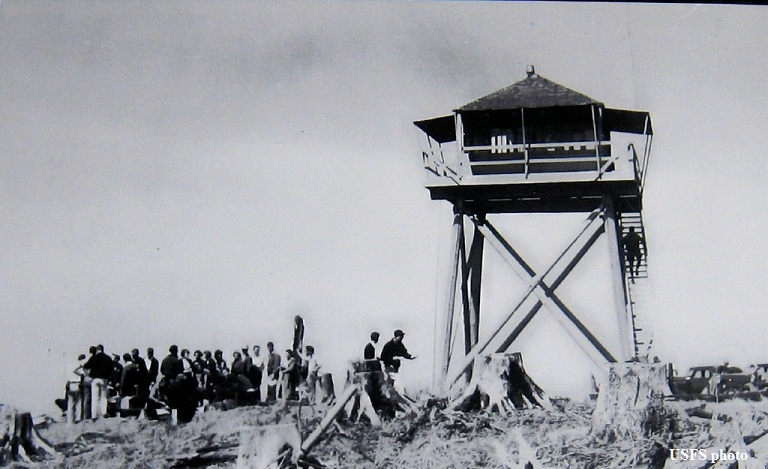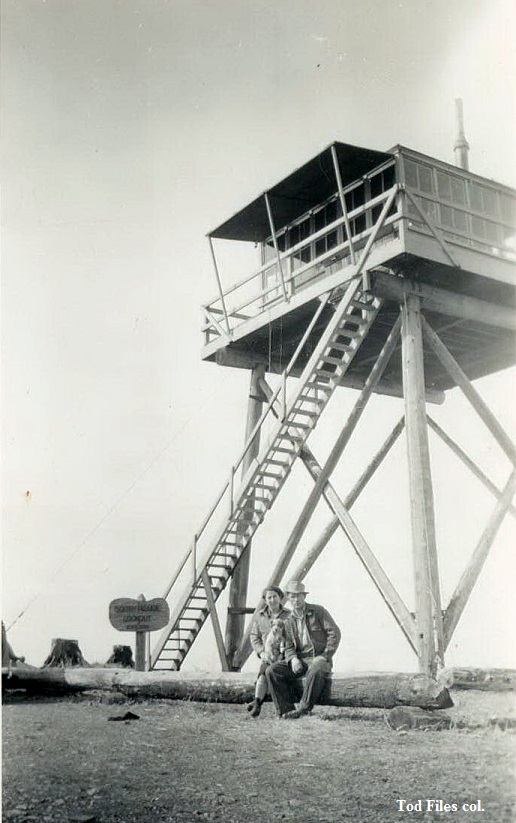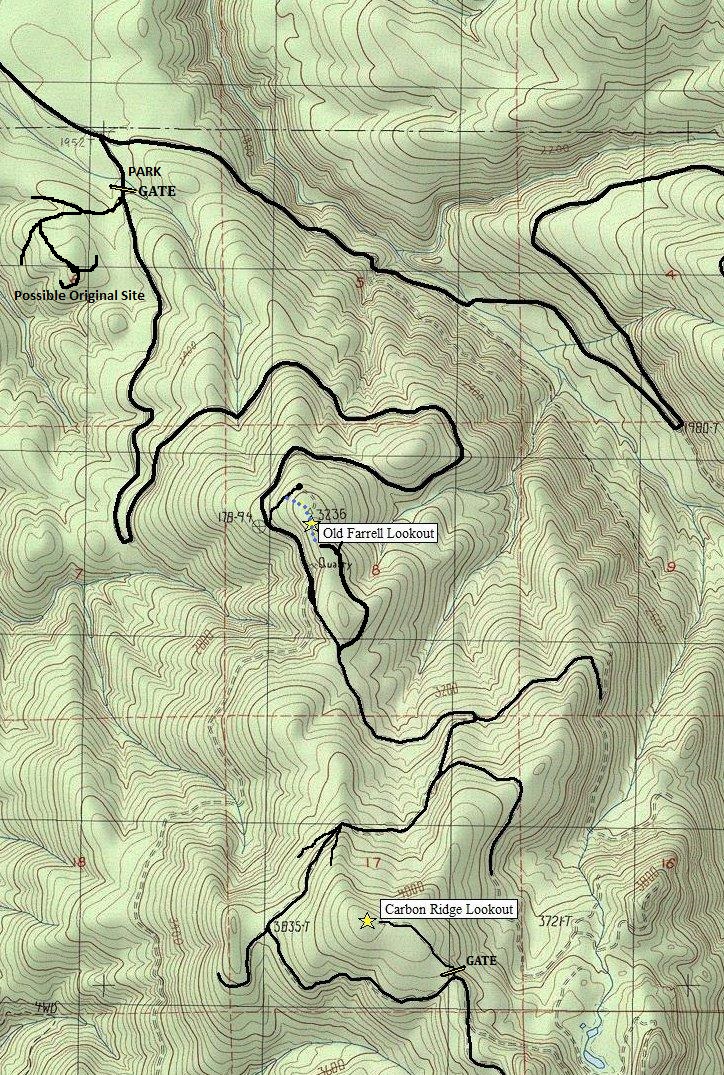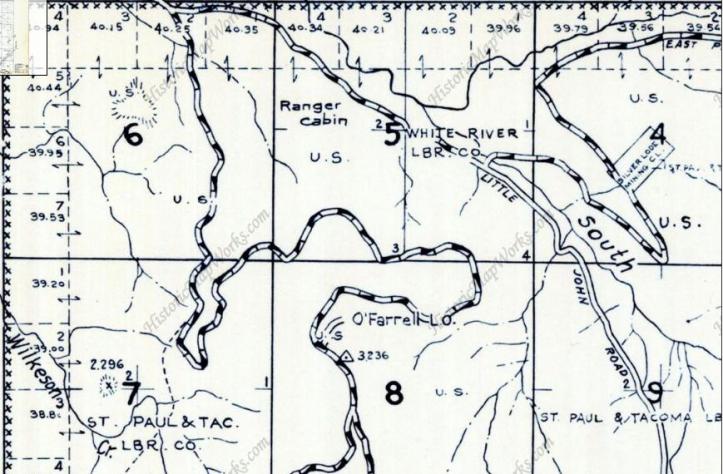 Old Metsker Map showing the lookout as O'Farrell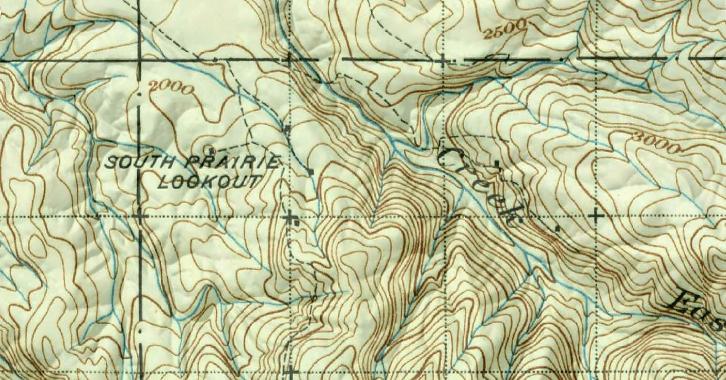 Old Forest Service Map showing it as South Prairie Lookout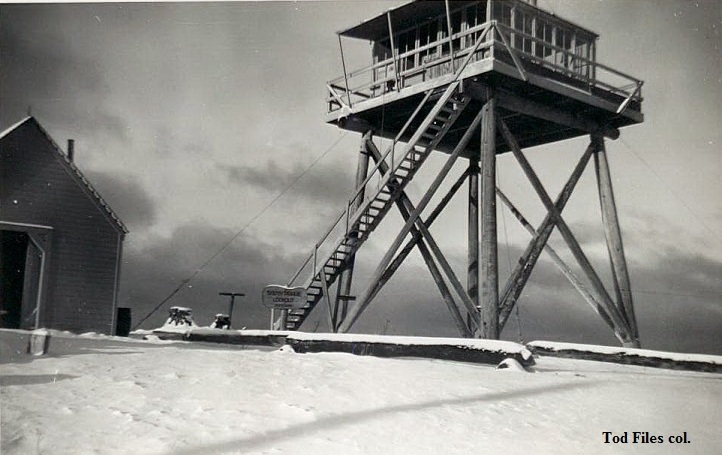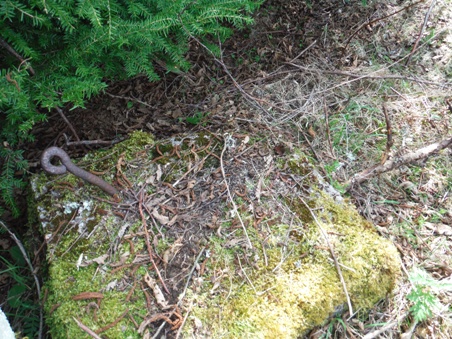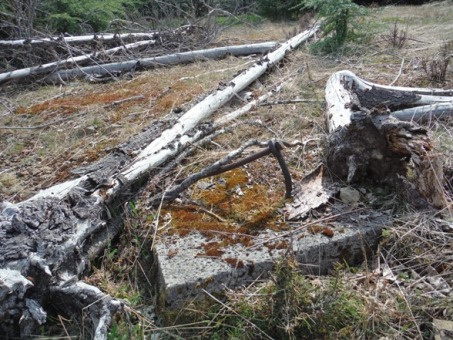 These two footings are in their original location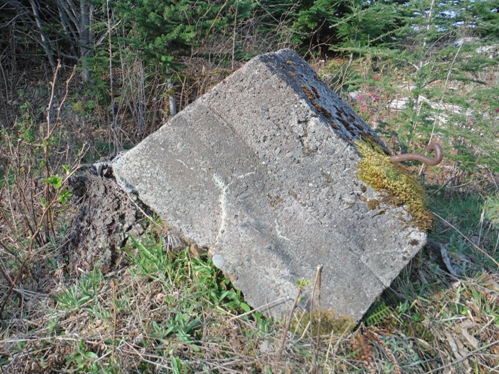 This footing was 200 feet north of the lookout site leaning on a stump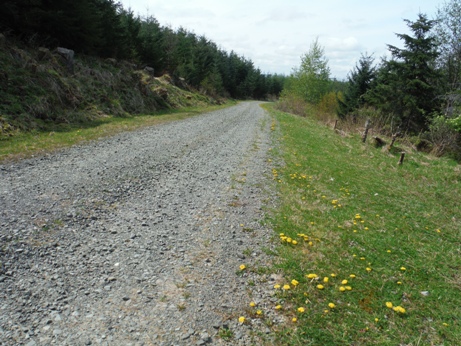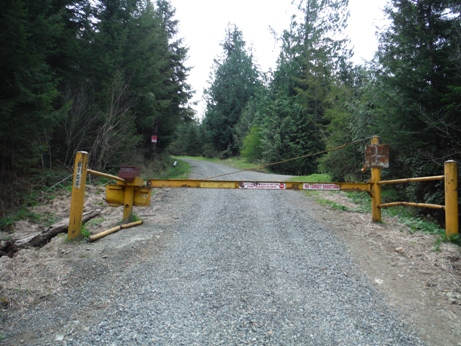 Wilkeson Tree Farm Gate
Wilkeson Tree Farm Road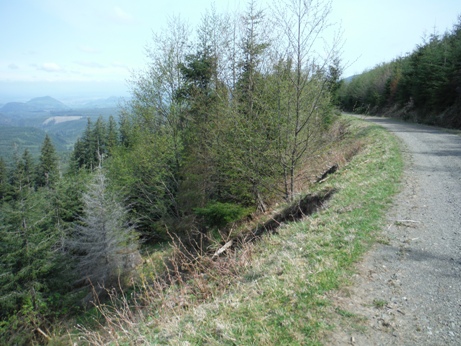 Pinnacle Peak in Enumclaw in distance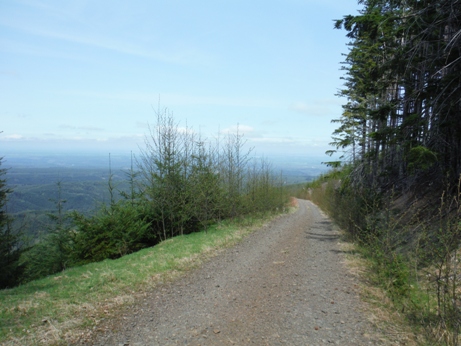 1938 Photo
1942 Photo
Continuing up the road a few more miles will take you to: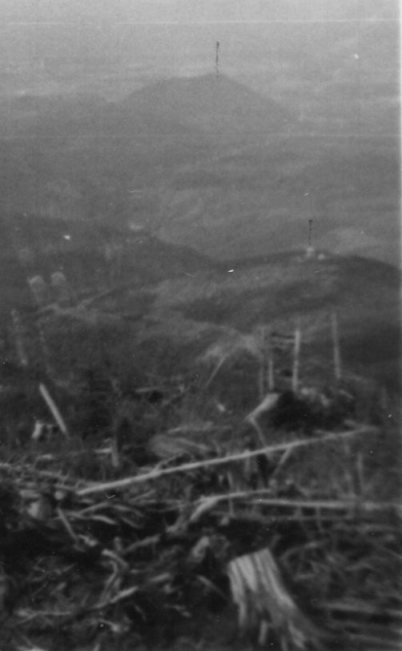 1940's Fred Bannister & wife called it South Prairie Lookout
1958: Jane Stanton 6-13-58 to 10-15-58
1959: Helen Jones 7-1-59 to 10-15-59
1960: Abandoned
Fall 1960: Burned by USFS
From the DNR file:
The O'Farrell lookout tower, which we took over from the Forest Service, is in poor condition and needs some immediate repairs, if we are to maintain this station. The roof is of shingles and lapped ridge roll. This ridge roll has blown off of two of the sides and taken some shingles with it. The entire roof should be replaced as the shingles are in poor condition. Also, four or five pieces of flooring have rotted out where the roof leaked through and soaked into the wood. This tower was built about 1934 on the old 14 by 14 plans and has the large, over-hanging shutters. Would you be able to come up and take a look at O'Farrell and figure out what to do with it?
July 3, 1959 letter from DNR Field to DNR Engineering
We wish to inform you that we have abandoned O'Farrell Lookout because of its poor condition. Our Forest Engineer determined that the building was not worth repairing, so, we will be making no further use of the buildings or location. However, we may be able to use the garage building at our new location in Section 17, Township 18 North, Range 7 East. This letter is written to turn over the buildings to you for your disposition of them.
November 2, 1960 letter from DNR to the U.S. Forest Service
[Several car/person descriptions] stole state radio, broke trap door and window in door. Mike; I believe that the radio that was stolen from this lookout is being used as a listening post, for the past two days there has been a lot of screeches and last night it was so bad the other Lookouts could hardly transmit. They were all complaining on this "A" channel. Some one was holding their key open and I'm sure it wasn't any Lookout Rangers.
Notes from July 1959
Likely named for former Chief Park Ranger of Mt. Rainier National Park, Thomas E. O'Farrell. He was stationed on the Carbon River at the northwest corner of the park, in charge of directing patrol, trail and telephone construction work on the north side. O'Farrell Lookout was visited by mountaineers hiking groups as late as 1956. In 1951, the annual called it South Prairie in one article and O'Farrell in another.
OFarrell Name
This image taken November 1959 from the new Carbon Ridge Lookout site shows the O'farrell Lookout (just before being burned) and a distant Pinnacle Peak Lookout site in Enumclaw (still in use in 1959)
Pinnacle Peak L.O.
O'farrell L.O.