From Heber City, go east on US 40 to Daniels Pass, then continue dropping down to the Strawberry Reservoir. After passing the main Strawberry Reservoir access on the right, go 1.3 more miles on US 40 to the signed road on the left for Co-op Creek Road. Take this very nice gravel Co-op Creek Road for 6.8 miles. At this point, a high clearance road cuts off to the right, switchbacking up the NW ridge of Racetrack. Drive this road 2.5 miles to the beginning of the ATV trail.
Racetrack Benchmark is a high mountain towering over Highway 40 as you pass the Strawberry Reservoir. It isn't too far off the highway and the trail is short, so this makes a good little peak if you have some extra time passing through. Racetrack Benchmark comes in with 1,491 feet of prominence making it #147th most prominent peak in Utah.
With an ATV trail to the top and a steady stream of hunters in the fall, it's amazing to find a summit register placed in 2005.
Racetrack Benchmark
Distance: 1 mile
Elevation Gain: 400 feet
Summit Elevation: 10,391 feet
Access rating: Level 4
www.WillhiteWeb.com: Your online resource for hiking, climbing and travel
Access:
Route:
The ATV trail is really good. It might even be possible to drive but it does lean awkwardly in a few spots. The hike is only a mile or so. With kids, I stuck to the trail but one could just climb directly up and reach the summit quickly. Keep an eye out for the benchmark about 100 feet before the summit cairn.
If you have a regular car, you could park, walk 2 miles of road, then take the first ATV trail up to the saddle just north of the summit. From there, it would be an easy stroll up to the summit via the north ridge.
Note: There is another access road traversing below the south ridge of the mountain to the ATV trail discussed above. It is much more slow, rocky and rough. This road takes off just feet after leaving Highway 40 on the Co-op Creek Road. Both roads are shown on the map provided.
The gates on both roads that access this peak (shown on map) close from November 1st to July 1st. I showed up in June and they were definitely locked.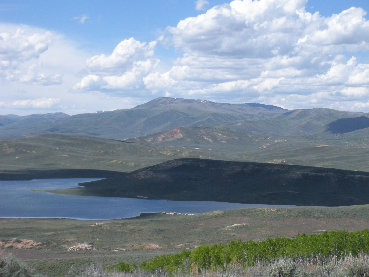 Racetrack Benchmark from Hwy 40
Racetrack Benchmark from the south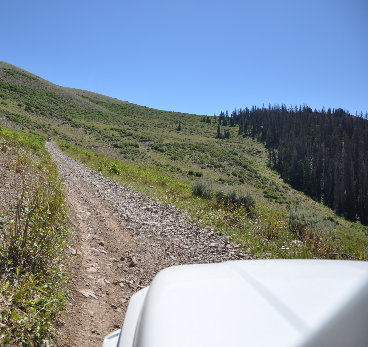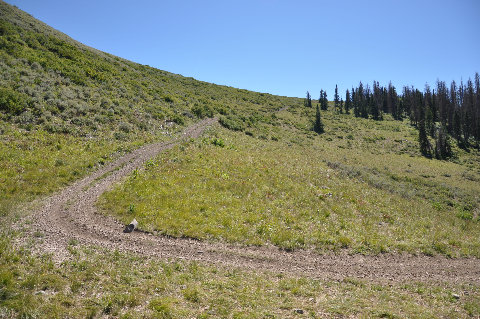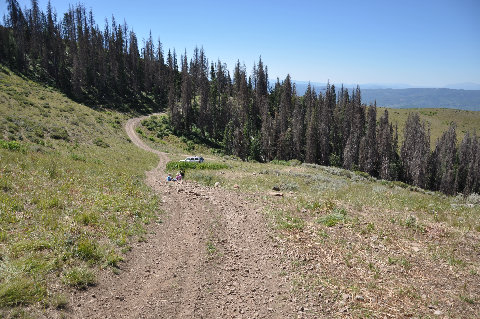 Driving the final bit to the trailhead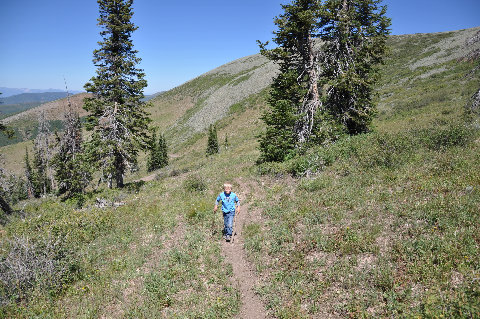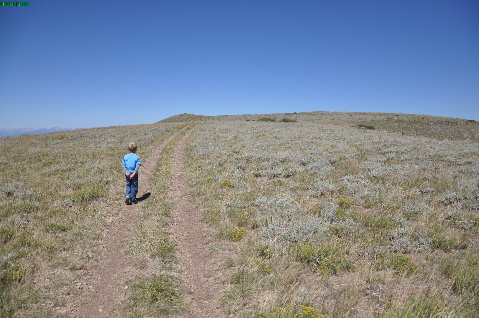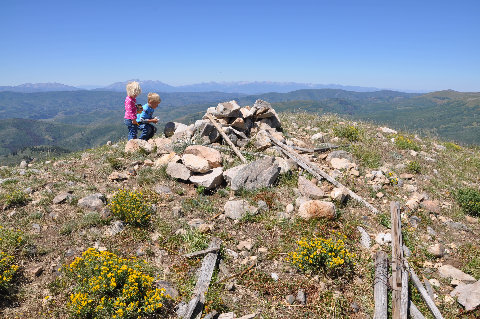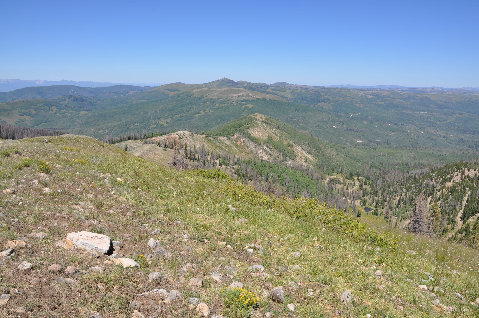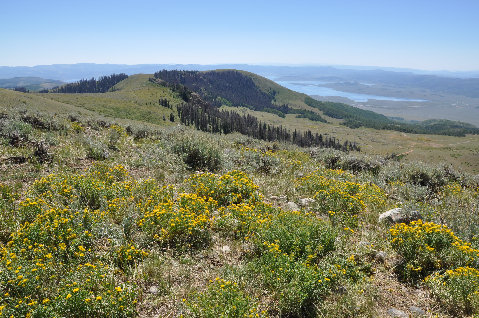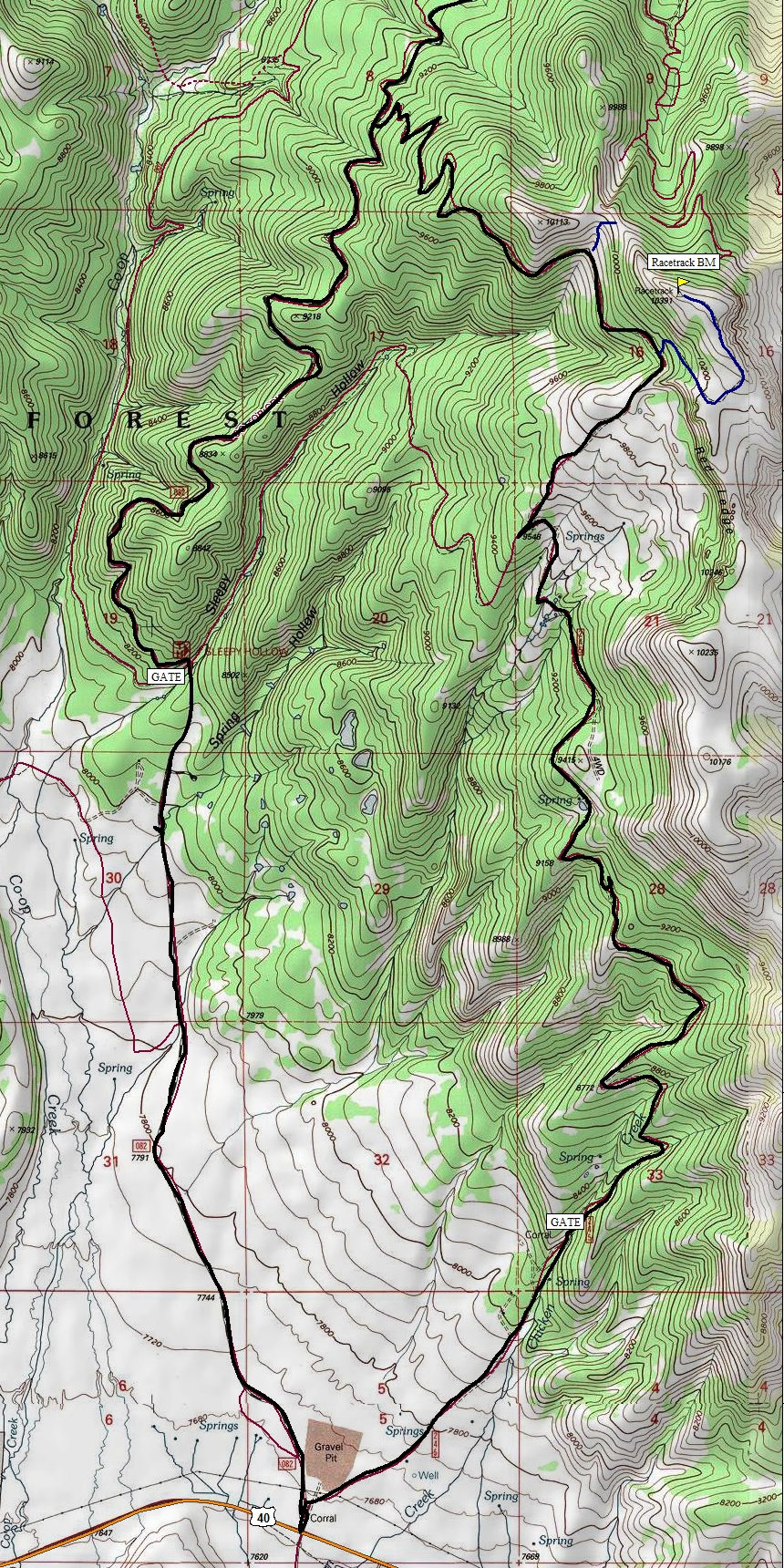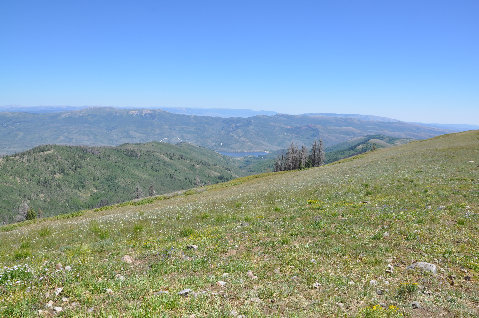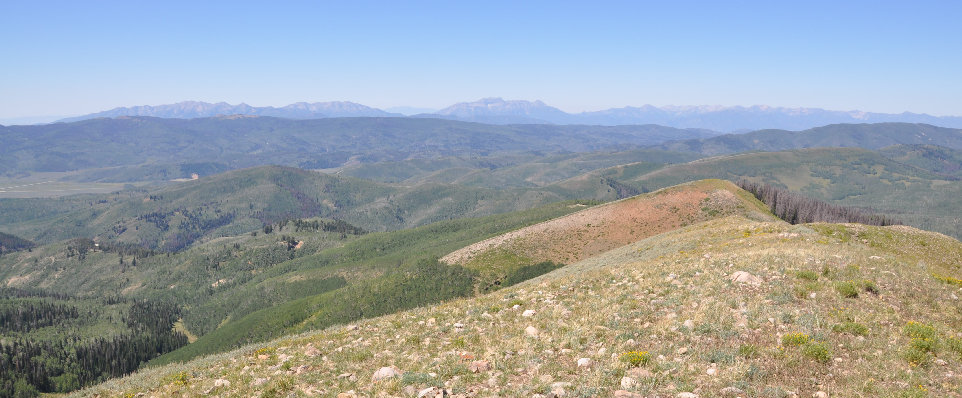 Looking west to the Wasatch Front peaks with Timpanogos in the center
Looking south to the Strawberry Reservoir
Looking east with the Currant Creek Reservoir in center
Looking north to Currant Creek Peak
The summit cairn
Hiking a trail next to the ATV road
On the ridge walking to the summit
Looking down to the car and trailhead
Looking at the switchback just up the ATV road from the trailhead