Several trails could access this peak. The fastest and easiest is probably from Mill Creek Canyon but they charge money to go up there. I chose a longer but more gradual ascent from Big Cottonwood Canyons Mill D Trailhead. It's a nice trail as it climbs above the highway and goes into Mill D North Fork Creek. We even passed a trail crew. At 1.8 miles is a signed trail split. The Desolation Trail goes right and Dog Lake goes left. The 0.58 miles to Dog Lake has a few short steep sections but if a 3 year old makes it...well. About half the route is shaded. At Dog Lake, we saw about 8 dogs on a Wednesday, what's it like on the weekend? They all come up from Mill Creek Canyon as this trail from Big Cottonwood is in the Salt Lake Watershed and dogs are prohibited. At the lake, follow the trail around the south shore up to a meadow just above the lake. Here the trail splits in 5 directions. Two trails go right, one to a nice camping spot the other continues. Follow it about 2 minutes until hitting a saddle on the north ridge of Reynolds Peak. Look for a faint trail climbing up directly toward the peak. It's overgrown in places but the tread is good. Follow it up to the summit.
I'm at that transition where my son is about to turn 4 and is getting too heavy to carry very far. At the same time, he is hiking much further these days. Reynolds Peak was a good test peak to see how he would do with a longer summit trail. If I was wrong, it would have been a long hard day carrying him (and my 2 year old). Luckily, he hiked most of the way up.
Reynolds Peak has a nice position between Big Cottonwood Canyon and Mill Creek Canyon, with a trail to the top just above the very popular Dog Lake, it's climbed often.
Distance: 3.5 miles
Elevation Gain: 2,200 feet
Summit Elevation: 9,422 feet
Access Rating: Level 1
Kid Difficulty: Medium to Hard
Reynolds Peak
www.WillhiteWeb.com: Your online resource for hiking, climbing and travel
Access:
Route:
Drive up Big Cottonwood Canyon road approximately 8.5 miles to the large Mill B Trailhead and parking area located on the left side of the road.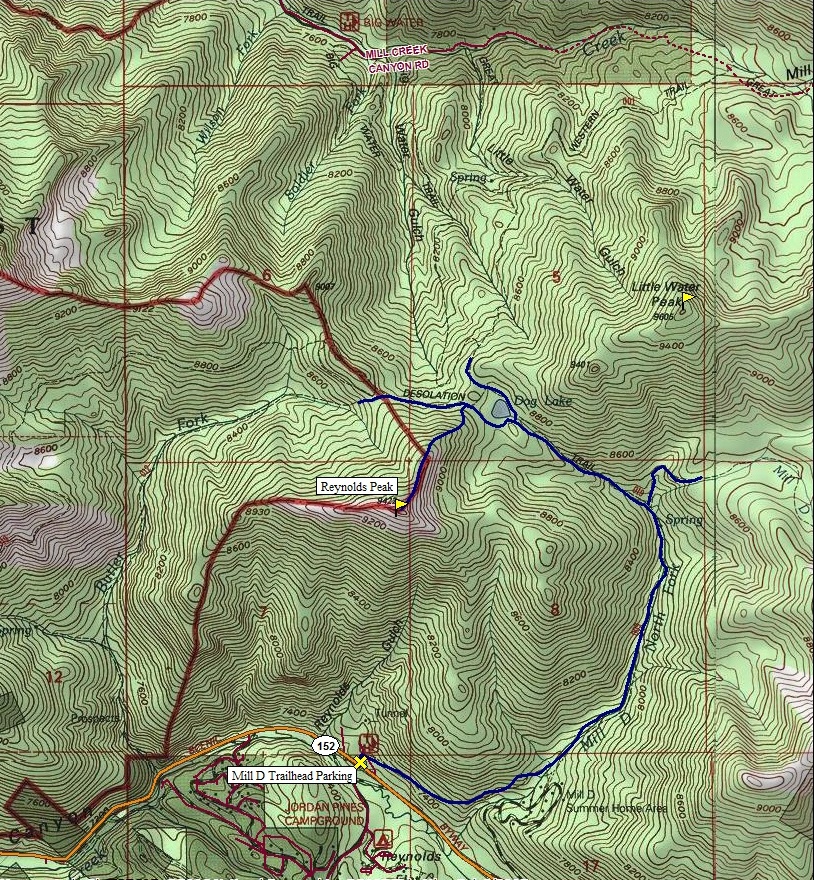 Desolation Peak and Silver Benchmark to the east
Mt. Raymond and Gobblers Knob
Kessler Peak
Fruit in a can
Kids on top with Gobblers Knob in the distance
Panorama to the east of Reynolds Peak
Panorama south and west of Reynolds Peak
In the meadow above Dog Lake
Just below the summit
Dog Lake
Kessler Peak near the start of the trail
On the trail with his Scooby Doo backpack