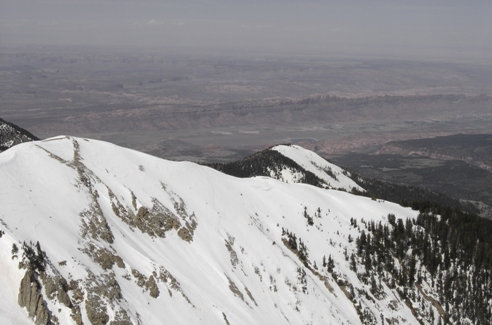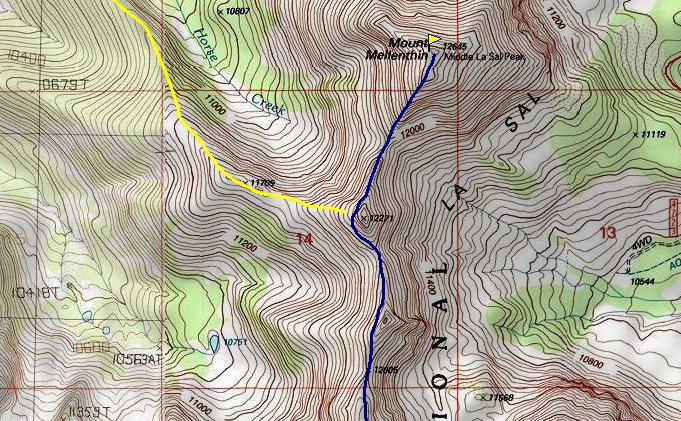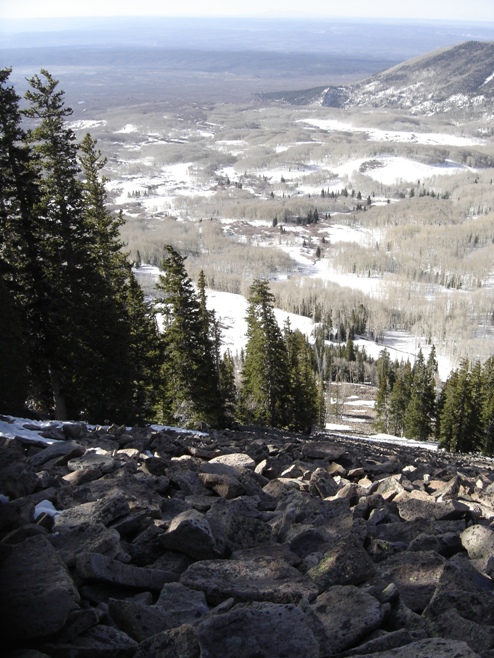 Due to heavy snow, I had to park over a mile and 1000 feet shy of the trailhead
Car
South Mountain
Final climb from treeline
Mount Mellenthin 12,645
Mount Tukuhnikivatz 12,482 from traverse over to Mt. Mellenthin
From the summit of Mt. Peale 12,721, I took the ridgeline all the way to the summit of Mt. Mellenthin, then back to the base of Tukuhnikivatz where I ended up dropping out
Looking back up the ridgeline to Mt. Peale
Looking East into Colorado from Mt. Peale
Working my way over to Mt. Mellenthin
Northern La Sals peaks of interest
Traversing over to do Tukuhnikivatz, I encountered this class 4 rock that I did not enjoy downclimbing
Looking back at Mellenthin from my decent saddle
Spring snowmelt over the road
Mount Peale and Mount Mellerthin
Distance: 2.5 miles to Peale
Elevation Gain: 2,600 feet for Peale only
Summit Elevation: 12,721 feet for Peale
Access rating: Level 2
www.WillhiteWeb.com: Hiking, Climbing and Travel
Access:
Route:
Mt. Tukuhnikivatz and Mt. Peale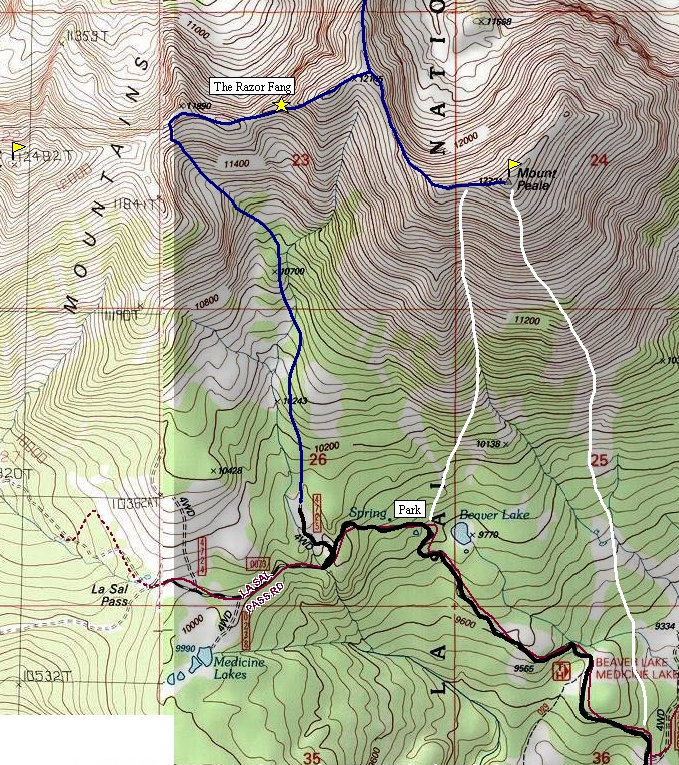 Above: White route up from Beaver Lake is the standard route. White route up from far right was my spring approach route. Blue line is my traverse over to Mellenthin Mountain and route over the Razor Fang. The yellow line is a winter route that looked really good in spring as well.
Mt. Peale is the highest peak in the La Sal Mountains and second most prominent peak in Utah with 6,161 feet of prominence. With that much, Mt. Peale is on the Ultra 57 list and it is the San Juan County highpoint. With all these reasons and the scenic beauty of the area, Peale is a worthy destination to visit.
Mt. Peale's southern slopes are steep but not dangerous. Choose your own adventure. Many people climb the prominent draw/couloir on the south side (marked on map). This is a steep talus draw and its best in the spring when snow exists. Bring ice axe and crampons to assure your safety and summit. You'll start out in mixed forest and talus fields but the upper mountain is all talus and rocks. I climbed in May during a record snow year so I had to start over a mile and 1,000 feet below the traditional start. I just climbed up the southeast part of the mountain where the terrain was straightforward scrambling (see map).
To climb Mount Mellerthin, the second tallest in the range is a relatively easy class 2 traverse. A few of the bumps can be traversed around but going up and over may have been just as easy. There is also an alternate approach marked on the map in yellow. This is a winter approach and looked like a better route for my agenda that day. In fact, a group of downhill skiers were at the 11,785 point on the ridge skiing some steep south faces over and over all day.
Mount Mellerthin
From the junction of Highways 191 and 46 south of Moab, take 46 east 13 miles to a left onto a gravel road marked "La Sal Pass". After 2 miles, turn left (west) onto the La Sal Pass Road. Drive 7.5 miles to La Sal Pass. The road should be accessible for most cars but there is a creek crossing that can be deep in spring time (see picture below). Park at the pass or below near Beaver Lake.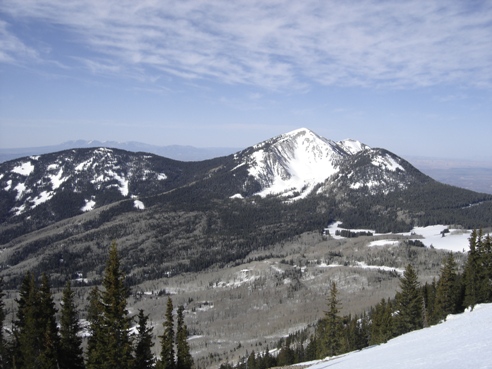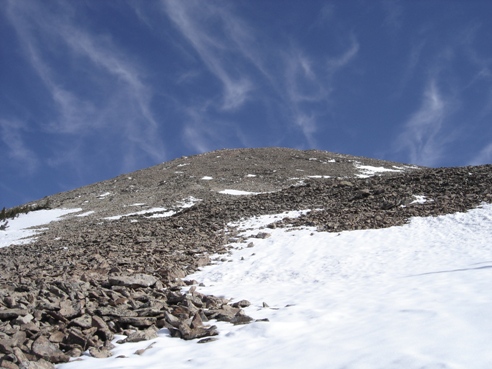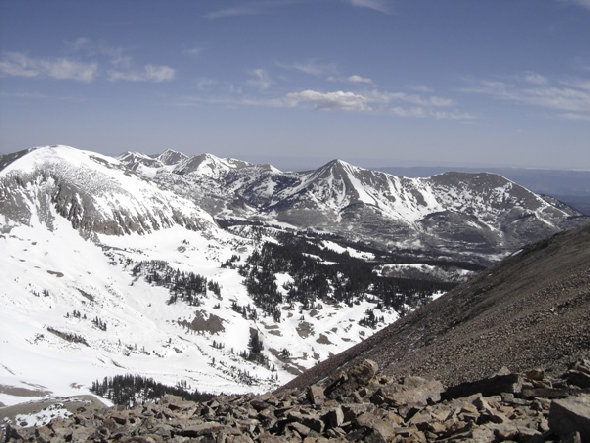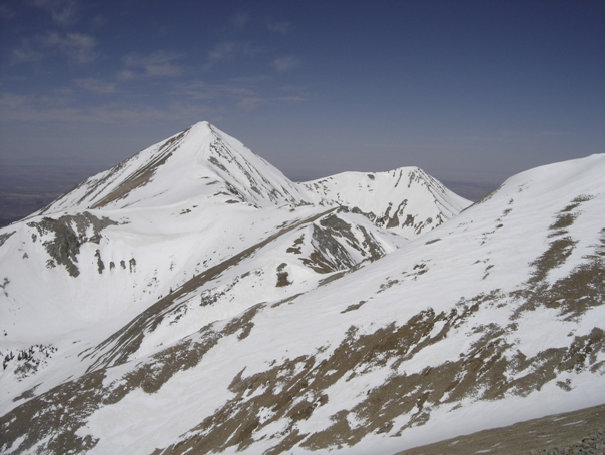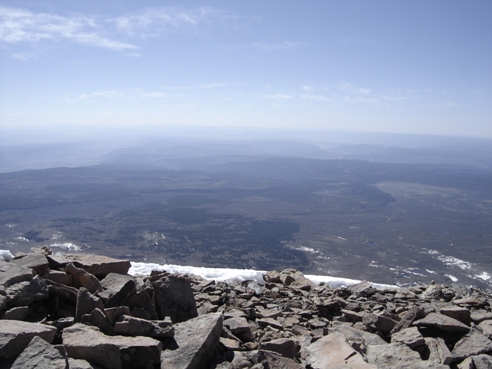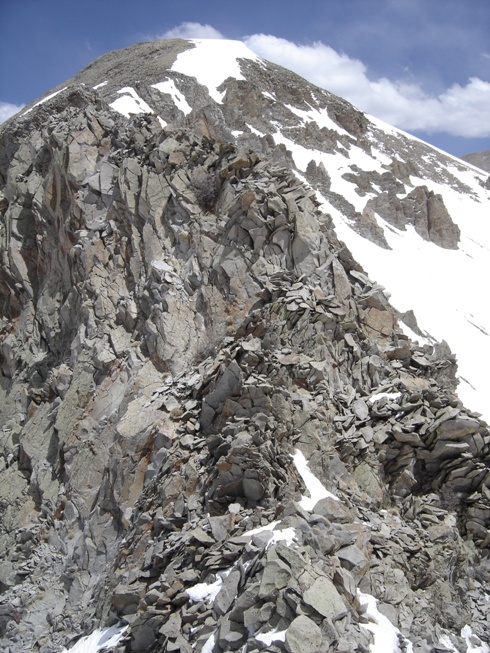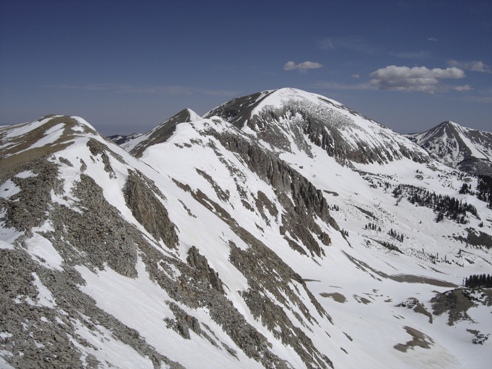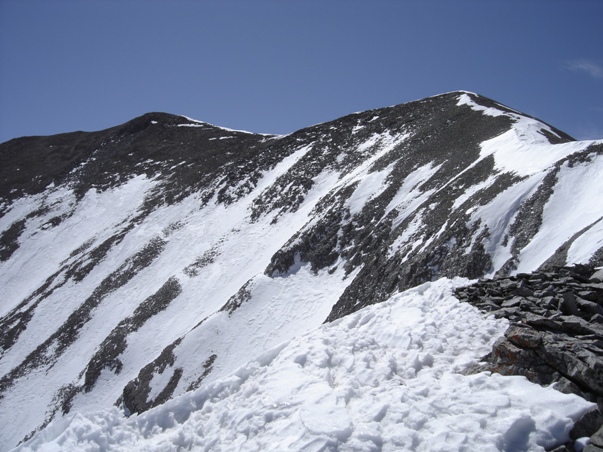 Looking back up at Mt. Peale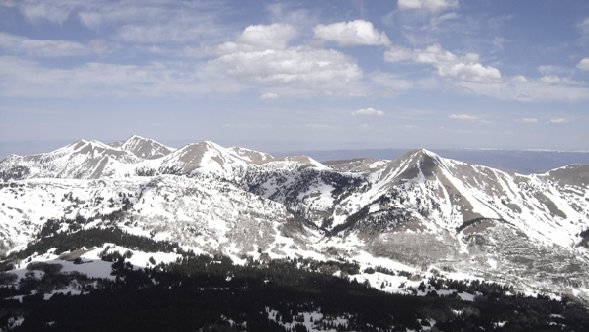 Tomasaki
Manns
Pilot
Waas
11,641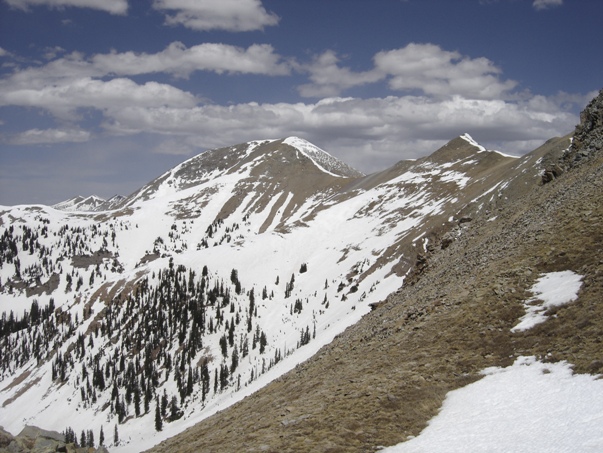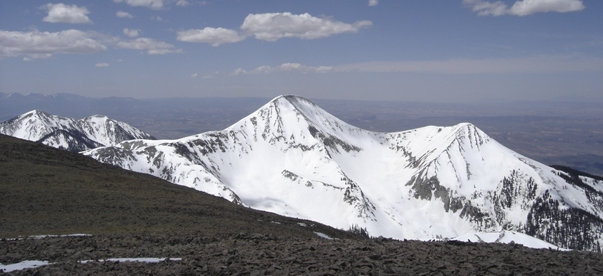 Mount Tukuhnikivatz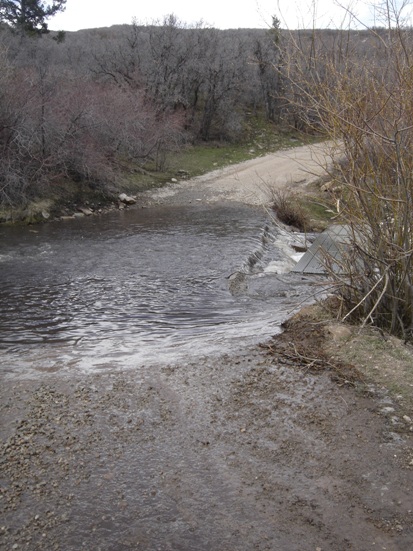 Dry landscapes in the distance