Swasey Peak
Distance: 1.8 miles
Elevation Gain: 1,800 feet
Summit Elevation: 9,669 feet
Access: Gravel roads
WillhiteWeb.com: Utah Hiking
Access:
Route:
The only thing of redeeming value with Swasey Peak is the view and its high ranking on Utah's most prominent peaks list (#11). The route up is an unpleasant bushwhack were all your efforts are spent thinking, "which way will hurt me less". I walked off this mountain with blood dripping from my forehead! In reality, the worst of it is only 800 vertical feet so it could be worse. On the summit, you will be on the highest peak in the House Range…higher than the more popular Notch Peak.
Swasey Peak from intersection with Old Hwy 6
From the pass, climb up the SW ridgeline of Swasey Peak, aiming for the right of the large cliffs on its west face. I did not encounter brush until 8,400 feet but I started climbing about a quarter mile before the pass (due to snow on the road). From the flats at 8,400 (see picture), you will look up at the intimidating false summit. Your goal is to reach the top by scrambling up to the right of the western cliffs. I crisscrossed this area looking to find the best route but found nothing. Talus slopes are hidden, giving 10-50 feet of brush free climbing. Expect to get some cuts…or wear thick clothing. I did notice that the further east you went, the less brush there was. In fact, such a temptation that coming down I ended up well below my car to the east. Back at 9,200 feet, some easy class 3 scrambling to gain the false summit at 9,560. Now the route is an enjoyable alpine hike along the ridge. Make your way north then west to the true summit and mailbox register. There are great views and Bristlecone Pines along the ridge.
From Delta, take Highway 6 west around 10 miles to Antelope Spring Road or Old Hwy 6/50. Drive this nice gravel road 24 miles to a 4-way (Notch Peak Road) where you go right toward Antelope Spring. Drive 9 miles toward Swasey Peak and a sign saying "Sinbad Spring Road" (just past the You Dig Fossil Beds). Follow this road to the pass (see map).
From 8,400 feet looking up to false summit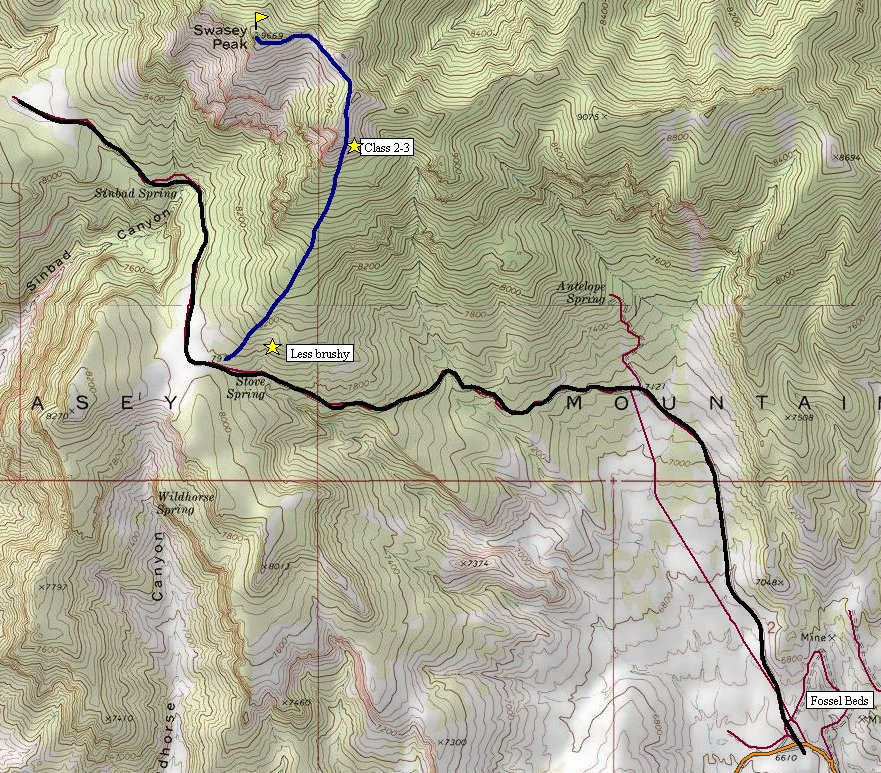 Summit Mailbox
Looking north to George H. Hansen Peak
South to Howell (low right), Notch Peak (center) and Frisco Peak (distant left)
Looking back below final summit at 2 lesser summits along ridgeline
The final walk to the summit
Snowshoeing back up to the false summit
Looking west into Nevada as high clouds move in
The true summit once you hit the ridge top
View of the true summit from SE ridge below the cliffs