Eyrie Peak is a highpoint on a mountain most call Lewis Peak. It is the #86th most prominent point in Utah. This mountain is between Ben Lomond to the north and Mount Ogden to the south. Lewis Peak isn't the highest spot but it is the only named point in the area and the destination of the main trail to the area. Much of the trail is also the Great Western Trail. Views are excellent of Ogden, The Great Salt Lake, Ben Lomond, James Peak and the valleys around Pineview Reservoir.
Eyrie Peak
Distance: 3 miles
Elevation Gain: 2,000 feet
Summit Elevation: 8,136 feet
Access rating: Level 1
www.WillhiteWeb.com: Your online resource for hiking, climbing and travel
Access:
Route:
Take I-15 north to the Farr West exit 349. Go right east on 2700 north. Cross US-89 at a light, continue until you reach 1050 E, and turn left. Follow north until 3100 north, take a right and the road heads past a few more houses before it starts climbing up the North Ogden Divide. At the top, turn right into the paved trailhead parking. This is also the trailhead for Ben Lomond.
The first 2.5 miles is a steady climb through fir trees, switchbacking up the north slopes. When you reach the ridge, the views open up and so do the open meadows. A signed trail split is soon reached. A false summit will stand above. Hike to near this summit but you can avoid going up and over the last 50 feet by a trail traversing the east side. Once on the other side, you can see the highest point about 15 minutes away. A side trail on the west side this time avoids going over the next bump. Soon you are at the final steep but quick trail to the summit.
Bonus Peaks:
You can continue on 2.5 miles of trail to Lewis Peak, the main goal for hikers. It is lower but looks straight down on Ogden. Another option is a side trail that shoots south to peak 7862. This one has over 300 prominence but it looks to be a forested summit.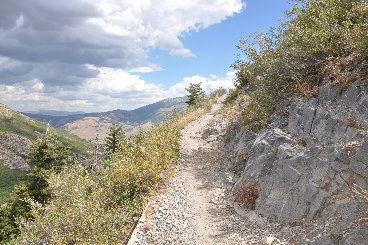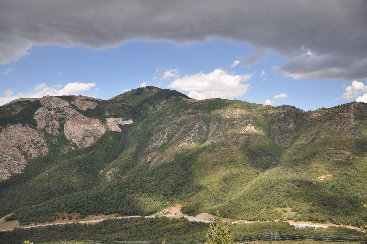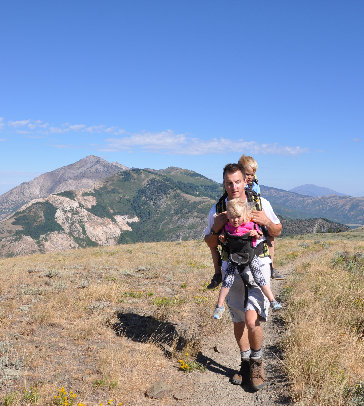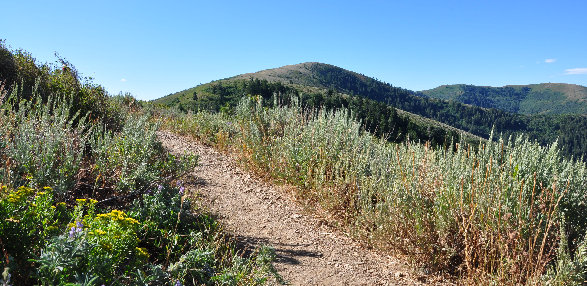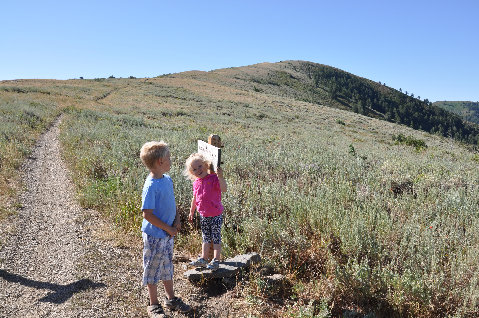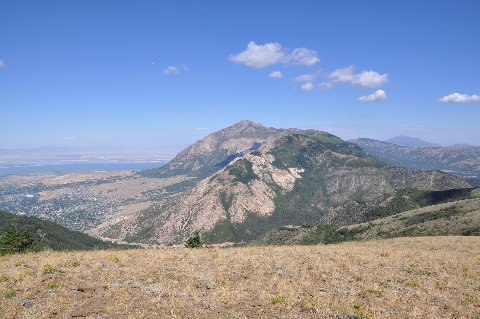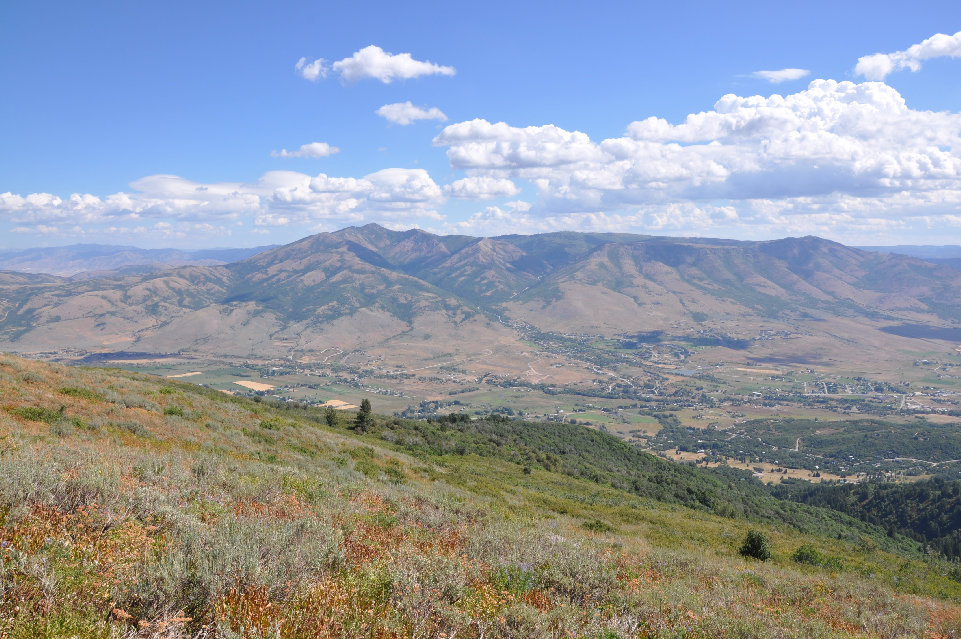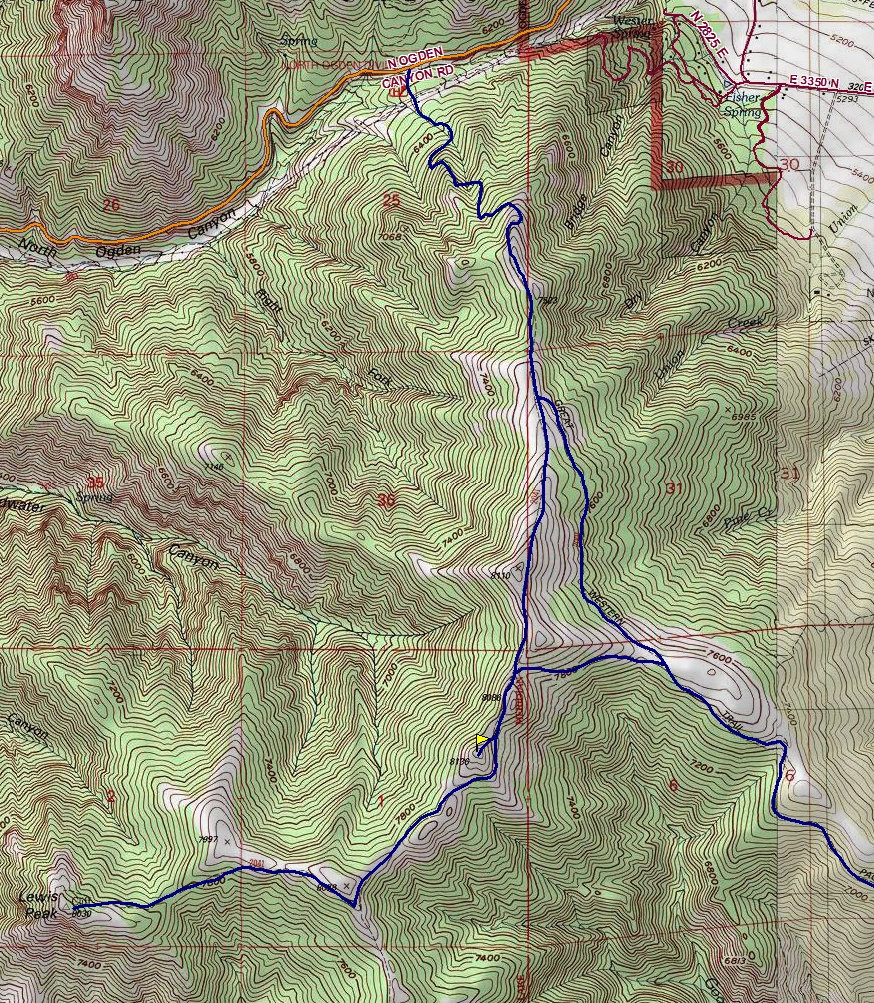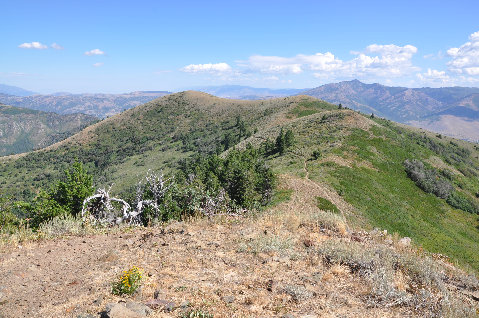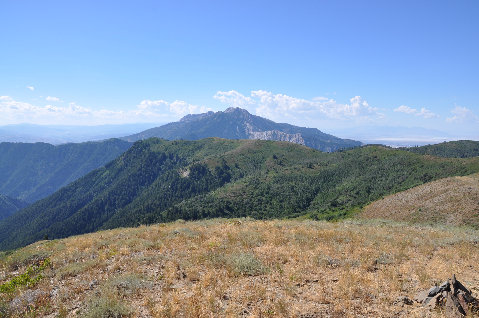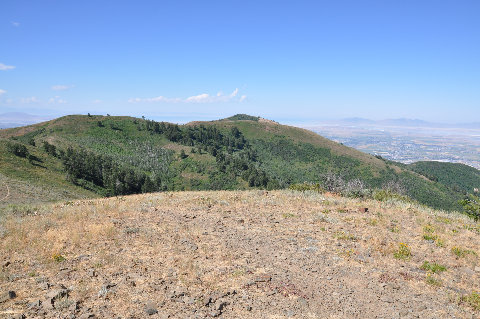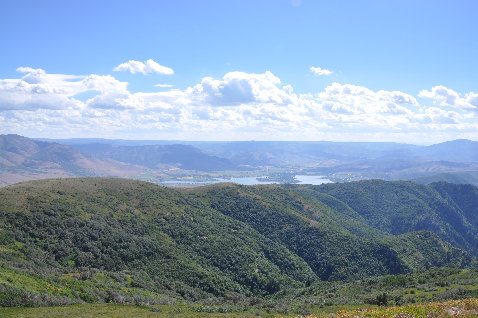 Pineview Reservoir
James Peak and the city of Eden
Trail continues to Lewis Peak in distance
Looking back at the false summit
Mount Ogden to the south
Trail split and false summit above
Ben Lomond and north Ogden
Trail and false summit
Carrying the kids
Trail near the start
Looking across North Ogden Canyon
To Peak 7862