Distance: Under 1 mile
Elevation Gain: 1,000 feet
Summit Elevation: 8,021 feet
Kid difficulty rating: Moderate
Access rating: Level 3
Access:
The Route:
Sabie Mountain
www.WillhiteWeb.com: Your online resource for hiking, climbing and travel
Tucked away in the West Tintic Mountains of Utah is Sabie Mountain. Where are the Tintic Mountains you ask? Next to the Sheeprock Mountains. Where are the Sheeprock Mountains you ask? You need to explore the great Utah Mountains outside of the Wasatch! Sabie Mountain has over 1,000 feet of prominence and is fairly close to the Utah Valley. A fellow peakbagger (Dean) and I have been discussing this peak and amazingly we found ourselves at the base of the peak one minute apart from each other on a Monday morning without planning on meeting. Not bad for a peak probably climbed once every few years.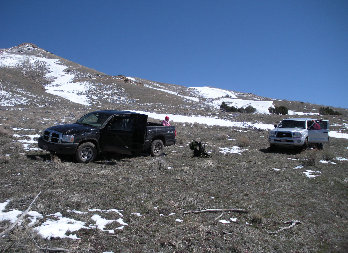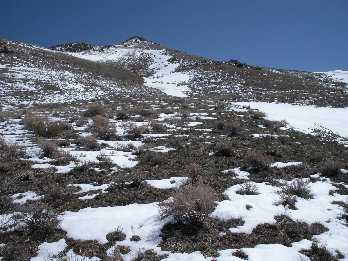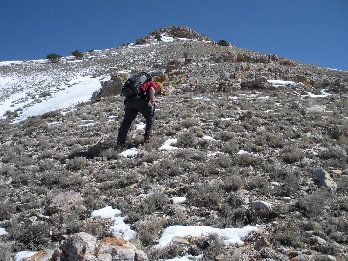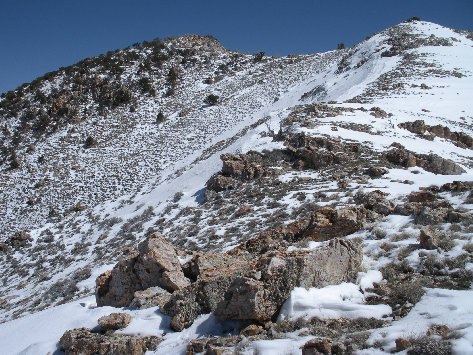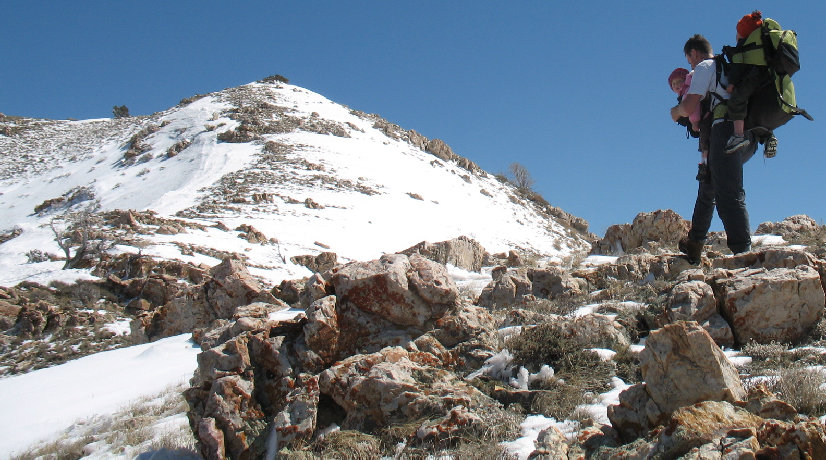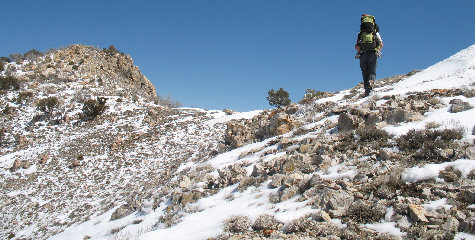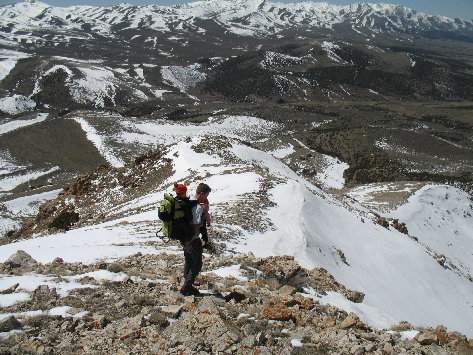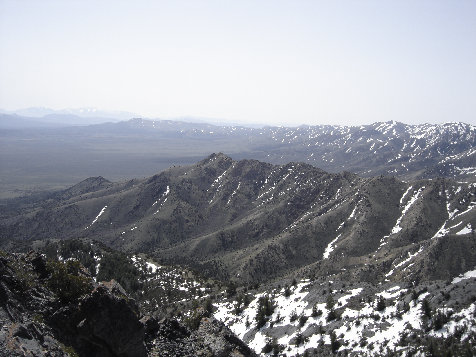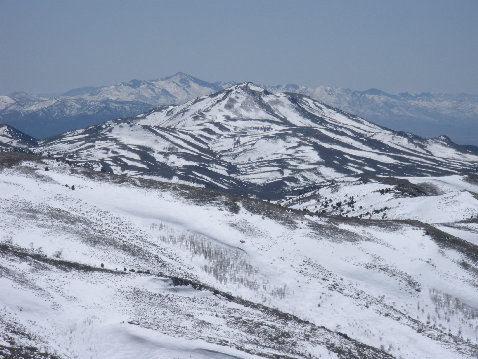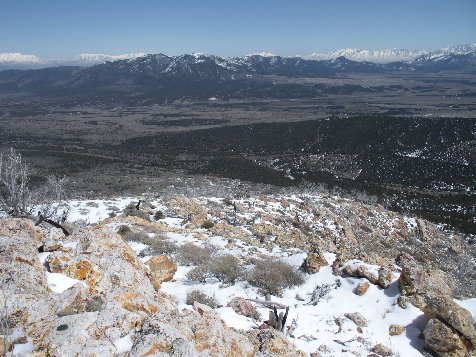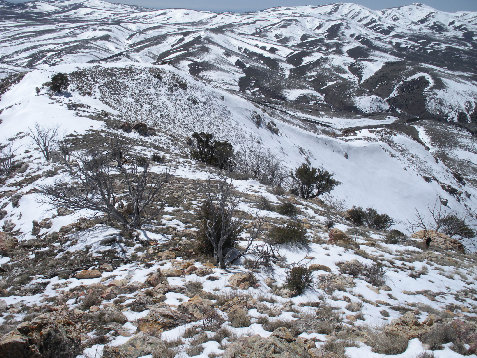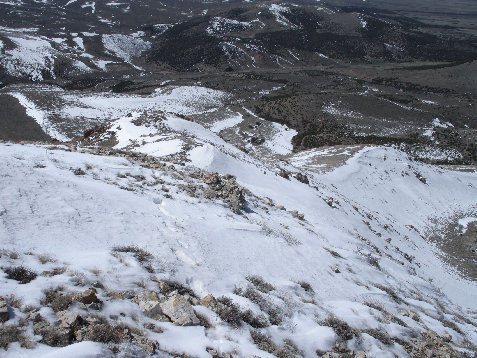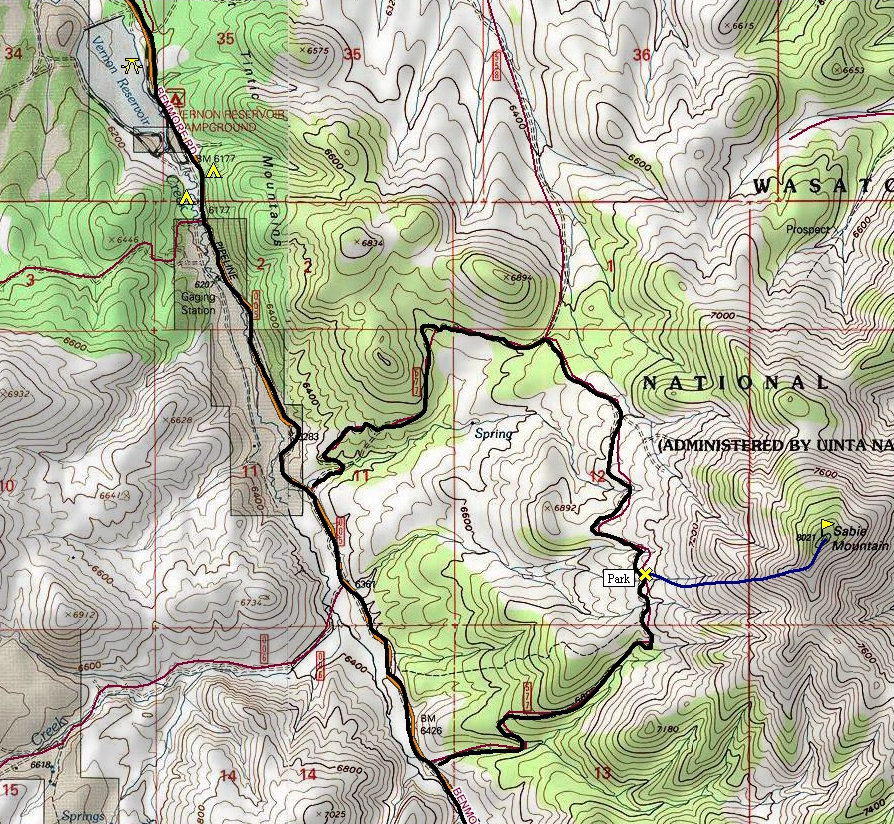 We both independently met at the base of the west ridge so this seems to be the logical choice for access. The route is straightforward. Hike class 2 up the ridge to the false summit and along the ridge to the top. Kids will have an easy time down low with a gradual ascent with no brush. Near the false summit, the terrain is a bit steeper but not difficult. We chose to go up through the rocks on the false summit. No scrambling needed, slopes weave in and around the rocky outcrops. The summit is roomy, even with some small cliffs off the east face. Views are fantastic, at least in spring with snow on the nearby Sheeprock Mountains and all the higher distant peaks.
Just south of Vernon at the large bend on Highway 36, the signed Benmore Road goes due south for 5 miles to a T intersection. Go left toward the signed Vernon Reservoir. Follow the main road until you pass the Reservoir on your right (good camping and picnicking facilities). Looking at the map below, you'll see in a mile or so, Forest Road 577 does a loop up to the west slopes of Sabie Mountain. Pick either route up and park where the slopes look easiest for hiking. We did this in early April with extremely muddy road conditions due to recent snowmelt and snowdrifts across the road.
Dean working his way up to the false summit
The meeting of the minds on the west slope of Sabie
Route up shortly after starting
On the false summit with my 70lbs of load
True summit from the top of the false summit
Between the false and true summit looking down
The kids and I on top
The summit
Almost there
We had our eyes on another peak we've been discussing, Maple Peak to the south
East Tintic Mountains then the Wasatch Front in distance
Looking down from the summit
North side of the ridgeline going down makes the route look almost alpine like
From the Northwest Approach