West Mountain Peak is the highest point in the Beaver Dam Mountains. The area is worth a visit although hiking a road isnít everyoneís favorite thing. I drove to the top but you will need high-clearance 4WD. If not, itís only a mile or so hike. The summit is stuffed full of communication equipment, enough you might not want to stay up there too long. But, the views are good and youíll get another one of the 84 Utah Prominence Peaks checked off.
Distance: 0 - 1 mile
Elevation Gain: None or 900 feet up the switchbacks
Summit Elevation: 7,680 feet
Access Rating: Level 3 to final mile, 4 to top
West Mountain Peak
www.WillhiteWeb.com: Your online resource for hiking, climbing and travel
Access:
Take Highway 8 west out of St. George through Shivwits. Just south of the Shivwits Indian Reservation is an unmarked road to the right. Drive up this gravel road toward Hell Hole Pass. After the pass, the road does some ups and downs before coming to a junction where left takes you to the top (communication equipment will be visible before this point). If you like your car or donít trust your driving skills, park here because it gets crazy. The final section of road is an amazing engineering marvel as it steeply climbs numerous switchbacks cut into the hill. The turns must be done perfectly or you wonít make them. There are no pullouts, just a few areas cars can back into if there is duel traffic. Once on top, there is plenty of room to turn around.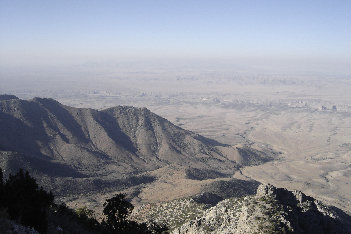 West Mountain Peak from Scrub Benchmark
Looking West
Looking north to a hazy and distant Signal Peak
Looking southwest
Looking south toward Scrub Benchmark
The lower communication site
Below: West Mountain Peak Overview Map