The Beaver Dam Mountains is an area of rugged landscapes, Joshua trees, desert shrubs and grasses, rocks and not much else. I ventured into this region just after moving to Utah and wow did I feel out of place. Being alone with 2 kids under 3 didnít help much either. Scrub Benchmark is one of the two high peaks that dominate this mountain range. Nearby, to the south is the Beaver Dam Mountains Wilderness which crosses into Nevada. This would be a good outing if youíre visiting the St. George Area.
Behind the gate, the road will take you all the way to the summit. At first it is a bit steep but soon the road reaches a ridgeline and the walking becomes easier. On the ridgeline, your views open up to St. George and far, far beyond. This hike is really unique with the vastly different landscapes in view. Plan on sun, there is no shade. I carried my kids up in November and the 80+ degrees at 5 p.m. was hot. On top are all kinds of communication equipment servicing the region.
Distance: 1.5 miles
Elevation Gain: 1,100 feet
Summit Elevation: 6,786 feet
Kids Difficulty Rating: Moderate
Access Rating: Level 4
Scrub Benchmark - Beaver Dam Mountains
www.WillhiteWeb.com: Your online resource for hiking, climbing and travel
Access:
Route:
Take Highway 8 west out of St. George. Just south of Shivwits on the Shivwits Indian Reservation is a road called Joshua Tree Road on my Gazetteer but I think it has another name now. This road loops around Scrub back to the main paved road just north of the Utah-Arizona border. I came in from the south and left via the north. The road is in decent shape, even labeled as a scenic route on my DeLorme Gazetteer. The southern section of the road is really neat among the Joshua trees. A few miles south of Bulldog Pass (see map), a rough 4WD road branches off. Follow this road 2.5 miles or so until you reach a locked gate at 5,700 feet. Just before the gate the road gets super steep but there is room at the gate to turn around and park.
Looking toward Nevada from the Utah-Arizona border. Joshua Trees!
Road near the summit
Scrub from the Utah-Arizona State Line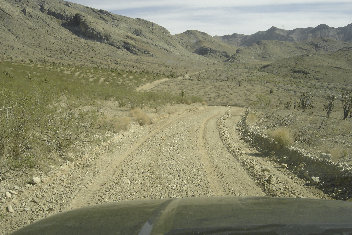 Driving into the Beaver Dam Mountains from the south

Views southeast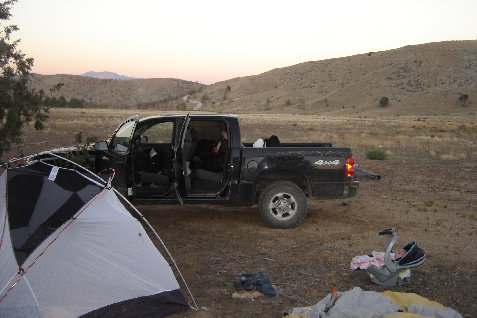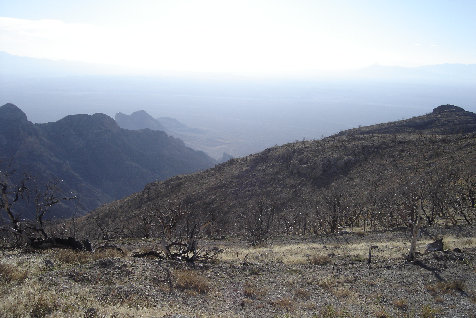 View west into Nevada
View north to West Mountain Peak
Camping below Jarvis Peak