Webb Mountain Summit
Washington Hiking & Climbing
At one time, Webb Mountain was quite a perch, as the ridge sticks out high above Hood Canal. A signed and decent road would take visitors all the way to the summit where a nice lookout tower was placed. Sources say this unique building with a garage was built in 1934 and destroyed in 1966. On top, not much remains of it, except for the old outhouse structure, located just off the road, a short distance before reaching the summit. The top does have a survey benchmark disk stamped Webb Mtn 1955. It is set in a square concrete post at the northeast corner of the lookout area. The views are nearly gone now, and the final mile of road is becoming a ugly bushwhack. Some recommend going in spring when the Rhodys are in bloom.
North of Hoodsport, about 12 miles is a bridge over the Hamma Hamma River. In another 2.1 miles is a left turn onto the Hamma Hamma River Road. Follow it for 2.5 miles to a right turn onto a gravel road, number 2510. This mainline gravel road needs to be followed for 5.5 miles. Many new timber sale access roads veer off it. Follow the map and you should be fine. At 5.5 is a T. Take a sharp right turn. Follow this road up the hill for 0.4 miles to a distinct Y in the road. Park here, the left road (090) to the summit quickly becomes covered in debris.
Access
Elevation: 2,773 feet
Distance: 2ish miles
Elevation Gain: 800 feet
Road Access: Gravel, mostly good
Follow the old roadbed south, then west, then north, until a sideroad branches off to the left. You should see the old gate posts once over a berm. Follow this road as it heads to the summit ridge. The road soon becomes a mess of fallen trees and growing brush. The timber above is rather open and one can easily short cut up through it. If following the road, when you hit the rim, turn right and follow the upper road to the summit.
Route
If you want some great views, consider visiting the older lower lookout location. See this link:
Lower Lookout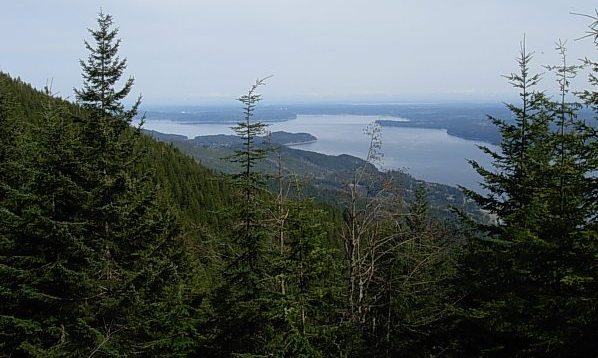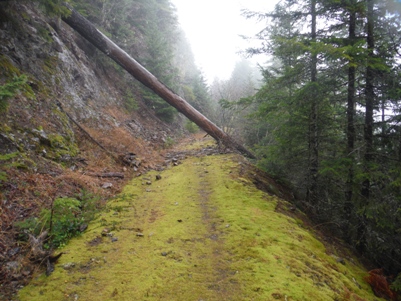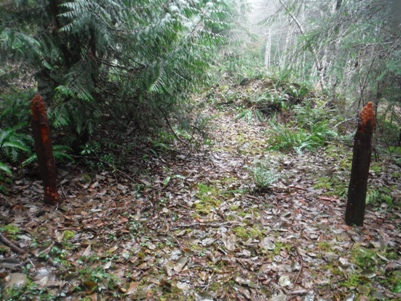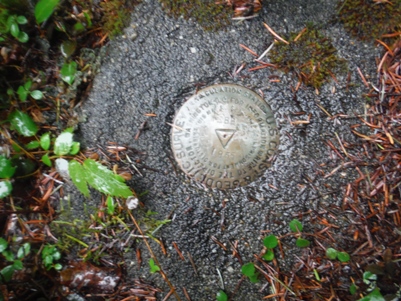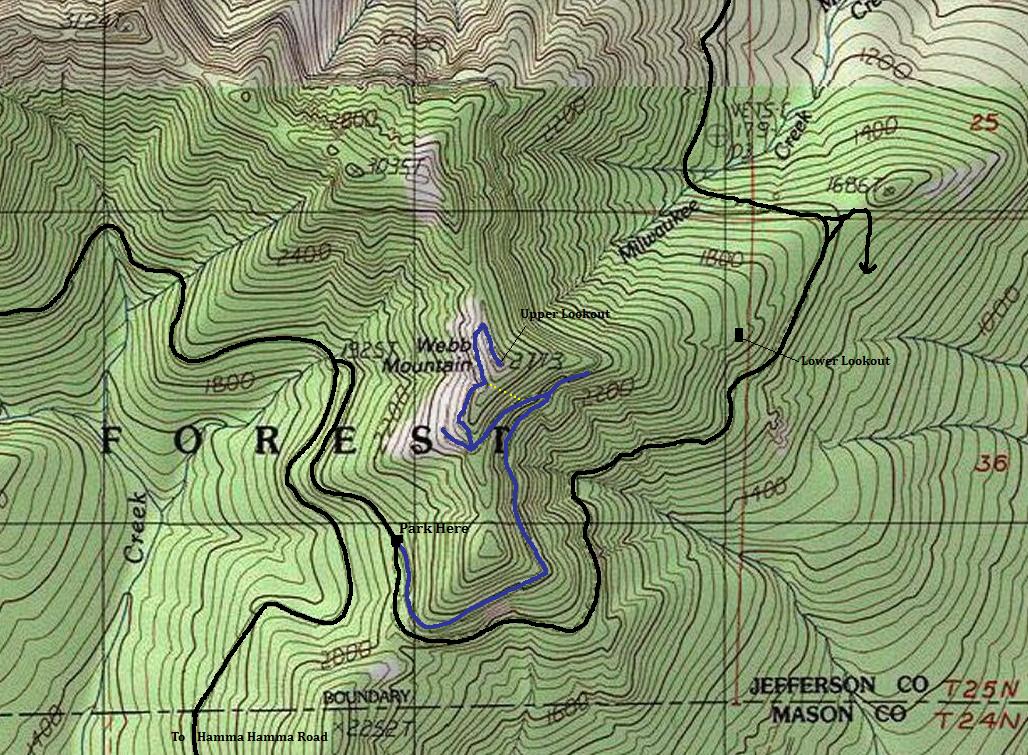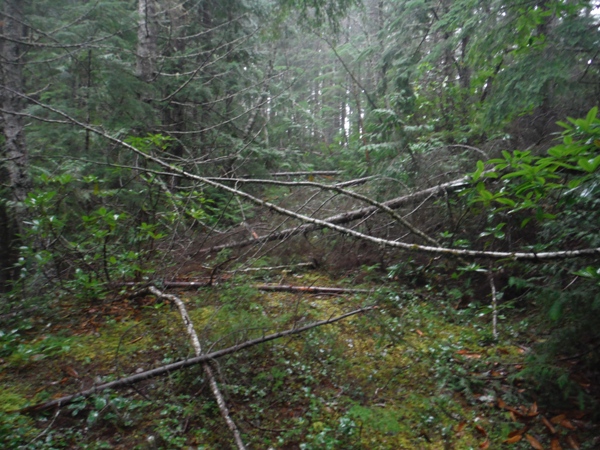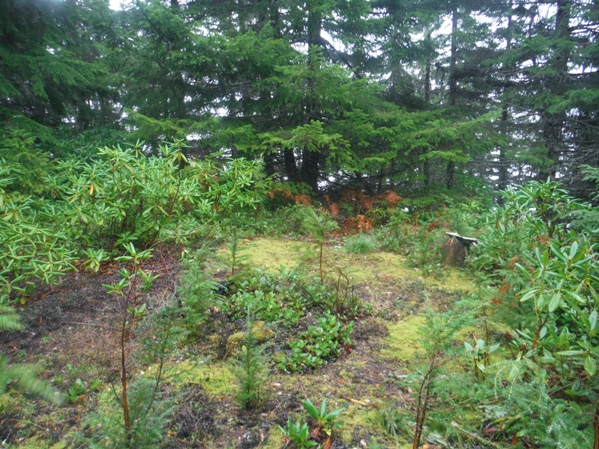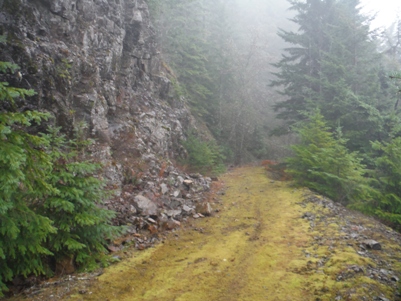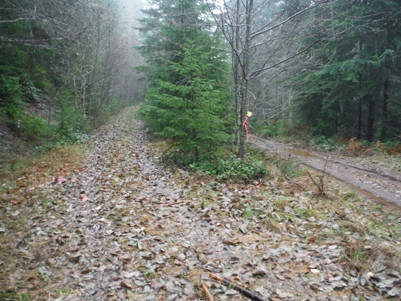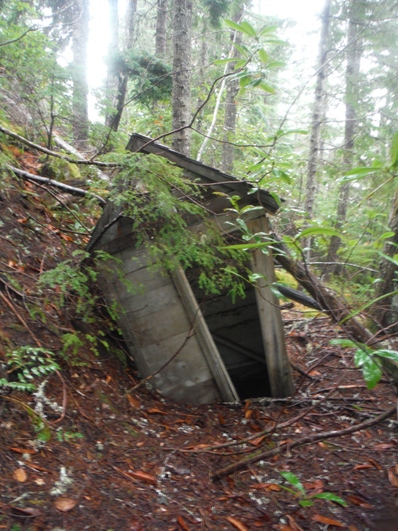 Park here, the start of road 090 that quickly turns ugly
Hiking the old road...watch out for falling trees
Expensive road cut
The old gate at the turn off 090 to the summit
Summit benchmark
Old lookout outhouse (no floor - beware)
View-less summit
A good section near the summit
Location of the lookout
Photo from the geocachers website, possible views in the area like this are fading fast
The lookout in 1959
Hiking route up Webb Mountain with possible cut-off route shown as yellow dots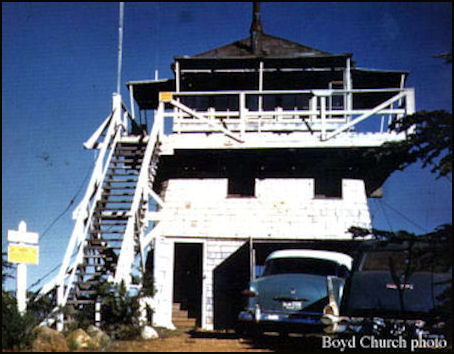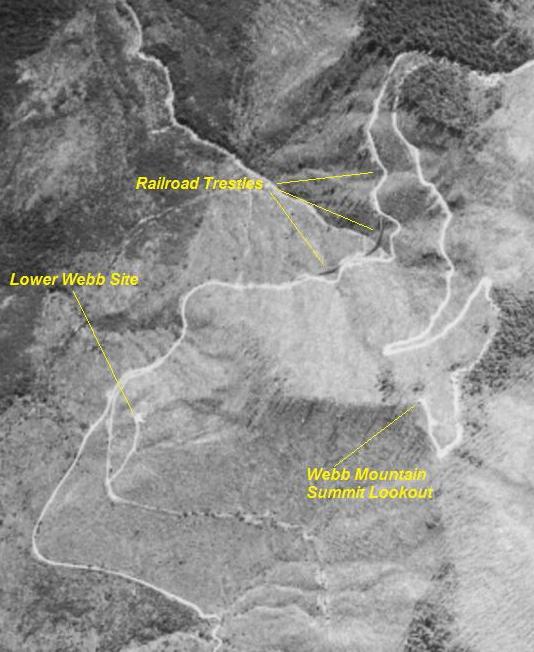 1939 Aerial showing the lower site building is now gone and the upper lookout is in place. It is possible the lower cab was placed on the summit live-in garage structure.