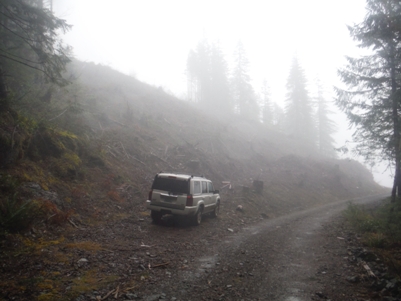 Webb Mountain Lookout (Original Location)
Washington Former Lookouts
There were two lookouts on Webb Mountain. One was at the summit and one was much lower on the mountain, on the side of the hill. This lower lookout view has remained forgotten for 80 or so years until recently when the third generation of trees was harvested. Now, once again the views have opened back up revealing the location similar to how it looked in the 1934 & 1935 pictures. The third generation of trees was planted sometime around 2012 so there should be views until 2018. Foresters flagged the lookout area keeping it from being too disturbed during the recent timber cutting operation. The lookout was just feet away from the current National Forest boundary.
North of Hoodsport, about 12 miles is a bridge over the Hamma Hamma River. In another 2.1 miles is a left turn onto the Hamma Hamma River Road. Follow it for 2.5 miles to a right turn onto a gravel road, number 2510. This mainline gravel road needs to be followed for 5.5 miles. Many new timber sale access roads veer off it. Follow the map and you should be fine. At 5.5 is a T. Take a sharp right turn. Follow this road up the hill and go 2 miles to the parking area, right when the cut timber harvest area starts.
Access
Elevation: 1,880 feet
Distance: 0.2 miles
Elevation Gain: 200 feet
Road Access: Gravel, rocky in places, large potholes if wet
From the parking area, just follow the timber line up the harvest area or walk the road a short distance and find a skid trail that is a bit easier walking that takes you steeply up to the backside of a small clump of trees that were left. Once behind the clump of trees, look up and you should notice the old lookout area timbers. The old lookout area had a large flat area above the lookout which is right on the cut boundary.
Route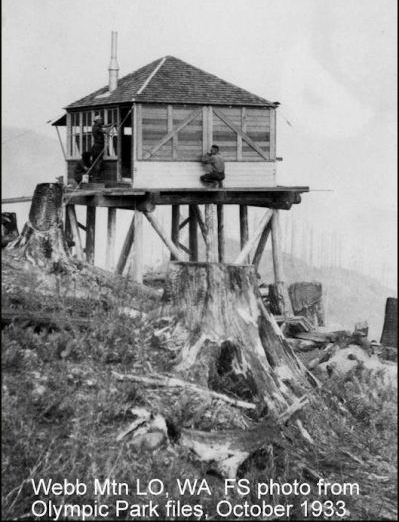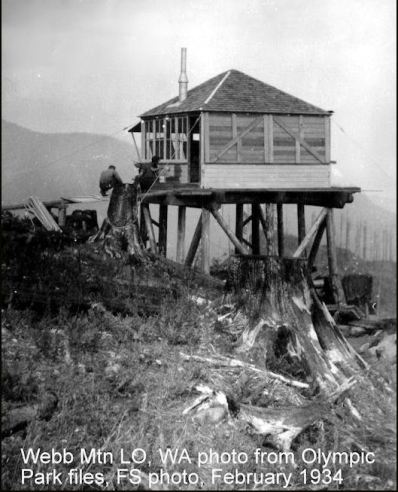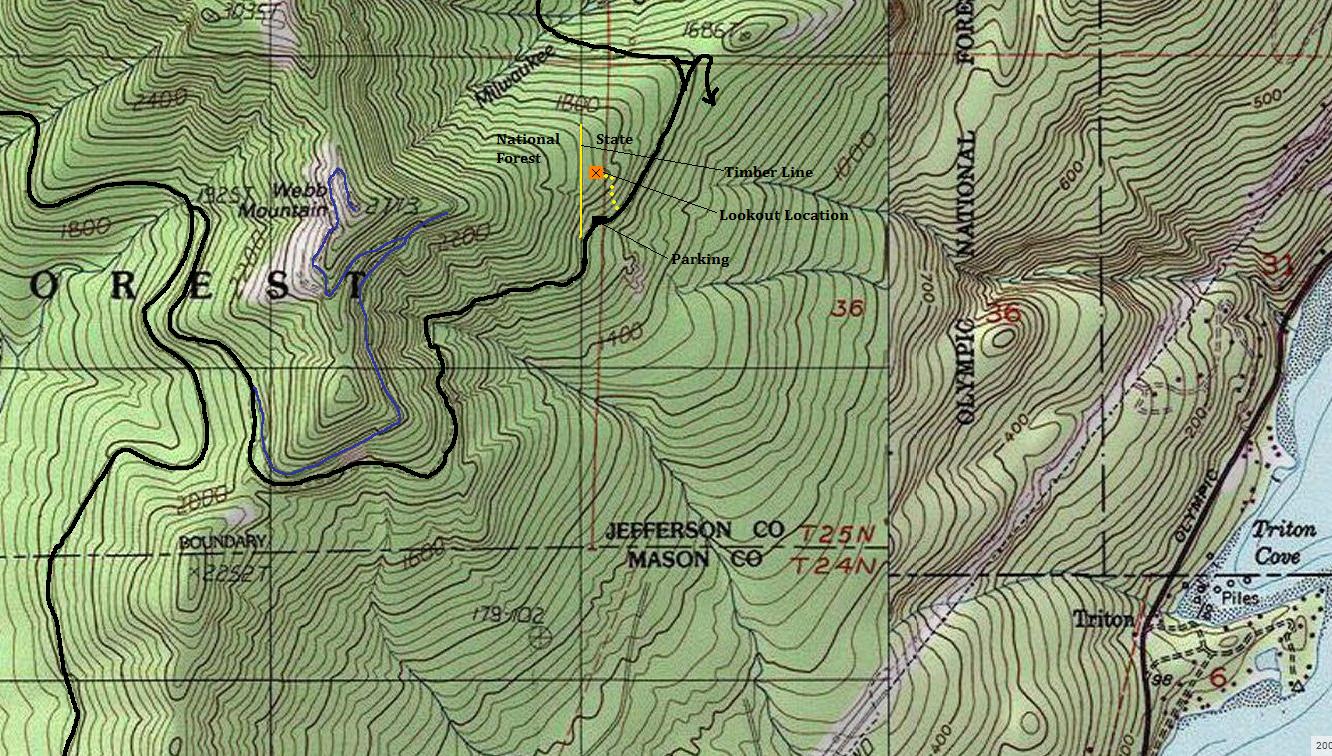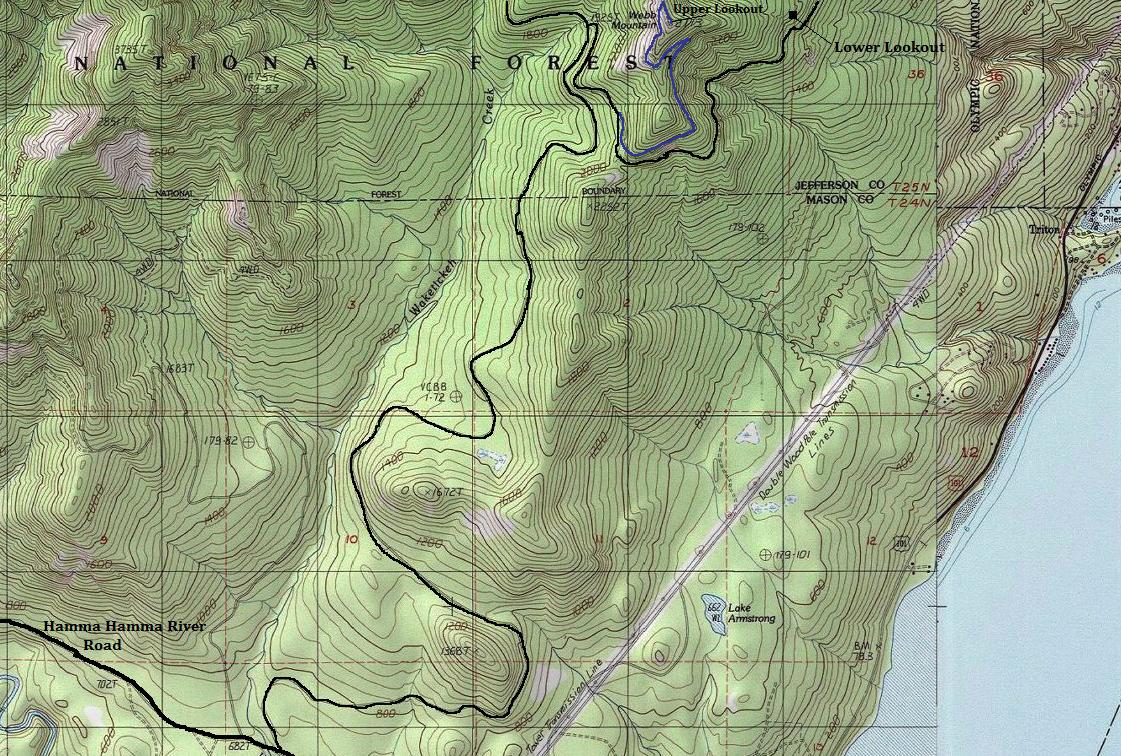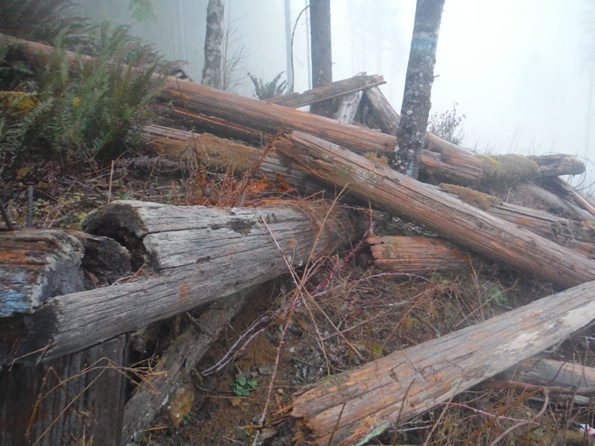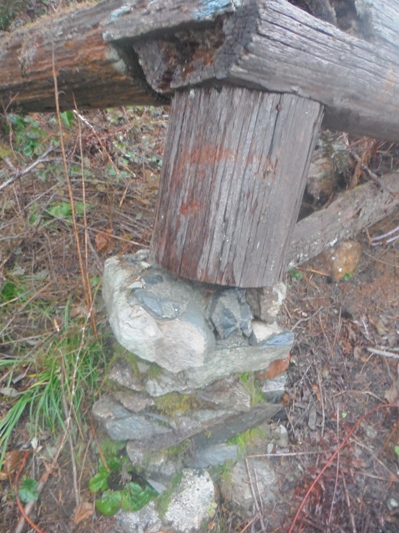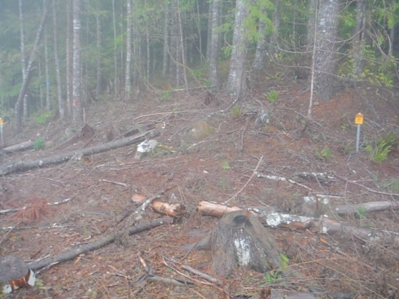 These are the timbers in the 1933 & 1934 photos on the right
This is the general direction of the photo on the left, (National Forest sign)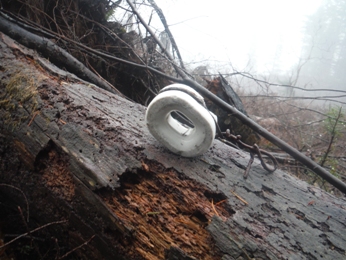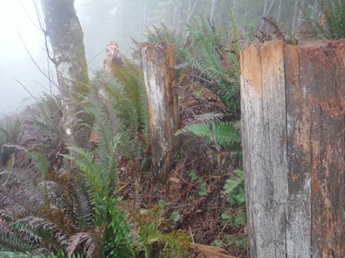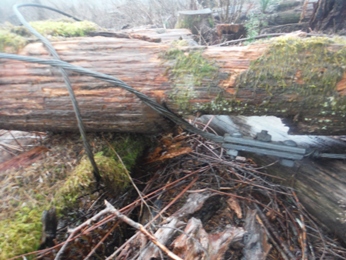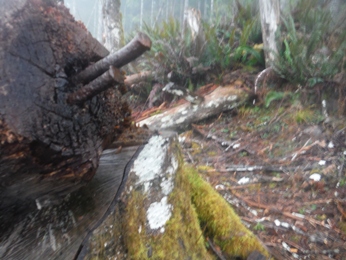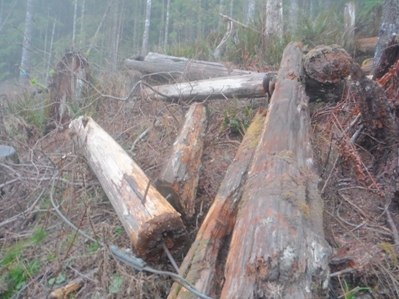 This is the photo to the left, hard to see but the old road bed was still there (2016)
One of the foundations still there, with a post on it
More timbers
Area to park at the edge of the clear-cut at the National Forest boundary. To reach the lookout, climb up the hillside on the left.
View Southwest from the roof of the lookout
View North from the roof of the lookout
View Southeast from the roof of the lookout
June 11, 1935 Panoramic Photos
Lookout area from below 2015
Two timbers still vertical
Phone insulator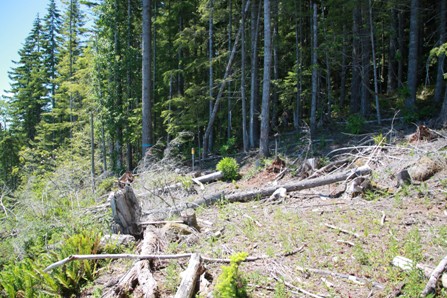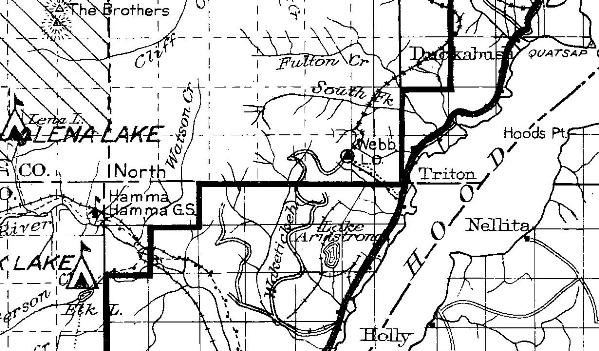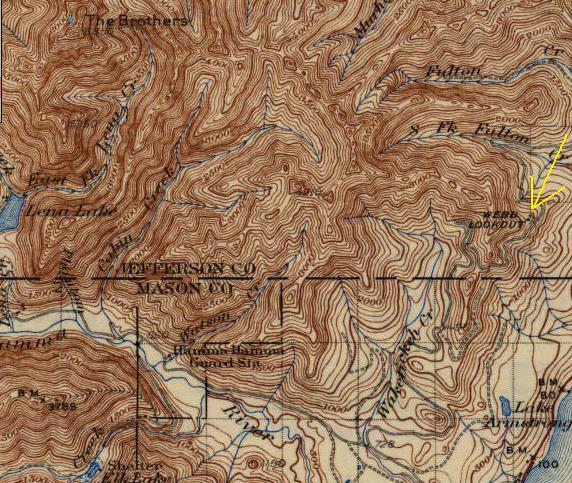 1938 map with label and dot for the lookout on the side of Webb Mountain
1930 Forest Service map showing the lower lookout on the side of Webb Mountain
Same shot in sunny weather 2016
The labels on the photos are not mine but were on the photos already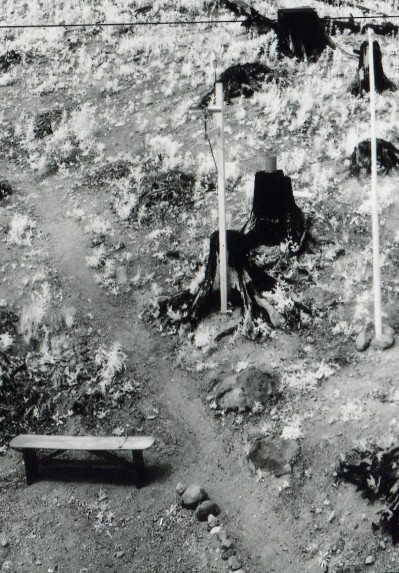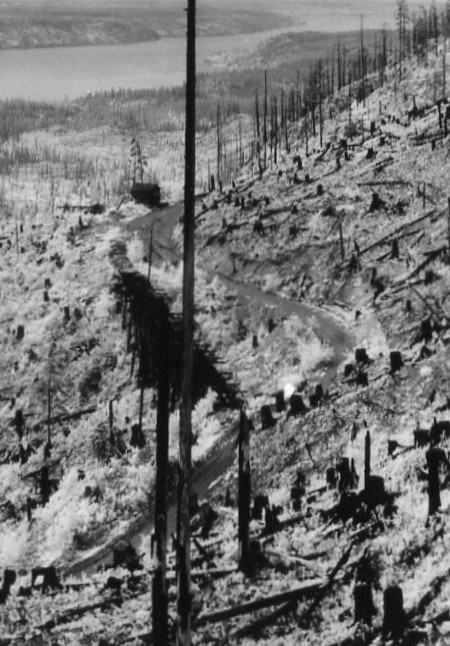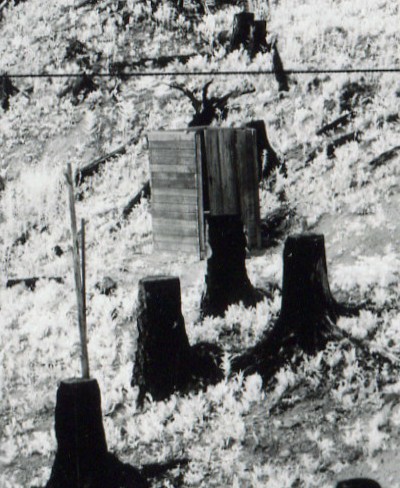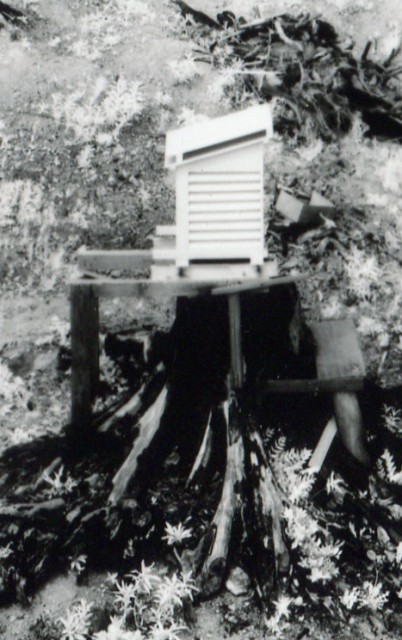 The weather station on a stump (In 1935 SW Panoramic)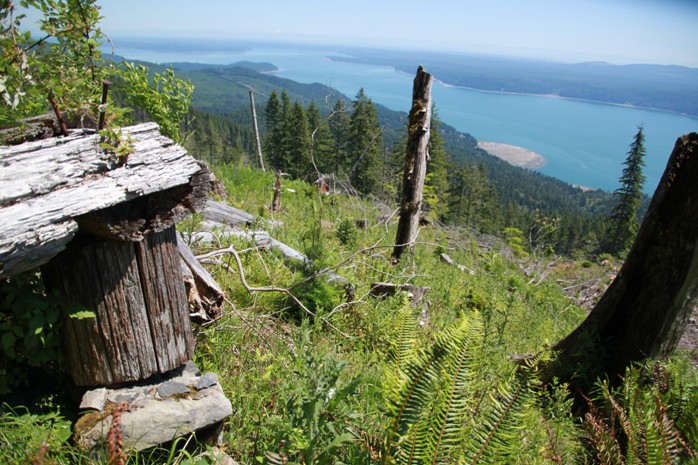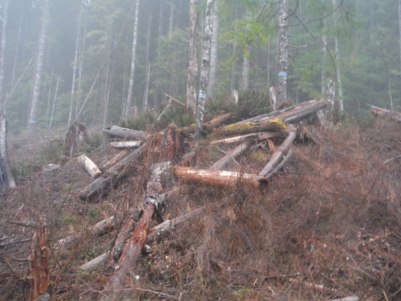 Old railroad bridge and a shed in the 1935 SW Panoramic
A bench and some weather equipment in the 1935 SW Panoramic
The outhouse in the 1935 SW Panoramic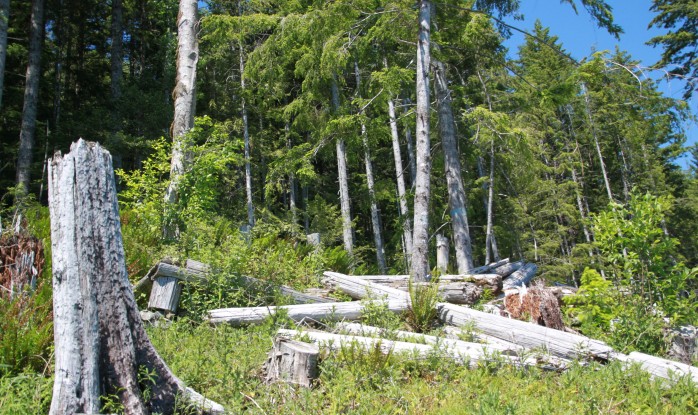 Lookout area from below 2016
Southeast view 2016 (Alan Mainwaring photo)