Cruising with Children
WillhiteWeb - Cruising With Children
Cruising with children is becoming more popular, especially since cruise lines have started promoting their child friendly ships. Most cruises now offer activities for kids 3 and up. The tricky thing is that all kids are different and their ages will significantly affect how good of a time you have. I have now done a cruise with no children, a cruise with one and a third cruise with 2 children. Below is my advice on cruising as well as tips to make it a bit easier if you do decide to book a trip.

Although my cruising experience is with young children, I spent considerable time outside the play centers talking with parents, teens and watching the reactions of those under age 5. My conclusion is this: try to go without kids; you'll enjoy the trip much better. If you have only 1 child, still book the trip. One is manageable and you will still have a good time. If you have 2 young children, don't go. Every 3 year old went into their "fun class" crying, basically saying "not again". A toddler will have more fun with the parents on the ship so why would he/she want to be dumped into a daycare? That will leave you with 2 young kids most of the time on the ship. Chances are, they both won't make it through the adult activities and shows that you want to see without acting up. I put my kids through lots of stuff, and I enjoy a good travel challenge with kids, but even I was overwhelmed on the ship with a 1 and 3 year old. Once they are older, around 5 years old, they love the activities on the ship. The older they get, the easier it is to cruise with them. The teens I talked with rarely even saw their parents! Those 10 and up all made friends easily they claimed, preferring to do activities with each other instead of their family.
Mandatory Safety Drill
Food and Meals
Luggage Delivery
Milk for infants
Shore Excursion Food
On board Laundry Service and Mats
Shore Excursion Days
Tendering to Shore
Getting your Kids to Sleep
If you do decide to take one or more young ones, your first test will be the muster drill. Just before the ship leaves port, you will be required to participate in a mandatory safety drill. Everyone on the ship is required to put on their life jackets and report to a Muster Station. There you will stand (packed like sheep) until everyone on the ship is in the same miserable position you are in. Young children will not like this for too long. Avoid waiting by leaving your room at the last minute. You will be reminded of the drill time several times until a last minute call goes out. After the last call, wait a bit then go.
Most ships have two ways of eating dinners. One is a formal sit down dinner in a nice restaurant. The other option is the buffet, where breakfasts and lunches are served. Unless you're feeling particular brave, you'll likely eat dinner at the buffet, most parents do that have more than one kid. You may also have the option of room service but kids can be picky so having lots of choices ready and available is wise.

If your kid or kids are sleeping, you can just send one adult up for the food while the family stays in the room. Most ships allow you to take a plate of food just about anywhere. If you have a kid really acting up, you can even find a table outside the buffet area, out on the deck. Usually there are tables far removed from everyone.

Breakfast and lunch buffets are simple but I always grab some things for the kids to snack on incase they don't eat enough. Cereal boxes, bananas, oranges, muffins were my favorite to stuff into a backpack. We used washable bibs at meal time, hence the backpack to carry them in (and our stash of food out).
Luggage Delivery is a lengthy process. Bags have also been known to go into the unknown pile if the tag gets ripped off. Make sure you have a backpack full of the items you'll need for the afternoon (diapers, formula, change of pants, wipes, etc.).
Milk is always available but you may need to ask for it. Most cruises provide milk cartons for breakfast. If your room has a refrigerator, you can stock up your backpack with milk at breakfast, return to the room filling your refrigerator. If you don't have one, you'll need to go to the buffet area each time and ask for it. Room service can also bring you milk but usually you have to arrange this ahead of time….not to helpful if your kid is about to cry.
If your child is one or younger request a crib, although it takes a bit of precious space. Hopefully your kids are tired and crash when they hit the bed at night. My one year olds never seemed to be ready to sleep or liked to cry a bit before falling asleep. Knowing my neighbors can hear a crying baby, I preferred to take my kid out of the room to fall asleep if they wanted to fight it. On both cruises with kids, I had a quiet place outside where we could sit, listen to the wave's crash and fall asleep. After a few nights doing this, they know the sounds of the spot meant bedtime. It was also the place I disciplined my 3 year old so his crying wouldn't bother anyone.
We like to keep moving on shore excursions. If we aren't near any food and one of our kids is hungry it's nice to have food in our pack. Since the cruise doesn't provide a sack lunch, you'll have to make one. Of course, you can always buy a lunch on shore somewhere. My suggestion here is just for snacking. The morning of the shore excursions, at the breakfast buffet, stock your daypack full of lunch and snack food. I bring small plastic containers that can hold food. Some of the items we grab are fruit, crackers, cold cereal, hard boiled eggs, pastries and muffins. Usually they will tell you that bringing food off the ship (especially fruit) is prohibited. Sometimes they even threaten there is a fine. Usually they are only worried about fruit but the cruise adds in food as well. Hide the food in your bag, in another bag with diapers. If there is an inspection of bags, it's usually really pathetic, a going through the motions type of drill.
It's possible to leave your kids on the boat all day while you are on a shore excursion. We always took them with us. Knowing we can see a lot in one full day, we brought 2 child carrier backpacks on our last cruise. This way, if our 3 year old couldn't walk anymore or wanted to sleep, in the pack he would go. My only advice on this is that your kids will likely be very tired when they get back to the boat. If you didn't grab any food on shore, go to the lunch buffet if it is still open or you'll have nothing until dinner.
(Unless you keep a stash of food in your room).
This is when the cruise ship can't dock on shore but must shuttle passengers to shore by smaller boats. If you want to get out early, find out when tickets will be distributed. Get one person to wait in line for your group. Be on the first few boats off the ship so you wait very little and have the most time on shore.
Larger class cruise ships may have a do it yourself laundry mat available. This is especially nice if the kid's cloths are dirty from traveling before you even got on the cruise. If they don't have one, most ships will offer a "fill this bag for $20 bucks" deal about halfway through the cruise.
Buffet Dinner
Formal Dinner
Mandatory Safety Drill
A room with crib and fold down beds
Shore Excursion Bus
Shore Excursions
Formal Dinner
Not on the menu but you can always order kid food
Ships theater, how long can you keep them quiet
In the back
A room with a view helps
Pirate Day at the kids center
Don't let your boat leave without you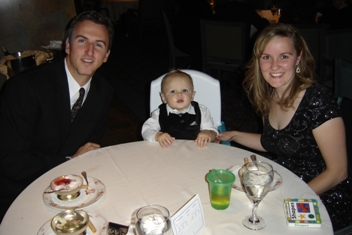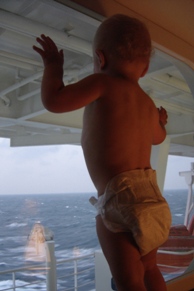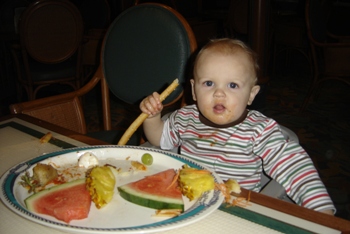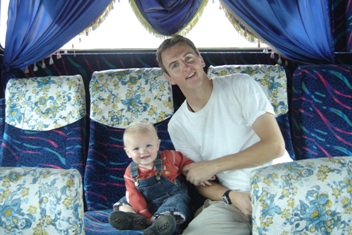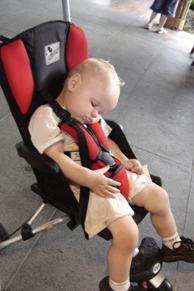 Compact stroller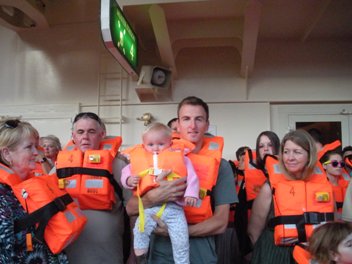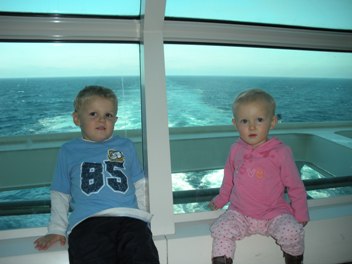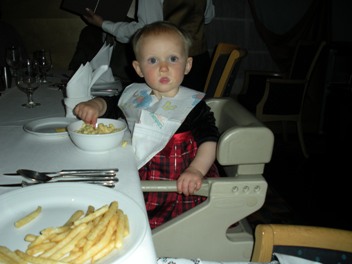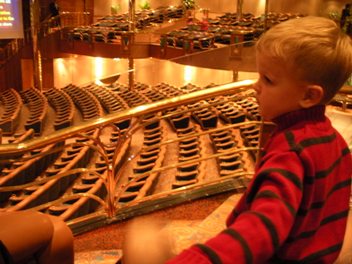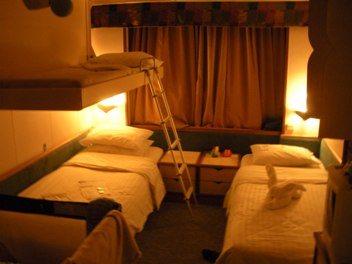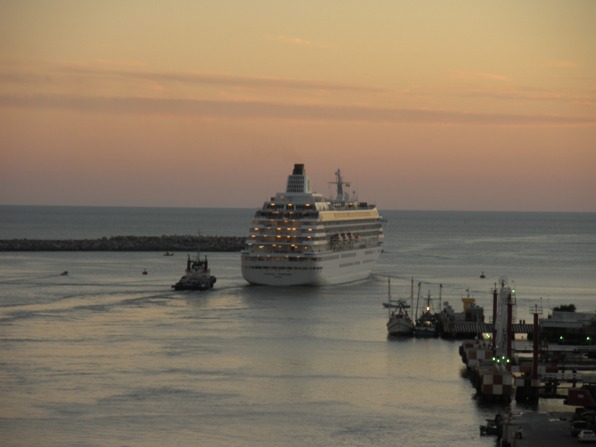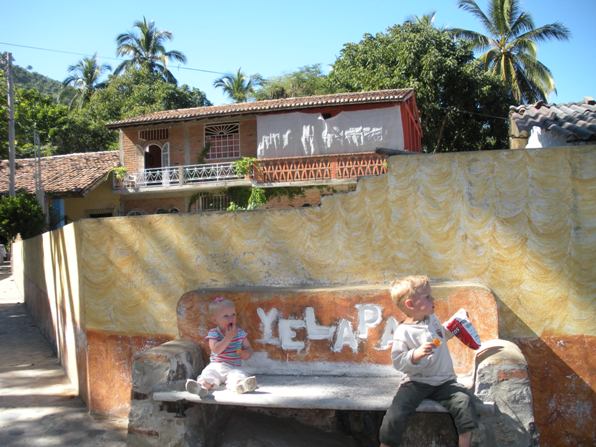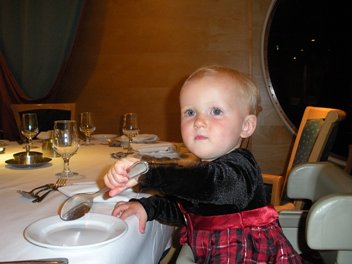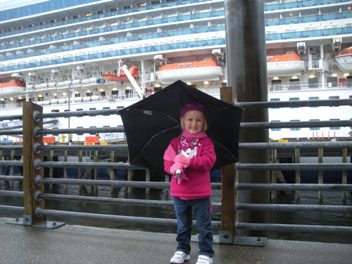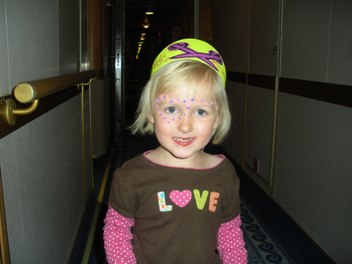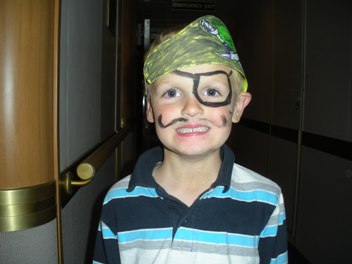 Pirate Day at the kids center
Shore Excursion, Yelpa Mexico
Cruising Trip Reports With Our Kids
Mexico Cruise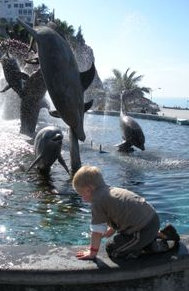 Shore Excursions