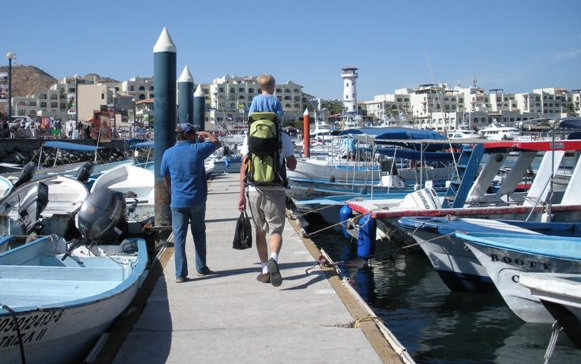 Los Cabos is where the desert collides with the confluence of the Pacific Ocean and the Sea of Cortez at Bajaís southernmost tip. Itís always been a favorite for anglers, but Cabo San Lucas also has great beaches, lots of shopping and restaurants, and a variety of hotels and resorts. Cabo has gradually developed into a tourist spot; it was never a historical town since it had no source of fresh water. Because of this, the city doesnít have much to see if you like historic sites. Itís all tourism; in fact, the large marina shops and malls feel like southern California. It does offer great weather with some exotic looking scenery and itís relatively close to the U.S. so maybe that is the appeal. Cabo San Lucas is one of those ďrelaxing vacation placesĒ where you donít plan on doing too much but sitting on the beach and an occasional activity.
Cabo San Lucas, Mexico
www.WillhiteWeb.com: TRAVEL
Lands End
Playa del Amor (Loverís Beach) and Divorce Beach
At the marina, youíll have no problem finding and hiring a water taxi or glass bottom boat to take you out to the arch (El Arco) or the beachs (described below). The boat driver will probably take you on a tour around the arch, the sea lions and other sites in the area. They like the round trip price so youíll need to know when youíll be done with your time at the beach so they can come pick you up.
Sea Lions at Lands End
The boat goes right up to the beach, I had to quickly pull my shoes off before jumping out. The swimming beach is Lover's Beach so the majority of people were hanging out there. A short walk over Loverís Beach will take you to Divorce Beach. This side is located on the Pacific side with larger (and dangerous) waves. Everyone says to swim and snorkel only on the Sea of Cortez side (Lover's Beach).
Boat viewing
Lands End from Cruise Ship
Coming into the harbour
Divorce Beach
Looking from Divorce Beach through gap to Lover's Beach
In the harbor, walking to our water taxi
Water Taxi Tour