Little Water Peak is an easy after work peak. A trail takes you most of the way with some minor off trail at the end. Little Water also makes for a good ski or snowshoe trip as the trail to Dog Lake is usually stomped out. Avalanche danger would be minimal. Nearby is Reynolds Peak which has a trail from Dog Lake to the summit. Both peaks would make for a good half day hike.
Little Water Peak
Distance: 3 miles
Elevation Gain: 2,400 feet
Summit Elevation: 9,605 feet
Access rating: Level 1
www.WillhiteWeb.com: Your online resource for hiking, climbing and travel
Access:
Route:
Drive up Big Cottonwood Canyon road approximately 8.5 miles to the large Mill B Trailhead and parking area located on the left side of the road.
Several trails could access this peak. The fastest and easiest is probably from Mill Creek Canyon but I wanted to avoid the dogs allowed on that side. I chose a longer but more gradual ascent from Big Cottonwood Canyons Mill D Trailhead. It's a nice trail as it climbs above the highway and goes into Mill D North Fork Creek. At 1.8 miles is a signed trail split. The Desolation Trail goes right and Dog Lake goes left. The 0.58 miles to Dog Lake has a few short steep sections. At Dog Lake, I left the wife and kids for the quick run up the peak. We started at 7 p.m. so I arrived on the summit near sunset. I went up the west ridge as shown on the map below. The brush is easy to work with. Follow the ridge, bypass or go over the false summit. On top it is bald so you get great views. On the way down, I just dropped to Dog Lake.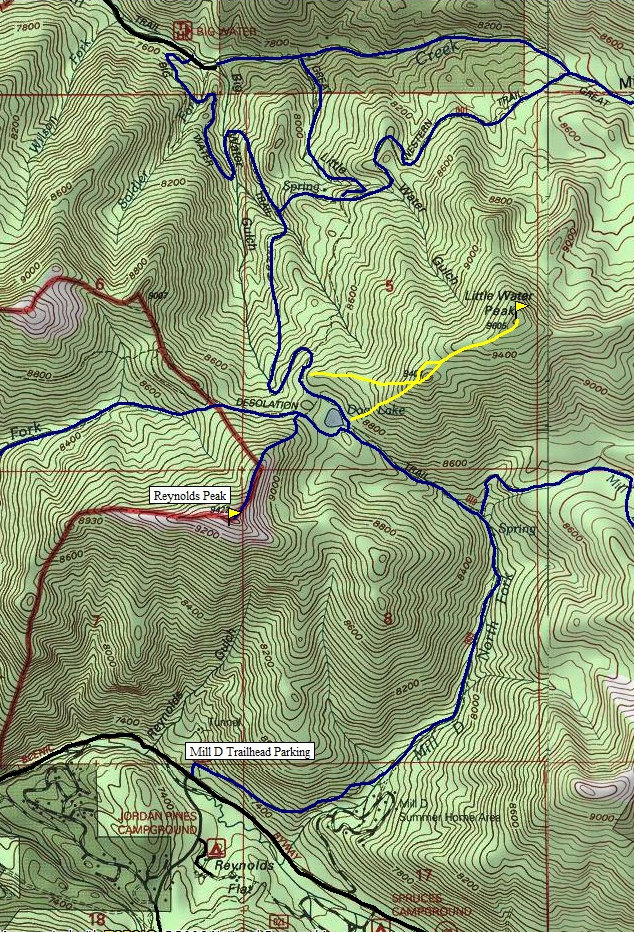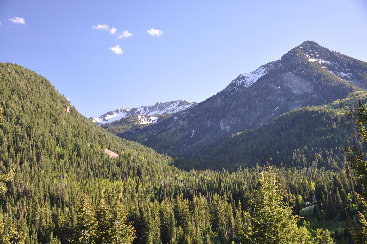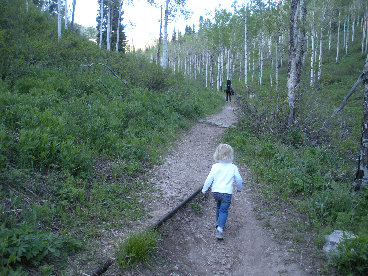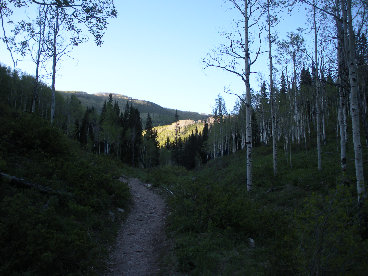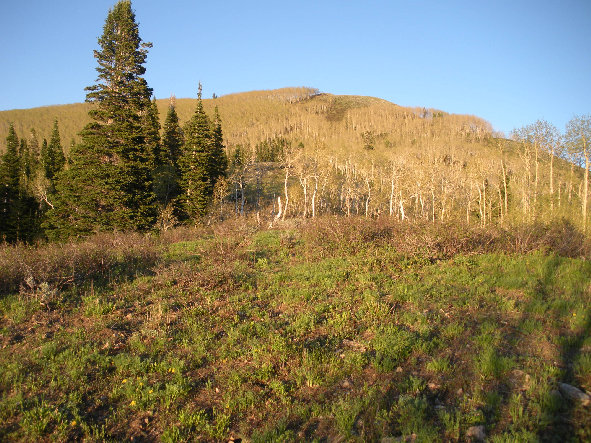 Hiking up west ridge, looking at false summit
Views of Kessler Peak from the first half mile of the trail
Hiking the trail
The trail is shaded late in the day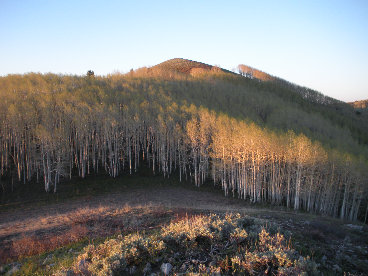 Summit from the false summit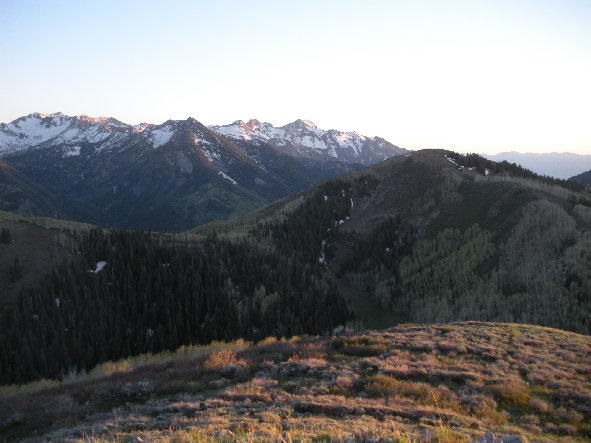 Reynolds Peak just to the south, then Kessler and Twin Peaks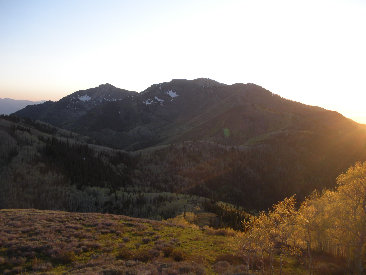 Gobblers Knob & Mount Raymond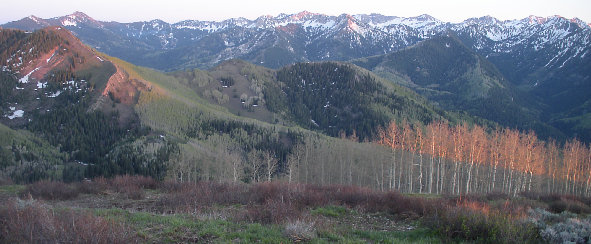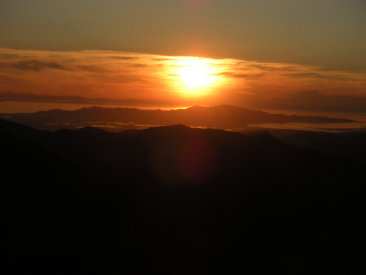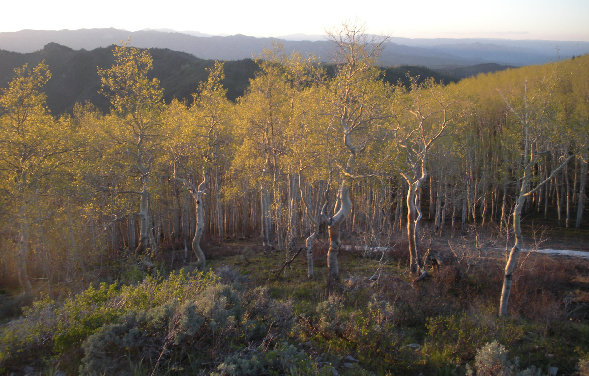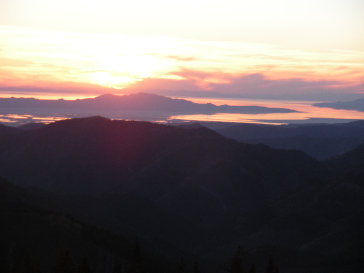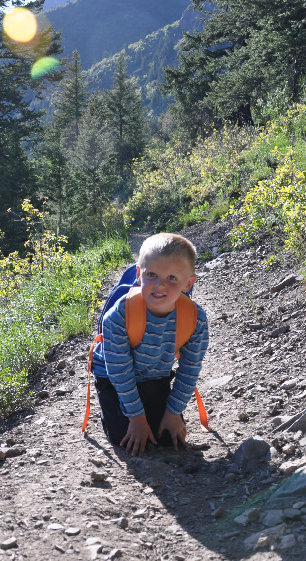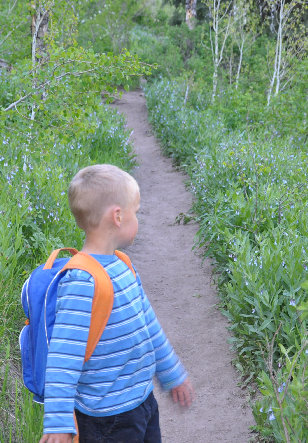 On the trail
Looking north
Looking southeast
Sunset over Antelope Island
Sunset over Antelope Island