Box Elder Peak, Wellsville Cone, Mitton Peak
Distance: 4.5 miles to Box Elder, 0.7 more to Wellsville Cone
Elevation Gain: 3,800 feet for Box Elder, +800 for Wellsville Cone
Summit Elevation: Box Elder 9,372, Wellsville 9,356, Mitton 8,657
Access rating: Level 1
www.WillhiteWeb.com: Your online resource for hiking, climbing and travel
Access:
Route:
Box Elder Peak and Wellsville Cone are the 2 highest peaks in the Wellsville Mountains West of Logan, north of Brigham City. Now my Utah Atlas & Gazetteer claims that these mountains are the highest in the world to rise from such a narrow base. I have some issue with these as their own mountain range...but I'm not a Geologist. The main goal here is Box Elder Peak, the 27th most prominent peak in Utah. Don't confuse this with the other Box Elder Peak, an 11,000 footer near Alpine in Utah County.
From the parking area, walk to the big gate that may say "close the gate behind you". A sign also says Rattlesnake Trail. Walk up this old road that looks occasionally used by vehicles. Short of a mile, the road will make a sharp right turn. Here a trail continues straight. Follow the trail as it works up the forest in oaks and maples. After 10 minutes or so you will have an unsigned trail split, go left (shown on map below). Just follow the trail as it gets steeper and steeper. After you hit tree line and the views open up, there are a few sections where the trail traverses and even drops a bit. Just before the ridgeline at 8,400 feet, the trail will split again. Left goes onto the ridgeline all the way to Mitton Peak. This is a nice little bonus peak...or "wimp-out" peak. Take the right fork to do Box Elder. This trail continues up a bit more to a pass (sometimes brushy), then climbs to the summit ridge where a long ridge traverse leads to the summit. Note that the trial continues north bypassing the summit to the east. You'll need to walk about 2 minutes off the trail to the summit cairn and the Box Benchmark. For Wellsville Cone, continue on the trail dropping several hundred feet. Climb 416 vertical feet from the saddle between the two on easy terrain to the top of the Wellsville Cone.
From I-15, take US 89/91 towards Logan (exit 362). Around 10 miles is Sardine Pass, with the Rattlesnake Canyon trailhead about 4 miles more at a major curve in the highway. Because of a center barrier, you will have to keep driving until you can flip a u-turn when the barrier ends. The dirt trailhead parking is a big area, right along side of the highway.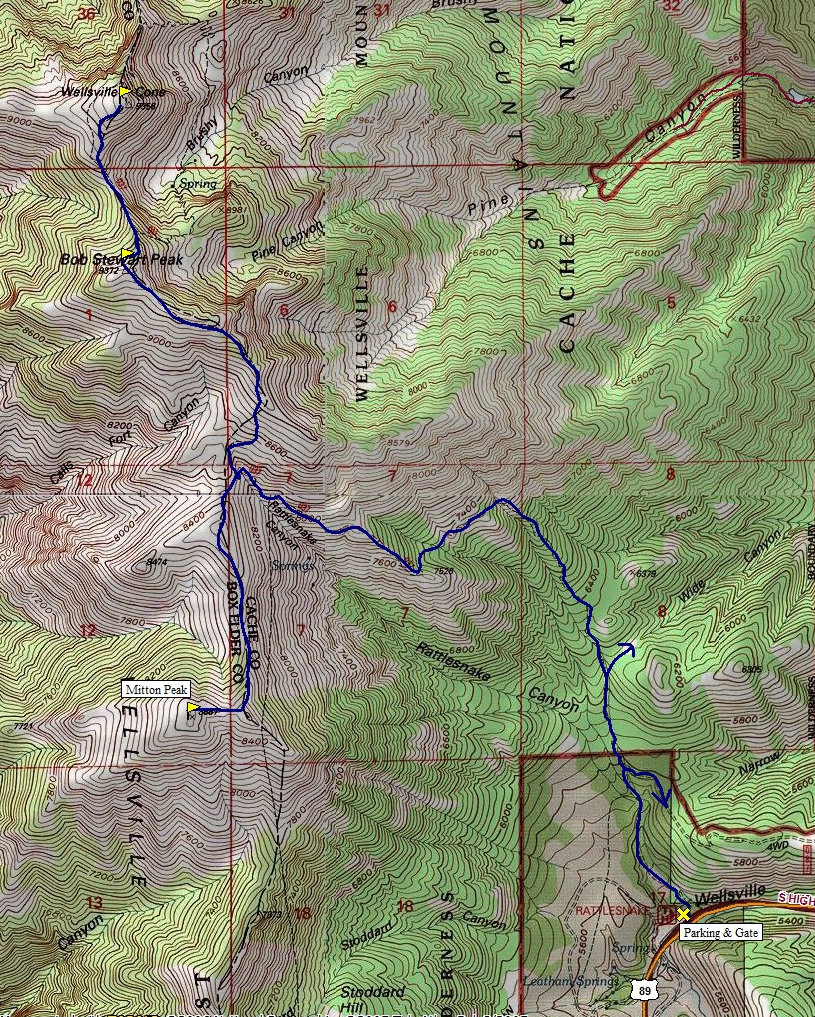 Box Elder Peak
Wellsville Cone
Mitton Peak
From Logan Peak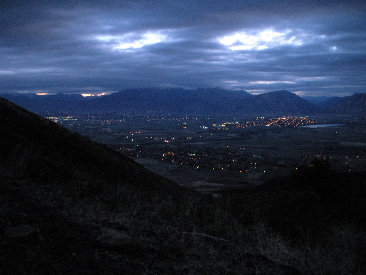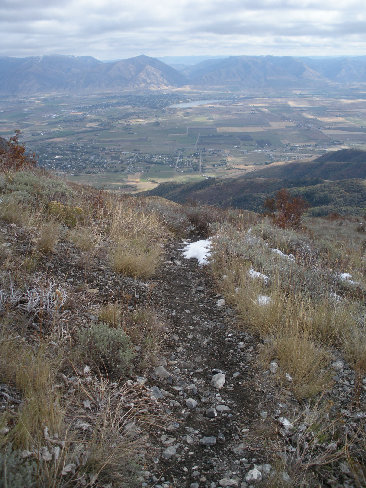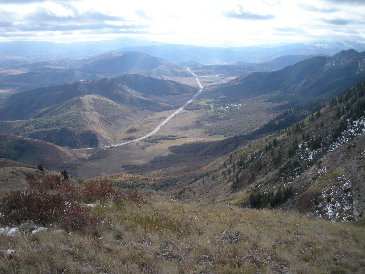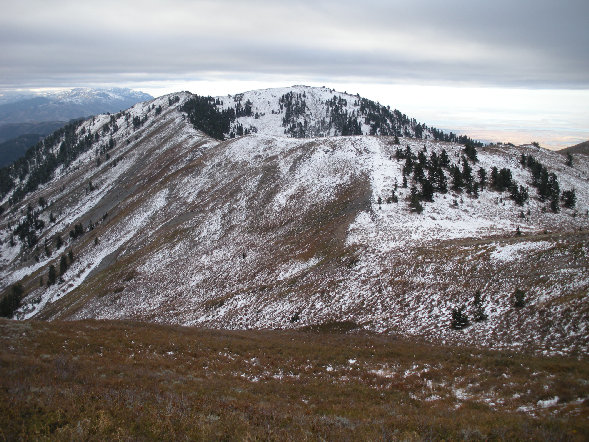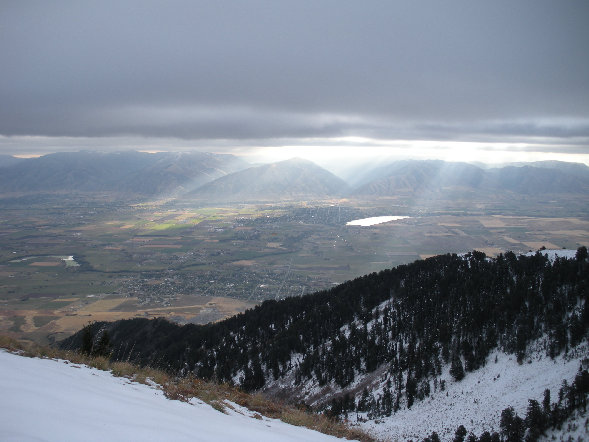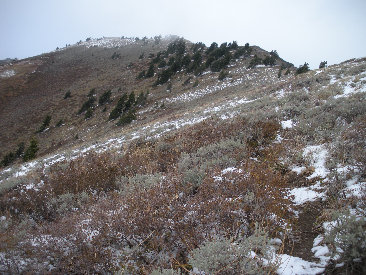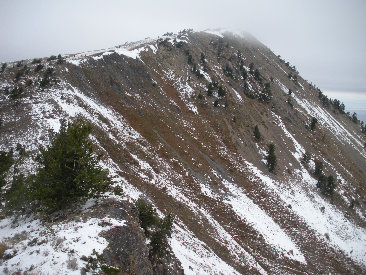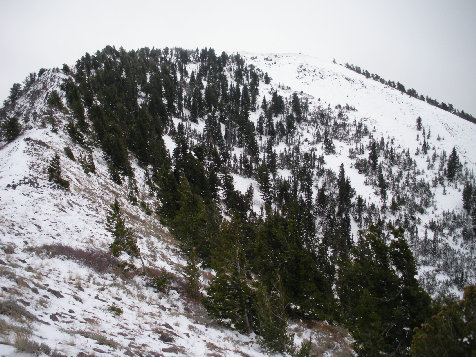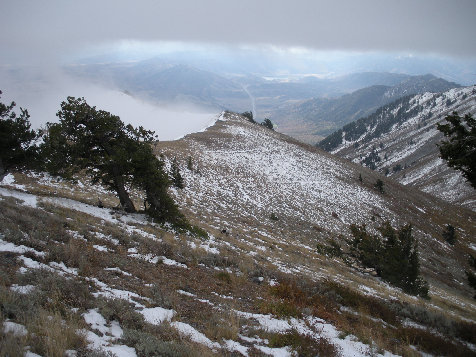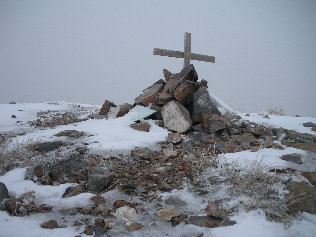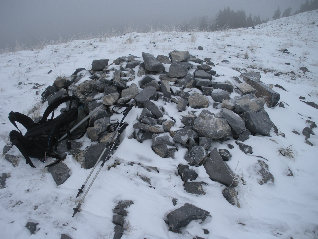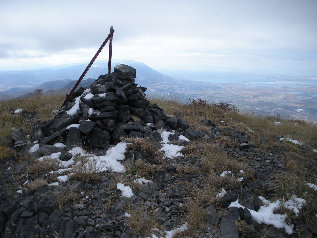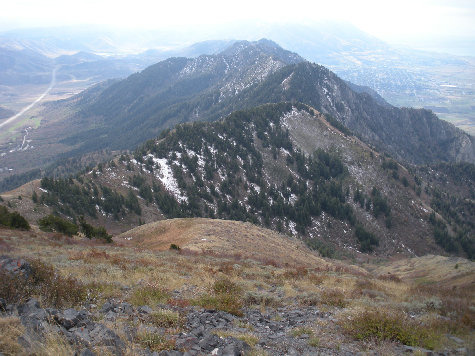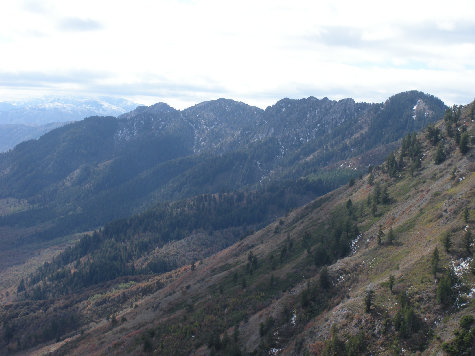 Southern Wellsville Mountains from Mitton Peak (access???)
Southern Wellsville Mountains from trail (point 7528...a good camp spot)
Panoramic shot from Mitton Peak, the only peak of the 3 that was below the cloud base.
Mitton Peak summit
Box Elder Peak summit
Wellsville Cone summit
Box Elder Peak from saddle to Wellsville Cone
On trail up Box Elder Peak...entering the clouds
Looking across Cache Valley to Peak 8,455 (1,235' prom) in the sun
Wellsville Cone in route from Box Elder Peak
Working up the summit ridgeline of Box Elder Peak
Mitton Peak from the Box Elder Peak trail
Highway 91/89
Trail views of Cache Valley
Early morning start and the Cache Valley