Purdy Lookout
Washington Lookouts
The details of the Purdy Lookout are just starting to be uncovered. In 2016 a firefinder was found for the Tahuya Lookout in storage. On the firefinder map, a location was marked as the Purdy Lookout, similar to the known lookout sites on the firefinder map. The pinhole was located at a high knob above the town of Purdy.

Several months later, while collecting WWII Aircraft Warning Service records in the National Archives, a 1940s list of existing lookouts was found. Purdy Lookout was on the list, marked as a framed timber lookout at an elevation of 250 feet, managed by the Port Orchard District, warden D. Fraser. The location matched the exact location on the Tahuya Firefinder.

In 2017, I was contacted by a person who said his friend Charles R. Siegel, Jr. spent the summer of 1942 staffing the Purdy Lookout. He recalled Charles saying, "that it wasn't a very good location and there was some problem about the land owner."

Also in 2017, a colleague and I interviewed 92 year old retired DNR man John Kingsbury who worked at the DNR for 29 years. His area was the Kitsap Peninsula, working out of an office in Port Orchard in 1952. When that office closed, and became headquartered in Enumclaw, he believes all the paperwork went out the back door and burned, hence the lack of information about this districts lookout sites. John said this lookout was high in a tree (crows nest). The ladder boards were nailed to the tree and it was so tall 60-80 feet that he only made it half way up before turning back. He knew of its existence when he was in high school. The district manager (Don Lee Fraser) came to his school in 1941 looking to recruit boys to fight fire. He didn't get the job then but did end up working in his home district years later. By that time when he returned in 1952, he believes the lookout was gone. Purdy did not become an AWS site. John said there was a civilian site on a hill in Gig Harbor that he even spent a few shifts observing at before he went to war.
Location: NE1/4, SE1/4, SE1/4 S24 T22N, R1E
Structure: Lookout Tree, then maybe a Framed Timber Structure
Owner of Land at Time: Unknown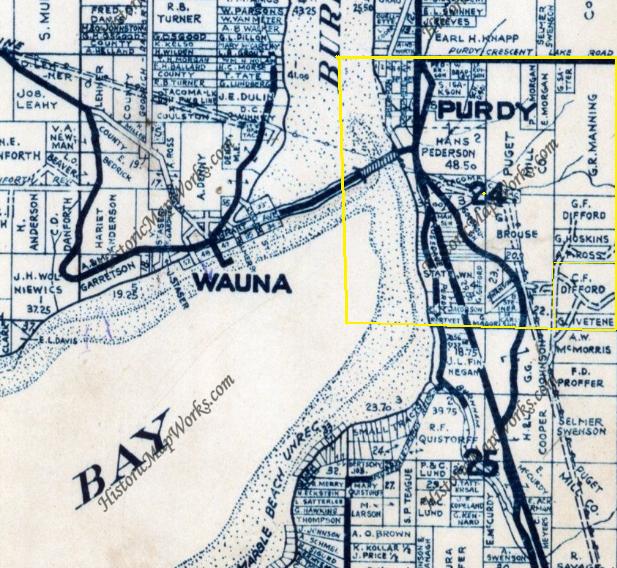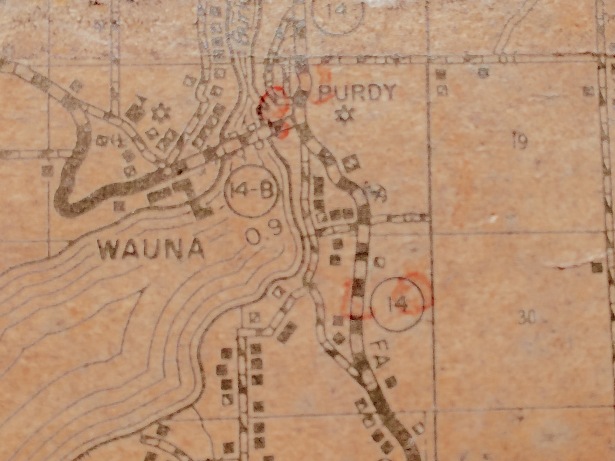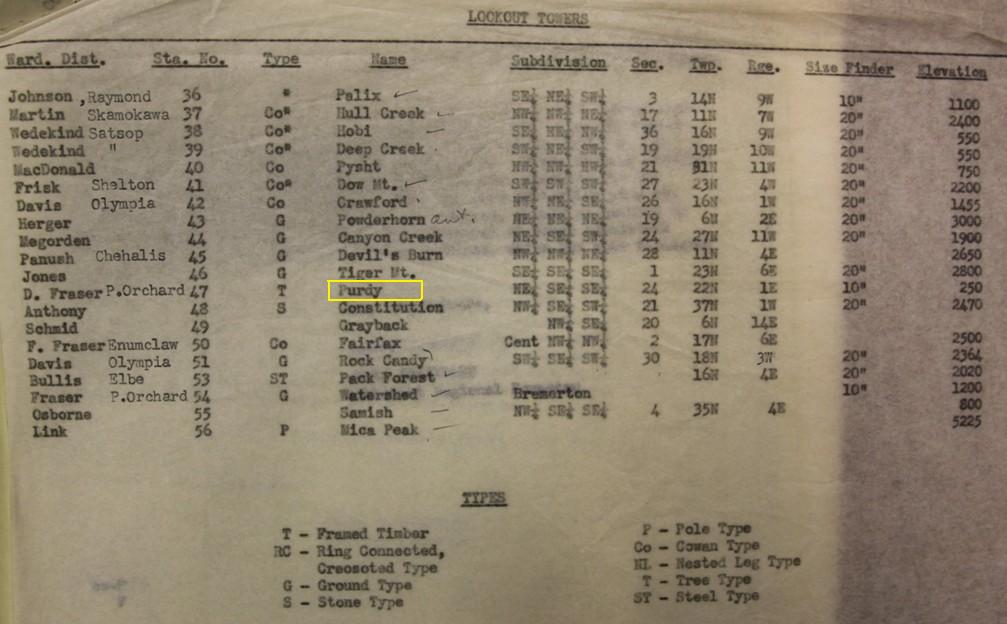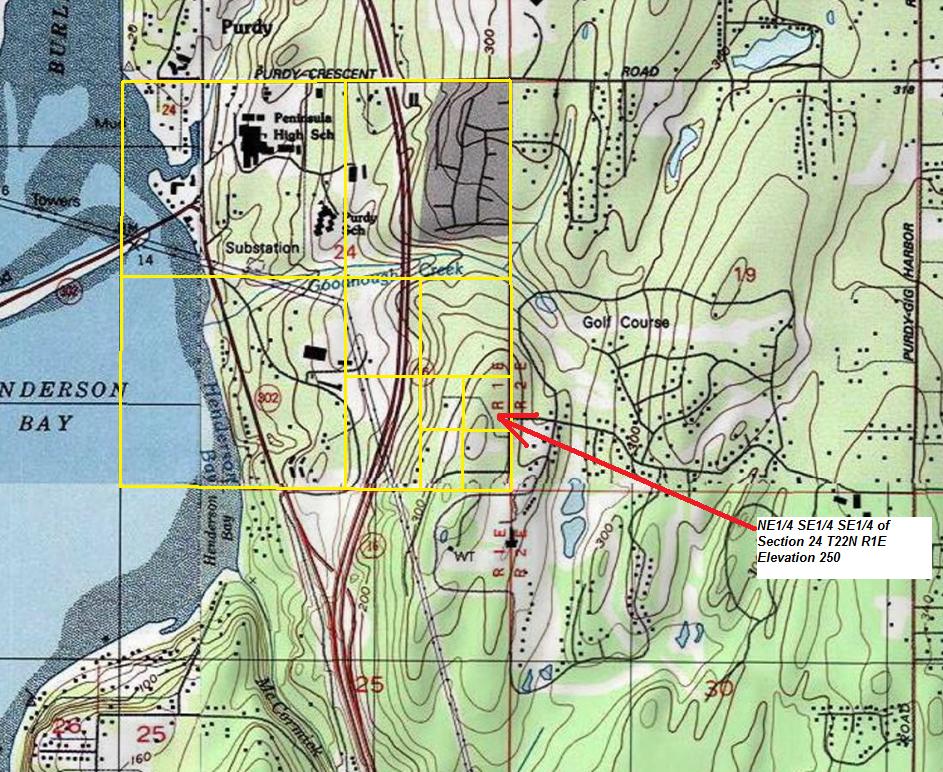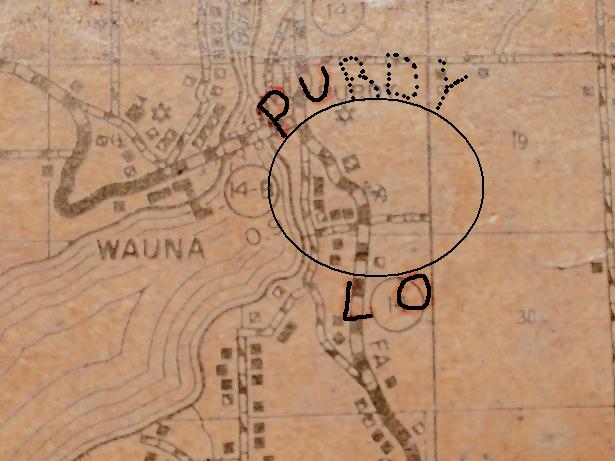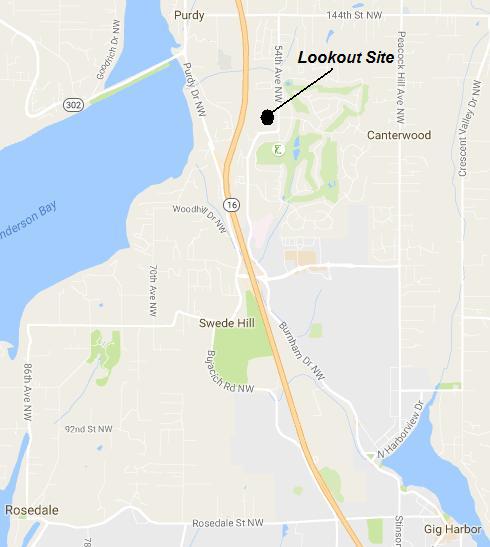 Location of Purdy Lookout Tower
Tahuya Firefinder Map showing (faded) circular stamp of the Purdy Lookout
Same image as left but helping to show what was written
List of already standing lookouts for possible use for AWS in 1943. Shows district warden as D. Fraser of Port Orchard District (see bottom of page).
Topo map showing location given for the Purdy Lookout Tower
1951 Metsker map showing landowners in the SE1/4, SE1/4 of Section 24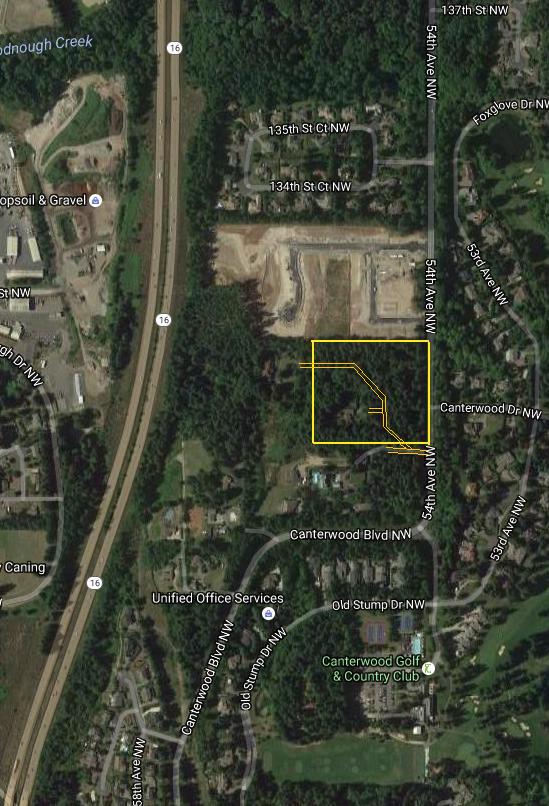 The location today has just one home site
Lookout Site Visit 2017
The 10 acre area given on AWS documents today is private property as it was back during the 1930s and 1940s. The most likely location are some homes tucked away in the forest, some with incredible views to the west. Most of the 10 acres are forested. The "screen area" as John says it was called in his day likely covered everything south and west. With no trees, the views expand across flat topography to the Olympic Mountains. The viewshed would be south, west and north. There would be no need to cover east as Puget Sound and Vashon Island encompass most of the area.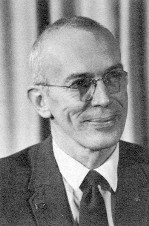 Looking northwest from well below the highpoint along the powerlines
The highpoint area where new homes are being built. The trees on the left are inside the reported 10 acres
Donald Lee Fraser - ran the Port Orchard office - early 40s
Donald Lee Fraser, former DNR Department Supervisor, played a critical role in DNR's formation and development as an independent agency. Fraser served under the first Commissioner of Public Lands, Bert Cole, as Deputy Supervisor starting when DNR was formed in 1957 – a position he held previously at the old State Division of Forestry. Fraser was appointed DNR Supervisor in 1967 and served in Cole's administration until his retirement in June 1977. Fraser traced his involvement with Washington's natural resources back to his youth. He wrote a book called "100 Years of Management of State-Owned Lands." Fraser said in his book he started fighting forest fires in 1935 for a monthly salary of $90. His involvement with state Division of Forestry began much earlier in 1929 when, at age 12, he operated a campground area established by the Division and the Washington Forest Fire Association to provide campers a safe place to have campfires. He lived to 94 years of age in 2011.