Osborne Panoramic Research
Probably the number one driver for me in this quest was the discovery of the Osborne Panoramic Photos. They are like stepping back in time. As a forestry major in school and time in the logging industry, seeing the changes in the forested landscape was fascinating, especially how the early loggers managed the forests or seeing what damage fires did in years past. Several former locations I was only able to identify based on the images. Using Google Earth, I would zoom around at ground level until the scenery matched. Some of these locations include Profitts Point near Skykomish, Blackjack Ridge and Verlot Point on the Mountain Loop Highway, Watch Mountain above Randle, West Fork Tilton near Morton, Pleasant Valley near Mineral and Lower Webb Mountain on Hood Canal. Others I used the images to locate but later found maps showing the exact location.
Seattle National Archives
In March 2016, an old DNR co-worker Alan Mainwaring was planning on visiting the Seattle National Archives to photograph the Osborne Panorimics of Pinnacle Peak Lookout in Enumclaw. His display project would need some high quality replicas of the originals. He picked me up at the top of a freeway off ramp on Weyerhaeuser Way. With my whiteboard, camera supplies and bags, I looked like a lost commuter without a car. We pushed though the early morning traffic of Seattle, not accustomed with such madness, for we worked in the woods. The National Archives are located a bit north of the University of Washington, in a building that looks more like a typical warehouse. They couldn't have been more friendly, setting us up with a table and even two light stations. Alan and I each set up our cameras, laptops and scanners. We were pre-paired for anything, to spend a full day capturing as many images as possible. The cart of Panoramics was massive, binders with hundreds of photos, each wrapped in cellophane to protect the sensitive photographs. Scanning took a minute or two giving the best quality but a photograph could produce quality copies and a fraction of time. Within minutes I realized there were photos that had not been scanned onto the Iamwho.com website. With my number one priority of finding and visiting every lookout or proposed lookout, I knew I needed to look for photos that were new to me. I had brought a list of every Osborne Site on the website Iamwho.com. With a list of over 350, there were a lot. I crossed off each one off my list as they were found. What I was finding were "supplements" to the lookout sites. These supplements were often patrol points for views not seen from the main lookout site. A few were far enough away from the primary structure that they had their own mounted firefinders. A few of these patrol points became actual fire structures in the future after the photos were taken. Other "supplements" were from the same location as the main three photos, but offered different perspectives of just what was at the lookout site. We were both very entertained all day looking at these photos, seeing what each one would reveal. We had been to many of the image locations, which always makes for a story when the detail could be seen. We took shots and scans until we were kicked out at closing. Our efforts for the day were amazing, in the end, we had over 100 sites done, ready for study and to be placed on the internet for all to enjoy.
Washington Fire Lookouts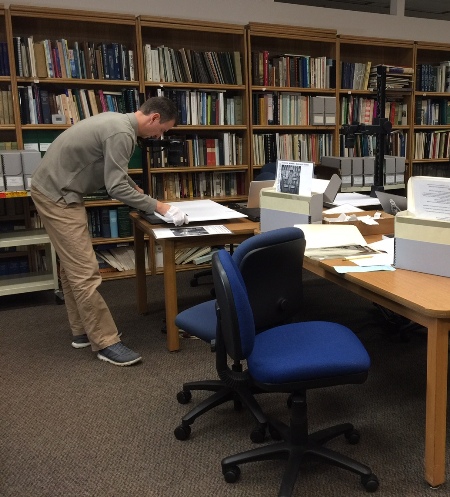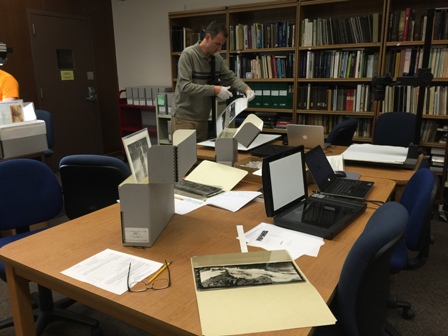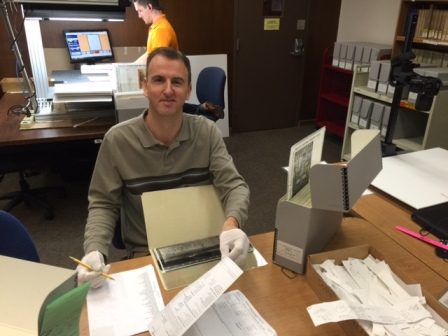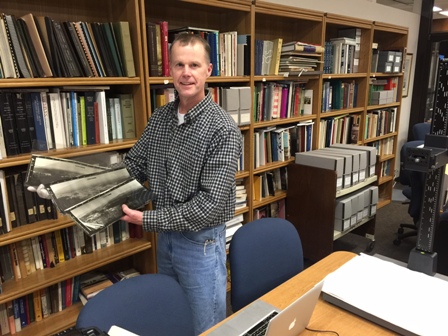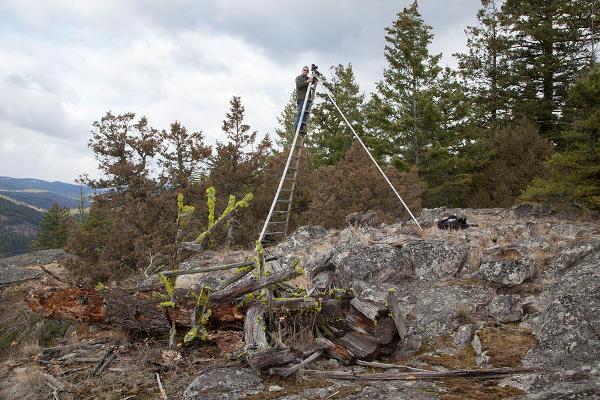 John Marshall has shot official photos from former Washington lookout sites for comparisons.
John Marshall Photo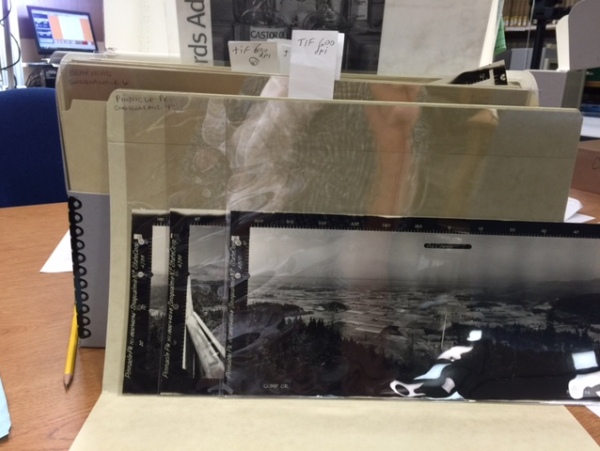 Records of the U.S. Forest Service Region 6 Portland, OR
Historic Photographs ca. 1914-1960
2.89 cubic feet (2361 photographic prints, 636 negatives)

Subject References: campsites, facilities, etc.; fire lookout stations; fire lookout stations; forest roads; grazing; livestock; recreation areas; range management; skis and skiing; vegetation surveys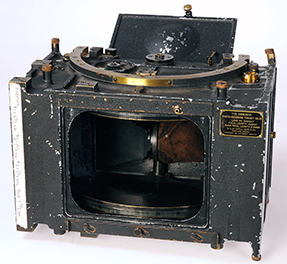 The camera used, known as an Osborne photo-recording transit, was designed by W. B. Osborne, a U.S. Forest Service employee, for fire protection purposes. Custom made, it combined the features of an engineering surveyor's transit with photographic capabilities. Additionally, Mr. Osborne designed the Osborne fire finder to help pinpoint forest fire locations. Osborne fire finders are still in use in many lookouts today.

Osborne photo recording transit, also called Osborne camera.
The Osborne photo recording transit is also called the Osborne camera.
Each camera weighed approximately 75 pounds, and was often carried on the photographer's back up to the lookout. The film was stationary while the lens rotated 120° from right to left for each frame, providing a fixed focal length across the width of the film.

The sun's position dictated when each photograph could be taken, with the 180°-300° arc photo taken about 9:00 am, the 300°-60° arc photo about 12:00 pm, and the 60°-180° arc photo about 3:00 pm. The camera was positioned along the catwalk of the lookout when possible, but it was sometimes necessary to climb towers, roofs, and trees to take photographs.
Alan Mainwaring finding the panoramics for the Pinnacle Peak display
Taking an inventory of what is at the National Archives
The work before the payoff
Pinnacle Peak Panoramics and folder