McGuire Creek/Fairfax Lookout Site
Elevation: 2,500+ feet
Distance: Half mile to 1.5 miles
Access: Excellent Gravel
McGuire Creek Lookout is listed on the Historical Registry of Western Washington Lookouts. On firelookout.com the information given is that McGuire Creek lookout was a camp in the 1930's, and abandoned in 1941. Given it was just a lookout camp and so long ago, the exact location is not pinpointed. The area has been harvested at least 3 times, so for a camp, there is not likely anything to find. I have been to the site three times, each time with new information that I thought would help me find something. A big break was when we found the Fairfax firefinder map in the Foothills Musuem in Buckley. Next I found the location marked on a 1951 Metsker Map. With all this, I was still unable to identify a specific spot on the ground.
Washington Lookout Sites
3 Site Visits: Dec 2015, Jan & Feb 2016
The first time was with limited info, I checked the three highpoints on each side of McGuire Creek. The second visit was with the firefinder and metsker map info. I searched the target hillside back and forth covering nearly every foot. The third visit was necessary when I realized the main road on the Metsker map was actually the old overgrown railroad grade that wasn't visible until I got the lidar maps and historic aerial photos. The current road adjacent to it didn't exist in the 1940's (see my notes below).
Access
There is good parking 1.5 miles after the pavement ends as you head up Hwy 165 in route to the Mowich Lake Entrance. Right were the road makes a sharp turn south. I bushwhacked up to logging roads above. This is private timberlands, probably requiring a permit, but it's a far corner of the tree farm at dead-ends. Choose your own adventure, I put my route on the maps below. Roads are approximate, they have been moved since the USGS was printed.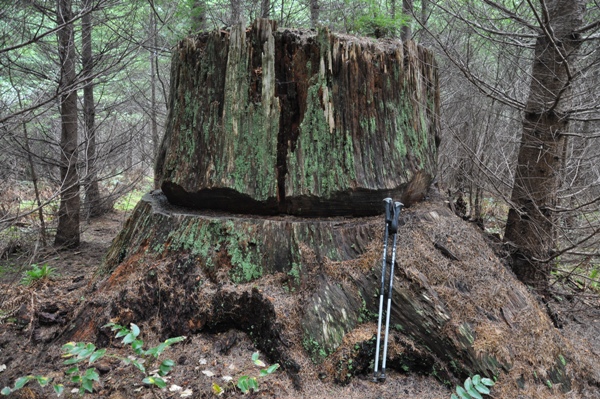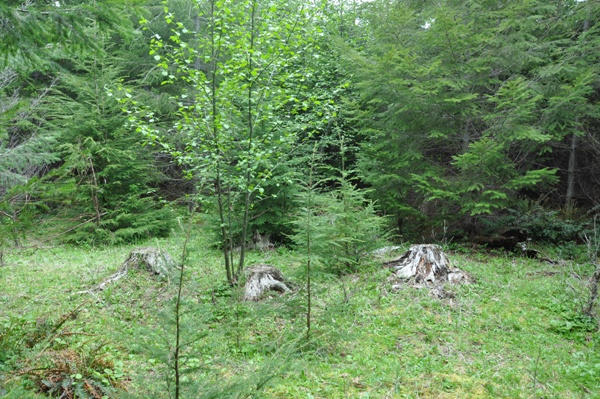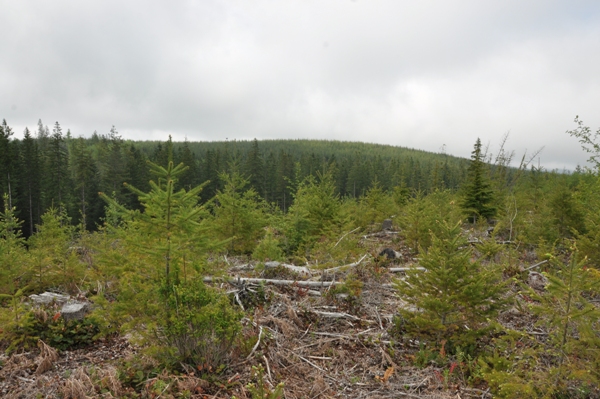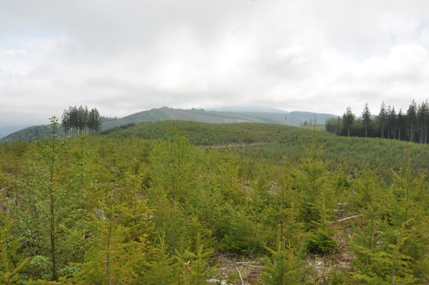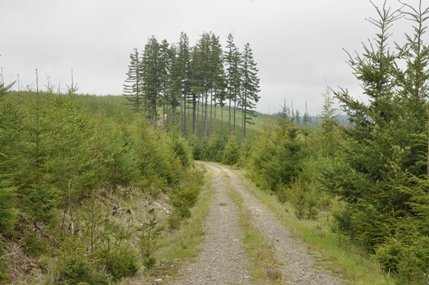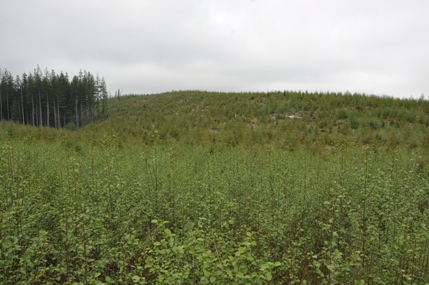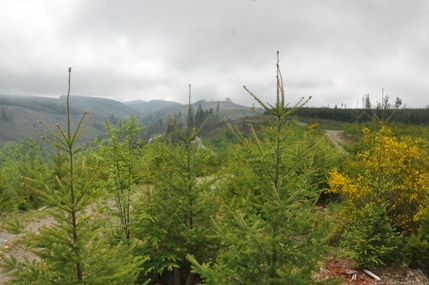 Looking north up Evans Creek from the highpoint in (Location 3) that makes the most sense for a lookout site
Walking on the new road toward the Y at the tree-clump. Map shows lookout site directly ahead, before the tree-clump. (Location 1) behind the clump.
View south from (Location 1) to (Location 3) hill. RR Grade/Road visible across the base.
Location 1 from the southeast
Location 2 from location 1
The opening at the top of location 2 that had 4 sun-bleached stumps that I thought were footings as I approached!
The stump next to the opening at the summit of location 2.
1951 Metsker Map showing the location at the y intersection of old RR grade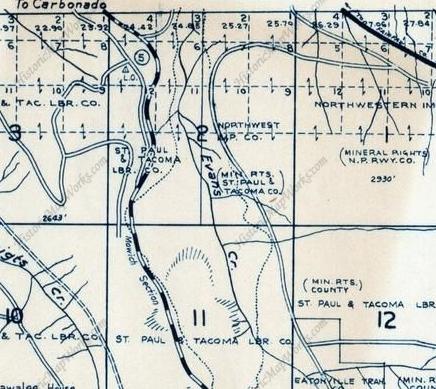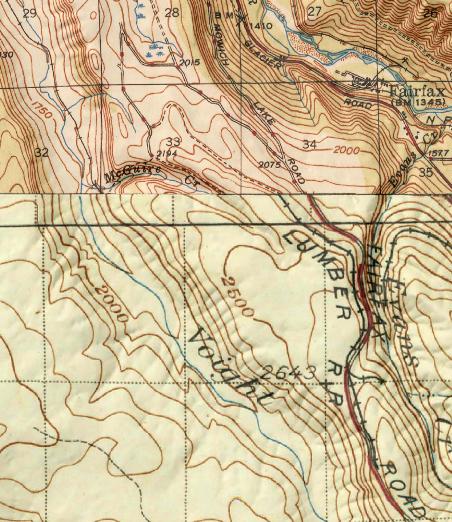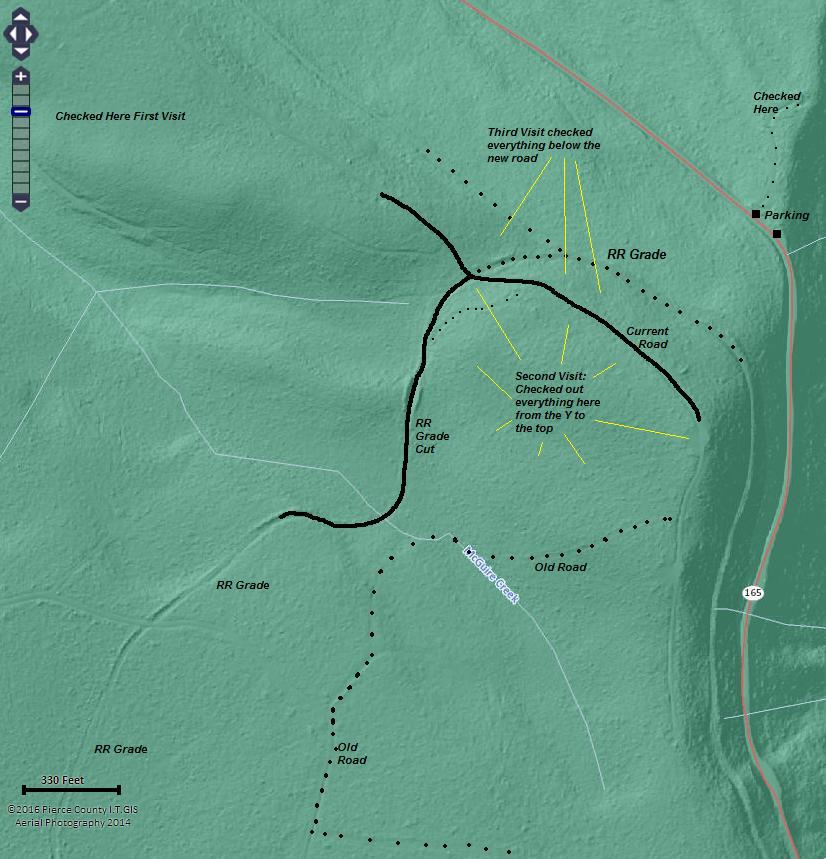 1937 Map showing the railroad dropping down and crossing the Mowich Lake Road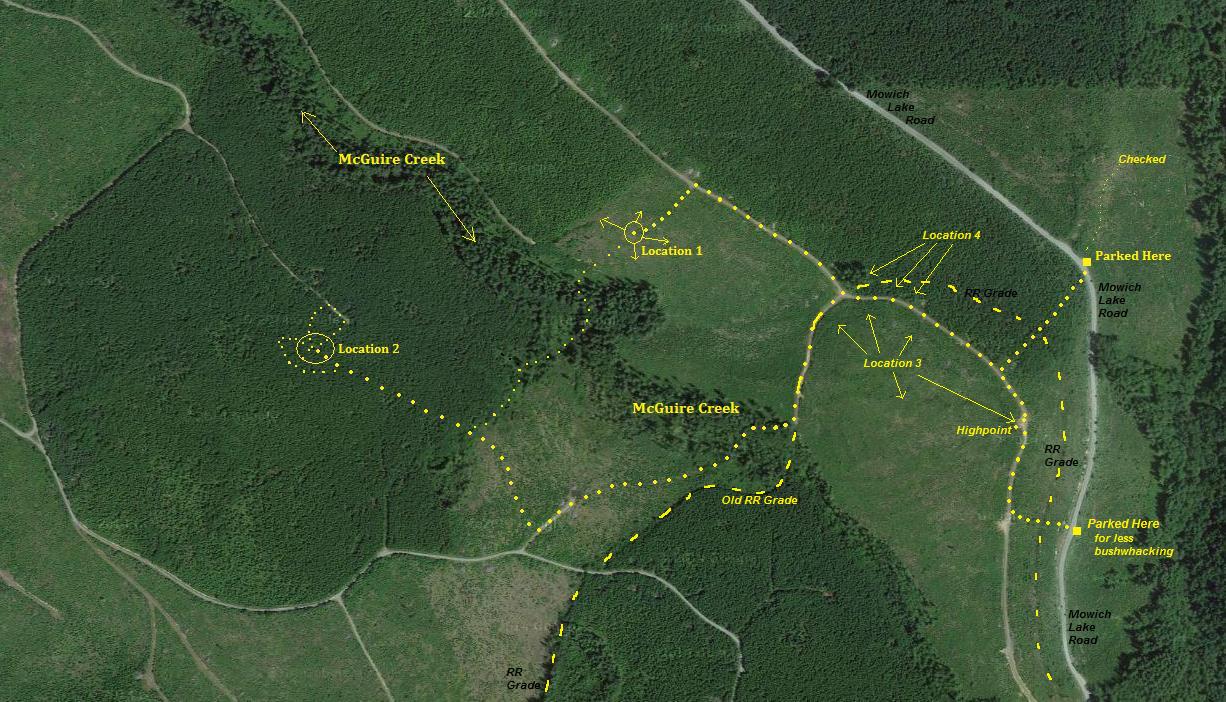 Aerial showing areas checked: yellow dots = routes taken between sites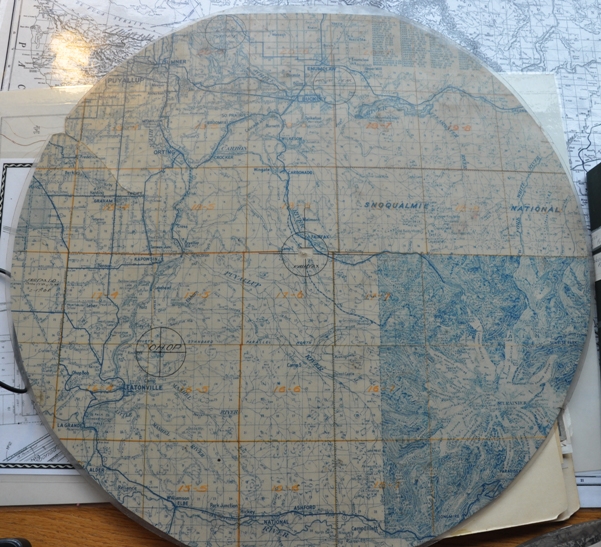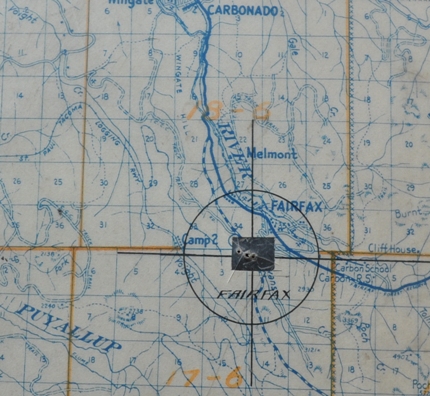 Location of the Fairfax Lookout
Fairfax Firefinder Map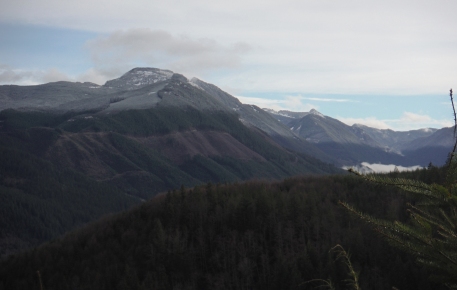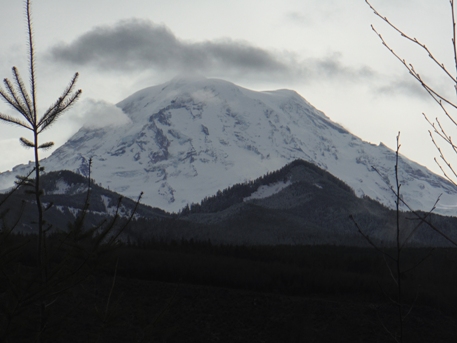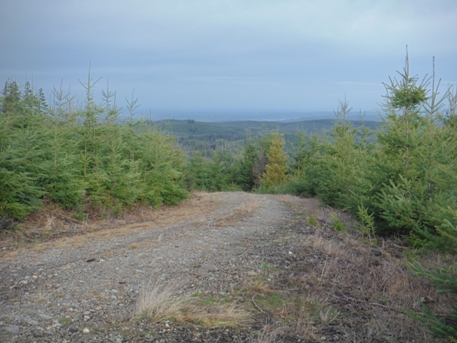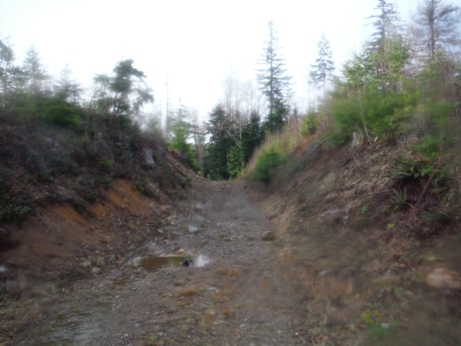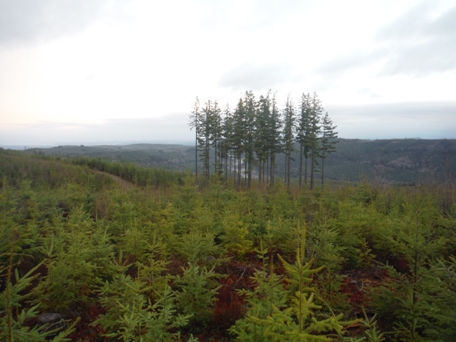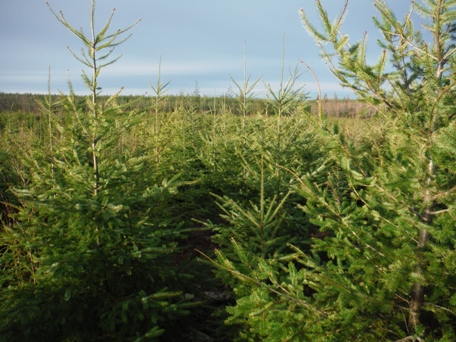 Pierce County Lidar showing the current and historic disturbances in the area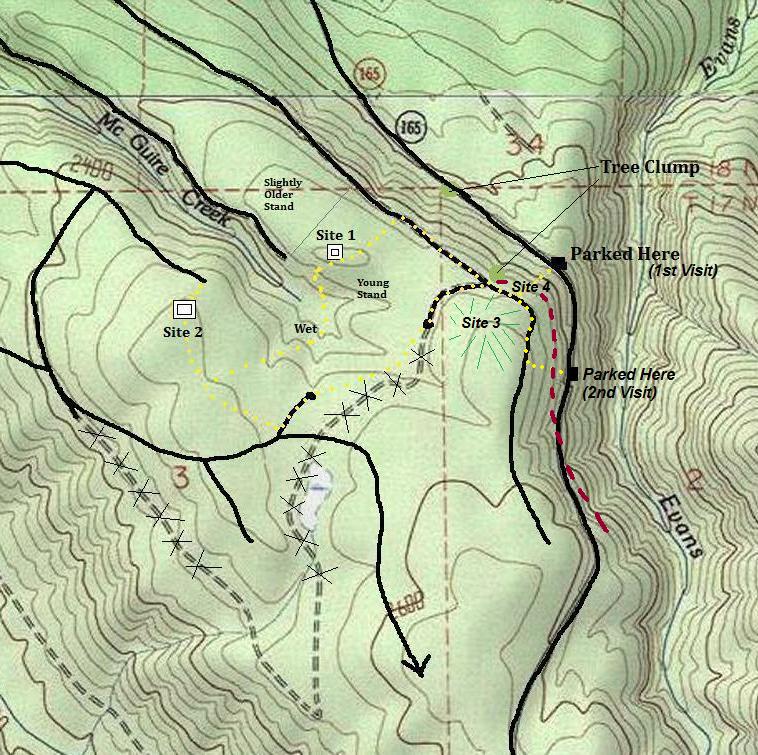 Spur road using an old railroad cut
In location 3 looking down to the clump
From the top of location 3 looking at Burnt Mountain
Mount Rainier
Looking down road from top of location 3
From the parking area looking up to the tree clump
Hard to find anything in this

The Pinnacle Peak Lookout folder had the date 1942, 7-1 to 10-14 Jim Thompson on Fairfax Lookout
Older aerial showing the original road/railroad grade better between the current road and the Mowich Lake Road
Most likely location based on Metsker