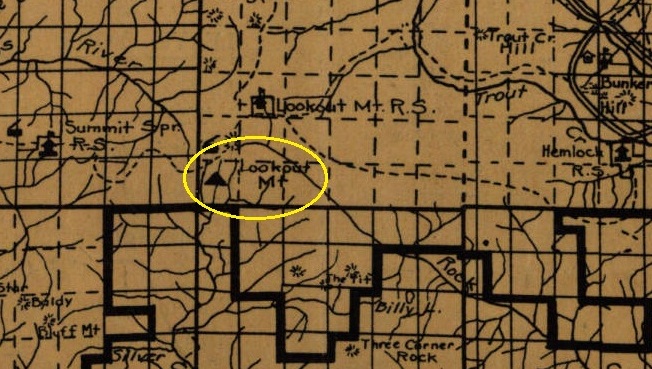 Lookout Mountain is shown as a lookout site on the 1912 Forest Service map. The first structure was a D-6 cupola cabin. It was planned to be built in 1919 (June 3, 1919: "Lookout mountain, in the Columbia national forest, will be provided with a lookout this summer." Oregonian News) but was likely delayed a year (October 5, 1920: "Lookout Mountain lookout was one of three built on the Columbia national forest this year. The Oregon Daily Journal). In the 1930s, a 10 foot wooden tower with L-4 gable cab was built. In the early 1940s, another 10 foot wooden tower with L-4 cab was placed. The last was removed in 1970.

In 2002, Pete Paladeni gave an interview about his experience at the CCC camps near Lookout Mountain in 1934 and as the lookout man. The main camp was called Camp Hemlock, which is the Wind River Ranger Station today. But the summer camp was at Lookout Mountain, where they lived in tents, instead of barracks like at Hemlock. They stayed in the tents until the snow came. At Lookout Mountain, they fell snags. Around 100 men were there, there were three snag falling crews and a trail crew and a telephone line crew and a little road crew. Each tent had five or six men, with a little stove in the middle. There were wooden floors and the sides were wooden up about three feet. They slept on cots with a canvass sack that held straw. Regarding the fire lookout, he said that by the time he had arrived, there was a road to the foot of Lookout Mountain. But I would go down to the bottom of the hill and pick up my groceries delivered by a pickup truck and hike them up the trail. I was only stationed at Lookout Mountain about three weeks. Then when I was on Lookout Mountain one night, the camp was close by, maybe about a mile from the lookout, I looked over on Summit Ridge, which was probably seven or eight miles away, and I could see a light over there, and the area was locked off at that time. You couldn't travel through because of fire danger. Today there are lots of green trees that have grown up, and the fire danger isn't as crucial as it was then. So I reported that at the station, and the ranger said, "Well, nobody should be in there." He said, "Does it look like a fire?" I said, "Well, it looked like the sky lights up there." So they got a crew from the camp and sent them over there probably ten o'clock, eleven o'clock at night, and they looked and looked, and they couldn't find a fire. What I had actually seen was lights way down on the Columbia River who knows how many miles away that I hadn't been able to see before because of the haze and stuff. So I kind of sent them on a false run, but I never did tell them.
Stories
August 19, 1927: "Whipped into fresh fury by a strong east wind, forest fires in the Columbia national forest in Washington. All crews had to be removed from the Siouxon fire district at once before the advance of the flames. Replacement for the ranks of fire fighters were sent today from Portland. It was believed that the Siouxon, Gumboot and Lookout Mountain lookout stations will be burned. Instruments have been removed and the houses abandoned." (Statesman Journal)

September 1933: "On August 29 while at Lookout Mountain Camp on the Columbia, a severe lightning storm took place. A fire was set by the lightning in an old snag not more than 150 feet from the lookout cabin. At 5:45 p.m. the lookout reported the fire to Camp Supt. Erickson at F-43. At 5:50 p.m. five members of Co. 605 were en route to the fire via truck. Leaving the truck at a point along the road, the crew of 5 climbed to the ridge arriving at the fire at 6:12 p.m. At 7:00 p.m. the snag was down and the fire out. Albert Wisendanger" (Six Twenty-Six)
Elevation: 4,222 feet
Hiking Distance: Drive-up
Elevation gain: 0 feet
Access: Rough roads
Access
From Yacolt, head south to Moulton Falls County Park. Take County Road 12 to Sunset Campground. From there, take FR 41 (an awful road) or FR42, a long and bumpy road. Another option is to access via Carson on FR43. I recommend high clearance vehicle.
Lookout Mountain
Former Lookouts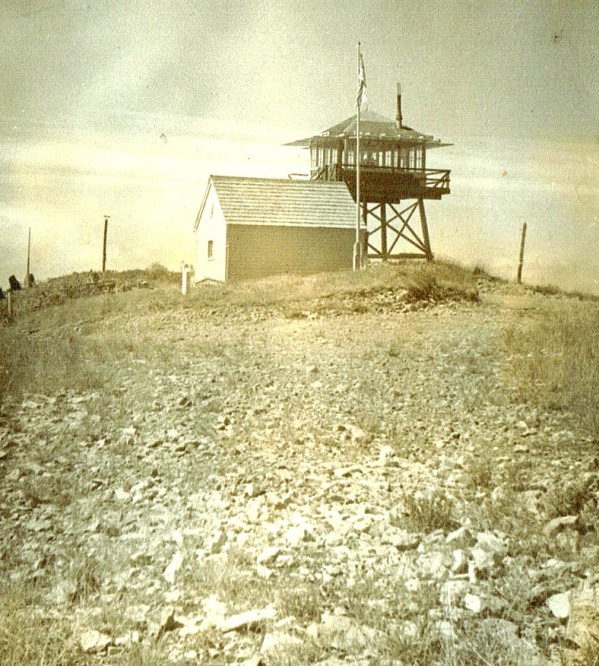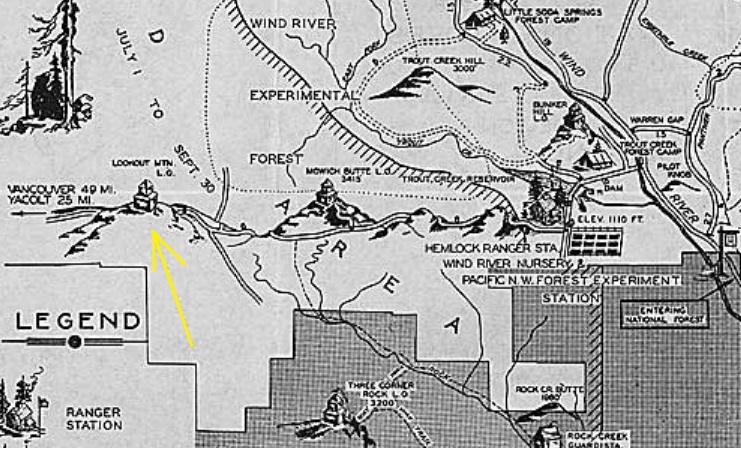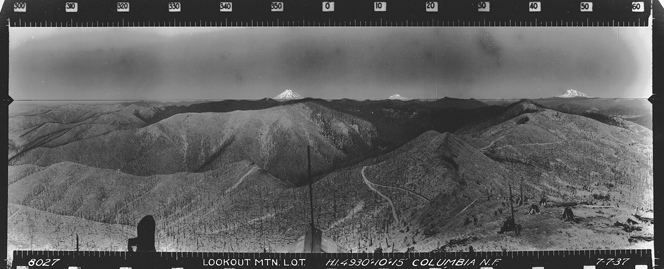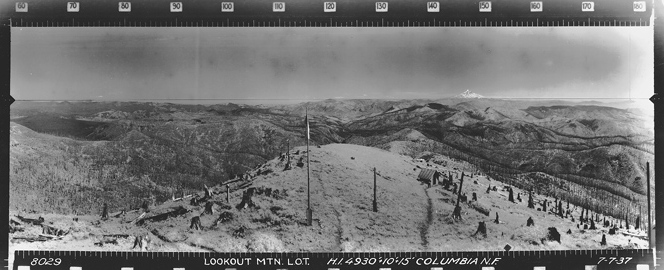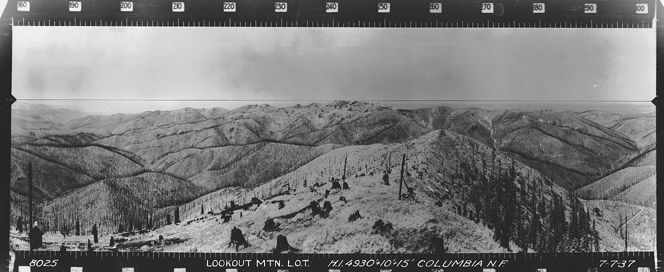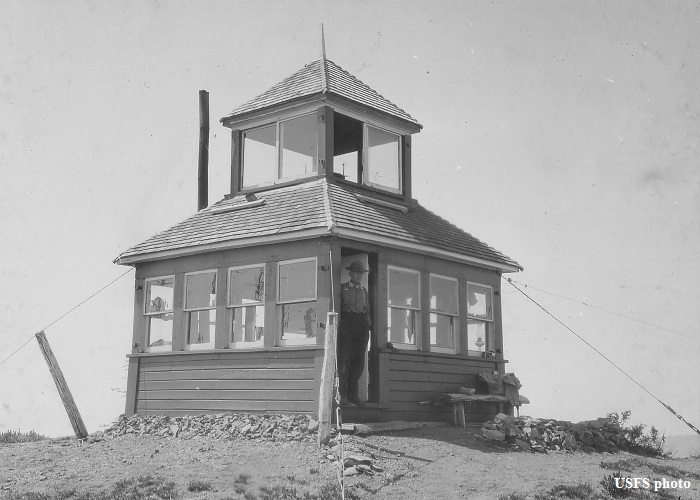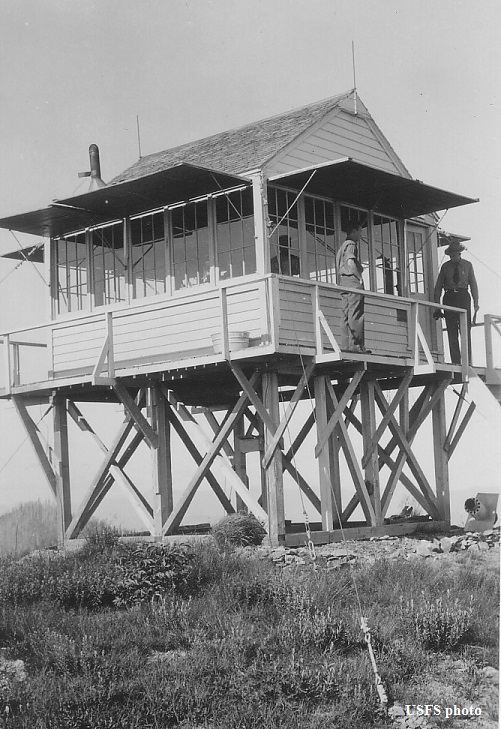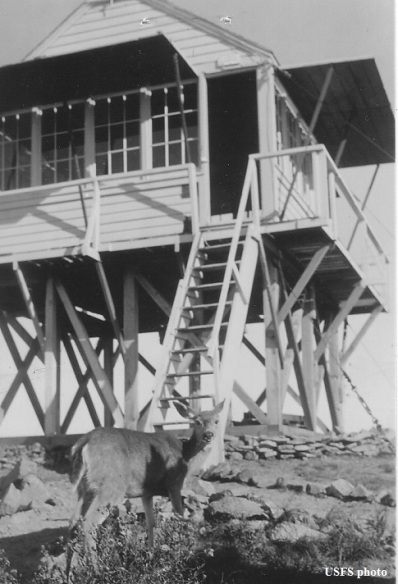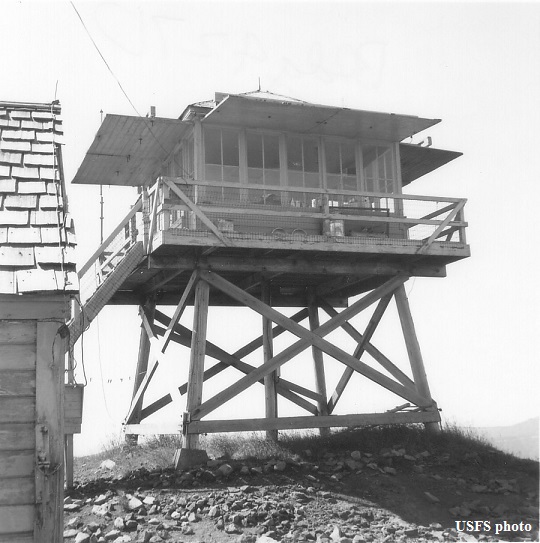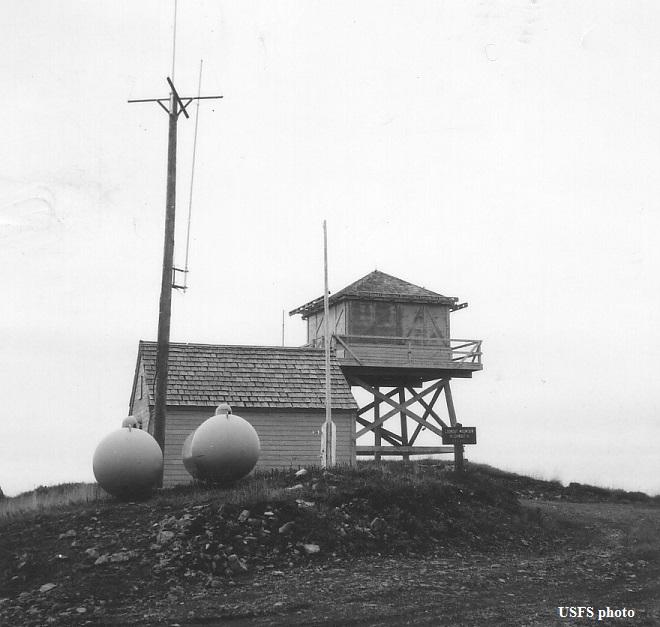 Looking North - July 7, 1937
Looking Southeast - July 7, 1937
Looking Southwest - July 7, 1937
Looking North - 2017
Looking Southeast - 2017
Looking Southwest - 2017
The D-6 cupola cabin in 1926
10 foot wooden tower with L-4 gable cab in 1936
10 foot wooden tower with L-4 cab in 1969
10 foot wooden tower with L-4 cab in 1944
10 foot wooden tower with L-4 cab in 1964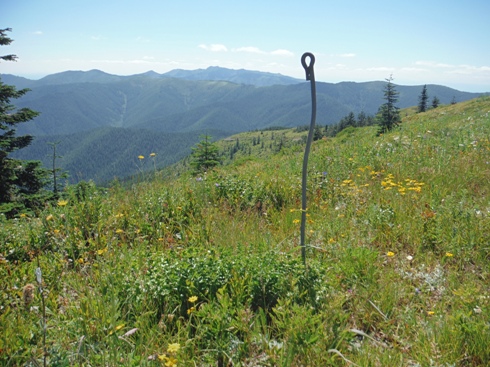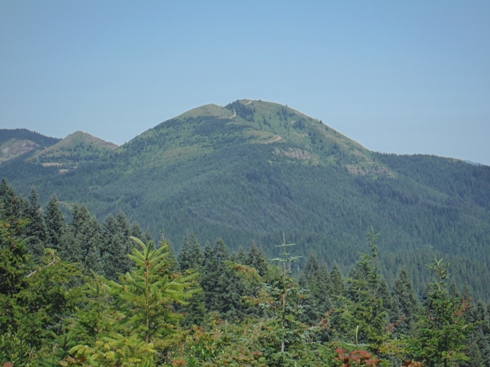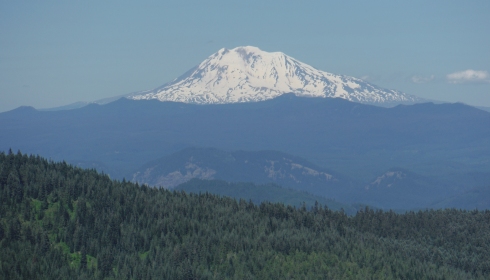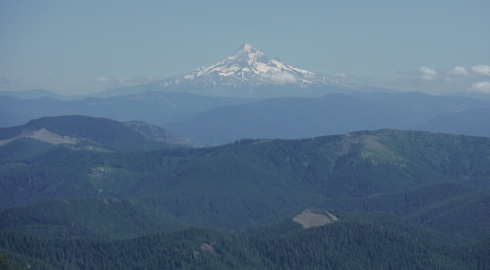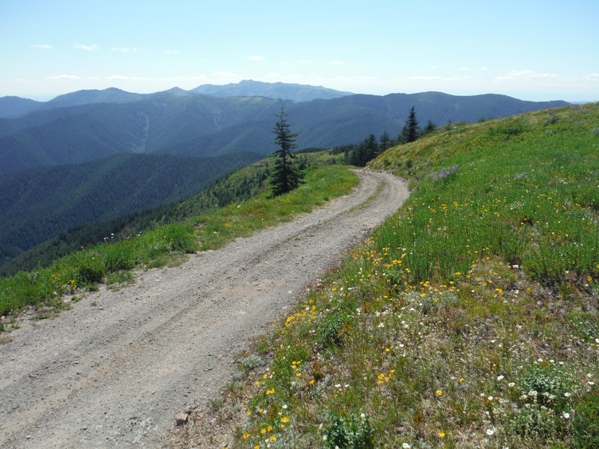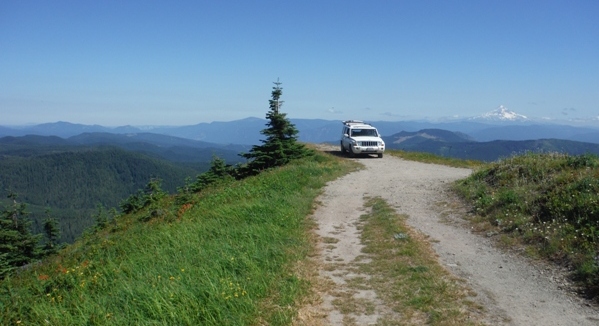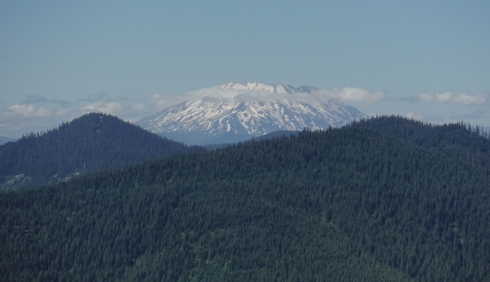 Lookout Mountain from Summit Ridge
Anchor
Mount Hood
Mount Adams
Mt. St. Helens
A drive-up
Lookout Mountain Road
1936
1937 Wind River Recreation Area map
1912 Columbia National Forest Map - black triangles were lookouts