This mountain has over 900 feet of prominence and although a road will take you nearly to the summit, the final 300 feet are a scramble up a steep wooded slope. Climb to the top of Green Lookout Mountain and you will have the impression no lookout was likely ever there. Now take a look at the Kresek Lookout Inventory of the Northwest and it shows the lookout being in Section 1, T4N, R5E, this is west of the summit near the road end. Although the elevation suggests the lookout was at the summit at 4,442 feet, I believe this STR in the inventory is correct. Right near where the road ends are some high knolls in Section One. Standing on the level knoll and looking at the old roads up there, I believe this is the likely location of the lookout. I didn't find anything but I didn't look very long. Also, the 1912 map shows this location in Section One as well, calling it "Old Lookout" in 1912, I can only imagine what little remains. The inventory says it was a tower in the 1930s.
Access:
From Yacolt, head south to Moulton Falls County Park. Take County Road 12 to Sunset Campground. From there, the road will become gravel FR42, a long and bumpy road. At a sharp switchback around 3,000 feet, take a side road (FR53) toward Saturday Rock. From the saddle just east of Saturday Rock, find a road climbing the western slopes of Green Lookout Mountain until it obtains the west ridge. This road was really brushy in places and doesn't seem maintained, prepare to walk it if needed.

Mountain Elevation: 4,442 feet
Likely lookout elevation: 4,240 feet
Hiking Distance: Under half mile
Elevation gain: 300 feet
Access: Brushy and bumpy roads
Route
For the summit, just follow the ridge up occasionally finding climber and game trails.
Green Lookout Mountain & Lookout site
Former Lookouts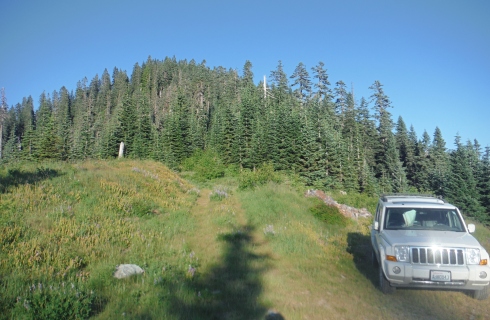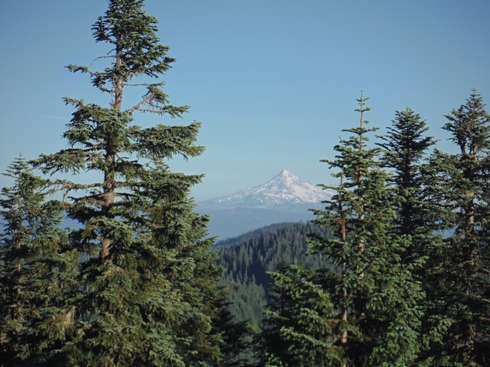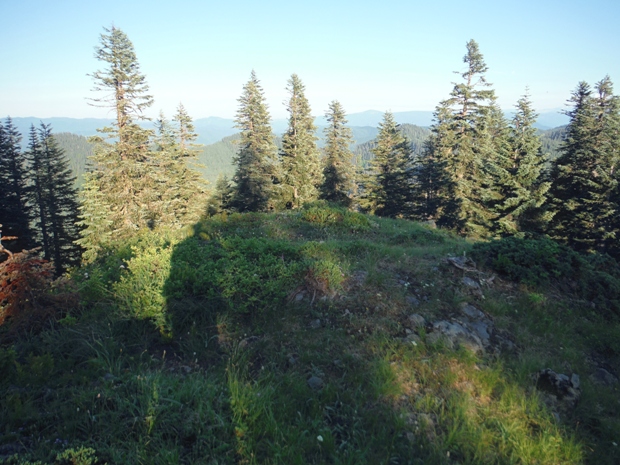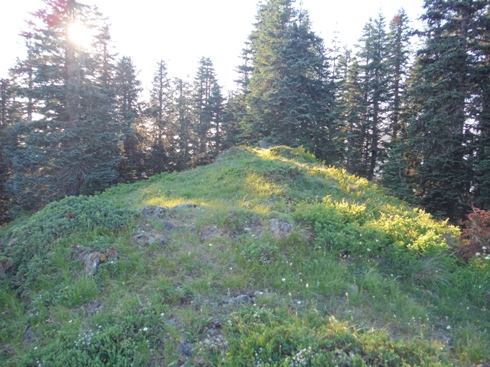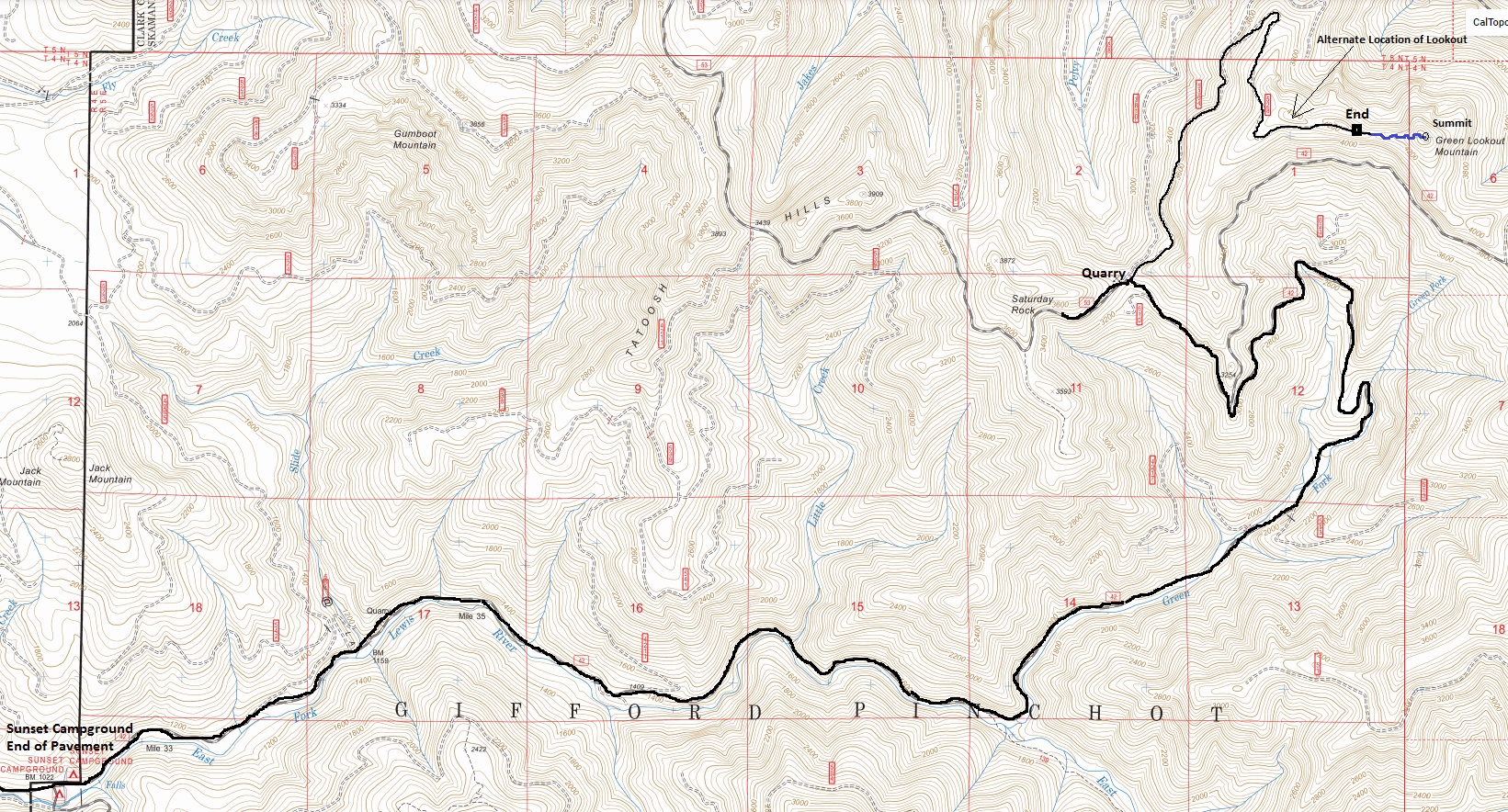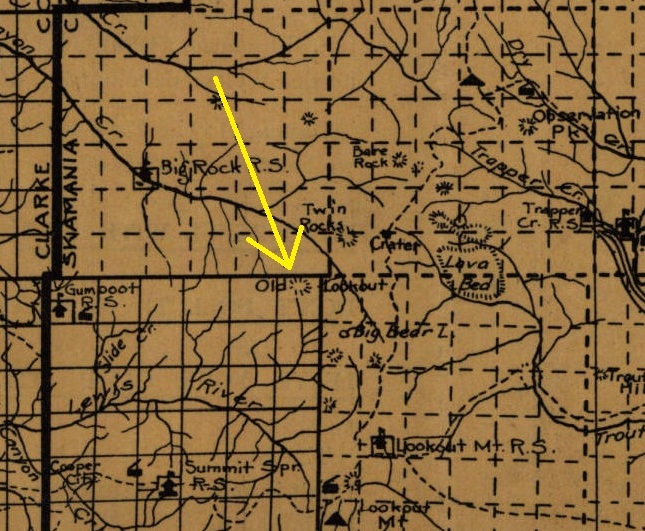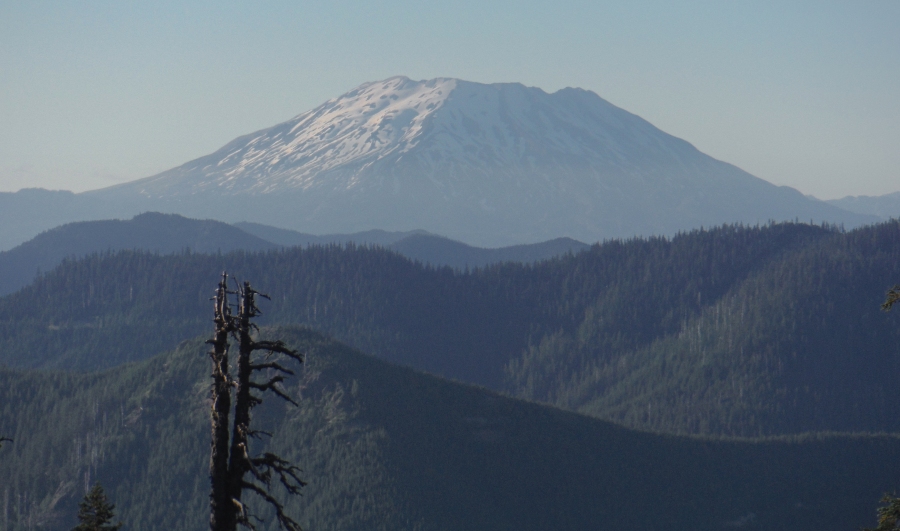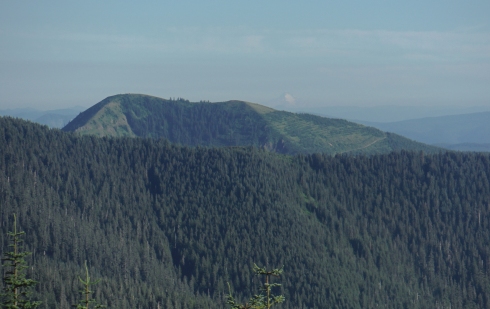 1912 map showing "old lookout" in location of knob at end of road in Section 1
Mt. St. Helens from trailhead
Summit view south to Silver Star Mountain
Lookout Mountain from the trailhead
Looking east from the summit of Green Lookout Mountain
Looking southeast from the summit of Green Lookout Mountain
Looking west on the summit of Green Lookout Mountain
End of the road with Green Lookout Mountain above
Mount Hood
Trailhead views of St. Helens and Rainier