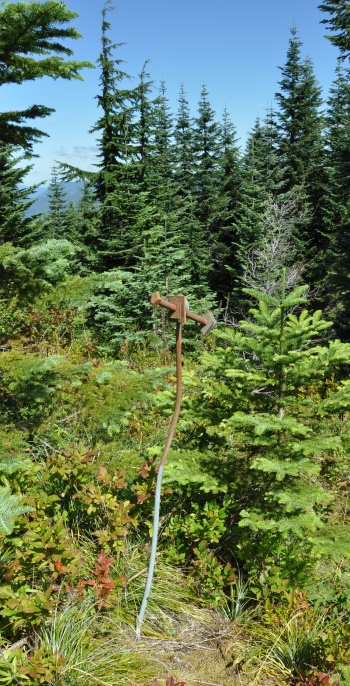 Huckleberry Mountain Lookout (Christoff Lookout)
Elevation: 4,764 feet
Distance: 3/4 mile
Access: High Clearance
On the high ridgetop north of Greenwater, Huckleberry Mountain Lookout once stood guard with vast views in all directions. When exactly the first lookout was stationed at this location we don't know, but the Osborne Photo Survey pictures on August 13, 1934 reveal there was clearly a structure with stove at that time. Records indicate an L-5 cab was built roughly around the same time. By 1955 it was abandoned and was destroyed in 1958. Huckleberry Mountain is also known for a WWII Aircraft Warning Station that was placed nearby on the ridge at Mule Spring. Fire patrol crews used the Spotters Shack after the war. This Shack was removed from the mountain in 1991 and placed in the Foothills Museum in Buckley.
Washington Lookout Sites
Other information
There is a 3.5 mile trail that climbs 3,000 feet from FS 7125. I did not hike it so I did not attempt to place it on the map. The ridge trail will be severly affected by a timbersale in the future. Its likely a road will go to within feet of the lookout site. The Christoff 1955 benchmark was cemented in fragmented rock and has not been found in years. The Christoff Benchmark-Huckleberry Mountain Lookout location is not the highest point on Huckleberry Mountain but does rise over 300 feet above the saddle connecting it to the higher point to the east.
Access
Just before Greenwater, turn left on FR7125 (Slippery Creek Road). Follow for 2 miles to a Y intersection. Left is a gate, go right. Follow the map provided 5 miles to the trailhead on State Lands. The DNR has an easement to cross Muckleshoot Lands (formerly Hancock) but I don't know if it is for public use. If not, gates could go up in the future. The road is best in a high clearance vehicle, there are a few rough areas.
Route
From the ridge saddle parking, a motorcycle trail heads uphill south staying on the ridge in the woods. After a few ups and downs over a half mile, a short spur veers right dropping down the hillside. Continue hiking over one more bump, then another trail veers right climbing 30 feet to the old lookout site.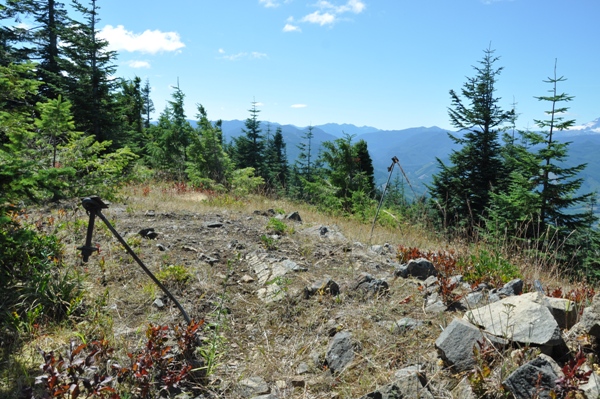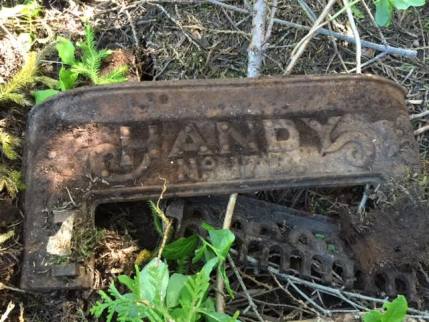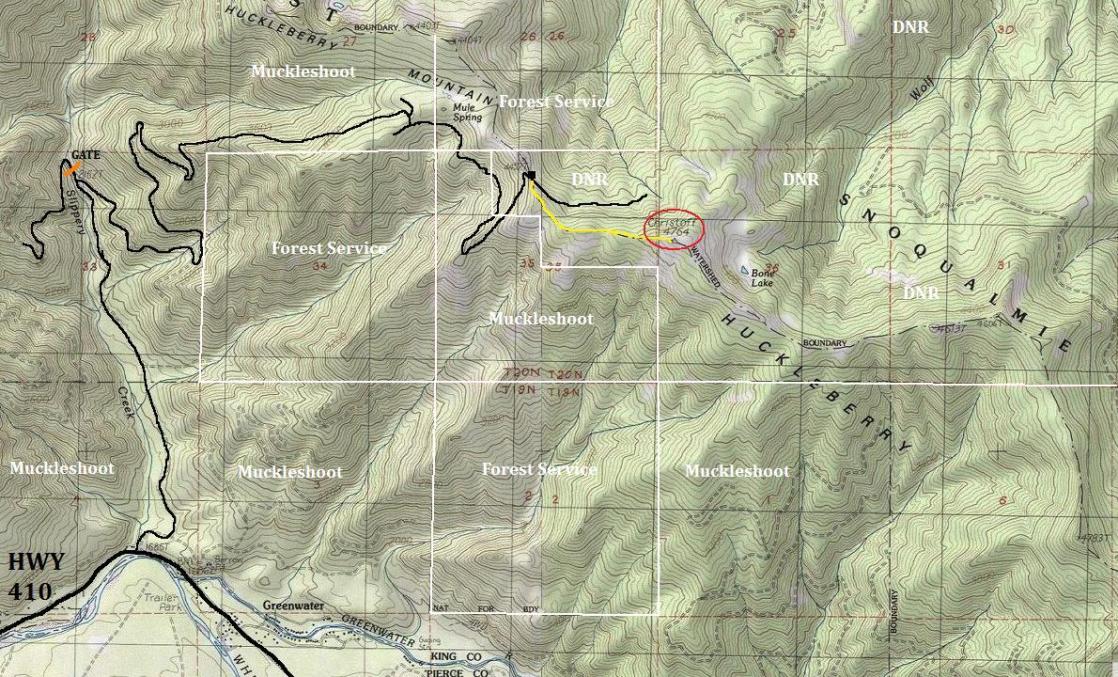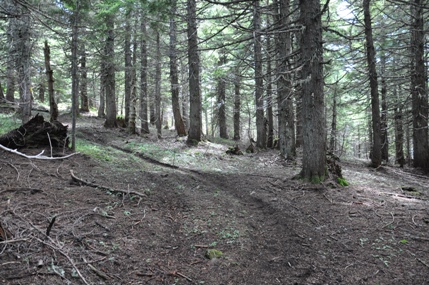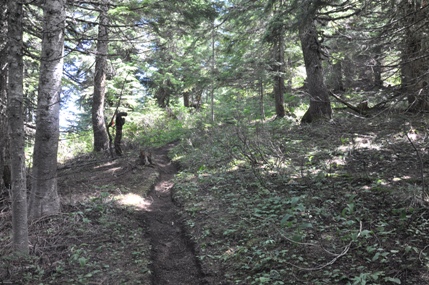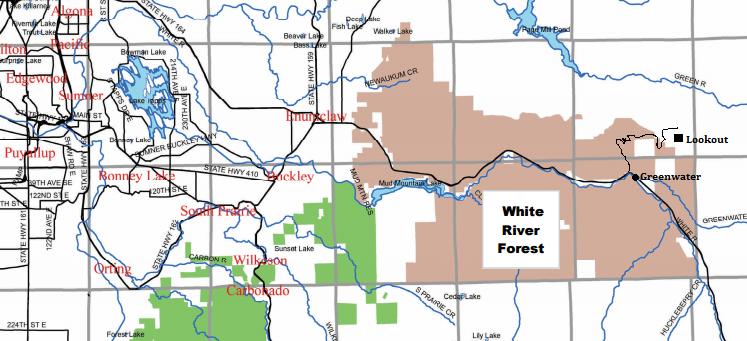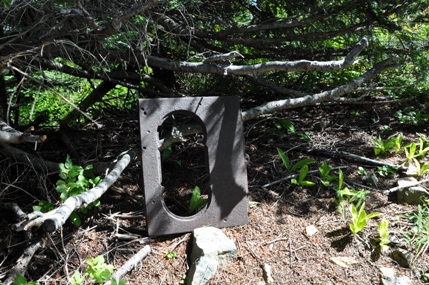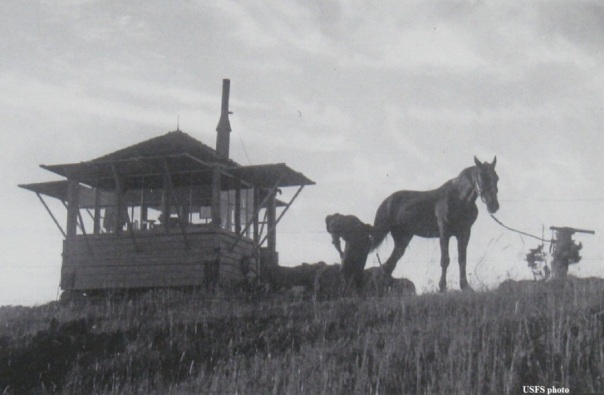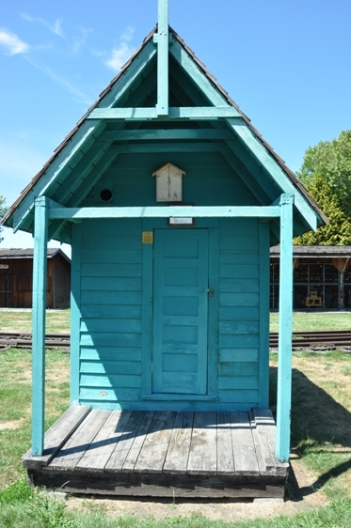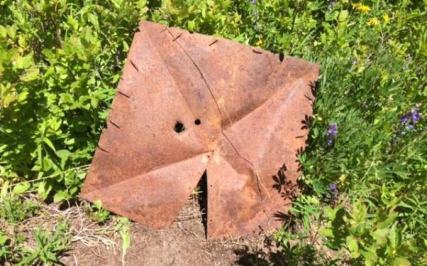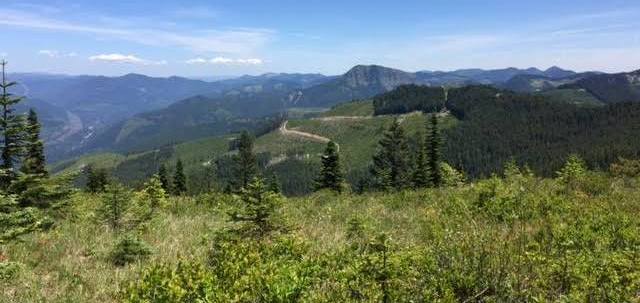 On the trail to the lookout site
Nearing the lookout site
Stove part
Stove parts
1940 Image of the lookout
Lookout site 2015
Roof top
Southwest 1934
Southwest 2015
Southeast 1934
Southeast 2015
Northwest 2015
North 1934
3 anchors left
Mule Spring WWII Aircraft Warning Shack
Above: lookout location access through the White River Forest, purchased by the Muckleshoot Tribe from Hancock in 2013
View east from a meadow to the east of the lookout site area