Leadbetter Point State Park
Before driving all the way to Leadbetter Point State Park, understand the park is a natural area open for day-use and has limited facilities. Just one road goes in and ends at a parking lot. Leadbetter State Park has quick and easy access to Willapa Bay, which is an unusual place to visit, best if you are a bird or wildlife viewer. You can find 100 species of birds here. The scenery is quite nice on the Bay side but access to the Ocean side is difficult. Some books even say there is no ocean access at all. But there is two trails to get to the beach, the catch is that they are flooded much of the year. A sign at the entrance says that "It's not really hiking, more like wading, from October to May. Thigh or even waist deep water is possible so plan accordingly." The park also borders the Willapa National Wildlife Refuge, further north toward the point. Leadbetter Point is ever changing, sometimes building sometimes eroding as ocean waves shape it. Sands deposited by the waves become dunes that shift with the seasons. To adjust to such dynamic conditions life here is both hardy and yet delicate. Many signs dictate where you can walk, even on the beach, huge white poles are placed for miles trying to keep visitors away from the nesting birds.
Washington State Parks
The trail leaves the parking lot and quickly splits. To the right is Willapa Bay and the Bay Loop Trail. Left is the way to do the Dune Forest Loop Trail. Your basically at the center of a figure 8 with two loop options. The Dune Forest Loop & Bay Loop should be free of water year-round.
Dry Trails
Again, both the Bearberry and Weather Beach Trails that break off from these loops going to the ocean become flooded much of the year. The water is safe, if you have a pair of shoes your willing to get wet, the going is fairly easy. Just think of it as a way to leave the crowds behind, you'll feel quite adventurous finding your way to the ocean.
Trails That Flood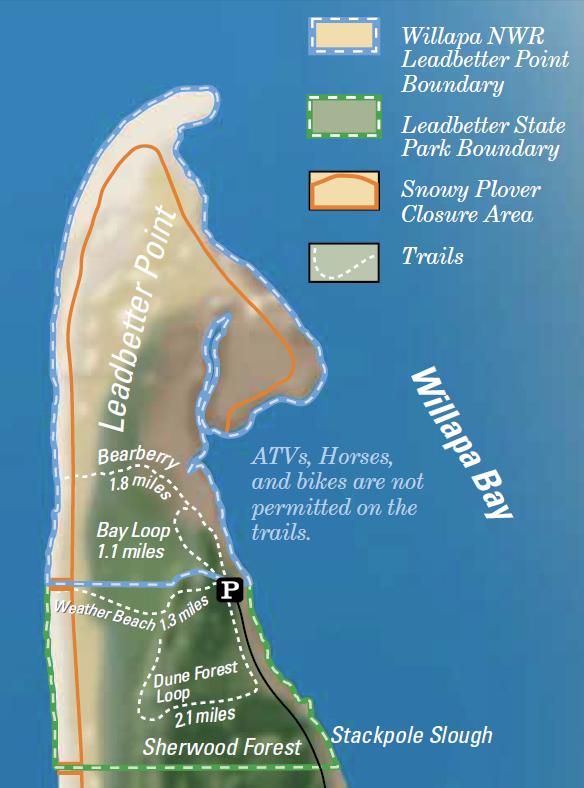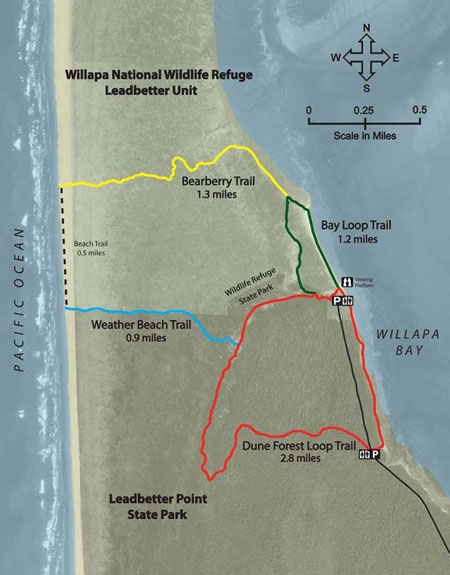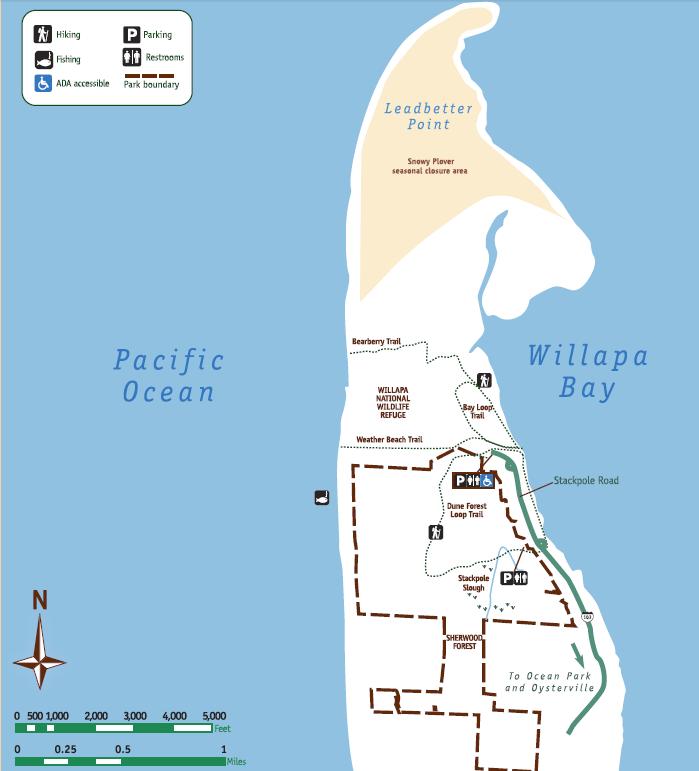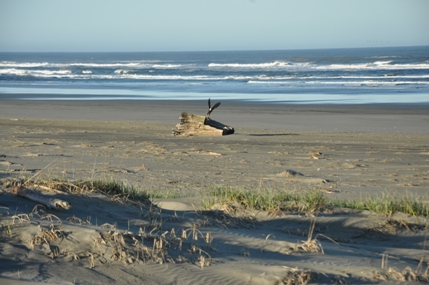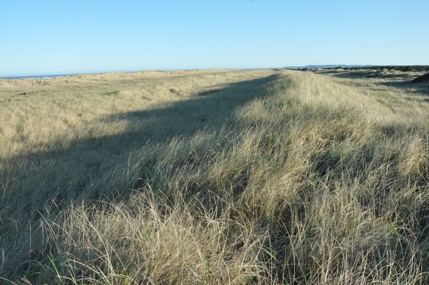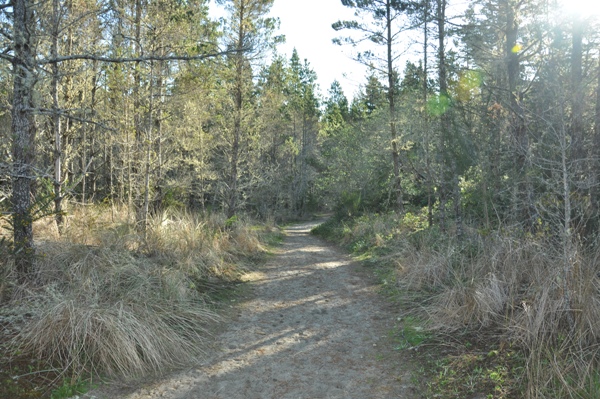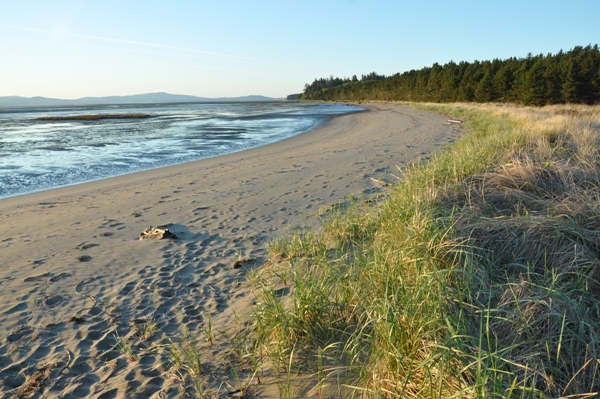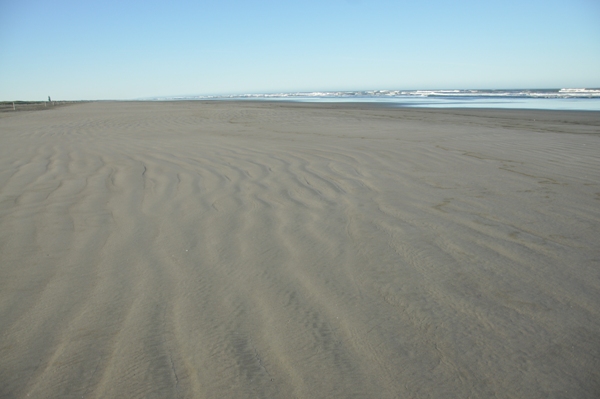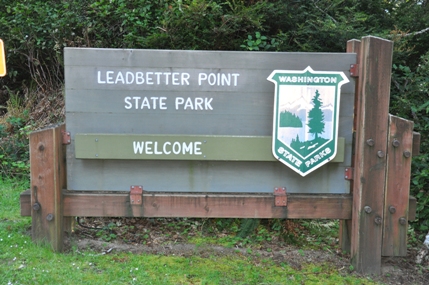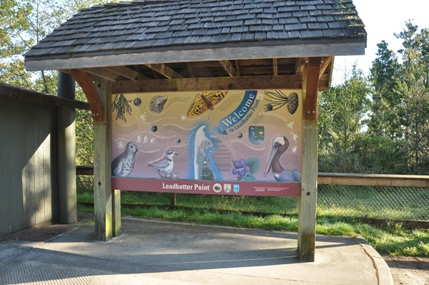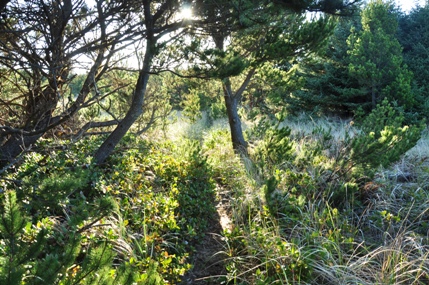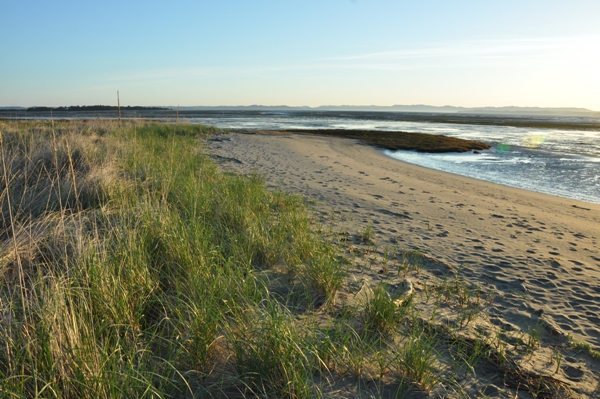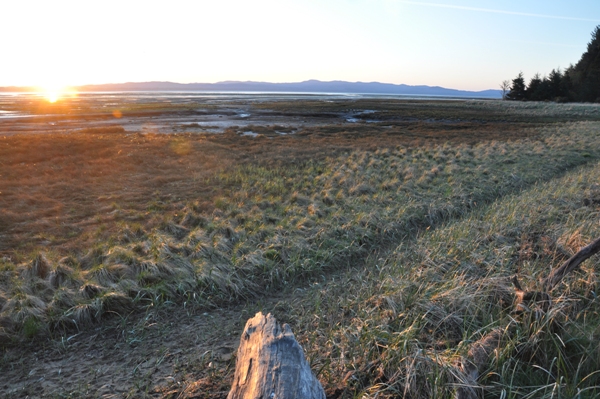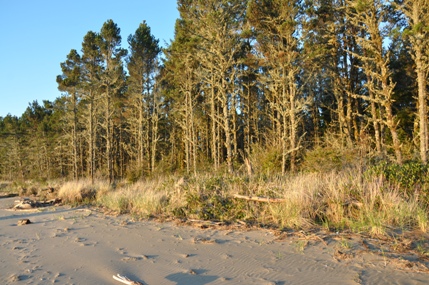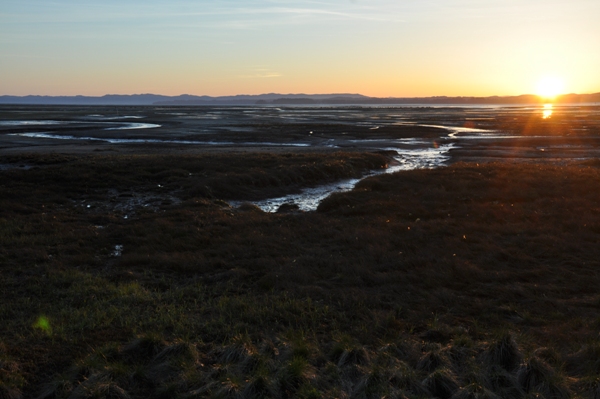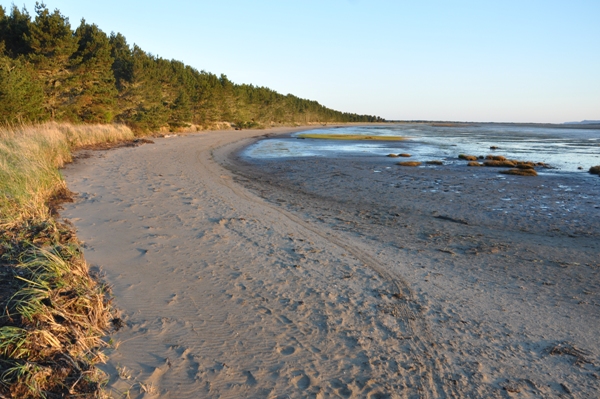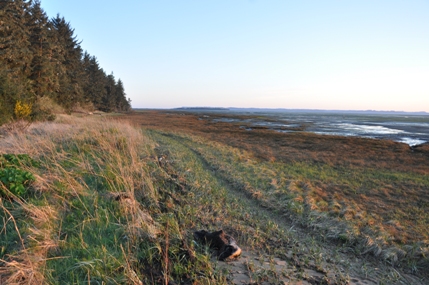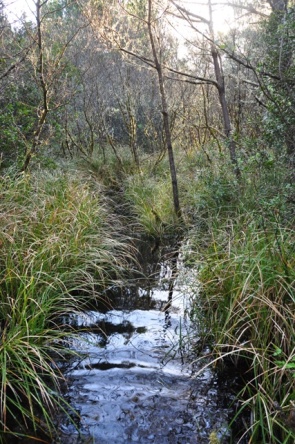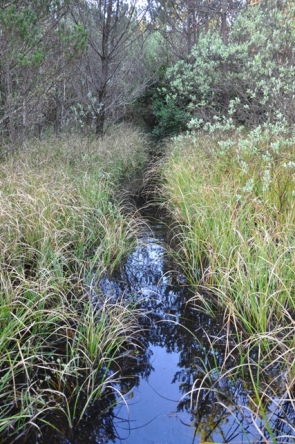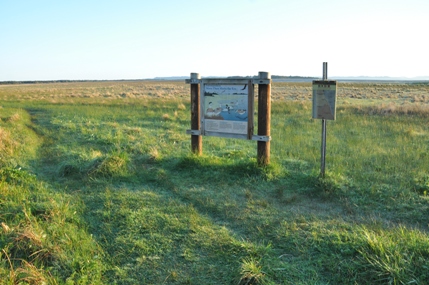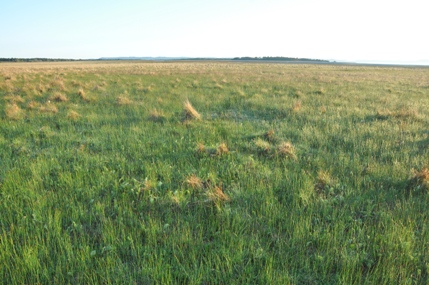 Trail Map
Willapa Bay sunrise from the parking at the south end of the Dune Forest Loop Trail
Dune Forest Loop Trail along Willapa Bay
Trailhead Kiosk
Bay Loop Trail is this beach on the Willapa Bay portion
Willapa Bay sunrise
Bay Loop Trail
North end of the Bay Loop Trail before it goes away from the Bay
Very North end of the Bay Loop Trail looking out toward Leadbetter Point
Trees along Willapa Bay
Passing through the dunes just before the western beach
Bald Eagle
Hiking the flooded trails in April
Beach at the exit of the Bearberry Trail
Trail in the young forest next to the beach dunes
Dune Forest Loop Trail
Park Road