Sauk Guard Station - Lookout Tree
Washington Lookouts
Before the fire lookouts of the 1930's were built on the low benches along the Sauk River, the first lookout was located along the river bottom near the Sauk Guard Station, the lookout known as the Lookout Tree. Built in 1918, a huge cedar tree was made into a fire lookout. A crows nest was constructed on the top and spikes were driven into the side of the tree so it could easily be climbed. During fire season this tree was climbed daily to look for signs of fire. The only way to get supplies into the area was by pack train. When Sauk River Timber Company put the train through in 1926, supplies arrived by train. In the 1930s the Lookout Tree was abandoned as a fire lookout. You can still see some of the spikes driven into the sides that were used for steps to climb to the top.
Elevation: Starts at 1,200, drops to 1,000 feet
Distance: 1/2 Mile
Elevation Gain: 200 on return
Road Access: Good Gravel
To get to Lookout Tree Trail #783 drive 11.3 miles from the Darrington south on the Mountain Loop Highway. There is a small parking area on the right of the road for 2-3 vehicles. The sign is just down the trail a few feet.
Access:
The Lookout Tree Trail descends down through the woods to the river bottom. A sign on the right will point to the Lookout Tree. The spikes are visible on the back side. Also notice a large cedar tree nearby still living. Although the trail does continue, it no longer connects with the Beaver Lake Trail as shown on maps due to floods washing out a section of trail. At one time, the trail was 3 miles and the full length was called the Beaver Lake Trail. Now, they are separate trails, this shorter side now being called the Lookout Tree Trail. If you do walk to trails end, you might see old railroad trestle remains that belonging to the Sauk Lumber Company line built in 1926.
Route: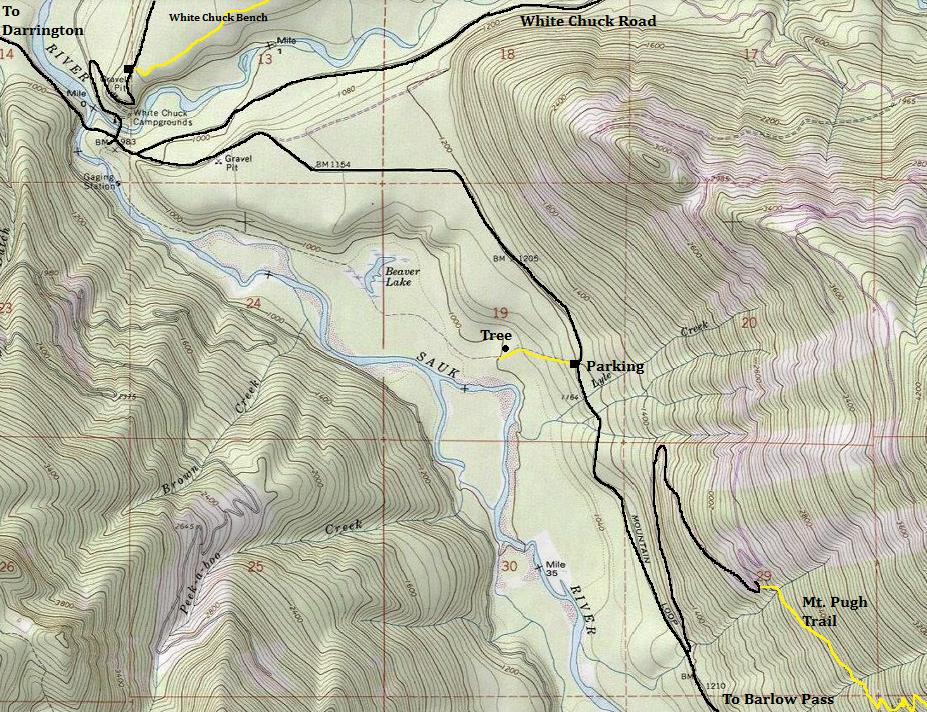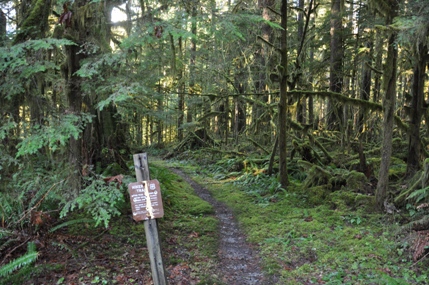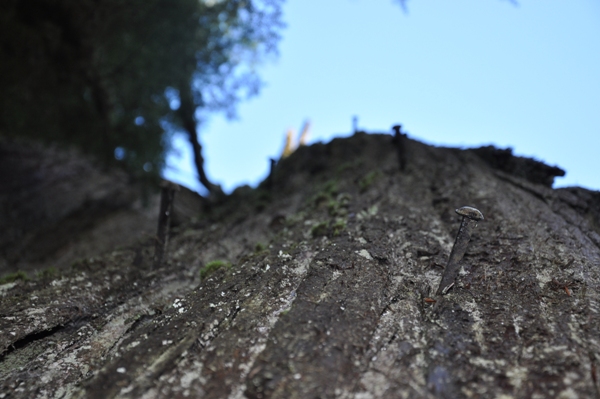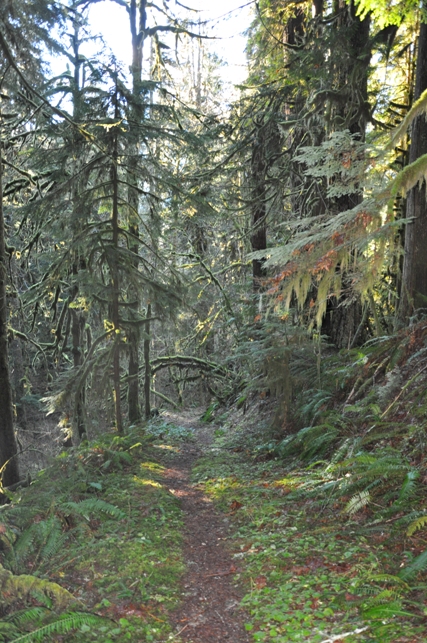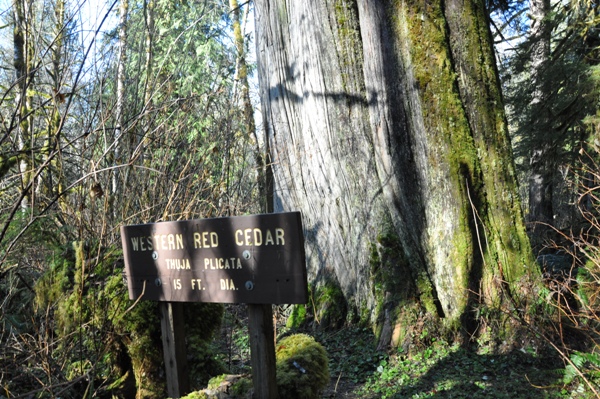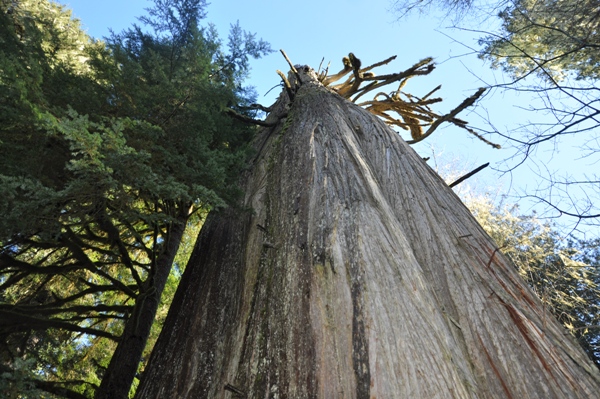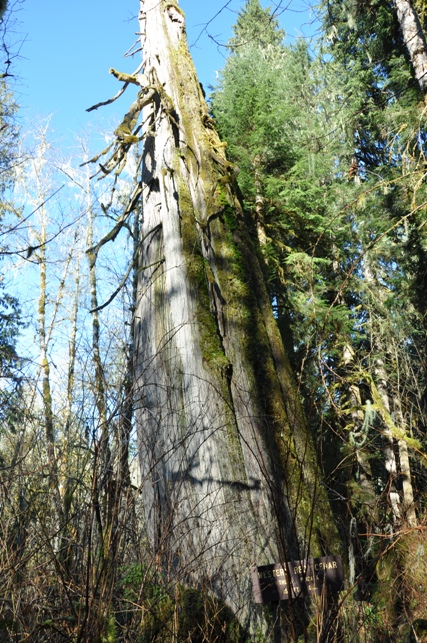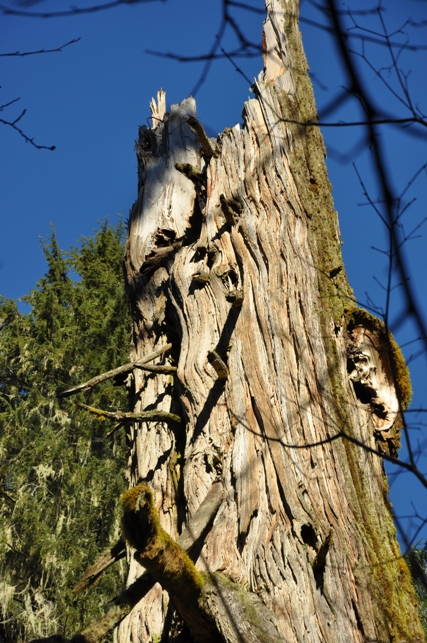 Trailhead
Trail down to the river
Lookout Tree is 15 feet in diameter
Back of the tree with the spikes
Looking up the tree
Broken Top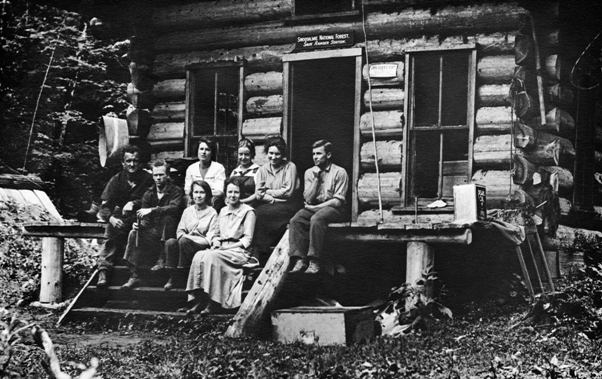 Historic picture of the Sauk Ranger Station
Lookout Tree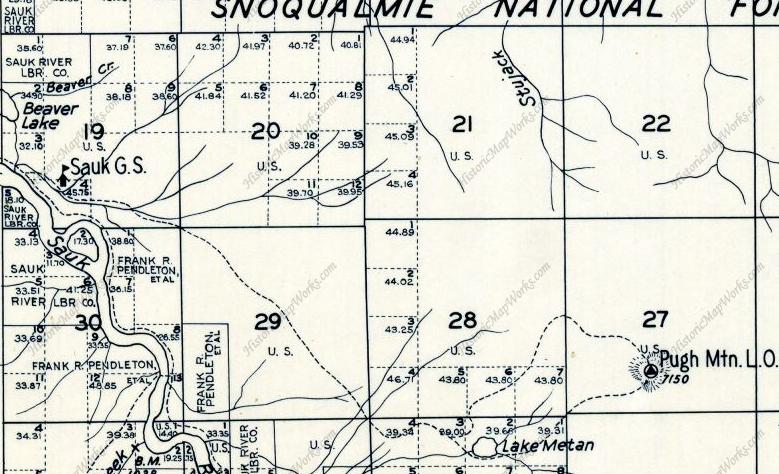 Comparing the maps above and below, the old Sauk Guard Station was just west of the Lookout Tree. Located between the island to the south and Beaver Lake to the north.
Left: Kroll Map Company 1934 Map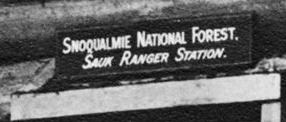 Sign above the door on the Sauk Guard Station