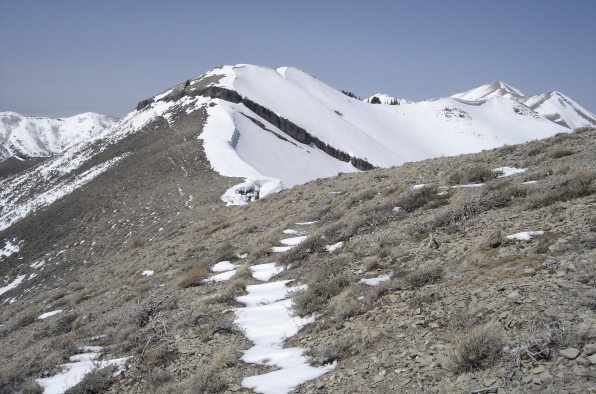 West Bald
East Bald
Peak 9530
Rocky Peak
Lowe Peak
My objective was to summit Flat Top Mountain, an Ultra 57 peak with 5,370 feet of prominence. This is the big mountain at the south end of the Oquirrh Mountains that everyone sees but nobody knows its name. With this climb, you can also summit 5 others as well if you do the loop. One could also continue to climb another 5 making a superb 2 day outing. This loop trip does cross over private land, a real issue for local landowners.
From Silveropolis to Porphyry Hill
Silveropolis from saddle between it and Porphyry Hill
Lewiston Peak from Porphyry Hill
Getting near the summit of Lewiston Peak
Flat Top and East Flat Top from Lewiston Peak
Looking NW to Bald Mountain from Lewiston
Mount Timpanogos and Utah Lake
View back to Lewiston while traversing over to Flat Top Mountain
East Flat Top Mountain
Flat Top Mountain from East Flat Top Mountain
Lowe Peak from the saddle between Flat Top Mountains
Lewiston Peak
Ridge I took down into Ophir Canyon
Flat Top Mountain from saddle on the north side. Snowshoeing down through the trees was a nice change.
Traversing over to Flat Top Ridge
Flat Top Mountains
Looking over to Lowe from Flat Top Ridge. I would have loved to continue the peakbagging but I needed to be home by 6 and I was getting tired.
Looking down into Ophir Canyon
Took this shot on the way home near Fairfield.
Lewiston
Flat Top
East Flat Top
Flat Top Mountain Loop
Distance: 14 miles
Elevation Gain: 6,300 feet
Highest Summit Elevation: 10,620 feet
Access: Paved
Access:
The Route:
WillhiteWeb.com: Utah Hiking & Climbing
View north from Silveropolis
View from the city of Eagle Mountain
Cross the ditch and hike up the South Fork Ophir Canyon Road to the saddle. Stay right at the one major split. At the saddle, you can climb the two optional peaks to the west, Silveropolis (a name I gave peak 8790A) and Porphyry Hill. Both have excellent views, they were enjoyable climbs in the spring…couldn't say what they are like in summer. For the main event, take a left at the saddle going up the west ridge of Lewiston Peak. A trail does exist, but it is overgrowing. I quickly lost it in snow. With no trail, a few spots were tricky but soon I was on the summit of Lewiston. Continue down and ridge traverse over to Flat Top Mountain summit. There is some minor communication junk up there and a register if you can find it. The allure of another 10K peak was too much so I traversed over to East Flat Top and back…no difficulties with a more alpine style summit as well. The drop north off Flat Top is steep and shaded in large fir trees, my snowshoes were a must as the snow had not consolidated here. Continued to traverse over to peak 9925 or Flat Top Ridge where a trail did exist. From Flat Top Ridge, I took a northwestern ridgeline down, a perfect snowshoeing ridge for descending or ascending. At the base in Ophir Canyon, I hiked south on the trail route back to my car. A bit of road walking was involved but most of the road was still covered by the snow pack.
Get to the back side of the Oquirrh Mountains on Highway 73. Take the turnoff (small sign) for Ophir, between mileposts 4 and 5. Drive the paved road 5 miles into Ophir. About 1.1 miles after town, look for an old dirt mound blocking a road off to the right. There is room for several cars. If the road starts going north, you'll need to turn back.
Some trip reports in late 2009 have said the road blockade is no longer in place and you may be able to drive some up the South Fork Ophir Canyon.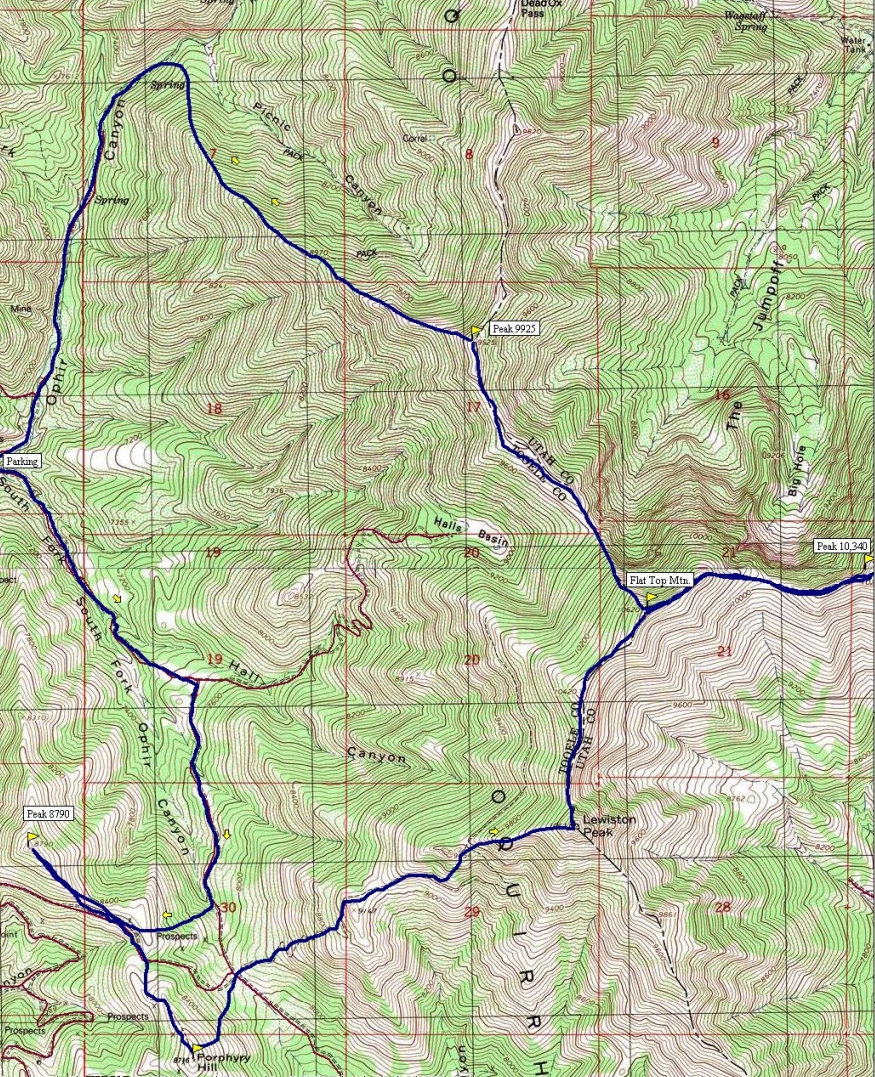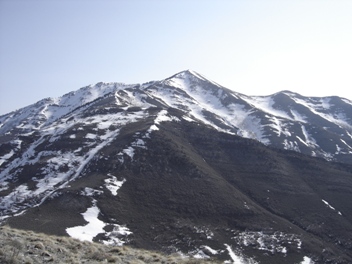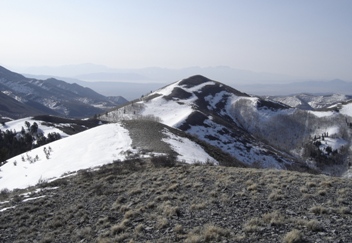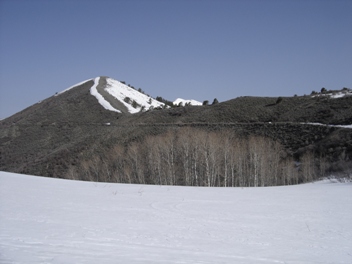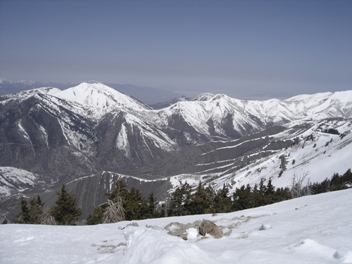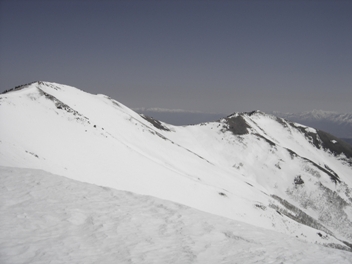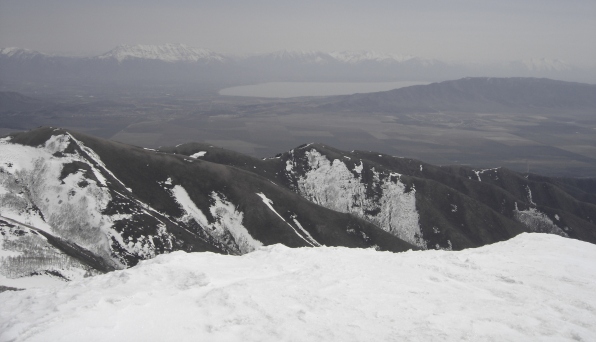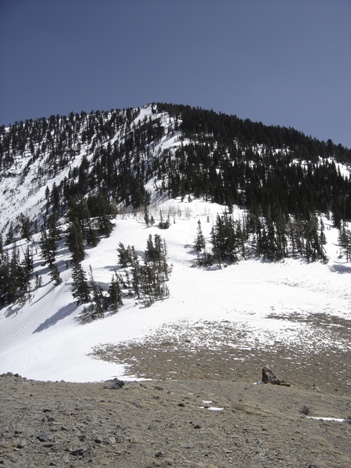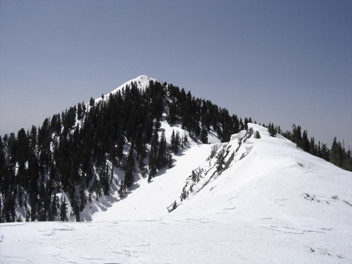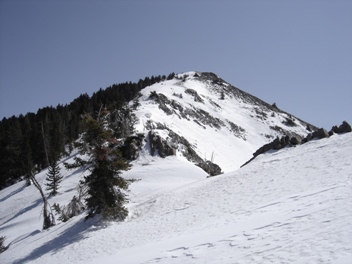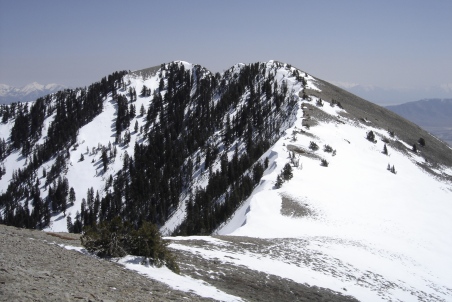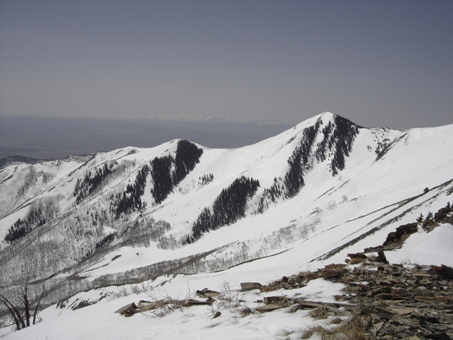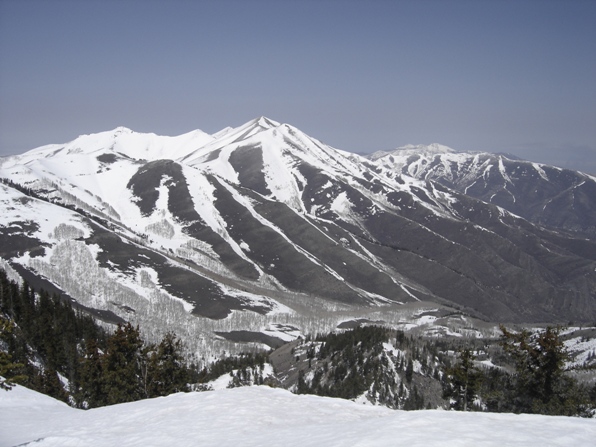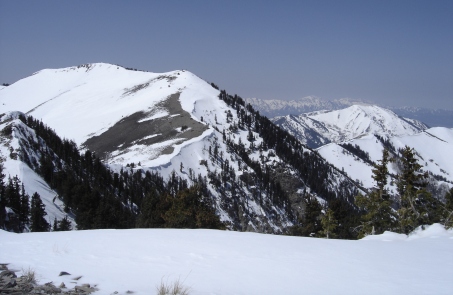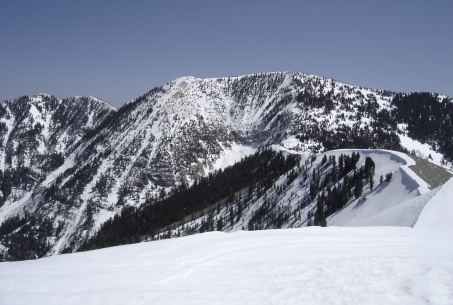 East
West