From Scipio on I-15, get on highway 50 south for around 15 miles. Just after passing a signed road on the right for Maple Grove Campground, you'll pass milepost 146. A short distance beyond on the left is a small dirt road with a gate. In winter you will park off the road here. Most of the time you can open the gate and drive east several hundred yards to a gravel pit where you can start. (Other routes have been done in other months from the north where spur roads shoot south off Japs Valley Road).
Stevens Benchmark is the highest point in the insignificant Valley Mountains between the Pahvant Range and the Wasatch Plateau. Upon reaching the summit benchmark though, you will find a register filled with names from prominence chasers from around the west. This highpoint barely makes it as a peak with over 2000 feet of prominence, thus an objective for those lost souls desperate to increase there peak totals. With a low elevation, this area is dry, boring and awfully hot much of the year. But, with decent access from highway 50 south of Scipio, it make for a worthy and more scenic objective in the winter time.
Stevens Benchmark
Distance: 2.7 miles
Elevation Gain: 2,000+ feet
Summit Elevation: 8,436 feet
Access rating: Level 1
www.WillhiteWeb.com: Your online resource for hiking, climbing and travel
Access:
Route:
From the gravel pit, follow an old road shooting northeast. Continue heading northeast for a ridgeline on the north side of a large drainage. The drainage has a large wash at the bottom so it should be an easy find. Climb up the southwest trending ridge up dirt and rock. There are several small rocky outcrops but everything has an easy class 2 route around. At around 7,200 feet you begin a ridge traverse that goes some distance with a few ups and downs. At 7,800 feet you can either head straight up the ridge or traverse under point 8319. We had reports of brush on the traverse plus in winter this slope was fresh deep power so we stayed on the ridge and southern exposures for more snow consolidation. (Snowshoes were necessary above 7,300 and below 6,600). Going over point 8319 will require loosing about 100 feet of elevation. From the ridgeline north of point 8319, it's an easy walk up to the summit benchmark. The western lower summit has a small communication tower on it serviced by helicopter.

Top
Valley Mountains from the gate
On our way, just inside the gate heading to gravel pit
Working to the first 1,000 feet of the climb....it's snowfree!
One of the few rocky areas
Back on the snowshoes
Panoramic to the west showing the majority of the Pahvant Range
Summit (on right) from point 8319
Looking northwest from the summit
Wasatch Plateau from the summit of Stevens Benchmark
Northern Valley Mountains, Mt. Nebo and the San Pitch Mountains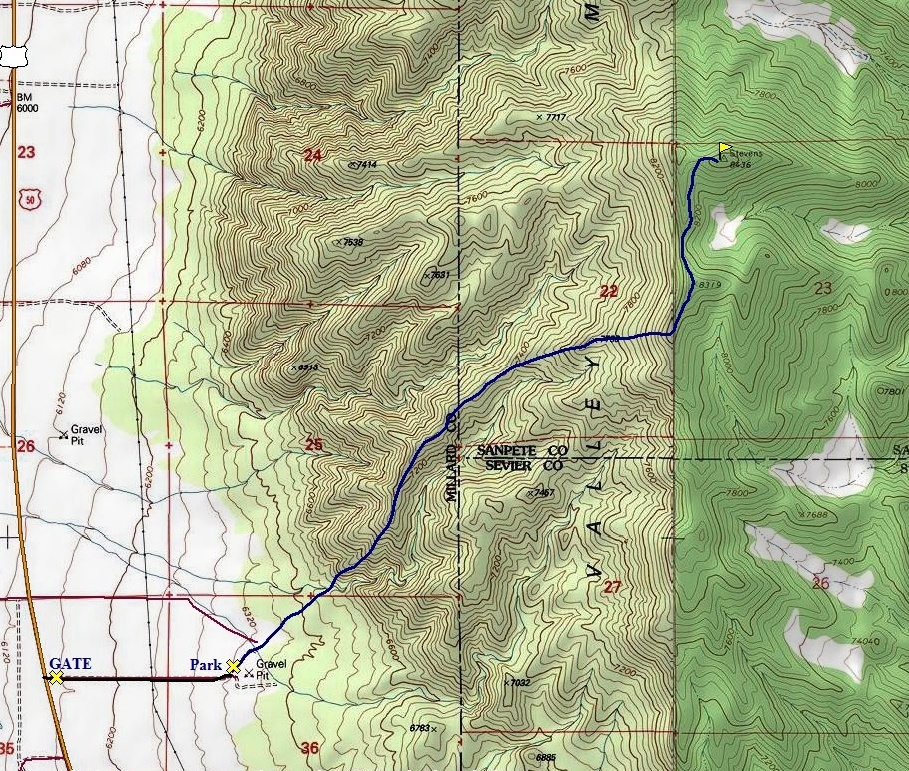 Japanese Valley hidden inside the Valley Mountains
Summit register and benchmark found