South Mountain
Distance: 1.2 miles
Elevation Gain: 1,400 feet
Summit Elevation: 6,824
Access rating: Level 1
This mountain hides in the foreground the Oquirrh Mountains. Although the summit is low, the views are awesome as you are on the line between Salt Lake and Utah counties. If you're lucky, you'll get a visit from military helicopters as Fort Williams Base is only a few feet south the summit. Helicopters train almost on a daily basis. This is a good winter trip as access is from a housing development. On the summit is an old fallen over metal lookout similar to the one on Mt. Wire.










From the gate, follow the ridge west up to the gentle north ridge of South Mountain, about 1,000 feet of the gain. Near the top, you have the option of scrambling over the rocks or just going around them. On the north ridge, turn south working your way up to some old power poles and a road that comes from the south. Walk the road until it starts to descend, climb southeast toward the metal debris on the summit.
The Route:
www.WillhiteWeb.com: Your online resource for hiking, climbing and travel
Access:
Drive to the city of Herriman in SW Salt Lake County. Take 5600W south into new developments. Soon the road becomes Rosecrest Road. Follow this to a right turn on Juniper Crest Road. As of 2009, where this road stops (unfinished), take a right. There are lots of new streets not shown on most maps. Find your way as high as possible as shown on the map below. Be looking for a new development with the name Lookout Ridge (I think). At the time I climbed here, there were only 2 houses. Follow empty streets, sidewalks and light posts up to the end of the road at a gate.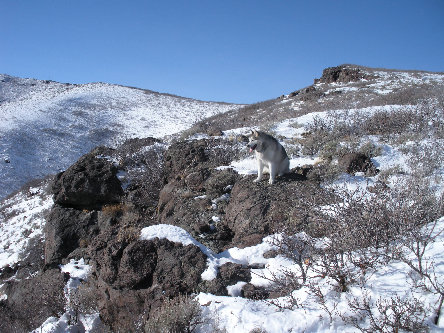 South Mountain from roads below trailhead
Working our way west up the ridgeline
Views only a few hundred feet up the ridge
Approaching the rocks on the ridge
Standing on the summit, looking south
Old fallen over lookout
Dozer just above the rock area
Oquirrh Mountains, Flat Top and Lowe
Coming down, near the road
Approaching the road near the bottom
Looking south over the restricted peaks on Fort Williams
South Mountain from Draper
Lowe
Flat Top
Clipper
West
Timpanogos
Box Elder
Lone
Twin Peaks
Looking east to the Wasatch Mountains