One of the more prominent peaks in Utah is hiding down in southwest Utah. So secluded, I had a hard time explaining where I went to the lay person when I got home. Nobody I know can identify where Milford is on a map. Indian Peak looks nice too, a nice pyramid shape. As for climbing, it is easy. A road most of the year will take you to within a mile of the summit. For extra isolation, you can go in March or April requiring an additional 3 miles of hiking, something I didn't know until I arrived.
Indian Peak
Distance: 1 mile (4 miles Jan-April)
Elevation Gain: 1,800 feet
Summit Elevation: 9,790 feet
Access: Level 2
From Milford, take Highway 21 west. Zero your odometer at the Oak Tree Inn Motel at the west end of town. Drive 34 miles or so, just pass mile marker 42. Turn left on the Pine Valley Road. Zero odometer. Drive 4.6 miles to an odd 4 way intersection, veer left. At 15.4 miles from pavement is a large 4 way intersection. Turn right toward Indian Peak. From this 4 way, it is 5.5 miles to a sign saying something about seedlings. Continue straight and in 0.3 mile is the entrance sign for the Indian Peak State Game Management Area. 0.4 beyond that there is a building and picnic area hiding on the left. Keep going another 1.3 miles to the winter gate. Before Jan 1 and April 30, you can continue another 3 miles beyond it to the north ridge starting point where there is a cattle guard and western entrance sign for roads entering from the west.
Access:
Route:
Follow the fence line south (500 vertical gain) to the first ridge. From the ridge, you can continue to follow the fence line or take the ridge up to the west a bit. There are a few cliffs on the ridge route but you can traverse below them. The first set below on the east and the second set on the west (or climb the second ones, class 3).
www.willhiteweb.com - Hiking, Climbing and Travel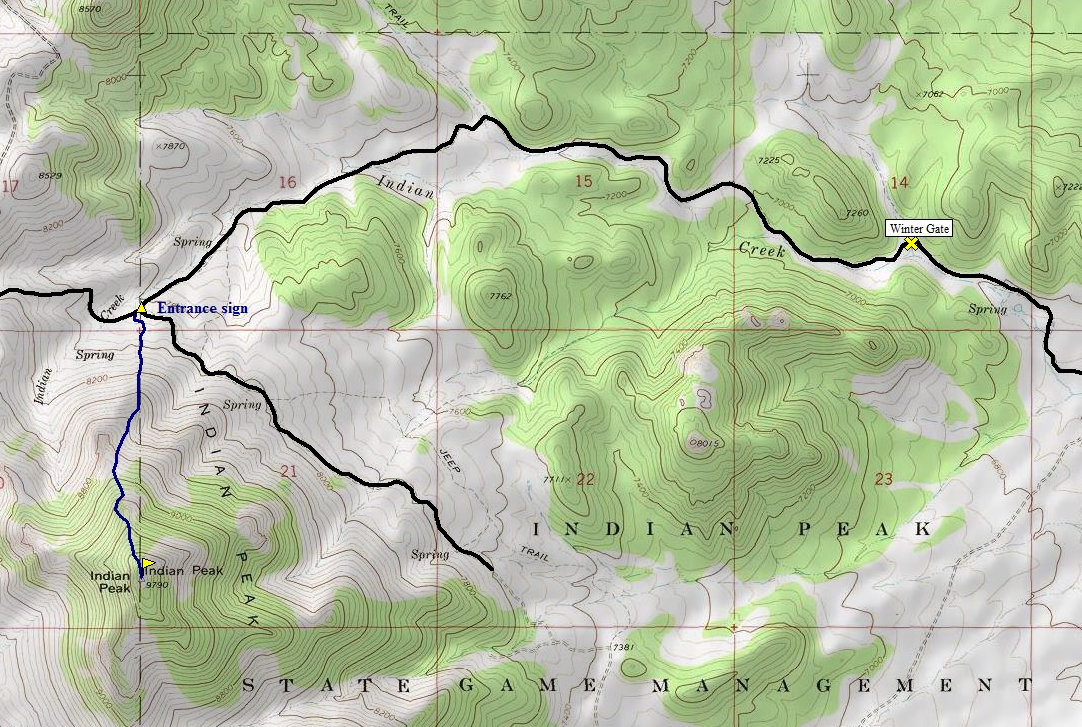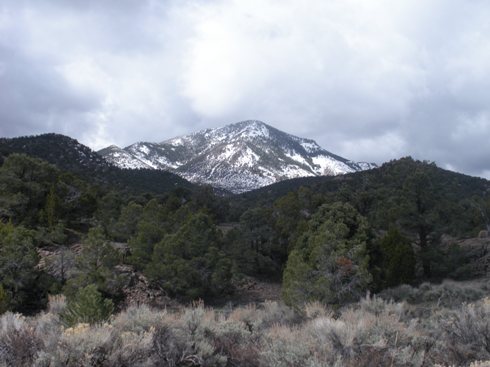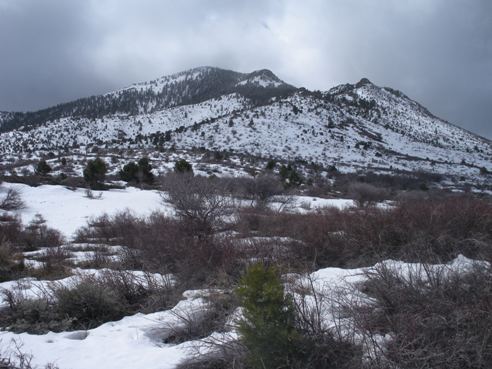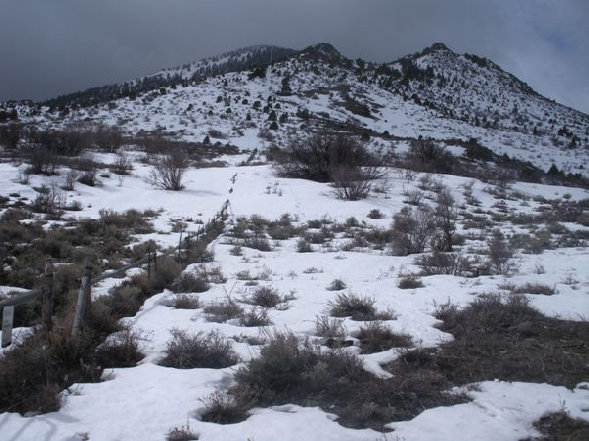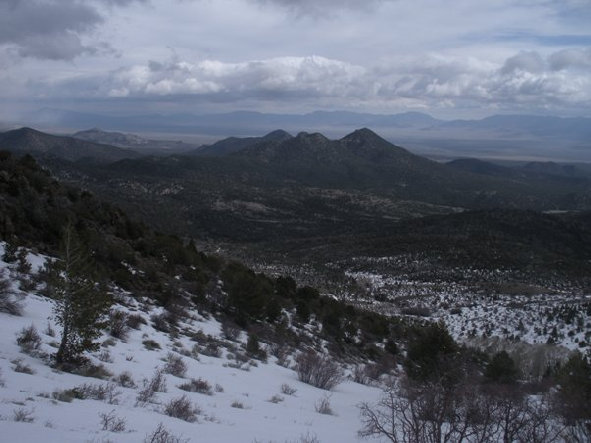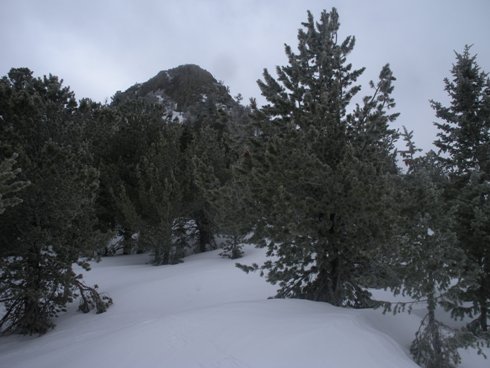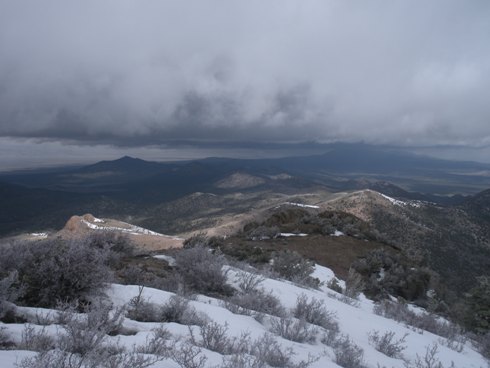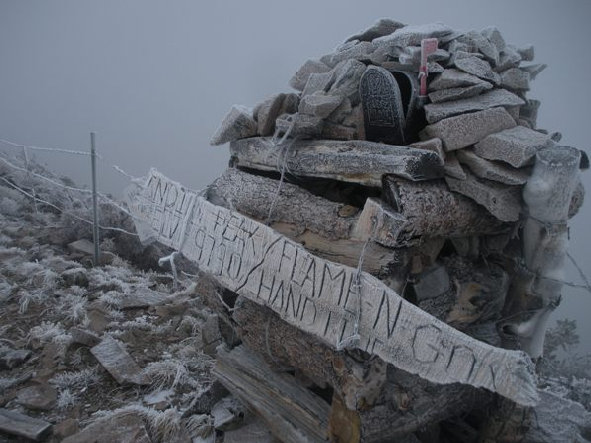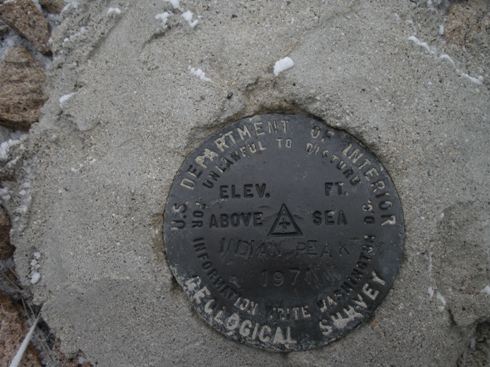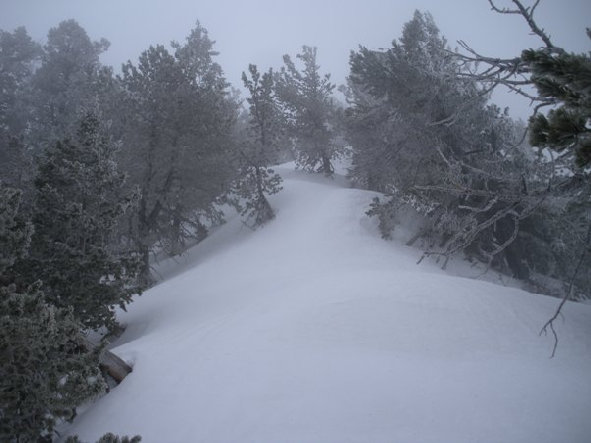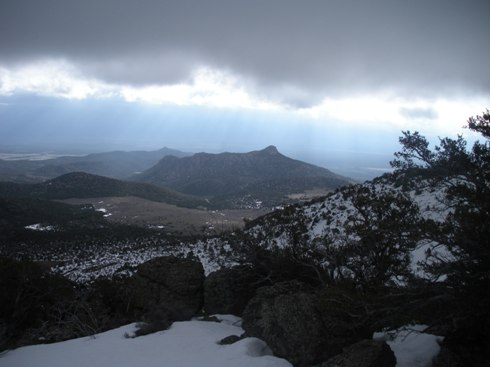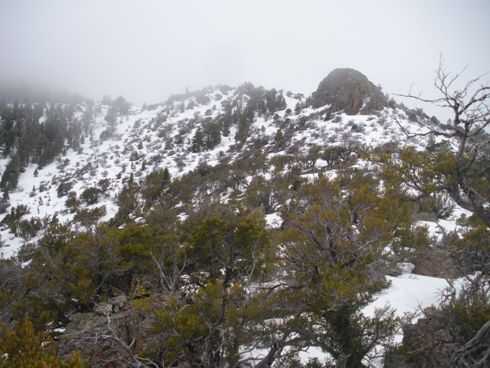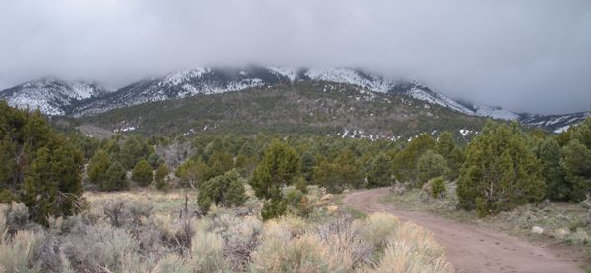 Indian Peak Benchmark
This was how the mountain looked until I was hiking out
Summit sign and mailbox
I was parked to the left of that mountain down there
Climbing the ridge
Looking northwest
On the ridge with the second rock cliffs above
Looking north
Just above the fence line on the first ridge, those are the first rocks to traverse
This is where you want to start when the road is open
Getting near the start of the route
Indian Peak, shot 1/2 mile up the road from the winter gate