Cricket Mountains Highpoint
Distance: 1.3 miles
Elevation Gain: 1,000 feet
Summit Elevation: 7,231 feet
Access rating: Level 3
www.WillhiteWeb.com: Your online resource for hiking, climbing and travel
Access:
Route:
The Cricket Mountains is a small mountain range in both size and height. What makes the Crickets interesting is their isolation. The little range is set in a location between the interesting Sevier Lake and the immense Sevier Desert. Because the range isn't too high, these mountains make for a good winter destination. If you can't reach the highpoint because of snow, take a hike up Headlight Mountain, a peak with over 1,100 feet of prominence. Cricket Mountains Highpoint just makes it onto the Utah Prominence List at #76.
Reference where you are at by the knob 6,573 between the main mountain ridge and the road. Walk easy terrain on the north side of the knob. There is a small draw there and the south facing slopes on a rib north of the draw were snow free. This small rib leads up the mountain all the way to the north/south ridgeline. Once on the ridge, it's easy going over a small false summit to the top. Generally, the whole area is easy terrain.
There are several roads accessing the Cricket Mountains but I will describe the lowest elevation entrance for winter access. On Highway 257 between Delta and Milford, the access is between mile markers 23 & 24. This is 23 miles north of Milford. This is called the Headlight Canyon turnoff. Go up this road around 11 miles to the starting point. There is one road split where you go right at a sign for Headlight Canyon. Most of the route should be fine for a passenger vehicle if taken slowly. I started where a old road went left and the main road veered right. Others have started before this point but this requires more traversing up on the mountain.
Cricket route from the parking spot
View of upper mountain from starting point
At 6,500 feet, easy brush free walking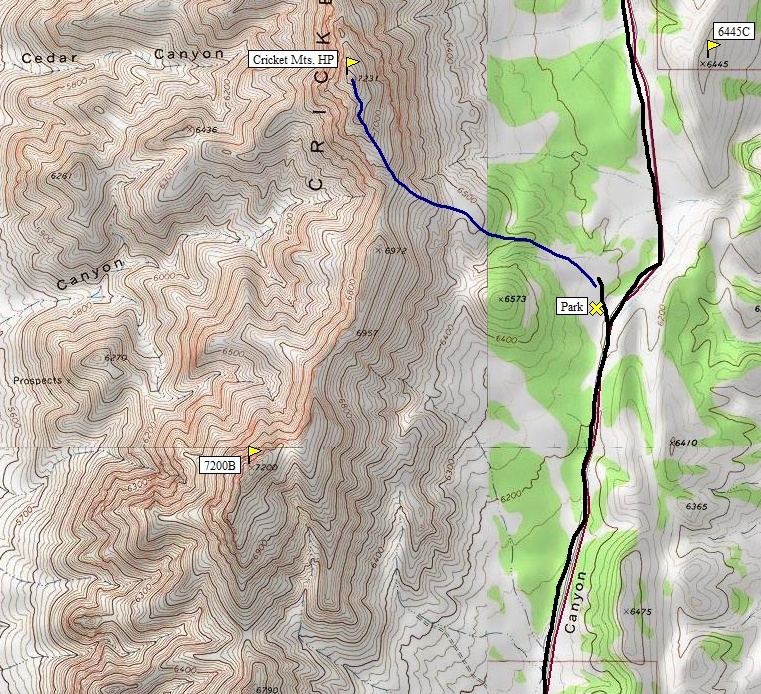 Notch Peak reflected by Sevier Lake
Peak 7200 to the south of highpoint
On summit ridge looking to false summit
On false summit looking to true summit
Summit cairn looking east, with Pahvant Range in distance
Panoramic to the west and north with Notch Peak and Swassy in the far distance
North Cricket Mountains
Looking southwest
Driving out of the Crickets