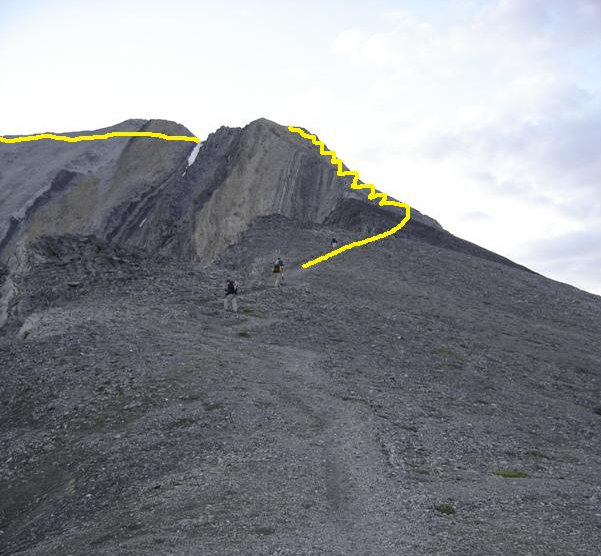 I arrived at the trailhead around 3 p.m. for my climb the following day. I had only slept a few hours the night before so I was trying to take a few cat naps. There was a constant distraction of people coming down, celebrating and swapping stories of the climb. As time passed, the trailhead became more and more crowded with people showing up to climb the next morning. Since everyone had to camp so close to each other, it became a very social place giving it an "expedition base camp" feel.
Route was something like this
Chicken-out Ridge
Me at the trailhead after the climb
There were several thunderstorms that came through the evening before the climb but the day of the climb was predicted to be better. The sky was clear all night so everyone expected the storms were over. When I woke at 5:30ish and started hiking, I noticed some lightning in the far distance. I immediately knew there would be no rest this climb but an all out assault to summit within a few hours. I passed about 40 people becoming the 3 person to summit.
Climbers just above treeline.
Trail traverses here
I had hopes of climbing Mt. Idaho by a traverse over but the weather wasn't going to corporate with that idea. A cell hit on my way down just as I hit the rocks of Chicken-out-Ridge, reducing visibility to 30 feet. As disturbing as this was, at least I didn't have to look at the exposure of the scramble. Once off the rocks, I was running down the trail now just below the clouds. I was feeling a bit better being around so many others at this point. If I was hit by lightning, at least someone could give me CPR. Suddenly, a bolt of lightning struck somewhere on our ridge. Nearby I hear a father yell to his son "Run! Leave me!" The fear in his voice was chilling. Everyone was going down, not wanting to challenge Chicken-out-ridge in bad weather. When I hit tree line, a small group of people was forming, waiting out the storm. I was now safe and had an enjoyable hike back with another climber.
Once past Chicken-out ridge I had to keep pushing on as fast as I could as there was a massive thunderstorm skirting by the area. The constant lighting and thunder was intimidating enough while another cell was building that looked to hit the mountain for sure.
I only spent 2 minutes on top. Lucky for me, there was one other person to take my picture. She didn't even wait for her husband only 20 minutes behind...it was time to get down.
Views from the summit to the SE
Looking south from the summit
Looking back toward summit on way down.
Everyone climbing is watching the big storm pass nearby as smaller ones were headed our way. Most people started turning back. Those of us beyond Chicken-out-Ridge were going as fast as we could to summit and get down. This is the final few feet to the summit. I'm really pushing myself here. The climber ahead isn't waiting for her husband, she summits and gets out.
This is Chicken-out Ridge. It requires careful hand and foot placement but most people are capable of doing it. As the name suggests, many decide to stop when they get here. I'm on my way down when I took this shot and 2 minutes after I took this photo, a cloud hit making the traverse over the ridge in a complete white-out.
With 5,262 feet of elevation gain most consider this a hard climb but the mileage is only 3.5 one way so the trip can be done quick if you are a climber. I did it under 5 hours round trip. In fact, that evening I climbed Mt. Hyndman, another 5,000 foot gainer with over 12 miles round trip distance.
Borah Peak - Idaho State Highpoint
Distance: 3.5 miles
Elevation Gain: 5,200 feet
Summit Elevation: 12,662 feet
Access: Paved
WillhiteWeb.com: Hiking, Climbing and Travel
Near the top looking back
Mt. Idaho coming into view
Mt. Dickney
Looking north
On the summit
Holy Cow! Keep moving!
Getting down in a hurry
Climbing up to Chicken-out Ridge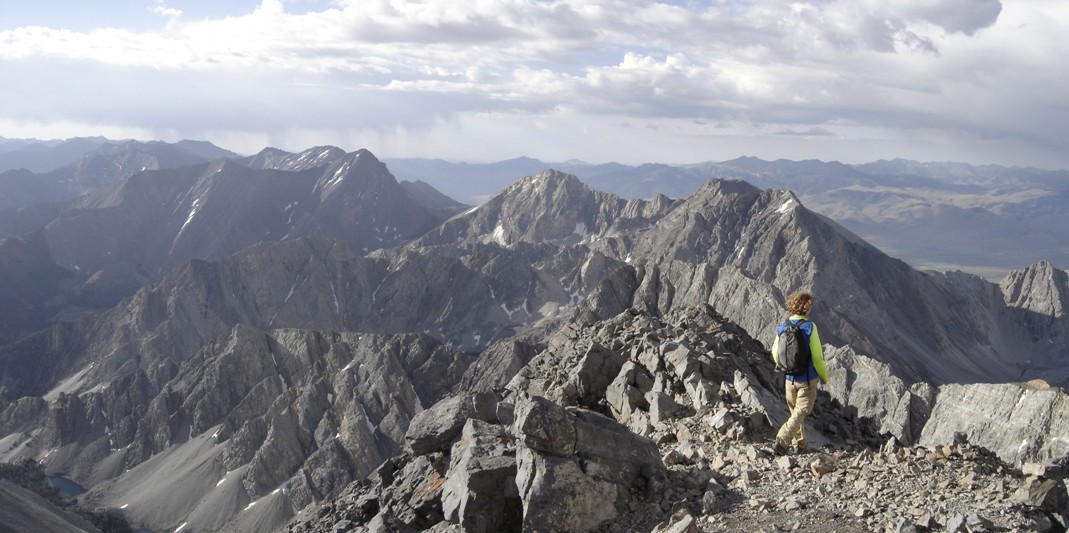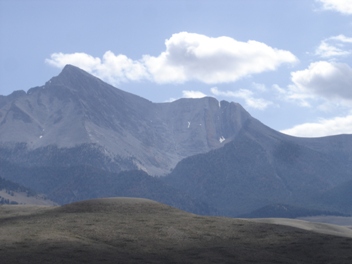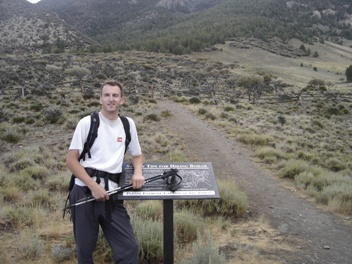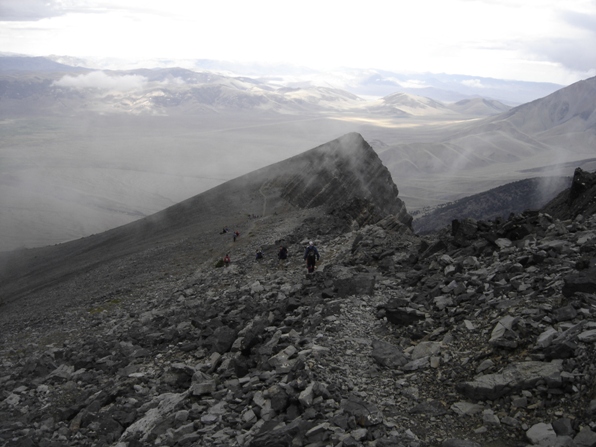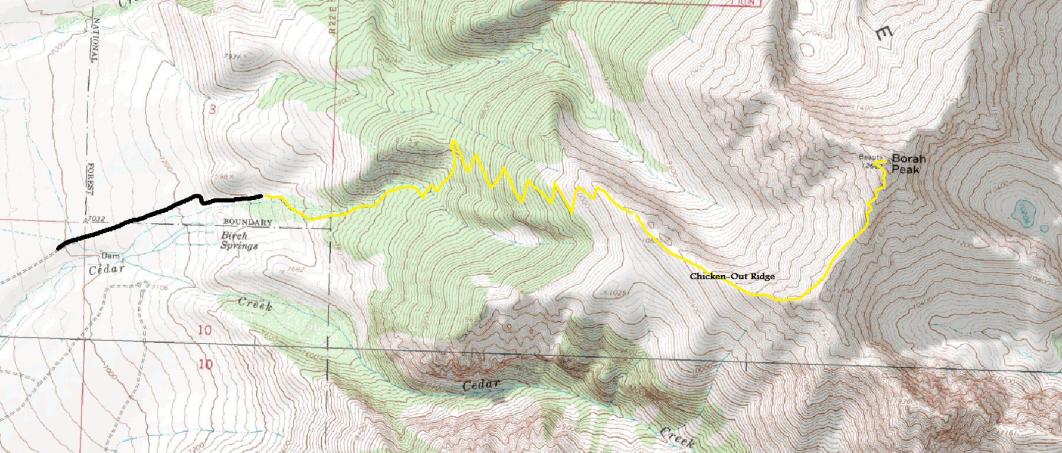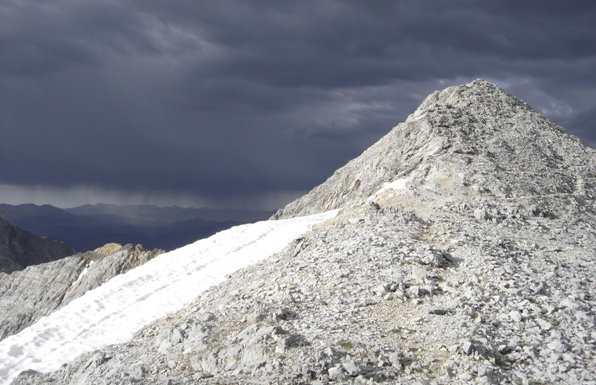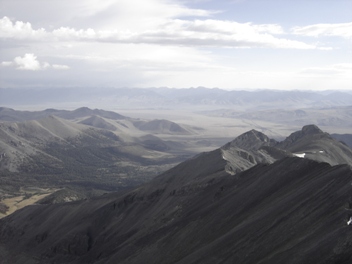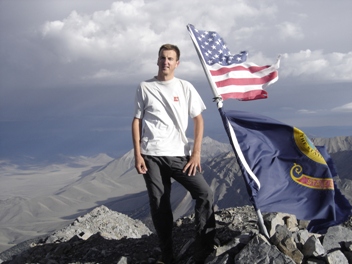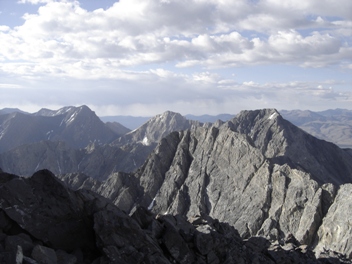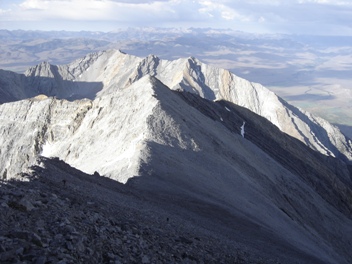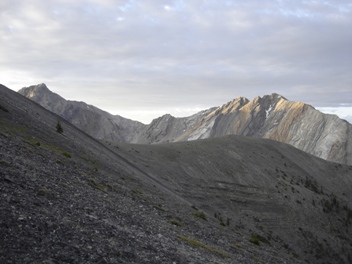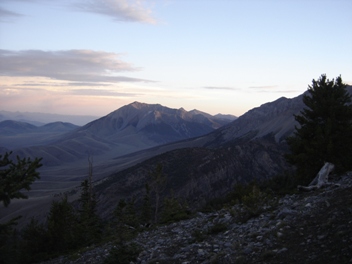 Borah Peak from the west
Chicken-out Ridge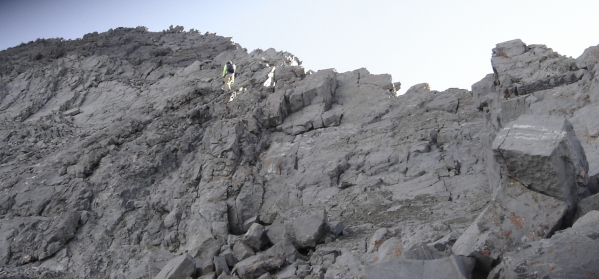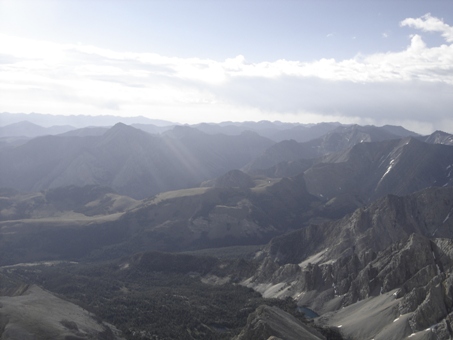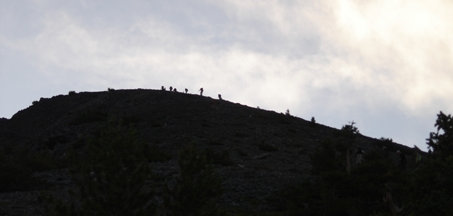 Climbers on the ridge in the morning light