Boundary Peak - Nevada Highpoint
As of a 1980 survey, the highest point in Nevada is Boundary Peak, a point formerly in California. The mountain only rises 256 feet from a neighbor peak in California called Montgomery Peak. Many peakbaggers wouldn't even define Boundary Peak as a mountain but with state highpointing, it is the highest point that is most important. The former highpoint of Wheeler Peak in Great Basin National Park is a much nicer objective, a mountain fully inside the state. The standard route in the past has been a route up Trail Canyon but recently the more popular route is the Queen Mine route and is described below.
WillhiteWeb.com - State Highpoints
Queen Mine Access:
Take U.S. Hwy. 6 from Bishop, California to Benton, California. Continue 9 miles east from there on U.S. Hwy. 6 which puts you into Nevada. At 9 miles look for a good dirt road to the right/south. If coming from Nevada, the turn is not far after the Boundary Peak Viewpoint area. The distance is 6.2 miles on the dirt road to the flat area of the Queen Mine at 9,150 feet. Follow the main road at all turns. Regular vehicles can drive the road if they take it slow. From the mine, many start walking but the road does continue if you have 4WD with clearance. You can climb up to a high pass avoiding hiking the first mile and 650 feet of gain.
Route:
From the pass, a trail sign is just out of sight up the ridge. Follow the trail as it switchbacks to the ridge top. The nice trail continues traversing just below the ridge, dropping a bit, heading directly toward the objective. Soon it reaches Trail Canyon Saddle where the steeper hiking begins. This is where the Trail Canyon Route joins in. There are a few trails from this pass, pick whichever works for you. Just stay on climbers trails and you get higher and higher. Be sure take the trail that traverses to the right of the false summit. You should see a trail heading to a small saddle with a small horn. Once past the false summit, there is a rocky block to get around, that has a rough trail around to the right. After that, look for a trail that is below the ridgeline that takes hikers to the final summit rocks and summit. Basically, when in doubt, go right. There is a lot of information out there that this mountain is a long scramble on scree & talus, which is totally ridiculous. The majority of the climb is on a climbers trail with good foot placements that won't slip. Still, I did see several highpointers freaking out on something most climbers would consider a paved road up talus.
Distance: 3.5 miles
Elevation Gain: 3,400 feet
Summit Elevation: 13,143 feet
Access: Rough Road but accessible for passenger vehicles
Boundary Peak from the road side viewpoint area on Hwy 6
Boundary Peak
Montgomery Peak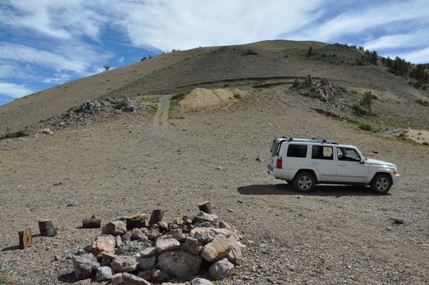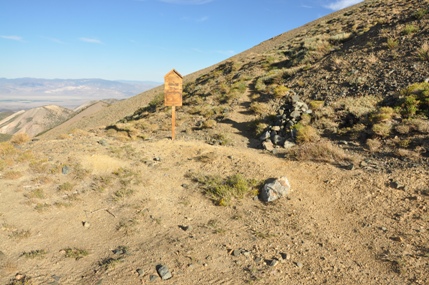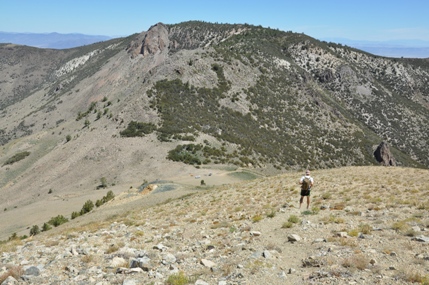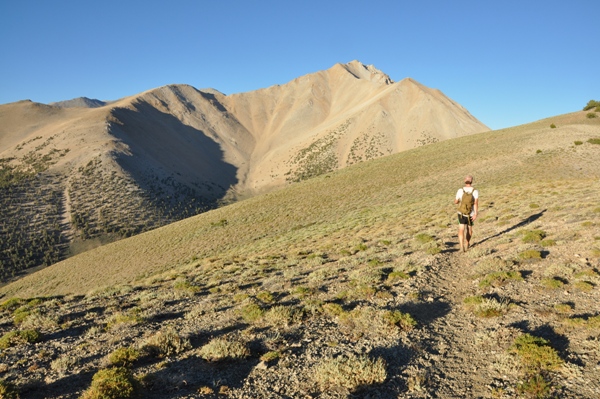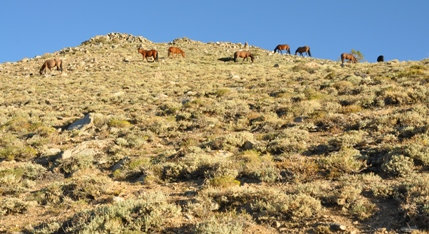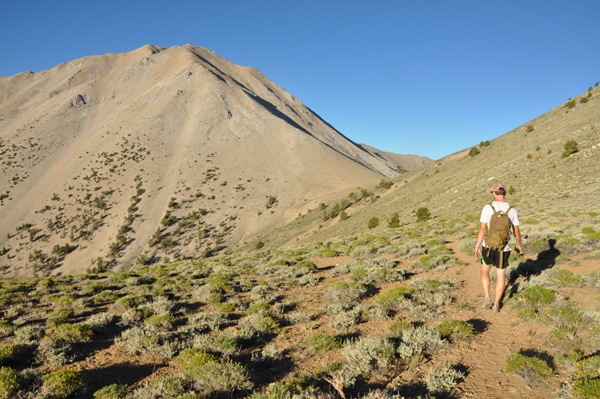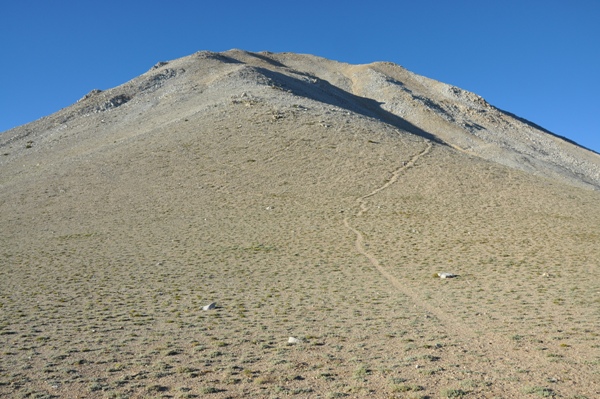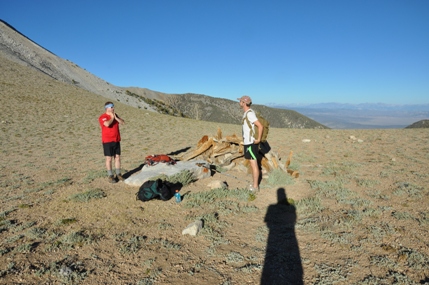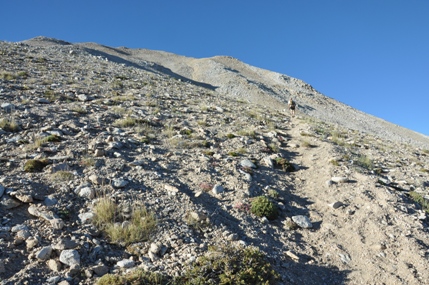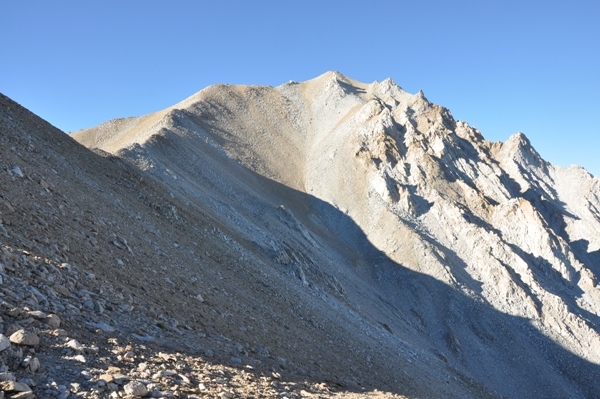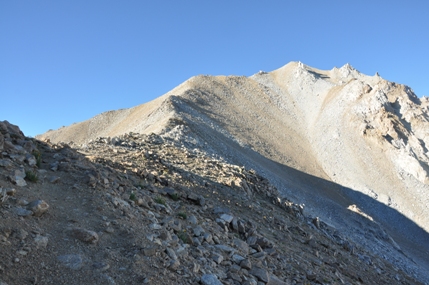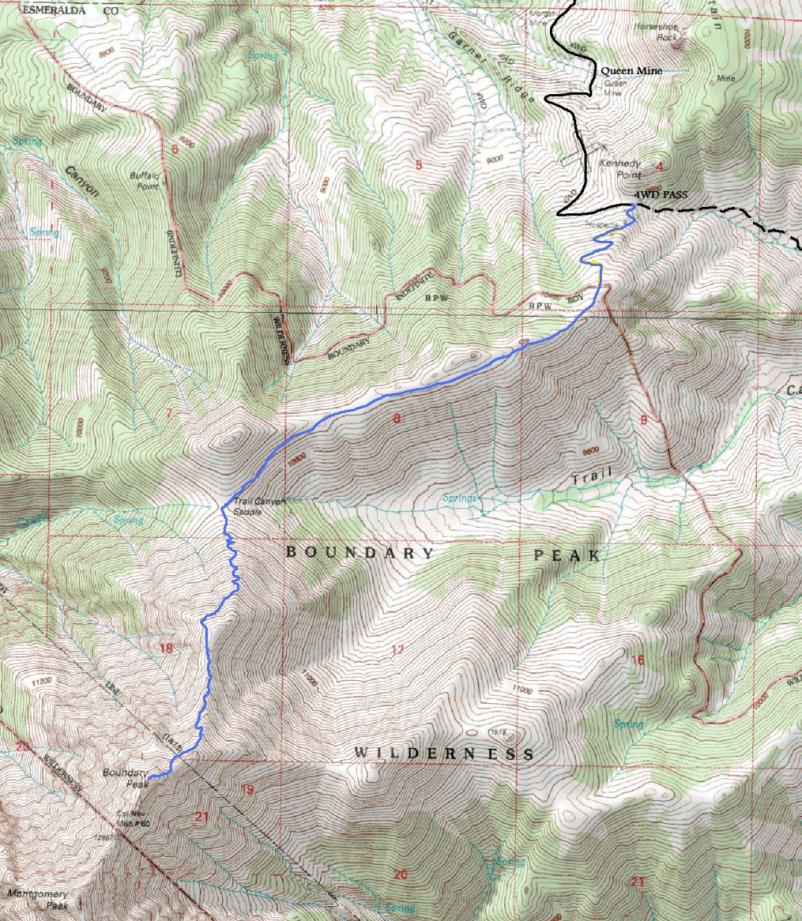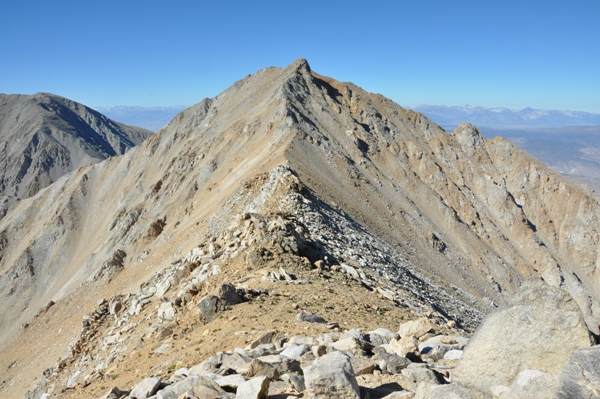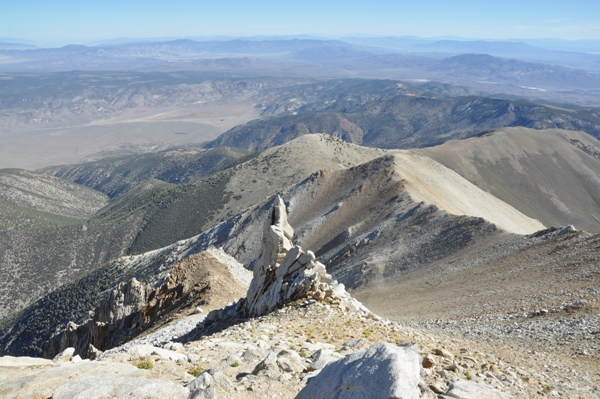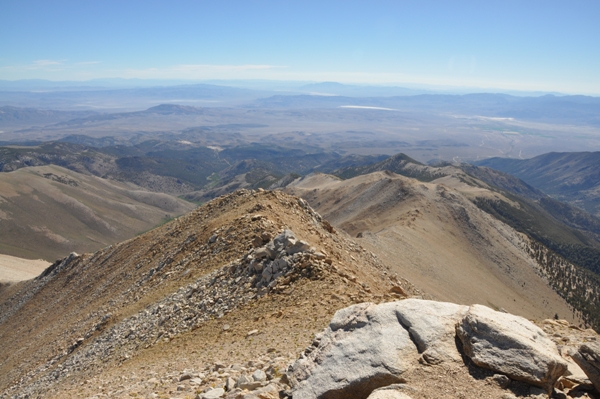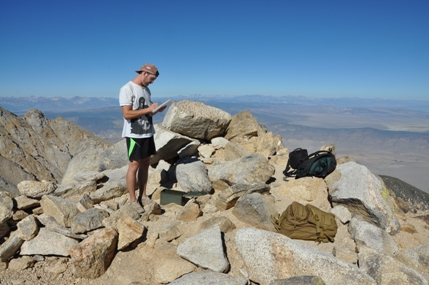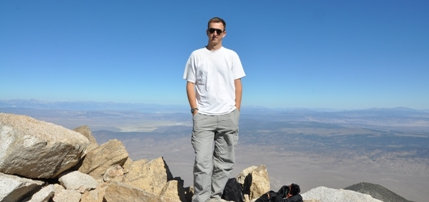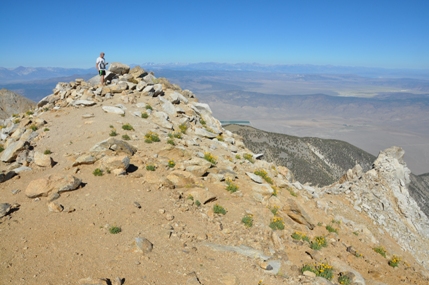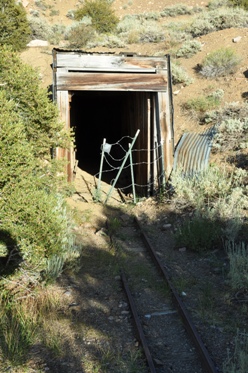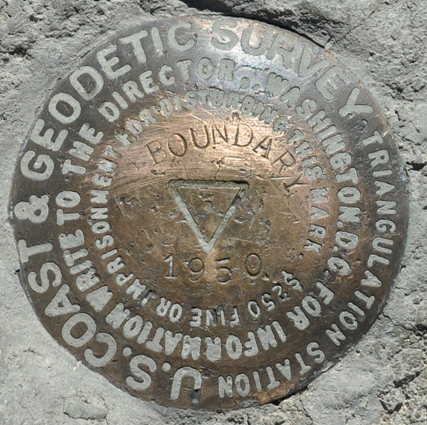 Queen Mine
At the 4WD saddle trailhead looking at the first hill to hike
At the trailhead
At the top of the first hill looking down to the 4WD saddle
Saddle
The trail along the ridge at 10,200 feet
Hiking the ridge toward the peak
Traversing below Trail Canyon Peak to Trail Canyon Saddle
Wild horses
Trail Canyon Saddle
At Trail Canyon Saddle looking up to the false summit
Climbing up toward the false summit
First view of the remaining route from the traverse around the false summit
Finished with the false summit traverse
Josh signing the summit register
Montgomery Peak from the summit of Boundary Peak
False summit