Deseret Peak is one of the best trail hikes in Utah. The hiking route has scenic variety with an airy alpine summit at the top of the Stansbury Range. At over 11,000 feet, it's amazing to look down at the views 7,000 feet to the desert salt flats in the distance. Deseret Peak is an Ultra promince peak with over 5,000 feet of prominence, it is also the highest point in Toole County. Two trails access the summit, so a perfect loop can be made for this summit. Also, there are two other 10,000 foot peaks to the north that make nice scrambles.
The access road is very nice but gets washed out often. Call the forest service before going. Fire and floods prevented me from accessing the trailhead on several occasions. Even to do this trip shown, I had to bike up the road the final 2 miles because of another washout. Take exit 99 off I-80 which puts you south on Hwy 36/SR 138. Drive 3 miles, turn right on SR138. Follow 11 miles to Grantsville. Turn left on West Street at the end of town (road becomes Mormon Trail Road). Go 5 miles south from Grantsville to a sign for South Willow Canyon. Turn right and follow to the very end at Loop Campground and trailhead.
Deseret Peak Loop
Distance: 8.5 miles plus 2 for bonus peaks
Elevation Gain: 3,700 for loop, 5,600 with bonus peaks
Summit Elevation: 11,031, 10,685 & 10,521 feet
Access rating: Level 1
www.WillhiteWeb.com: Your online resource for hiking, climbing and travel
Access
Hike up trail about a mile to a creek crossing. Just beyond is a trail split and sign. This is the loop start/stop. Go left on the Deseret Peak trail. After awhile in the forest, you begin to break out into alpine meadows. Trail climbs to a pass at 10,000 feet. From this point, it's a nice alpine hike 1,000 vertical feet to the summit. The trail continues down the north ridge. Steep and shaded in places, bring an ice axe if you are doing this section in early season. The trail follows the ridge north quite a bit to a pass that allows for access down into Pockets Fork. For the bonus peaks, continue on the ridge north to the summit of peak 10,685 then peak 10, 521. The first is best, the second just for the di-hard peakbaggers. Cliffs prevent one from dropping to South Willow Lake so a climb back up and over 10,685 is needed. The hike down through Pockets Fork and Dry Lake Fork is very scenic.
Route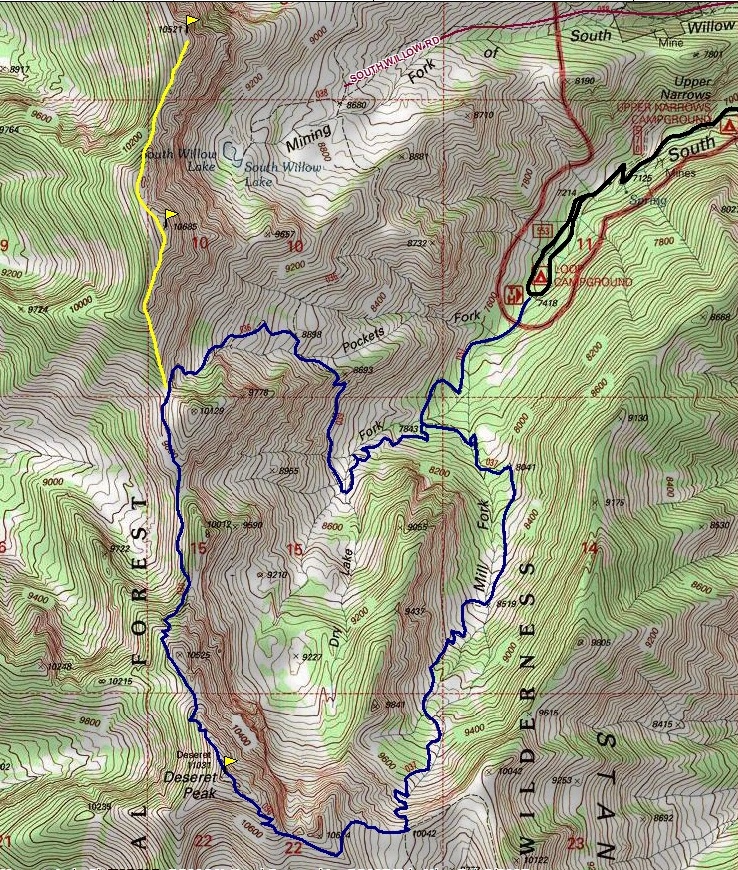 Deseret Peak
Peak 10,685
Peak 10,521
Vickory Mountain
The 4 highest peaks in the Stansbury Range from the Oquirrhs
Peak 10,685 and 10,521 from the Deseret Trail
Route toward the summit from the 10,000 foot pass
Vickory Mountain from the 10,000 foot pass
Pockets Fork from the trail split with the Mining Fork Trail
Looking west to the Cedar Mountains
Dry Lake Fork
Onaqui Benchmark
Peak 10,521 from slopes of peak 10,685
Deseret Peak and Peak 10,685 from Peak 10,521
Deseret Peak from Peak 10,685
Deseret Peak from the north
Peak 10,685
Peak 10,685 from Deseret
Vickory Mountain from Deseret Peak
Nearing the summit of Deseret Peak