Mount Kent
Washington Hiking & Climbing
The only reason people climb Mount Kent is because it is along the I-90 corridor and has an official name. Even then, the register shows just a hand full of people each summer bravely reach the summit and sign. The main route utilizes the McClellan Butte Trail, so why would anyone leave the trail to go up a lesser, semi forested summit? To check it off the list of course.
Take Exit 42 the Tinkham exit. Follow FR55 for 0.3 miles to a (hopefully) signed turn to the right. This short road takes you to the trailhead parking at 1,650 feet.
Access:
Hike up the McClellan Butte Trail following all the correct signs. At around 4,600 feet in elevation, the trail turns the corner going northwest. The first views of logging roads appear on the watershed side of the ridge. Look for a faint trail dropping down the ridge toward Mount Kent. After a brief bushwhack, you reach a boulder field. Drop down the boulder field until you reach a watershed road. Now walk the road south. (O, you need to keep an eye out and hide if a vehicle is coming, or use option below). The road will take you around point 4,684 to a split, where you need to take the uphill branch toward Alice Lakes. Leave the road due west of Alice Lakes and make your way up through the woods to the lakes. From just above the lakes are multiple talus/boulder fields. Pick a good line and follow it up to the summit area. Near the top, be prepared for some steep dirt and using bushes for pulling yourself up.
Route:
Distance: 5.5 miles
Highest Elevation: 5,087 feet
Elevation Gain: 4,200 feet rt
Road Access: Good gravel to trailhead
To see pictures of the trail portion of this trip, see the trip report:
If you wanted to avoid entering the watershed, from the McClellan Butte Trail, just drop down the ridge to the saddle, then keep a level traverse on the eastern side of point 4,684. This route crosses forested and talus slopes, isn't difficult but tedious when you know a road is on the other side of the ridge.
Legal variation: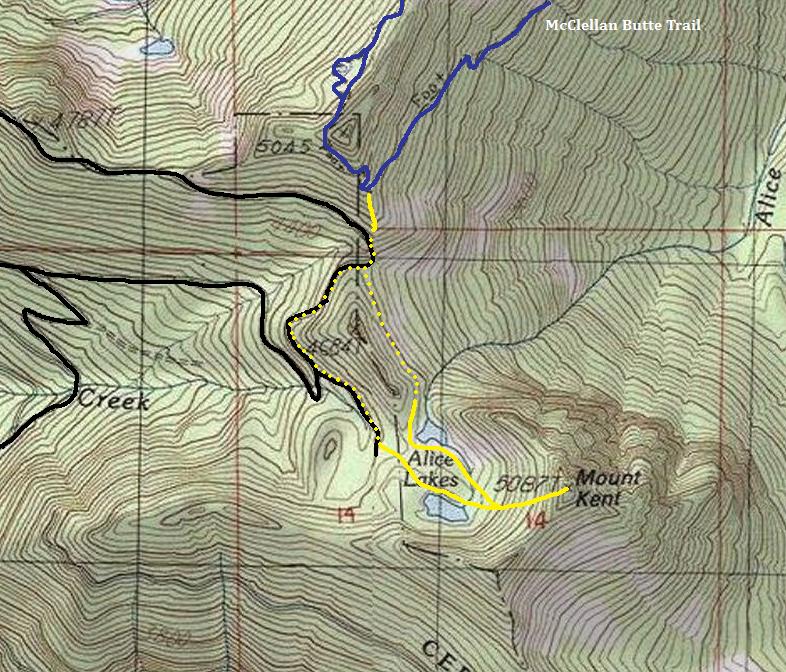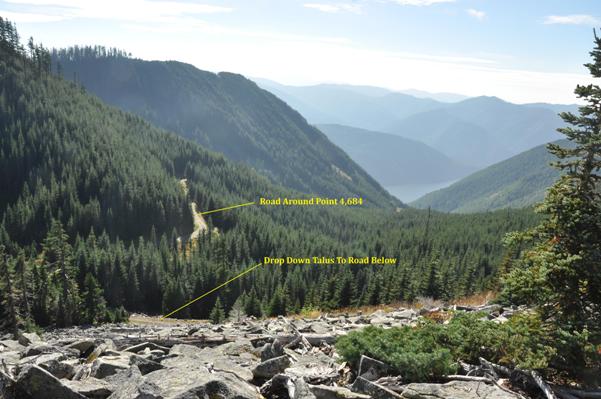 Just below the McClellan Butte Trail at the boulder field
Just below the McClellan Butte Trail at the boulder field, with watershed route shown.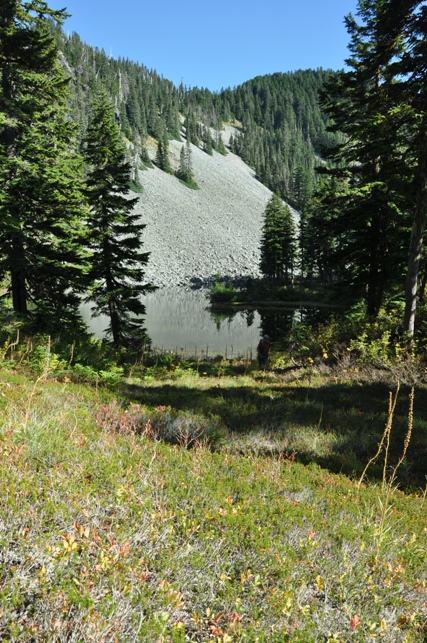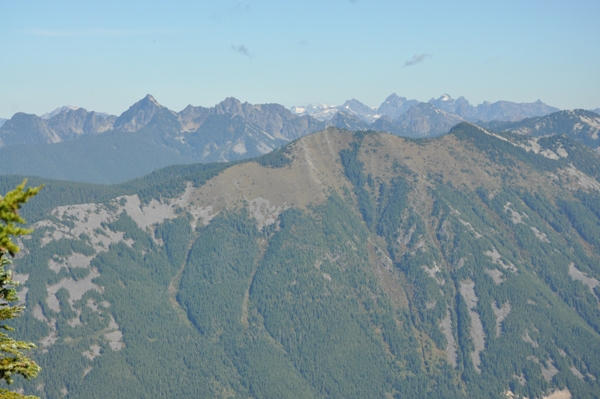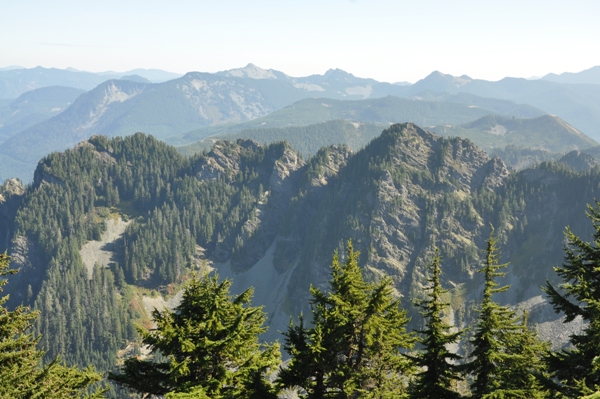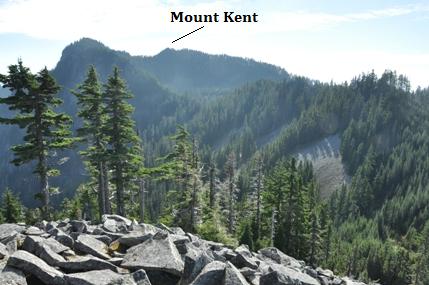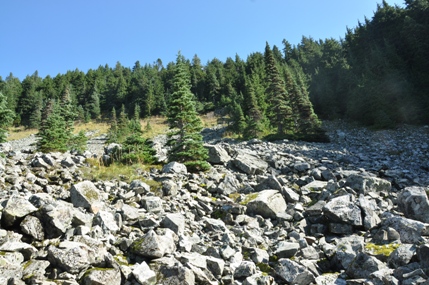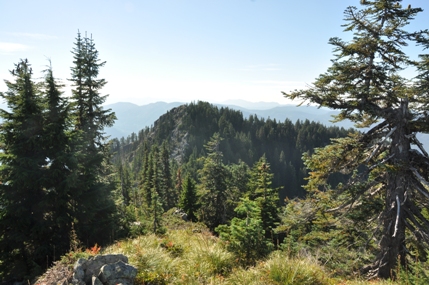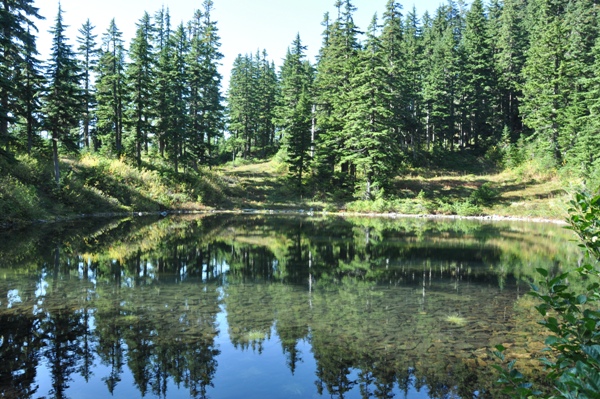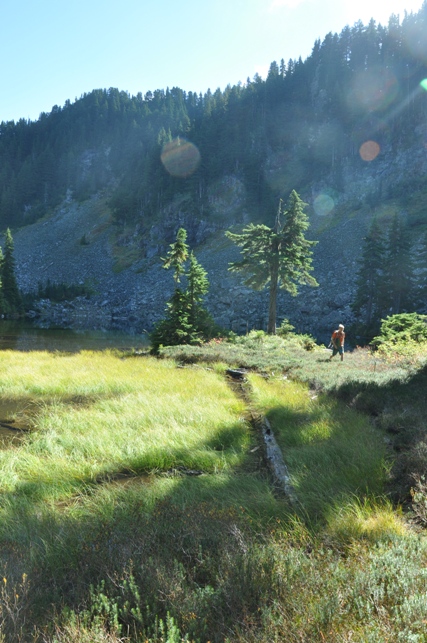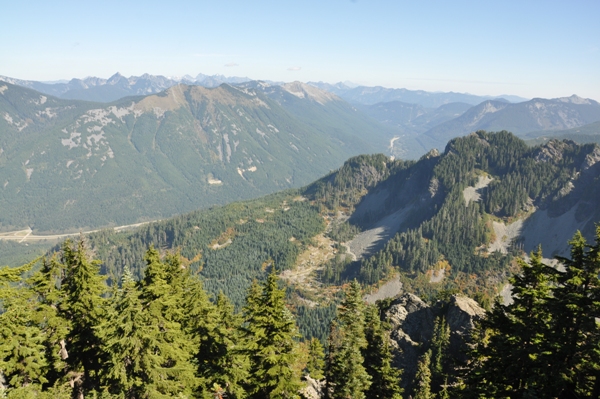 South Alice Lake
North Alice Lake
Boulders between the lakes and the summit
South point on Mount Kent
South Alice Lake
Duke of Kent
Alpine Lakes Wilderness
Interstate 90 Corridor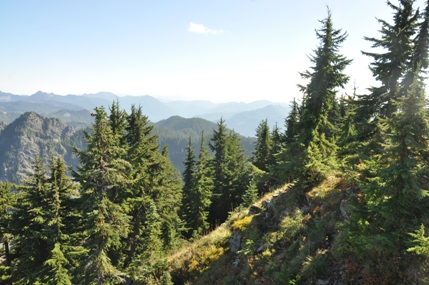 Looking SE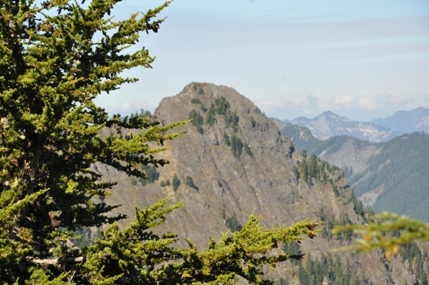 Summit of McClellan Butte