Take I-80 up Parleys Canyon from Salt Lake. Take the Lambs Canyon exit. Turn right and follow the paved road several miles until you see a Forest Service Trailhead on the left. There will be signs and a standard Forest Service bathroom. In the winter, this road and trailhead is plowed but may be compact snow and ice. This is a trailhead for the Great Western Trail which takes off south on the other side of the road.
Summit Park Peak, Lambs Canyon North Peak
Distance: 5.5 mile loop
Elevation Gain: 2,300+ feet
Summit Elevation: 8,281 & 8,618 feet
Access rating: Level 1
www.WillhiteWeb.com: Your online resource for hiking, climbing and travel
Access:
Route:
These two peaks form the ridgeline between I-80 at Parleys Summit and Lambs Canyon to the south. Hiking this loop on Christmas Eve I was treated to an early Christmas surprise. Just as I was getting tired from busting a snowshoe trail through the fresh snow, I came across a well used snowshoe trail to the summit of the second peak. Both have views but Summit Park Peak is a full 360 view high above any peak to the north or east. Summit Park Peak must have a local name, please contact me if you know it.
Lambs Canyon North Peak is north of the parking area so I just trudged up the hill near the restroom. There is brush the first several hundred feet so I moved around a lot looking to avoid what I could. Soon it opens up and it's just a climb until you reach the ridge running SW off the summit. Follow ridge or just below until summit. From the summit continue running the ridge NE then E. As you get near the Salt Lake/Summit County Line, there are summer trails here coming from the Summer Park development on the north side of the mountain. I didn't know this so imagine my surprise to hear people then come across a well used snowshoe trail from before the county line all the way to the summit! With some investigation, the route up from the houses is probably a wiser route if you just wanted the better peak. To finish the loop, I dropped down the main draw on the SW side of the mountain. This one mile downhill snowshoe went fast with no real obstacles. A few mile road walk on snowmobile tracks got me back to my car tired but satisfied in climbing two more of the Wasatch Core 77 peaks.
Summit Park Peak (on right)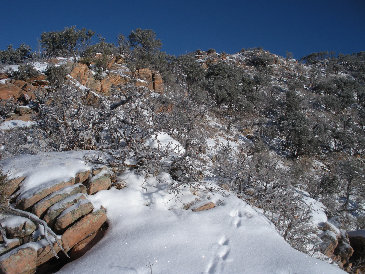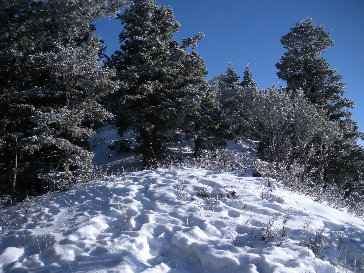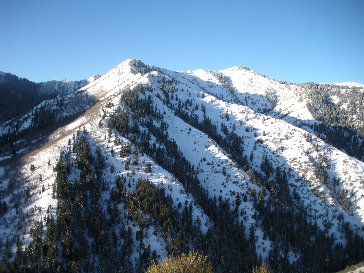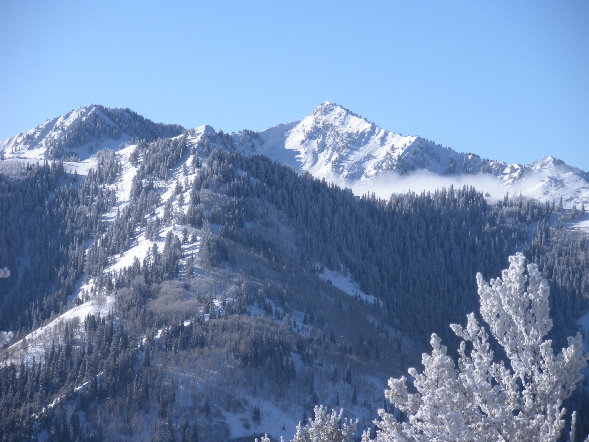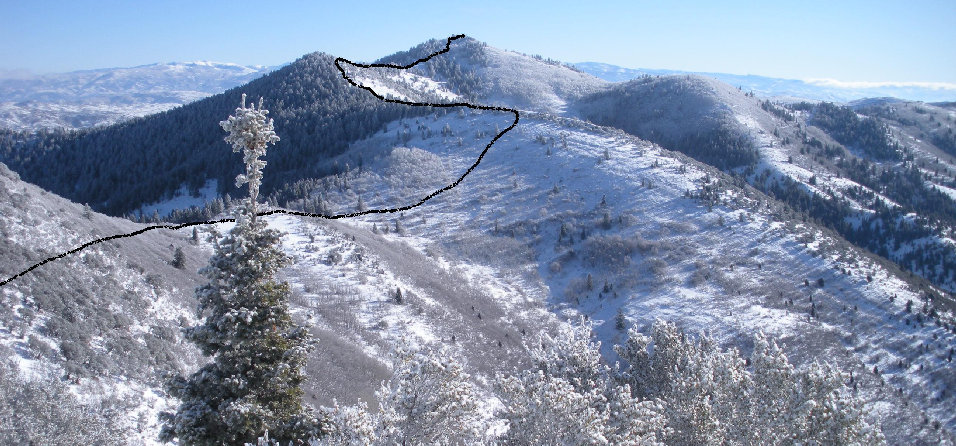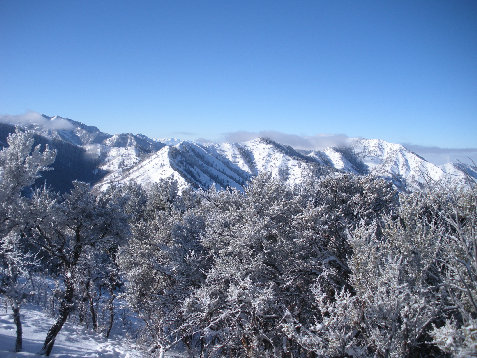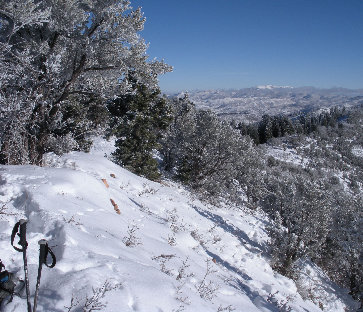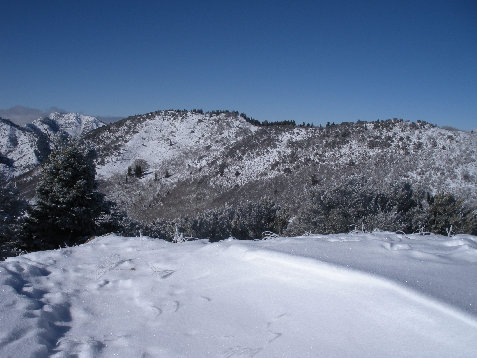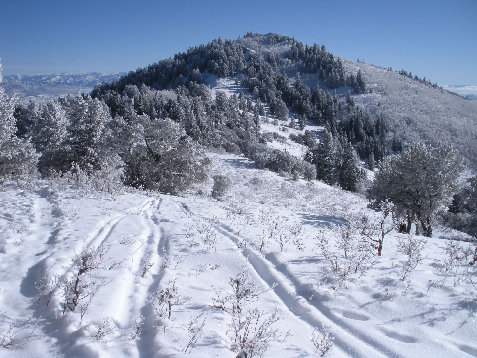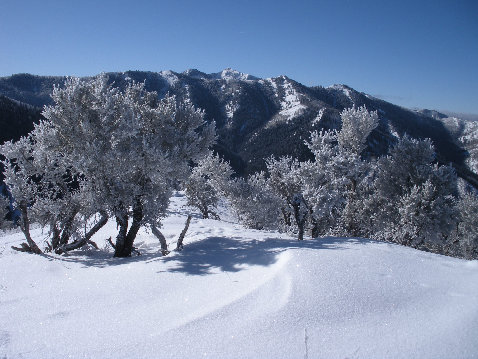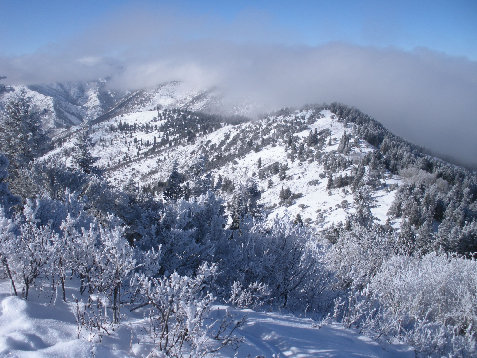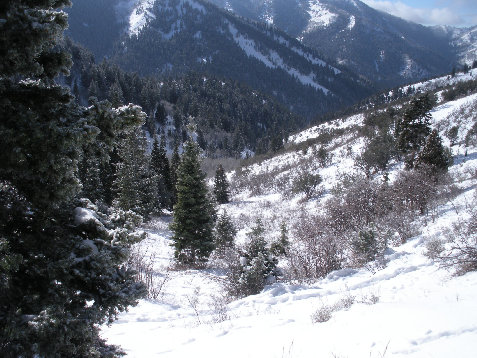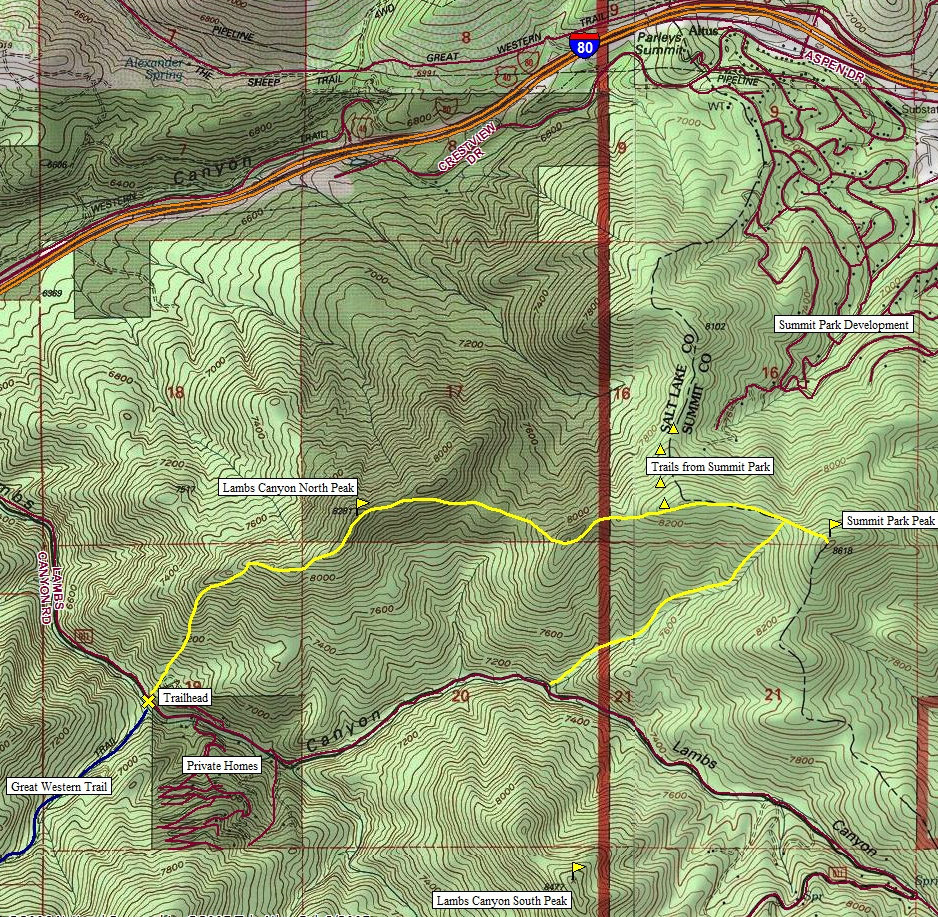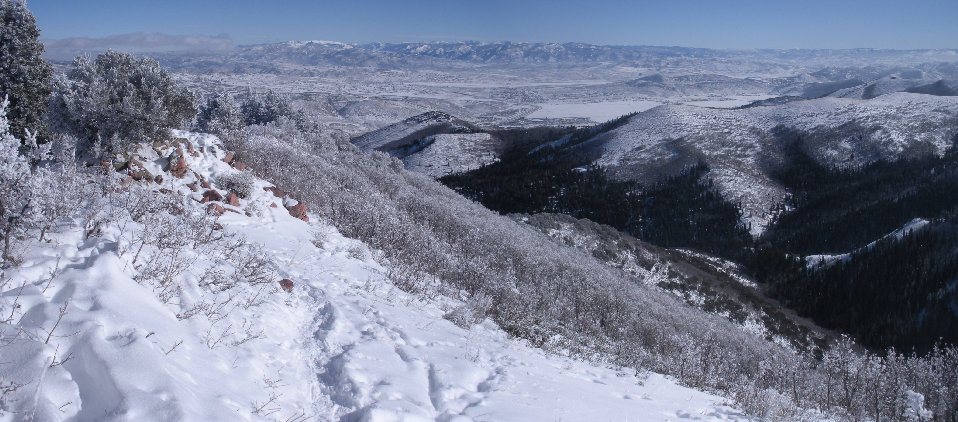 Millvue Peak
Mount Aire East Peak
On summit of Lambs Canyon North Peak
Hiking the ridge
7,600 feet nearing ridge
Route from Lambs Canyon North Peak to Summit Park Peak
Mount Aire on right
Lambs Canyon North Peak from route over to Summit Park Peak
Looking south to Millvue Ridge Peaks
Getting close to Summit Park Peak with snowshoe and ski trails now
Lambs Canyon North Peak in distance in the cloud
Looking down the exit canyon
View east from Summit Park Peak