Climbing Y Mountain
Distance: 2.0 miles
Elevation Gain: 3,300+ feet
Summit Elevation: 8,568
Access rating: Level 1
Everyone knows Y Mountain, my 2 year old is able to identify it...the one with the big Y. There's more to the mountain than that, it also has a great hike to the summit. Apparently, there is a summer trail to near the summit but I recommending it as a snowshoe trip. Try to pick a day after it hasn't snowed for awhile, you'll have tracks over half way up.










The first mile of your hike is going to be on the Y trail. If you haven't done this trail, it's a steady swithbacking hike up a jeep road to the Y. At the Y, or past turn 11as the signs indicate, you'll see a trail cutting south up into the canyon. This is the Slide Canyon Trail. Follow this to a good rocky point where the trail enters the canyon. From here, scope out the slopes above. The ridge at this point is a bit rocky but I was able to easily climb the next ridge east. If snowshoe tracks had continued up the canyon I probably would have followed them instead, finding another ridge further east. Continue up until the terrain eases and you can traverse over to the true eastern summit. I found the summit area particularly nice in winter snow.
The Route:
www.WillhiteWeb.com: Your online resource for hiking, climbing and travel
Access:
From the SE end of the campus area, take E 820 North towards the mountain. This will become Oakmont Lane as it curves north. Take the first right onto Oak Cliff Drive, then right onto Terrace Drive. Signs should get you up the last road from there.
Map below shows route I took up Y Mountain as well as traverse over to Maple Peak.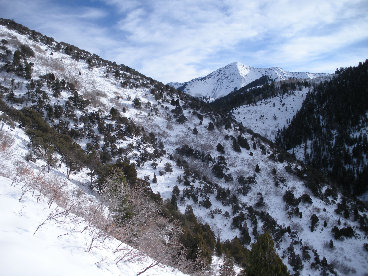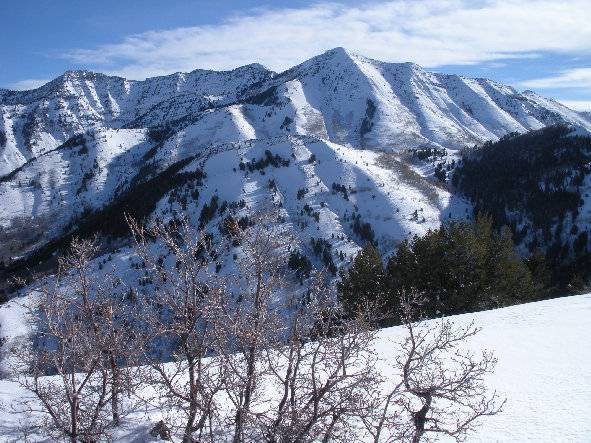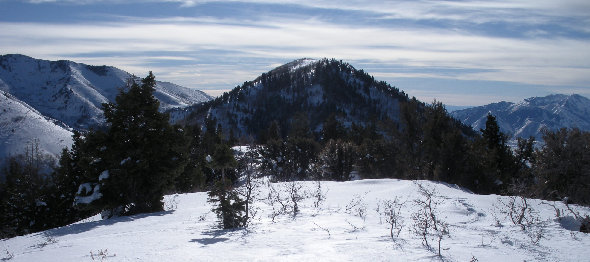 Y Trailhead
Views on way up
View once you turn into slide canyon
Snowshoeing near the summit
First view of the summit of Y Mountain
Looking over to Maple Mountain from Y
Provo Peak from Y
North Utah Valley, Mt. Timpanogos, Squaw Peak, Buffalo Peak, Cascade Mountain
The false summit to the west
Y Mountain from Squaw Peak
Y Mountain trailhead sign